Hi there everybody! First things first; thanks so much for liking our previous blogs and for also using our free mock-up PSD files for your design projects. We are hoping that you are able to make super amazing art works for your successful campaigns and if you are, do not forget to share how it's going in our comments section. Also, keep your constructive feedback and interesting suggestions coming our way and we will make sure to revert with all that you want from our side in days to come. And for today, we are going to be talking about posters and how you can make your own effective designs so, let us get started!
As you all know that posters are used all around the globe for temporary promotions of sales, shows, ideas and are put up in public spaces for mass consumption be it a school or college, shopping malls, streets, notice boards and other spots where huge numbers of people come and go and can also see the posters for announcements etc. We can bet that you must have seen posters of musical performances, standup comedy shows, movies and all sorts of events while moving around in the city and that is literally why posters are created and displayed like that so that more and more people can see them.
Posters are also designed and used for political protests as well as by brands who want to promote a new store, a new collection or a product and their objective is to reach as many people as they can in order to make them take an action like signing up on the website, following the person, brand or event page on social media platforms or for joining the political or local parties for a protest or sit-in.
The best thing about using posters for your marketing is that this way of communication is cost effective and since you can instantly reach your target audience, this seems to be a logical way of going about it as well. According to researches and data that gets collected by marketers and advertisers, it is becoming evident that posters are not only cheaper, but they can also reach more people than a radio or a television or even a print ad can. Isn't that something amazing? We think it is and that is the main reason why we wanted to create this female hand holding free poster mock-up PSD file for you guys.
If you are planning on doing something different for your business and you do not have a lot of advertising budget to do that, then you must consider posters this time around. They won't only spread the message effectively, but you will see a better result in terms of footfall, increased website traffic or physical gathering as well and let's be honest, that is literally what all the businesses want to happen, right?
Posters are available in many different sizes and you can pick the ones that seem feasible for you and your business as well as for the spots you are planning to display the posters on. Also, keep this in mind that whenever you plan out something on-ground, you need to make sure that you have studied the spots well before you go for the marketing and advertising material because working on half cooked strategies is not a good idea and there are chances that you can waste your time and money on useless things.
Allow us to now share the effective or we should rather say ideal poster sizes that you can work on for the promotion of your personal or business messages. Below-mentioned sizes are considered to be the best ones when it comes to posters:
16 x 20 inch poster
18 x 24 inch poster
20 x 30 inch poster
22 x 28 inch poster
27 x 40 inch poster
36 x 48 inch poster
Now, let's talk about the designs of the posters that can attract the audiences. It is important for you guys to know that poster designs are made on an entirely different level. The more loud, slightly casual and out there you are, the more effective your posters are going to be. In this part of the blog, you will be able to read the factors that can make your posters strategy work wonders for you:
Keep the word count as minimum as you can to make sure that the message is delivered properly.
Keep the titles short but attention grabbing.
Important information like the date, timings, contact information must be readable from about 10 feet away.
Make the most of relevant graphics, imagery colors and fonts to catch attention.
Lastly, before you get the posters printed, create mockups first, look at them and decide if they are capable of doing the right thing for you, make changes if need be and once you are done, only then have the poster designs printed and mounted where you want them to be mounted. And if you've learned something new today, don't forget to pass it on along with our blog and free female hand holding poster mock-up PSD file.
Female Hand Holding Free Poster Mockup PSD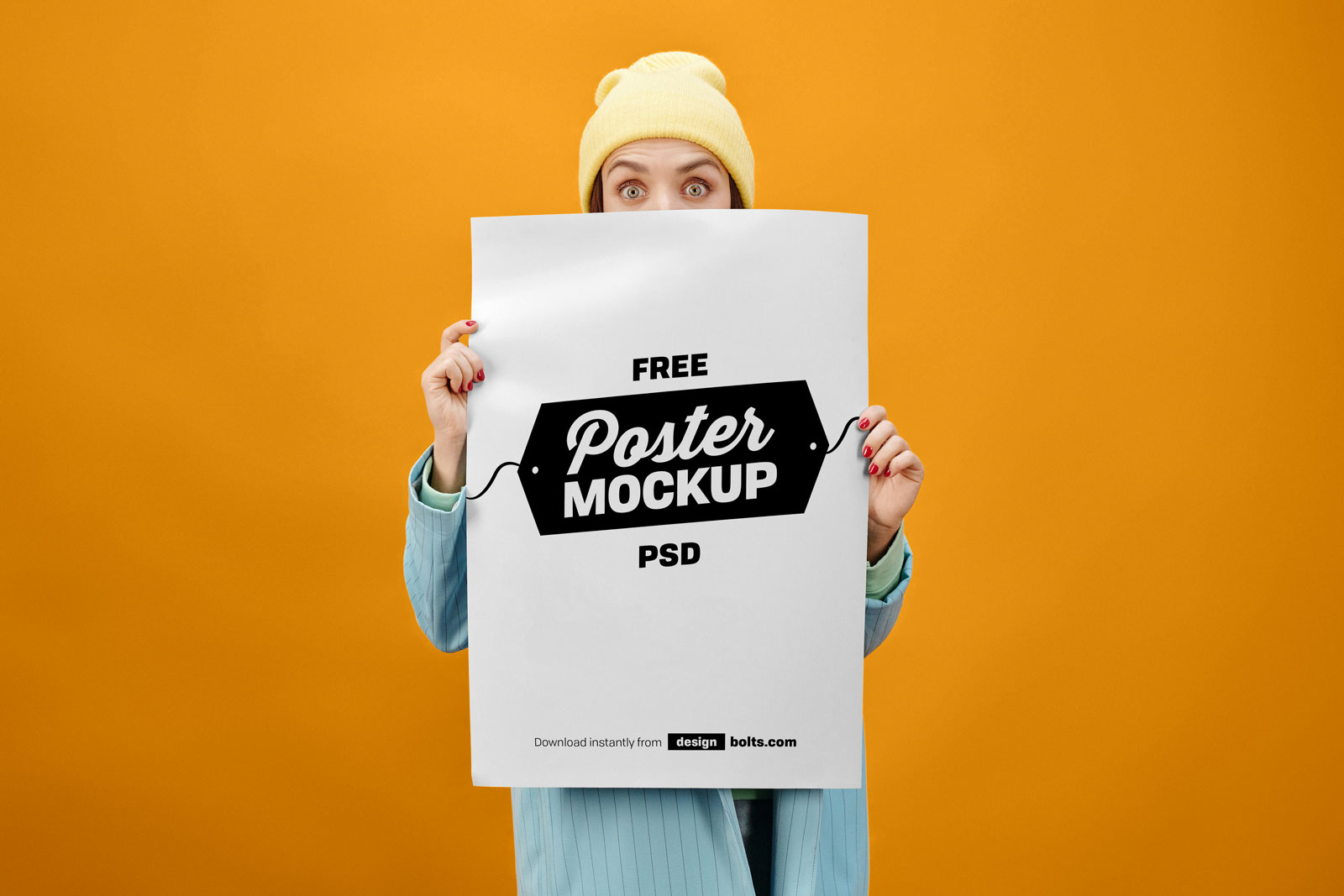 Available Format: Photoshop PSD
License: Free for personal and commercial usage
File Format: WinRAR
Mock-up Resolution: 4500 x 3000 px
Note:
1. Free Poster Mockup is allowed to share online (A Must Linkback to this page)
2. Say thanks if you like or share/tweet with your friends. That means a lot to me.
3. And don't forget to follow or subscribe to receive more high quality premium freebies & awesome articles only.
Download Poster Mockup
Recommended: