are very excited to read what we are about to share with you all today. But before doing that, we would like to take a moment and thank you guys for the love and constant support that you send our way and for always motivating us to keep creating what we love to create. And we hope to see more of that happening in the future as well so that you and your loved ones can continue making the most of our free yet highly editable mock-up PSD files.
If you guys are in the business of creating advertisements and more for yourself or for the businesses that you are associated with, then we are sure that you would know how old posters are when it comes to communicating a business message or two with the target audiences but for those of you guys who don't know the details about the posters; we would like to share a couple of things that might help you understand poster advertising a little better and then you can also flaunt your knowledge in front of your friends, etc. as well.
Okay so, the posters date back to the late 1800s (umm yeah, that is correct information, you guys!) but the fact that they are still super relevant is something that makes them always top the list especially when you have to communicate a message or two in a fun way. However, even if you are running your political campaign and you wish to take the poster route for that too, then you need to know that you cannot go wrong.
In fact, your posters will instantly grab the attention of your already existing voters and the ones who might be interested in getting to know more about what all you have been doing for the welfare of your local community so that they can also vote for you. So, all in all posters never fail businesses or individuals and if you are planning to execute a new campaign anytime soon, we encourage you guys to also include posters in the plan and we can bet that you will get the results that you are hoping to get.
Recommended: 30 Best Free Poster Mockup PSD Files 2022
And in this part of our blog, we are going to be sharing a couple of easy to follow tips and tricks that will help you guys design the best posters for your upcoming projects and all you guys need to do is read the blog till the end so that once you are done, you can produce great stuff in the near future. So, are you guys ready? Because we so are!
Posters have a very strong visual appeal which means that you have to pay attention to that part so that you can make your poster designs do the talking for you and your business. For example; the most important element of a poster design is its heading which not only has to be attractive per se, but it also has to be meaningful and must also deliver the whole message then and there. Like there is a concert happening at your university and you are the one who is arranging everything for that. Now, your job is to mention the event in a way that it grabs attention through the heading right away followed by all the important details regarding the event which will include the venue, date and timings, who can join, if the participants have to purchase the tickets, where they can get the tickets from and, of course, the name(s) and phone number(s) of the person(s) who are arranging the event so that they can be contacted for more details.
And lastly, make the most of typography, colors and visuals to make the overall look and feel interesting which can entice your target audiences to not only explore what you are offering to them but they also become a part of your event too.
That is all for today, everyone! We hope that you guys not only had a great time reading the blog but that you will also share it with your friends, family members who run their own businesses and with your favorite colleagues as well so that they can make the most of our free hand holding poster mock-up PSD file too. Also, do take out some time to share your valuable feedback with us in the comments section and while you are at it, we would love to know if you guys have any special requests to make too so that we can start working on them and be back here soon with your requested content and more.
Free Hand-Holding Poster Mockup PSD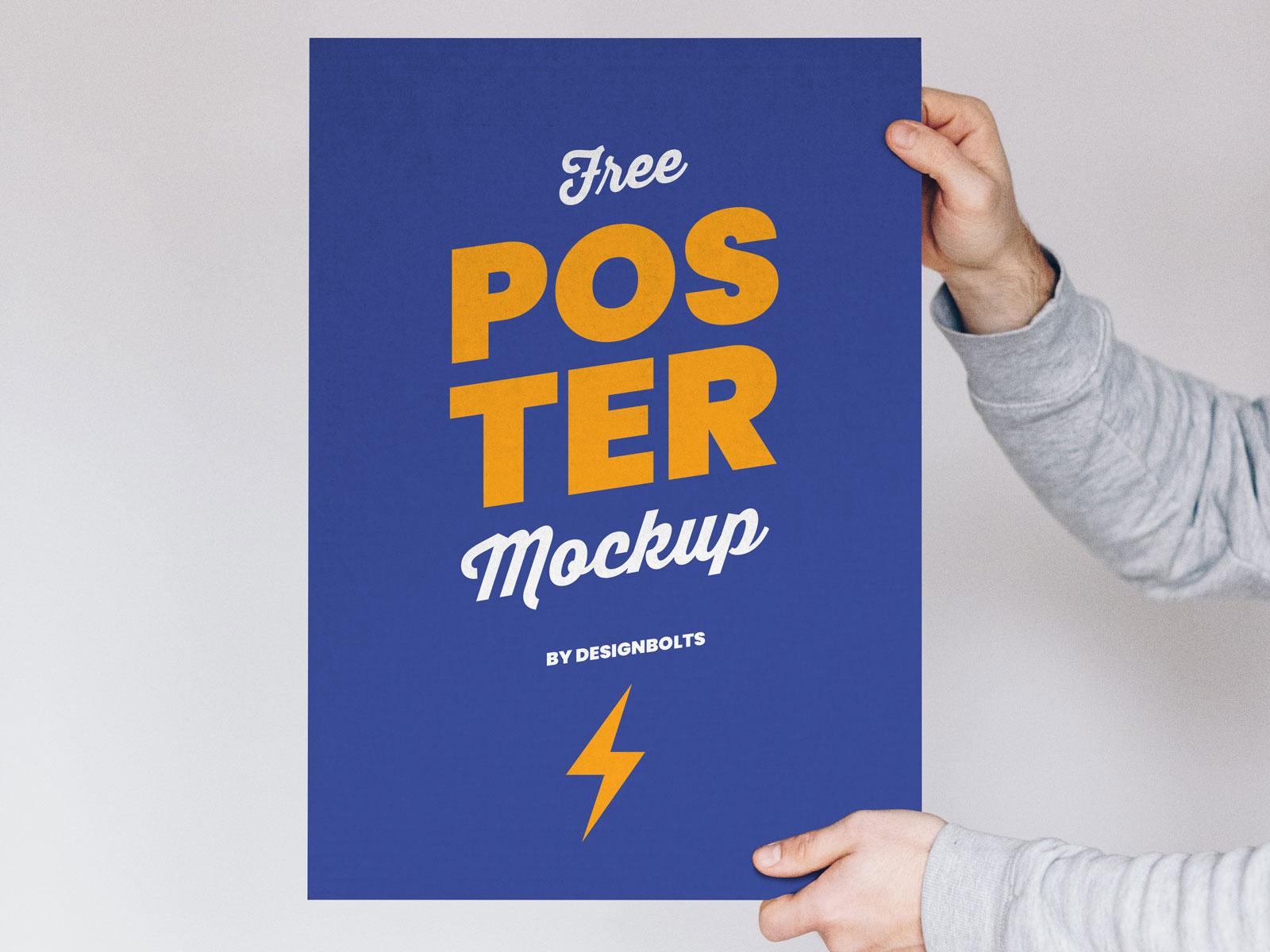 Available Format: Photoshop PSD
License: Free for personal and commercial usage
File Format: WinRAR
Mock-up Resolution: 4000 x 3000 px
Note:
1. Free Poster Mockup is allowed to share online (A Must Linkback to this page)
2. Say thanks if you like or share/tweet with your friends. That means a lot to me.
3. And don't forget to follow or subscribe to receive more high-quality premium freebies & awesome articles only.
Download Poster Mockup
Recommended: