Hi there guys! We are back with yet another amazing blog of ours and we are sure that you are going to love it because it will cover outdoor advertising – which is going to help you all to design your advertising & marketing campaigns. And we have paired the blog with our free outdoor pillar poster mockup PSD file. So, let's get started without any further delays!
As you all know that almost the entire world and its inhabitants are under a lockdown these days due to the outbreak of the Coronavirus and in some countries, the government has ordered a curfew as well which means that it is almost impossible for the population to leave their safe spaces and carry on with their activities like going to college or to their workplaces for that matter. These lockdowns for an indefinite period of time has also affected the way we used to shop from physical and online stores as the deliveries are either delayed or the stores have literally stopped taking any orders.
And the sudden changes in the ways that the world used to operate required immediate change in advertising and marketing plans. Many marketers around the world have started to communicate, advertise & market their products and services differently whereas; big brands and organizations have stopped talking about their products and have decided to use their ad money to help the ones who need it the most.
All the countries that badly got affected with the virus and its after effects are being funded by the countries which are still doing (somewhat) better and by the organizations that can afford to donate money and supplies for the ones who got sick. You must be wondering about all the whys like why are they sharing this information with us in a blog that literally says Free Outdoor Pillar Poster Mock-up PSD or why do famous (and rich) organizations and their money matter here, right!?
Recommended: 60+ Best Signage mockups
Well, we wanted to draw your attention towards the connection that advertising, and marketing has with whatever happens in the world. You go to bed one day after creating content for your social media platforms or after approving media buying plans for the upcoming year or by scheduling TVC shoots for the coming month but you wake up to the news of a virus that can kill people and you sit there shocked yet hopeful.
There are chances that you also have to revise the content, make changes to the media plans and postpone everything that was going to be launched because the world has started to think about something else. People have to rush to the grocery stores to get nothing but items that are absolutely necessary. People have postponed and cancelled events like cricket matches, football leagues, theater plays and movies, employees have asked to work from home and the students will be tutored online and that's why brands and marketing campaigns had to change.
Although, for some period of time, you won't see huge billboards getting changed frequently, you might won't see conventional marketers being active either and if they are still present then they are using their spots to create awareness about this virus. It is still important and also relevant because individuals and, in some cases, countries are not taking it seriously. They are either in denial or they just do not know how to control it and no matter what the reasons could be, the least an advertiser or marketer can do is to take things in their control and spread as much awareness as they can.
Since TV ads and digital creative posts and every other medium is used for advertising and marketing and it makes people leave their house, office etc. and purchase that one thing they just saw somewhere on a billboard or on their TV screen, we can bet that Coronavirus related ads and information won't go unnoticed either. It's just that, that we have to pull the right strings. A word of advice for the brands & organizations that have not revised their communication strategies: don't make it about your products – if you do plan on bringing something relevant to the table.
And as far as all those socially responsible brands are concerned, know that we have created this free outdoor pillar poster mock-up PSD file for you guys so that you can download it and use the design to create posters to spread awareness and to make some noise so, that the ones who are still taking it lightly can start paying attention now. As you all know that our mock-up PSD file is highly editable, it will let you design whatever you want to, resulting in some brilliant pillar poster designs. So, what are you guys waiting for? Let's get started right now!
Free Outdoor Pillar Poster Mockup PSD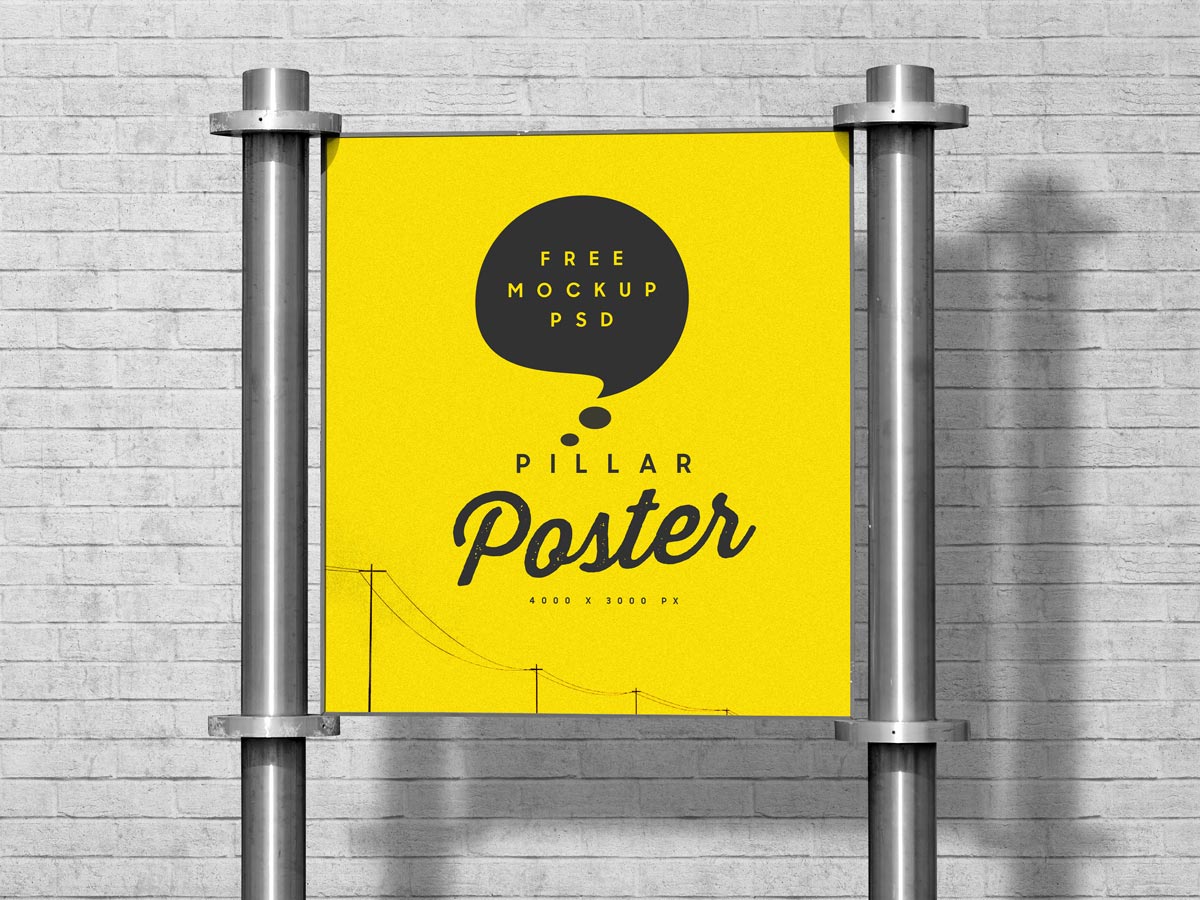 Available Format: Photoshop PSD
License: Free for personal and commercial usage
File Format: WinRAR
Mockup Resolution: 4000 x 3000 px
Note:
1. Free Poster Mockup is allowed to share online (A Must Linkback to this page)
2. Say thanks if you like or share/tweet with your friends. That means a lot to me.
3. And don't forget to follow or subscribe to receive more high quality premium freebies & awesome articles only.
Download Poster Mockup
More Outdoor Mockups: