Free Wall Decal / Sticker Mockup PSD Files for Dark & White Background
Life is a tale, told by an idiot full of sound and fury signifying nothing, well we still can manage to make life worth living, by celebrating every day, by creating happy moments, by making people smile, by making things easier for others, by helping people and supporting them as a morale booster at the hour of need. Happiness always comes from within which is then being radiated and attracts people to this vibe. So it is very important to start it from your own self. If you are contented you will encircle good people who share the same positive vibe just as you.
Ever wonder how people are living without roof and shelter, without their parents and friends, without good food and commodities, without wellness and health? We are blessed to have all such small and big things we ever dreamed of, we ever prayed for. Yes, we are better than many who have been suffering in gales and hurricanes, who have been weird victims of starvation and hunger, we have everything at our disposal, we have houses to renovate, and we have places we can visit.
So always be thankful for what you have. A house is never complete without decorations, you bring all costly things to deck it up, vases frames, graffiti art and wall decals are important ingredients to make a house pretty. Down here I am presenting before you free wall decal mockup psd in which you can add in your own element to show it off to your client that how this wall decal will look in actual form.
Wall decals are not only meant for houses but corporate offices, agencies and media houses love to apply decals on the walls to make them stunning and attractive. It depends how and what type of stickers you like, they vary from nature, to animals from random prints to cute and funky designs. But here we have a mockup for designers so they can insert in the design elements and make a presentation out of it for their clients. Here we go to come right back again.
Buy wall decals that are used in this mockup > Wall Decal 1, Wall Decal 2, Wall Decal 3, Wall Decal 4
1. Free Wall Decal Mockup PSD File for White Background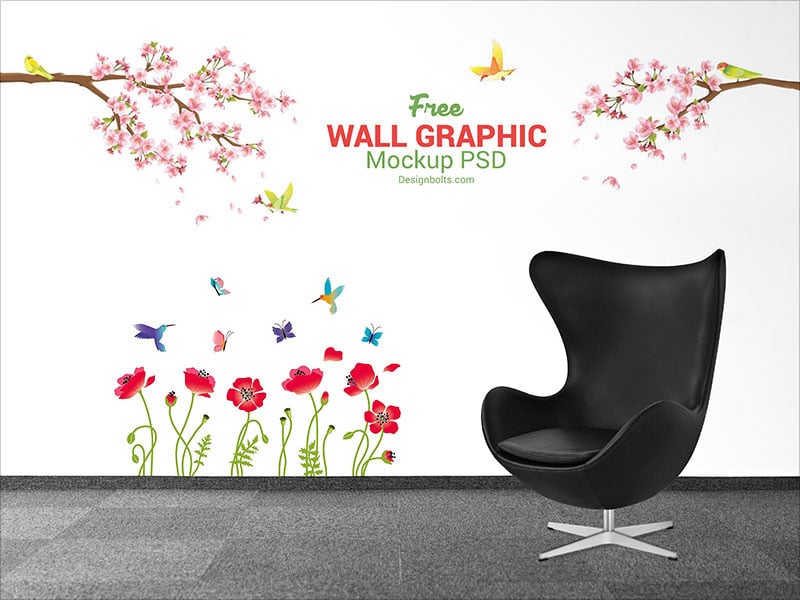 Available Format: Layered PSD with smart object insertion
License: Free for personal and commercial use
Zip File Includes: Wall Sticker Mockup PSD File for white background
Note:
1. PSD Mockup is allowed for sharing online (A Must Linkback to this page)
2. Layers are hidden to decrease the size of file kindly unhide and place design on red color
3. Move sofa left or right or remove if required.
4. Say thanks if you like or share/tweet with your friends.
5. And don't forget to follow me on instagram 

Wall Decal Mockup For White Background 
2. Free Wall Decal Mockup PSD File for Dark Background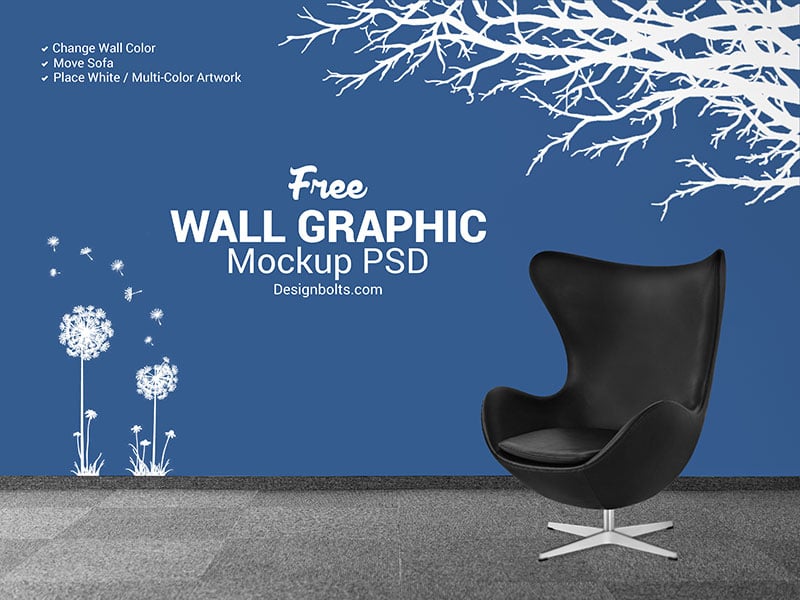 Available Format: Layered PSD with smart object insertion
License: Free for personal and commercial use
Zip File Includes: Wall Decal Mockup PSD File for white background
Note:
1. PSD Mockup is allowed for sharing online (A Must Linkback to this page)
2. Layers are hidden to decrease the size of file kindly unhide and place design on red color
3. Move sofa left or right or remove if required, you can change wall color as well.
4. Say thanks if you like or share/tweet with your friends.
5. And don't forget to follow me on instagram 

Wall Decal Mockup For Dark Background 
More Awesome Fresh Mockups You would Love to Download:
Receive interesting articles & freebies right in your inbox
Make sure you confirm your email address through the link we just emailed you