Design and art world is gigantic and so as the rush of designers, but the question is who is a good designer? A good designer is the one who has the knowledge of design and art, has command over his skill, has a good temperament to accept challenges, has potentials to fortify the tasks, have the courage to outdo himself, who can brace whatever his workplace throws at him, who can deal with clients professionally, and of course who does it all with heart.
There are many people to do the same project, but the difference among all of them is that who does it better? Color compositions, choosing the right fonts, selecting a good theme, adding value and meaning to the design and making it stunning is the job of a designer, he never gets tired of redo, remake and alterations what his client demands of him. Every task and design project has its different requirement, different stance and diverse property, which has to be kept in mind.
Down here I am presenting before you free real estate flyer template, this is basically made to give you an idea how such flyers are to be built, how tersely the info has to be mentioned, how it has to be unambiguous and how significant it is to be readable. Dragged designs, fancy textures and poorly chosen fonts often result into failure and get disapproved by the clients, so make sure whatever you make has a background of it.
Feel free to contact us and let us know what more art and design articles we should be putting forward to entertain you. We are working round the clock to bring before the best design collection for your ease. Don't forget to subscribe to our blog and also give us your feedback, that where we need to work, where we should improve, what 'type' of designs projects have been useful for you, what you have learnt and what needs to be amended. Stay tuned for more. Here we go!
Free Real Estate (House For Sale) Flyer Design Template in Ai Format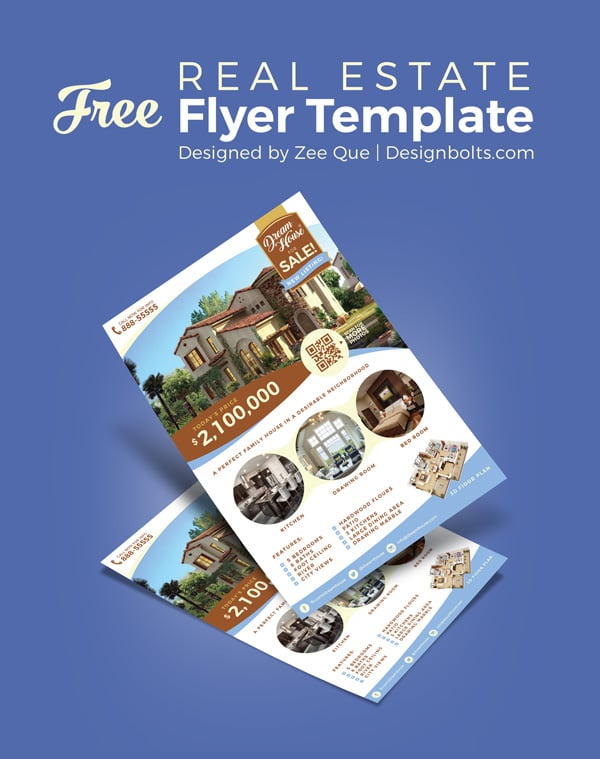 Download Free Real Estate Flyer Design Template:
Available Format: Illustrator Ai & EPS
License: Free for personal and commercial usage
File Includes: Mockup Ai file, EPS & Preview file
File Format: Zip
Note:
1. Free Template & Mockup is allowed to share online (A Must Linkback to this page)
2. Say thanks if you like or share/tweet with your friends. That means a lot to me.
4. And don't forget to follow or subscribe to receive for more high quality premium freebies & awesome articles only.
Free Real Estate Flyer Template 
Free A4 PSD Mock-ups  
Check out our more Cool and Hot Freebies & Premium Files: