Social Networking icons are the core of a blog and website. No matter what theme and background you have applied on your website if it does not compliment the social media icons; no noticeable gaze will take a pause on it. It is very important to choose the best sort of Social networks icons that at once mingle with the blog's background and don't get disappear in the background.
Designbolts has this forte to bring forth unique and splendid social media icons. Today I designed hand-stitched social media icons for your blogs and websites. These icons will become the very asset of any website/blog having retro theme. Have a look and do try them in your respective blog. Take it away!
Free Hand Stitched Premium Social Networks Icons
Facebook Icon Twitter Icon RSS Icon LinkedIn Icon Behance Network Icon Deviantart Icon Digg Icon New MySpace Icon Pinterest Icon YouTube Icon Tumblr Icon Blogger Icon Stumble Upon Icon Vimeo Icon Orkut Icon Flickr Icon Google + Icon Dribbble Icon Delicious Icon & Instagram Icon.
Don't forget to subscribe us for more free logos, free Vectors & Free Icons in future.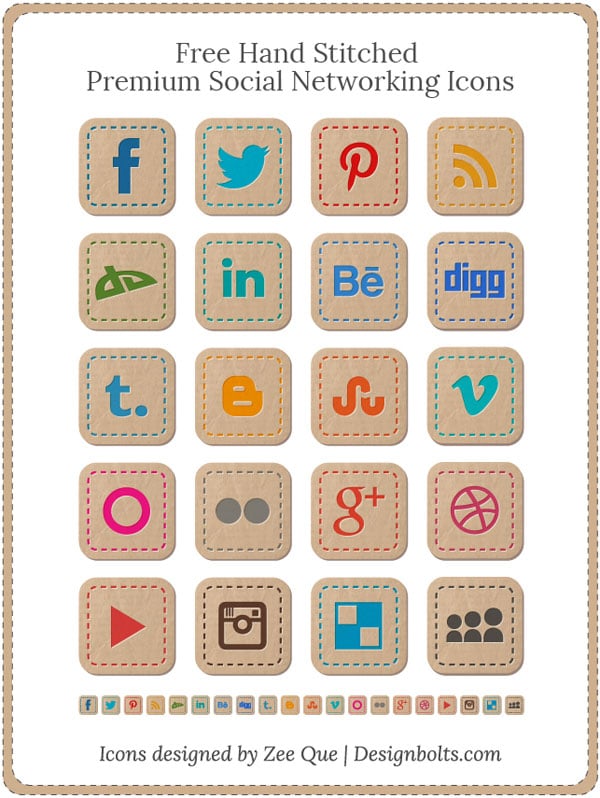 Free Version:
Available Size: 24, 32, 48, 56, 72, 96, 128, 256 px
License: CC Attribution-Noncommercial-No Derivate 3.0
Hand Stitched Social Networking Icons
—————————————————————————————————-
Premium Version for only $ 3.00
Available Format:  Vector (.ai) file
License: Creative Commons Attribution 3.0 Unported License
[paiddownloads id="25″ return_url="https://www.designbolts.com/thank-you/"]
—————————————————————————————————-
300 Icons for only $ 9.00


More Free Icons Download & Vectors: