The presentation of a design has a vital role to play in the acceptance and approval of it by the client. In the field of designing, a graphic designer has to take a lot of work on his nerves; otherwise he can never perform well out of pressure. Art and design requires appealing looks to seize the attention and grab the onlookers.
Whatsoever a project really is, if it is not presented in an emphatic and impressive way, it would for sure go to trash of no consideration. A messy and outrageous thing is never liked and admired; it is always pushed back in the ditch. Customers buy the fabrics, accessories and dresses what give them a fantasy—an allusion that they would look good in them. It is about the presentation customers go after; it is a kind of good illusion to satiate the aesthetics of the people.
If it is about a design project, it has to be eye bobbling, detailed, comprehensive and precise as well to give a sense of fulfillment in its very appearance. The more one has functioned on a design's presence and presentation; probabilities can get increased in the favor of the design's petition. Presentation should always be head turning, likable and replete with thoughtfulness
Today I'm bringing forth a free roll up stand Mock Up PSD that you can give to your client and the presentation would do full of its job. This mockup will be a great help for all the graphic designers to live up to the expectations of the clients. After all the presentation of the design is all what counts in a project. You need to give your client an impactful expression of the respective enterprise. Have a look .
Subscribe us for more free Vectors and free icons.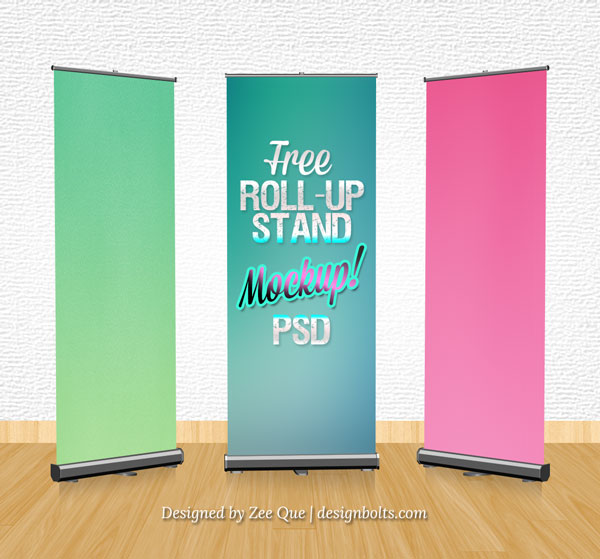 License: Free For personal & presentation use only
Note: Roll-up Banner Size that fits on the mock-up is 4 x 10 ft. This is a vecter PSD file you can resize it as per your requirement. To place your design you need to double click on the colored layers [Place your design] then place your design and save the file. All done!
Trade Show Display Stand Mockup 
Consider Making a donation if you like my Free PSDs

More Free High Quality PSDs Download: