Every New Year brings in a lot of happiness, merriment and joys, special arrangements are made to enlighten the sky and to celebrate the moments like never before. On the New Year's Eve, people burn a lot of firecrackers and create a cheerful environment.
Pennies are shed for this purpose because people do not mind spending money on the things that bring glee on to their faces. This is the event which deserves to be praised because people all around the world forget about the animosity & hostility of life and fetch the pleasures out of the New Year's glitz.
This world is always a victim of brutality and injustice and people crave for any big happening that can turn their spirits on and boost their Morale. Each year before the arrival of the New Year we make promises to ourselves about things that we won't repeat in future, about regrets we will never make ahead and the convictions we will always stand by.
Life itself is a mystery and one should always wake up with a big heart to avoid the turmoil and breathe in the fresh air. Because life is a blessing, there are millions of people out there who even don't have basic commodities of life.
How awful it would be for those who don't have a shelter to live under? But who knows what tomorrow will bring, maybe it is a golden future with a lot of possibilities, triumph, success and jubilation. Today I am unfolding before you famous failure stories free printable calendar of 2015.
You can learn that fate can be changed if one has the determination to achieve the goals in life. Look through the prolific personalities how they have emerged in their lives and made a stunning career.
What thoughts they bear in their minds while doing a work and what has made them shine like a Blazing sun. Their sayings will for sure be an eye-opener for all of you.
People who have interest in reading life quotes, wisdom sayings and motivational words will find these very effective and worth reading all thought the year as a calendar hanging on the front wall of their home/office.
You can get the Calendar printed for yourself or you can also give it away to your pals who are lover of sayings and quotes. Have a gaze down below and do let us know how much you took the spur out from this!
Famous Failure Stories Free Printable Calendar 2015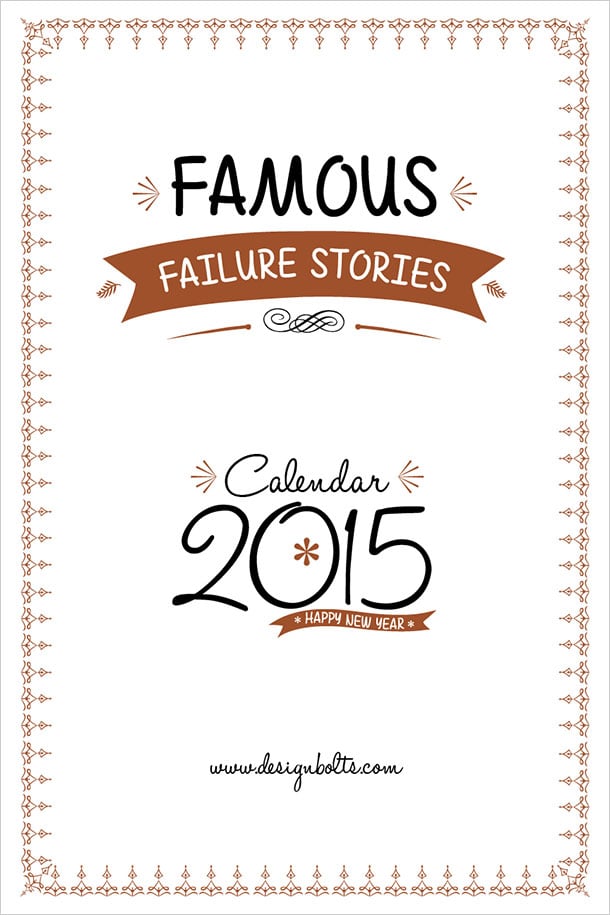 1. Akio Morita | Co-founder of Sony
Free January Calendar 2015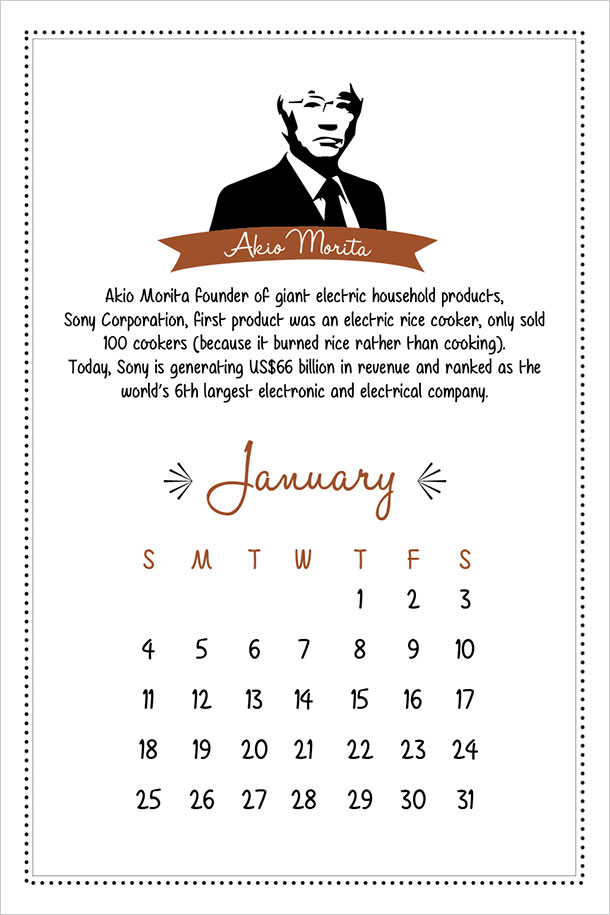 2. Albert Einstein | Theoretical physicist & philosopher of science
Free February Calendar 2015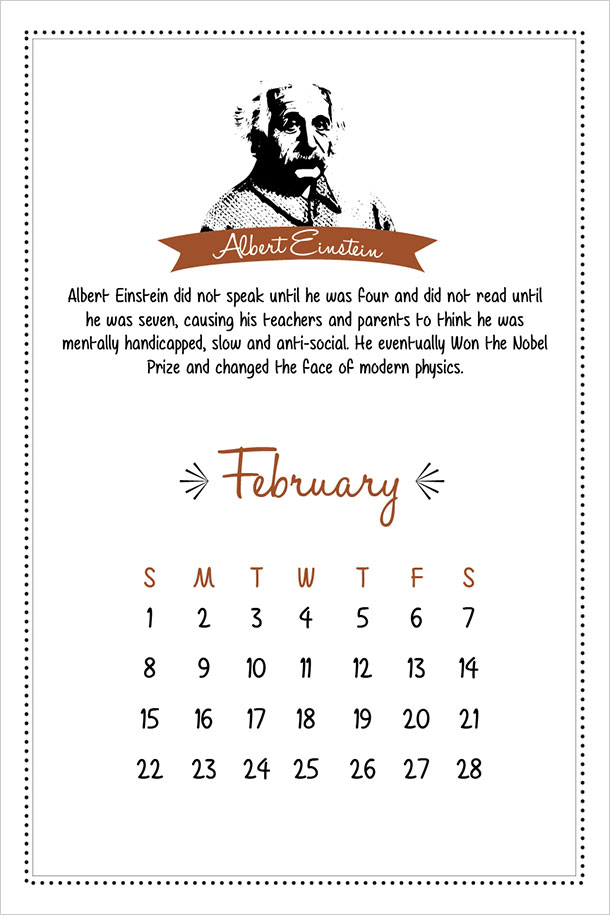 3. Bill Gates | Richest man on Earth
Free March Calendar 2015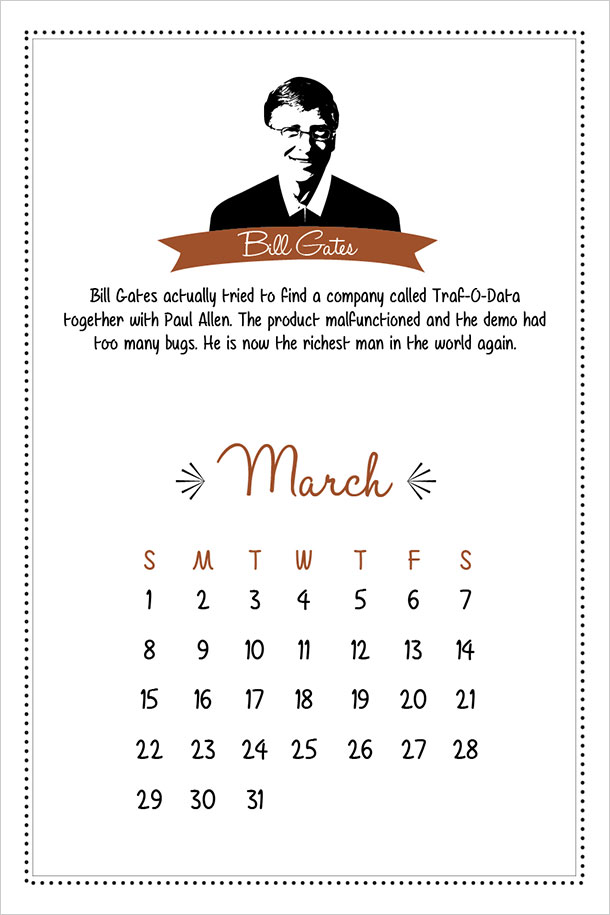 4. Charlie Chaplin | World famous comedian
Free April Calendar 2015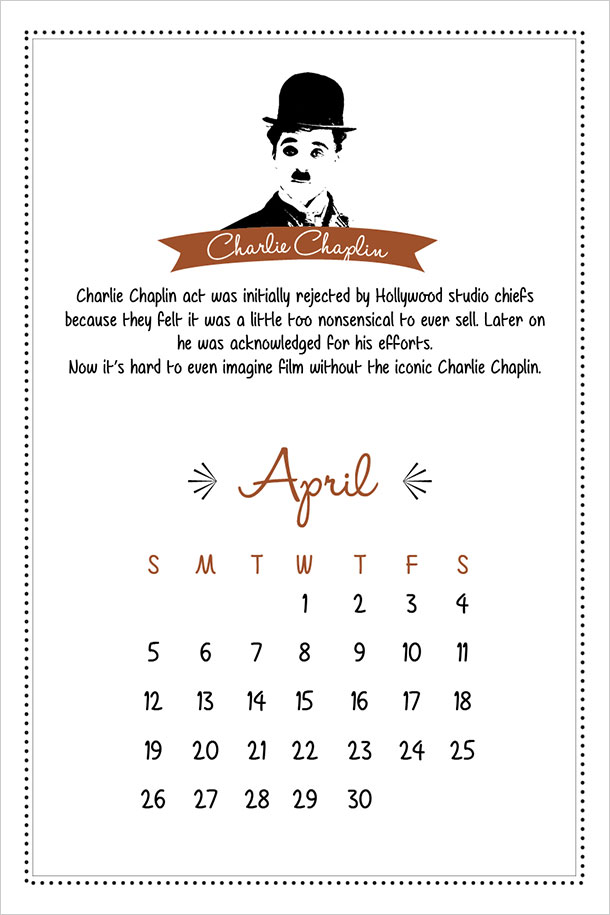 5. Isaac Newton | Most famous physicist and mathematician
Free May Calendar 2015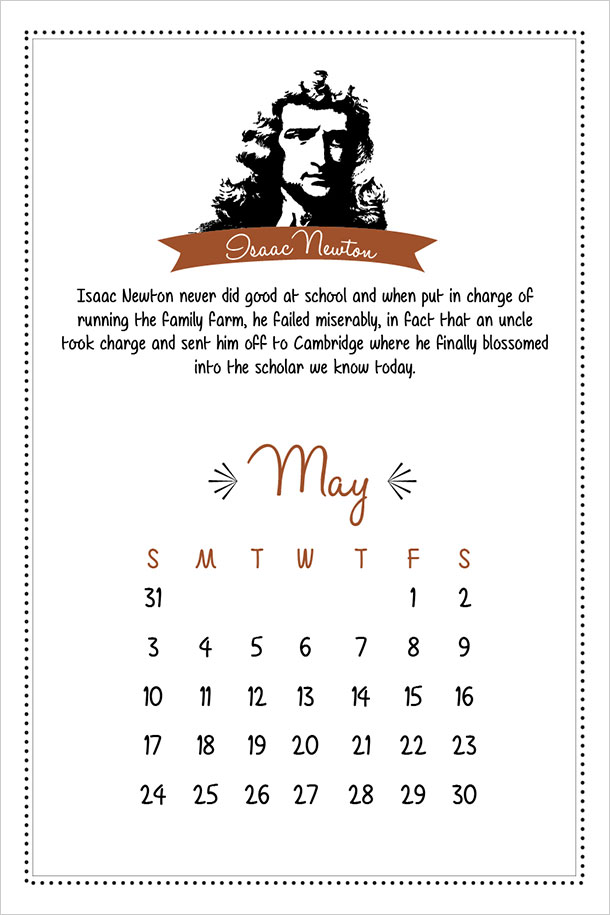 6.  Ludwig van Beethoven | German composer and pianist
Free June Calendar 2015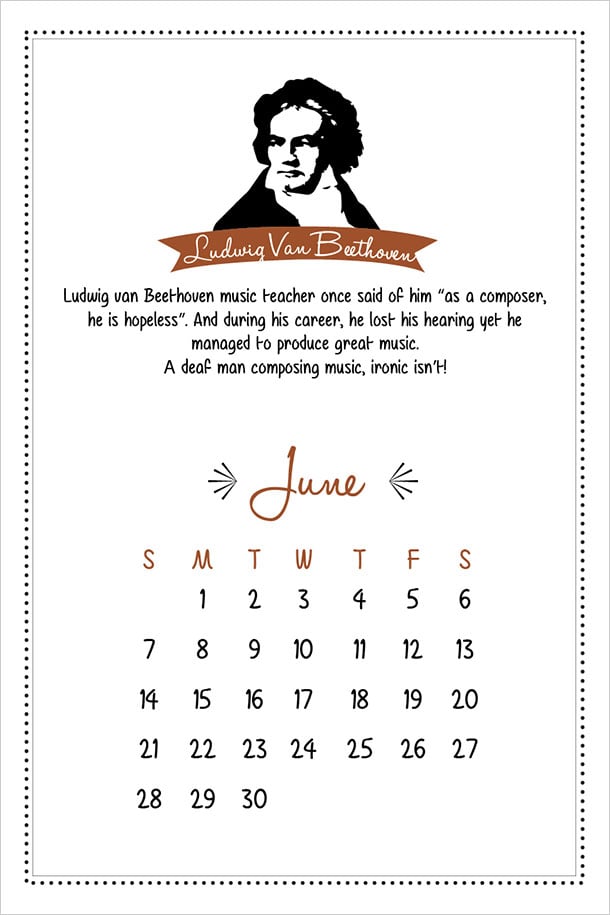 7. Marilyn Monroe | World famous American actress
Free July Calendar 2015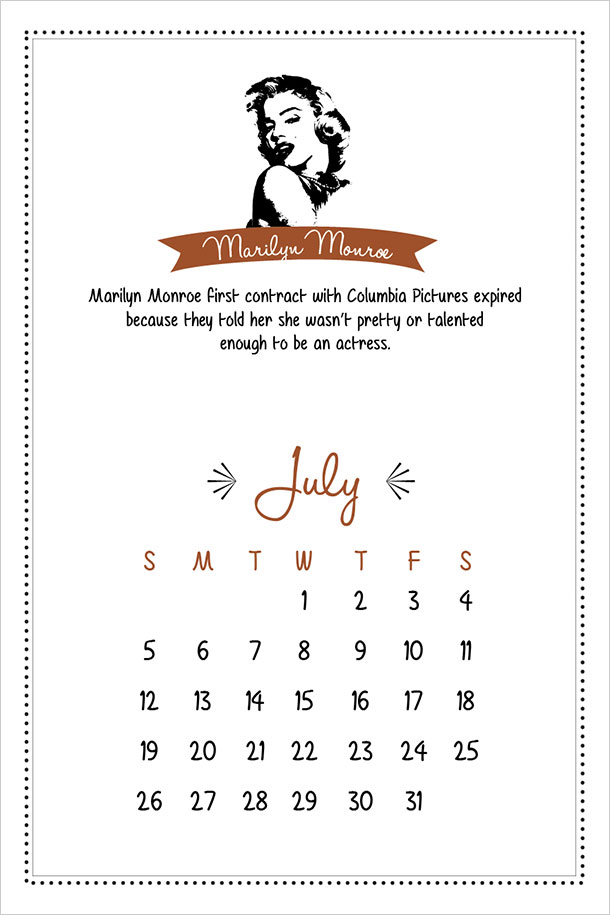 8. Michael Jordan | Greatest basketball player of all time
Free August Calendar 2015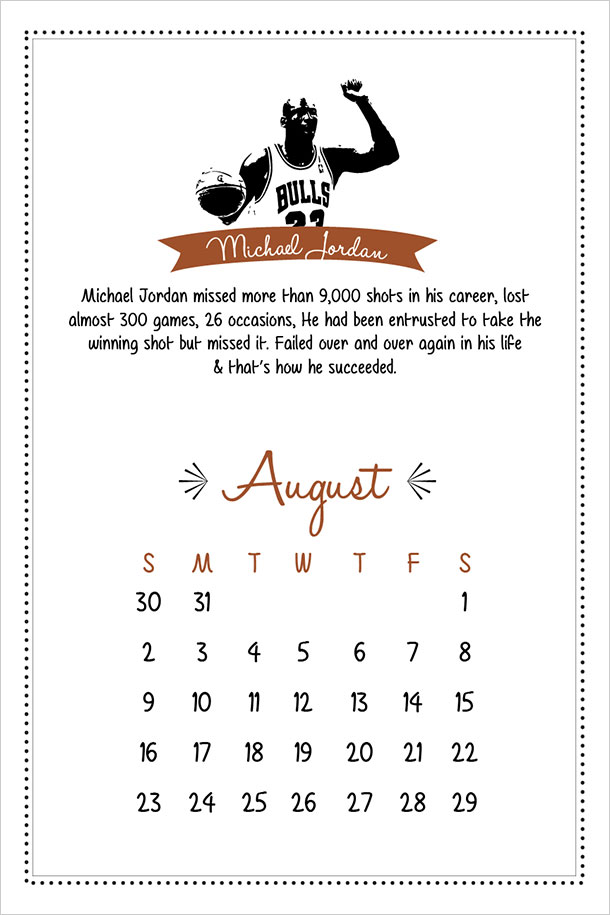 9. Oprah Winfrey | Richest African-American of the 20th century
Free September Calendar 2015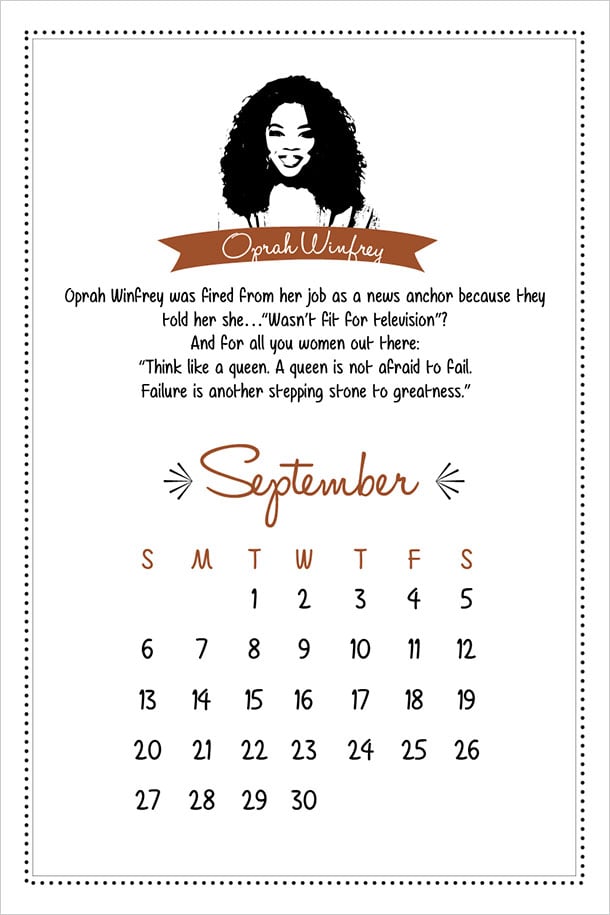 10.  Socrates | Founders of Western philosophy
Free October Calendar 2015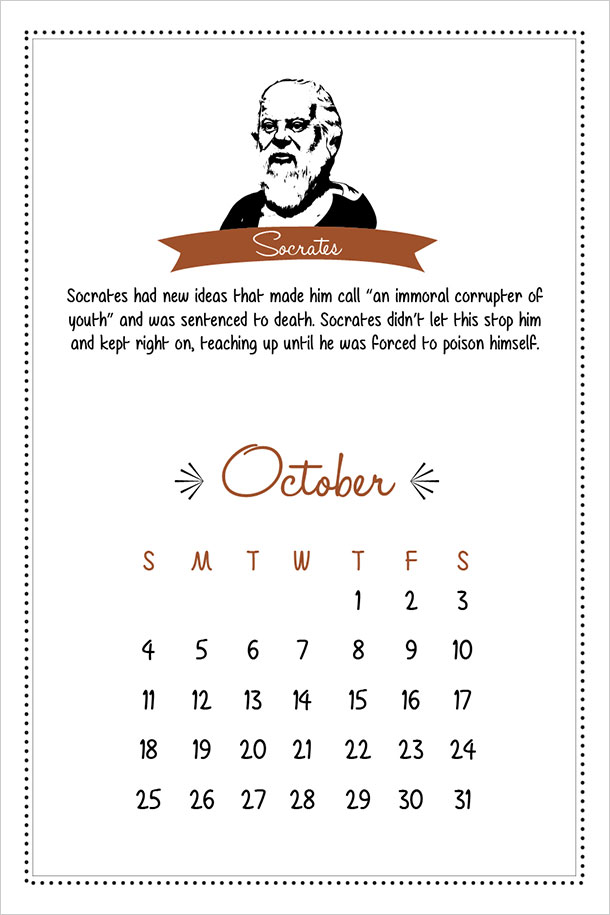 11. Steve Jobs | Co-founder, chairman, and CEO of Apple Inc
Free November Calendar 2015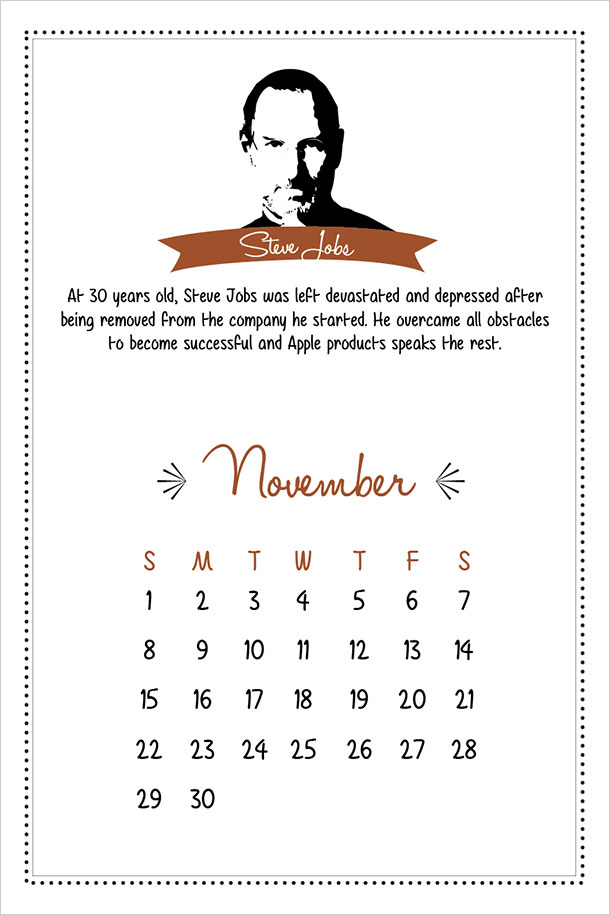 12. Walt Disney | Co-founded The Walt Disney Company
Free December Calendar 2015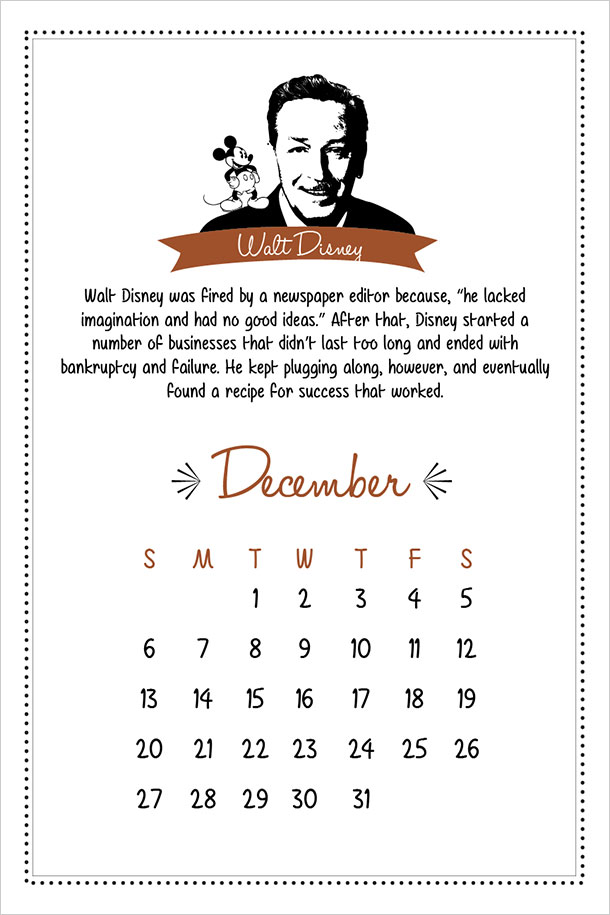 Free Printable Calendar 2015:
Size: 12 x 18 inches
Format: Printable PDF & Illustrator Ai
License: Free for personal use only
Designed by: Zee Que | www.designbolts.com
Download Calendar Ai
Download Calendar PDF
More Free High Quality Freebies
Tags: Free 2015 Calendar, Calendar 2015 Printable, Calendar for 2015 Ai, EPS, Printable calendar 2015, free download calendar 2015