It is a girls' world where we see thousands of them flaunting the magic around, millions making history, making their name bigger, standing next to men, women doing the marvels, bringing vitality and spark into this world. We cannot do without them, they are mothers, daughters, wives and sisters who make the world look beautiful, a peaceful home to live in, a pampered lifestyle- all this and all that belongs to them.
They are sensitive, cute, and innocent like kitties, they have the solutions for almost everything, they may be emotionally crippled but have the tendency to absorb it. Women work round the clock, with no break, perhaps with no paid services that they do. Respect to the girls who have had hard lives but still managed to survive in the worst case scenarios. I have been showcasing female artists many times, because they are inspiration for many of us.
There is no field which is devoid of them because they have carved their flags successfully everywhere. Whether it is about a lady doctor, a teacher, a mentor, a sportsperson, a housewife; women cast their enchantment around and make life way too easier. Well my today's post is dedicated to the women, girls and all ladies who like shopping their heart out.
Because they want to feel relaxed and get to surf online blogs for them that's why it is the time to pay them homage. From beauty care, to cosmetics, from their health corner to the fashion up to date; every girly blog is being hit by the masses and generate a lot of traffic so here I decided to choose social media icons for girly blogs that you can post on your blog and get to stay in touch with them.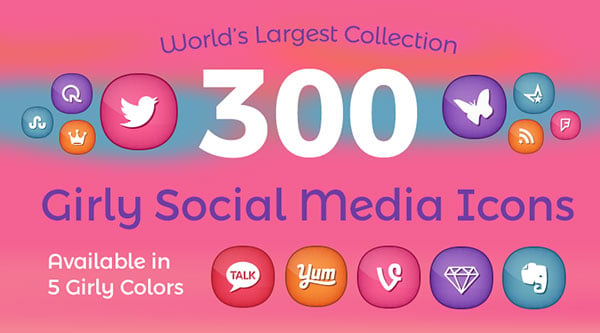 Social icons are channels to provide people ways to get connected to the blog. People get all the latest updates and stay hooked to the blog this way. These social network icons are cute, girly and so pretty to put on blogs related to girls.
Have a look at them and revert us for your queries.
300 Cute Girly Social Media Icons in Ai, PNG format | Free + Premium
Colors: Pink, Purple, Orange, Sea Green & Red

Free Version: 50 Icons (Sea Green Color)
Available Size: 128, 96, 72, 64, 48 px
License: (free to use for personal blogs and portfolio websites only)
Girly Social Icons 
—————————————————————————————————-
Premium Version: 300 Icons for only $1 & Vector files for $9
Available Format:  Vector (.ai) file (Light / Dark Backgrounds) Very easy to edit
License: Included in the file

—————————————————————————————————-
Following icons are included in this icon set: 
1x Icon, 500px Icon, 51 Icon, 8tracks Icon, 9gag Icon, About.me Icon, Adfty Icons, Aim App Icon, Aim Icon, Amazon Icon, Ameba Icon, AmenMe Icon, Android Icon, Answers Icon, Aol Icon, Aol Lifesteam, con, Apple App Store Icon, Apple Icon, Apsense Icon, Arto Icon, Ask Icon, Ask.fm, Ask.Fm Icon, Atavi Icon, Aws Icon, Badoo Icon, Baidu Icon, Balatrin Icon, Balatrinv Icon, Bambuser, Bandsintown, Banjo, Basecamp Icon, Beat100 Icon, Beats Music, Bebo Icon, Behance Icon, Bing Icon, Bitly Icon, Bland.is Icon, Blinklist Icon, Blip Icon, Blogger Icon, Blogkeen Icon, Bloglovin Icon, Blogmark Icon, BobriDobr.Ru Icon, Bonzobox Icon, Bookmerken.de Icon, Box Icon, Break Icon, Buddypress Icon, Buffer Icon, Buzzfeed Icon, Buzznet Icon, Camyoo Icon, Carbonmade Icon, Care2 Icon, Cargo Collection Icon, Cheezburger Icon, Chiq Icon, Citeulike Icon, City Search Icon, Classmates Icon, Cleanprint Icon, Cloob Icon, Coroflot Icon, Cosmiq Icon, Creative Market Icon, Crunchyroll Icon, CSSBased Icon, Dailymotion Icon, Delicious Icon, Designfloat Icon, Deviantart Icon, Diary.ru Icon, Digg Icon, Diggita Icon, Diigo Icon, Disqus Icon, Douban, Draugiem.lv Icon, Dribbble Icon, Dropbox Icon, Dropr Icon, Dzone Icon, Ebay Icon, Edcast, Edmodo Icon, Efactor Icon, Elance Icon, Email Icon, Enveto Icon, Etsy Icon, Eventbright Icon, Eventbrite Icon, Eventful Icon, Evernote Icon, Fabulously40 Icon, Facebook Icon, Facenama Icon, Facetime Icon, Fahlo, FaiInformazione Icon, Fancy, Fashionlista Icon, Fc2 Icon, Feedburner Icon, Flickr Icon, Flipagram Icon, Flipboard Iocn, Fotolog Icon, Foursquare Icon, Frendster Icon, Friendfeed Icon, Frontback, Gamespot Icon, Genius, Github Icon, Glide Icon, Goodreads Icon, Google Drive Icon, Google Mail, Google Play Store Icon, Google Plus Icon, Gravatar Icon, Grooveshark Icon, Grooveshark Icon, Hacker News, Hi5 Icon, Hitbox, Houzz Icon, HTML3 Icon, HTML5 Icon, Hulu-Icon, ICQ Icon, IGN Icon, iHeart Icon, iHeartRadio Icon, IMDB Icon, Imgur Icon, IMVU Icon, Indiegogo Icon, Instagram Icon, Instapaper Icon, iTunes Icon, Joomla Icon, Kaixin Icon, Kakaotalk Icon, Kanvas Icon, Keek Icon, Kickstarter Icon, Kik Icon, Klout Icon, Kongregate Icon, Lastfm Icon, Liestream Icon, Line Icon, Linkedin Icon, Linkmarker.ru Icon, Livejournal Icon, Mashable Icon, Mediafire Icon, Medium Icon, Meerkat Icon, Meetme Icon, Meetup Icon, Memori Ru, Meneame Icon, Menuism Icon, Metacafe Icon, Mindie, Mixi Icon, Muzy Icon, Myspace Icon, Netflix Icon, Netvibes Icon, Netvouz Icon, Newsvine Icon, Ning Icon, Odnoklassniki Icon, OkHello Icon, ooVoo Icon, Oyyla Icon, Pandora Icon, Pandora Icon, Path Icon, Paypal Icon, Periscope Icon, Pheed Icon, Photobucket Icon, PictureTrail Icon, Pinterest Icon, Plaxo Icon, PlayStation Icon, Plurk Icon, Pocket Icon, Polyvore Icon, Qik Icon, QQ Icon, QuizUp Icon, Quora Icon, Qzone Icon, Rakuten Icon, Rdio Icon, Redbubble Icon, Reddit Icon, Renren Icon, RenRen Icon, ReverbNation Icon, Rhapsody Icon, ROBLOX Icon, RSS Icon, Rutube Icon, Scribd Icon, Segnalo Icon, Share Icon, Shazam Icon, Shots Icon, Shutterstock Icon, Sina Icon, Skype Icon, Skype Qik Icon, Skyrock Icon, Slashdot Icon, Slideshare Icon, SmugMug Icon, Snapchat Icon, Snapchat Icon, Society Icon, Sonico Icon, Soundcloud Icon, Specificfeeds Icon, Spotify Icon, Spring Me Icon, Squarespace Icon, Stack Overflow Icon, Startaid Icon, Steam Icon, Steller Icon, Storie Icon, Storveny Icon, StumbleUpon Icon, Swarm Icon, Symbaloo Icon, Tagged Icon, Tango Icon, Taobao Icon, Tapatalk Icon, Taringa, Technerd Icon, Technorati Icon, TED Icon, The Hunt Icon, Thecherryshare Icon, Thisnext Icon, Tidal Icon, Topix Icon, Tout Icon, Travbuddy Icon, TSU Icon, Tudou Icon, Tuenti Icon, Tumblr Icon, Twitch Icon, Twitter Icon, Twoo, Twylah Icon, Typepad Icon, Uber Icon, Urbanspoon Icon, Ustream Icon, Veoh Icon, Vessel Icon, Vevo Icon, Viber, Viber Icon, Viddlr Icon, Vimeo Icon, Vine Icon, VK Icon, Wattpad, Website Icon, WeChat Icon, Weheartit Icon, Weibo Icon, Whatsapp Icon, Whattpad Icon, Whisper, Whisper Icon, Windows Store Icon, Wix Icon, WordPress Icon, WorldStarHipHop, Wykop Icon, Xanga Icon, Xbox Icon, Xing Icon, Yahoo Icon, Yammer Icon, Yelp Icon, Yonder Icon, Youku Icon, YouNow Icon, YouTube Icon,Yummly Icon, Zazzle Icon, Zooppa Icon
—————————————————————————————————-
More Vector Social Media Icons 2016:
Tags: social media icons 2016, Free social icons, premium social icons, largest social icons, biggest social icons set, free social network icons