This world is so bitter where survival is almost impossible, you have to walk an extra mile to get your pursuits done, nothing will be like spoon-feeding to you, nobody is born with silver spoon, and all of us have to struggle through this life. The real courage is to face the reality, confront the challenges and make the way out of it.
At first, it may seem to you that you're done with life, but later on you will realize that experiences and errors give you the preaching that even books can't tell. Never underestimate yourself and go with the flow. The big companies and great owners are not born like this, all of them have gone through hard and fast rules, through toughest times and hurdles that stopped them from reaching their goals in first place.
But all it takes is merely a step ahead to climb up the ladder, nothing is impossible, impossible is only in your thoughts. There are a lot of graphic designers who have been wandering around to find the best jobs for themselves. In order to get into companies of your desire, you strongly need a CV to carry with yourself. A CV can make you into a firm, it can build your stance and gesture.
Always choose the best resume template for yourself, add up your talents, expertise, experiences, roles, education and all the important details to impart what you hold in you. The font of the resume has to be readable as well as elegent, there has to be clarity in your CV and no ambiguity.
Today I designed free professional resume (CV) template for graphic designers. Have a look at the resume, it will for sure give you idea that how CV should look like and what it takes to make an impressive curriculum vitae. Stay glued to us and we won't let you down any inch. Keep coming back for more and your feedback will be highly appreciated.
Free Professional Resume (CV) Template for Graphic Designers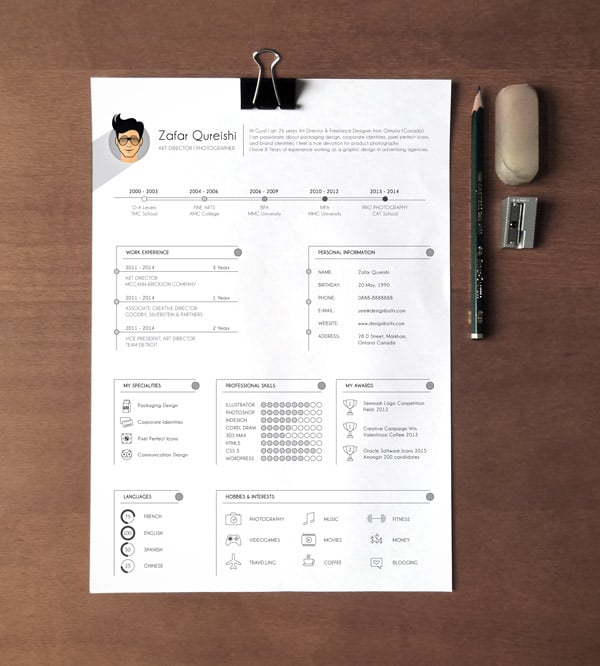 Designed by Zee Que for designbolts fans
Available Format:  Illustrator Ai (editable file)
License: Free for personal and commercial usage
Font: Champagne & Limousines
Note:
1. Say thanks if you like or share/tweet with your friends. That means a lot to me.
2. And don't forget to follow or subscribe to receive for more high quality premium freebies & awesome articles only.
Free CV Design Template 
More Awesome Freebies from designbolts
Tags: free resume, resume template, cv template