Hi there guys! We hope that you are working on really cool design projects these days and that life is treating you well in general. So, while going through the comments section recently, we found out that many of you wanted us to create a mounted poster mockup PSD and here we are!
In our today's blog, we will be talking about posters, mounted posters and how to create some beautiful designs for your mounted posters. In addition to that, we will also talk about how important it is to create mock-up presentations to share your creative thought processes. Let's get started!
We would like to explain the idea of creating poster advertisement for beginners in this part of our blog. A poster happens to temporarily promote a message about an event, product or service for larger groups of people – who might be directly interested in what's being said to them or can act as messengers and spread the word around. A normal poster consists of text and graphic elements but you can also design text based or graphics based posters too.
Your poster must always have the following:
Headline
Message
Contact information
The 'headline' will serve as the attention grabbing message which will attract a viewer to stop and read the details. Your 'message' will give out the details of all the whats, hows and whens and through your contact information, it will become easier for your audience to get in touch with you for further details. To enhance the beauty of your poster, you can use eye catchy design elements, imagery as well as typography to make things work in style.
Okay so, you will download our carefully designed free mounted on poster mockup PSD after you are done reading the blog. You will also keep in mind the most important features of a poster while creating your own designs but don't you think there's something missing? Well, you will also need to work according to a set of effective and easy to follow design tips too. Let's have a look at the tips & tricks which will make your poster design effective and hard to ignore:
Make your poster easy to read from a distance by keeping the fonts legible and font sizes big.
Keep the location in mind so that you know what colors to use. That being said, choose colors which are eye friendly.
Incorporate one big visual into your design and pay special attention to its placement.
Typography can help you in creating one focal point – don't forget to experiment with that as it gives a nice and unique look to the overall design as well.
Know that you have to stand out from the crowd (of posters). Use unique typefaces and colors so that your designed posters don't get lost.
A well designed poster is all about 'space' – you must make good use of it so that you can enhance the visual impact.
Call to Action (CTA) is very important. You need your audience to get in touch with you in one way or the other. Some nice CTAs are; Register Now, Visit Now, Tyr for Free, Join Us etc.
Now let's get to the point. What is a mounted poster and how can you have it mounted on a building? As you must have observed that the regular posters are not durable and well, other businesses and service providers don't really care about your posters already being pasted on polls and walls. A mounted poster is a poster which is creating by mounting it on a back of your choice – quite literally. The back could be of high quality foam or wood.
Mounted posters last longer, no one can display their poster on your poster and you can enjoy the spot by spreading the message of a concert, shopping mall, sale etc. Nothing changes in the context of design and printing processes for mounted posters and we are sure that our PSD file will help you in creating some of the most attractive mounted posters for your upcoming campaigns.
Once you have done the design work and are ready to share your concepts and ideas with the client, make sure that you do that through a well-designed mock-up presentation. You can pick advertisement spots of the most popular roads and buildings of your city and create mock-ups of your poster designs in such a way that the stake holders can get the clear idea of how things will look like in real life.
That's all for today guys! We are sure that you will find our poster mounted on building mock-up PSD and tips super useful and will also be able to design creative poster designs in no time. So, what are you waiting for? Get your hands on our free poster mockup PSD and make us proud with your own unique designs.
Free Mounted on Building Poster Mockup PSD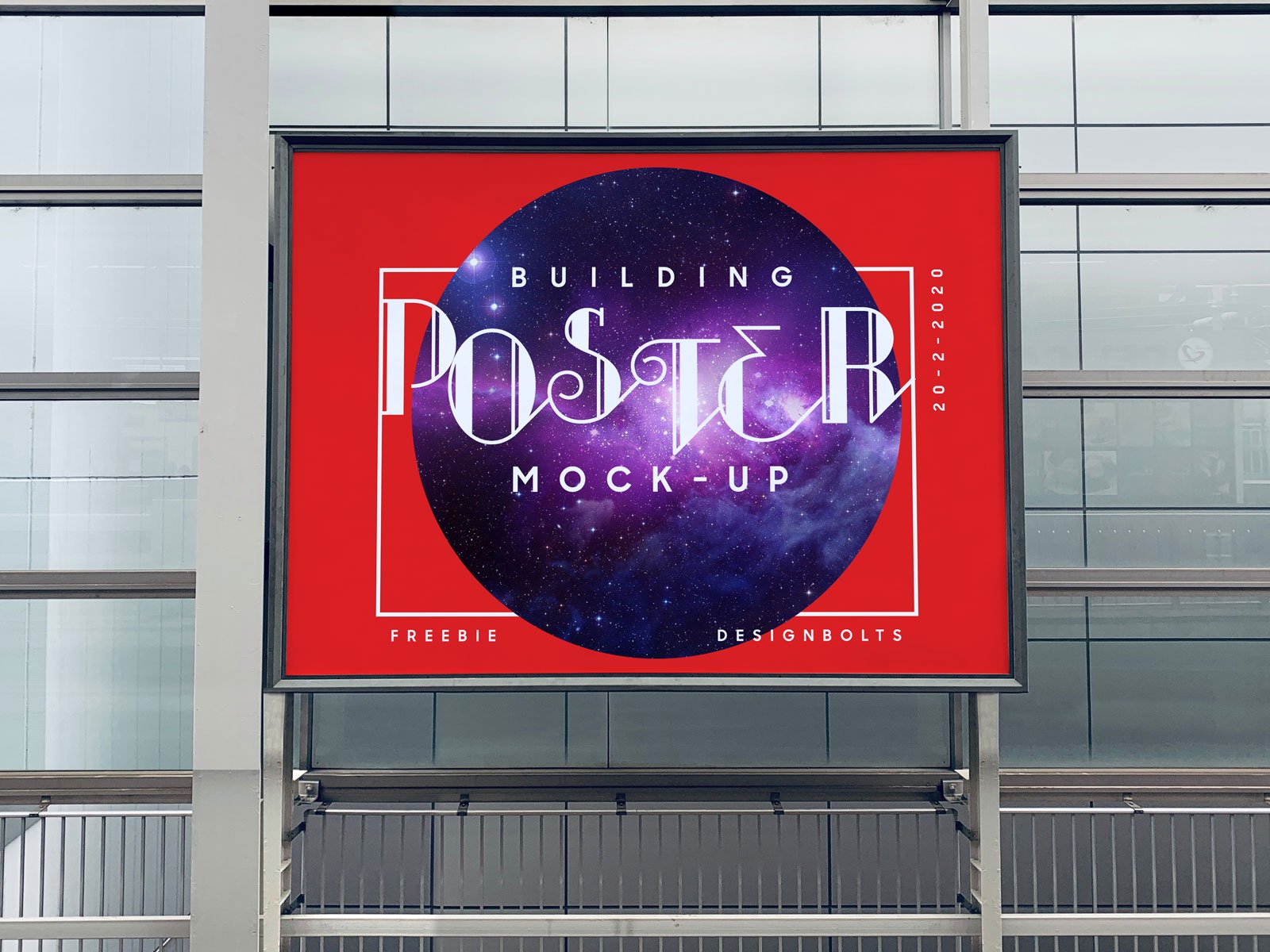 Available Format: Layered PSD with smart object insertion
License: Free for personal and commercial usage
Zip File Includes: Free Building Poster Mockup PSD
Mock-up Resolution: 3000 x 2250 px

Note:
1. Free Poster Mockup PSD is allowed to share online (A Must Linkback to designbolts.com)
2. Say thanks if you like or share/tweet with your friends. That means a lot to me.
3. And don't forget to follow or subscribe to receive for more high quality premium freebies & awesome articles only.
Download Poster Mockup
More Free High Quality Mockup PSD Files: