Hey there guys! How the world of being super creative and producing great designs is treating you so far? Are you enjoying what you are currently working on or do you want to take a breather so that you can have a fresh start? We are asking these questions because we know that's some of the very basic stuff that has become a part of every graphic designer's life. And honestly, that is fine – to some extent though because you don't have to try too hard to create something which can be worked on after a while. There are days when it is perfectly okay to take one design idea at a time.
It is also very important for every working individual to grow as a professional because if someone is not keeping themselves up to date with the latest trends and technology upgrades then all they would be doing is to produce monotonous work and ideas and after some time they will also get bored of the brand, client and projects.
Ultimately, an employee or a team member starts feeling bored at their work place or with the work that they are doing and they want to either switch their job or to get done and over with the stuff they are working on. We do not intend to imply that it's the workplace, the employer or the employee who doesn't feel like bringing innovative ideas to the table but it is the boring work routine that discourages them to do even the basic of the jobs.
Since we feel that we have a great connection with you guys even when we haven't met, we have always tried to come up with ideas and mockup PSD files which will let you do what you would love to do. We are not basic and we don't want you to be basic too so to bring something exciting to our blog, what we have done today is that we will be talking about a brand new topic and in addition to that, you will also be able to get your hands on our free marriage certificate design template in Ai Format.
If you haven't created a marriage certificate before today then there is your chance to get there with our easy to follow design tips and creative ideas.
We are assuming that most of you would know what a marriage certificate is but allow us to explain the importance of having a marriage certificate while we are at it. It is an official document of a marriage between two people when they sign on it in the presence of their closed relatives (parents, siblings or maybe even guardians), friends etc. who are requested to witness the bond. Details like date and names are mentioned on the certificate too for the record.
Marriage certificate is one of those very important documents for the people who are married and have plans to travel outside their country or participate in a couple's program and activity of any kind. It is like if you are married you could be asked to present the proof to the authorities if need be so, it is not only important to register yourselves as a couple in the court or as per the state orders but it is also a sign of a responsible couple if you have all your documents made and attested by the concerned departments.
Okay so, there are many ways to design and roll out a template of a marriage certificate but we decided to keep it subtly formal since it is an official document and we would like to encourage all of you to maintain that otherwise it will look like a blingy wedding invitation and no one likes a document that has "extra" feels to it.
We have kept the font fancy and have also allotted enough space to the text that has to go up there as date, names and signatures etc. Design elements have also been added so the certificate itself looks exciting and something dull.
Different couples will ask you to incorporate different themes and design elements to the certificate and you can definitely do that as our template will allow you to do whatever you would want to do. Maybe you can also edit the template as per your likings and create copies of one design so that you can share with your clients or friends and relatives who will contact you to share design options or a final version of their marriage certificates.
We hope that you will enjoy creating marriage certificates using our free design template which will also help you in adding more to a couple's relationship. We wish you good luck for your creative thinking and amazing designs too!
Free Certificate of Marriage Template in Ai & Mockup PSD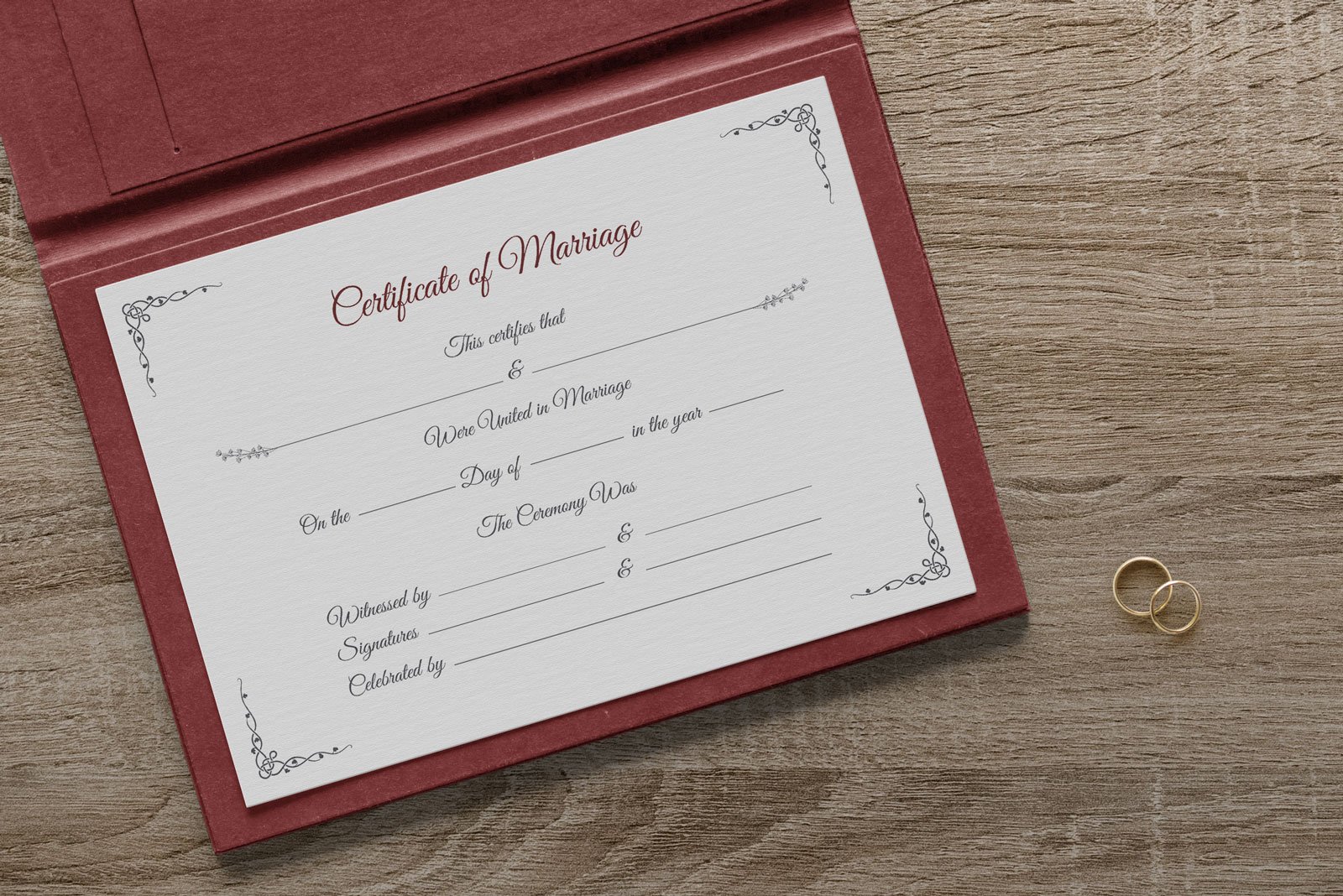 Available Format: Layered PSD with smart object insertion
License: Free for personal & Commercial use
Zip File Includes: Certificate of Marriage Mockup PSD + Ai Vector Template
Font: "Great Vibes" Included in Zip File
Note:
1. Wedding Certificate Mockup and template are allowed for sharing online (A Must Linkback to this page)
2. Say thanks if you like or share/tweet with your friends.
Marriage Certificate Ai
Marriage Certificate Mockup
More Graphics Design Templates To Download: