Last year when we were planning a Halloween party at home, we forgot to invite some very close friends of ours and had to make some last minute arrangements to create space for them on the sofas as well as in the food menu. And all of this was followed by some long apologetic messages too but well, we are here in a better and more responsible form.
We know that managing work and arranging parties side by side requires some extra time and efforts but it is also important to not lose your mental peace in all of that. Whenever you plan to arrange a get to gather or even a hang out with your friends and colleagues, always make sure that you have a small notebook and pen with you to create to-do lists and to check the boxes when you are done with them. This practice will help you in staying on the track and you won't forget anything important (or unimportant for that matter).
Though every party requires complete attention of the host(s), there are certain things which have to be arranged – no matter what for example; seating arrangement, décor, food and of course some entertainment as well. But if you don't want to do everything by yourself then you don't have to because God bless the party planners who take full responsibility of doing everything for you at your own parties.
Recommended: 300+ Halloween Pumpkin Stencils
There is another way of hosting a Halloween party and that is to rent out a club. By doing so, you will exempt yourself from all the stress and fatigue of arranging a party. And the club guys will know how to make things work in their own ways. This idea just by the way, is great for both personal parties and can also work for club owners as well.
Now that we have suggested multiple ways of hosting and arranging a Halloween party one thing still remains unanswered and that's the announcement of your party. How do you go about that? Well, you can have proper invites designed, created and circulated among the guests but if you feel that's a lot of work then you can have some posters designed to work for you.
With a poster, it becomes easier to spread the word. Posters can be displayed everywhere (where it is allowed to paste one) and prove to be one of the most effective methods of communicating with the 'audience'. Oh, and you can totally share soft copies with your friends and colleagues over WhatsApp too if you want them to join you for the party, you know!
So, how are you going to announce that *you* are hosting a Halloween party? This question is for the club owners as well as for people who want to host a get to gather in a club this year. Umm we can hear someone say that you would want to announce it through a brilliantly designed poster. Well, it's okay if that's how you guys want to do it because we have just created a Halloween party night club poster flyer for you guys. And we are so excited to share it with y'all.
Okay so, there are some really important things to keep in mind while designing a party poster which are:
Date & time
Venue
Menu with prices
Host's / Club's name
Call to Action
Social Media Handle (at least 1)
If you are planning to arrange friendly competitions then do mention them on the poster as well.
We are also going to share some really cool and effective tips with you guys: If you want more and more people to be at your Halloween party then arrange things for the couples. For example; if you are charging an entry fee then you can give a 50 percent discount on the second ticket / pass. You can also arrange competitions for couples only. And don't forget to incentivize the games etc. so that people know they don't have to miss out on your party.
By getting your hands on our Halloween party flyer template, you will be able to add details of your parties easily – as our template is highly editable. We have kept the design all spooky and scary but you can bring in the element of 'horror' by complementing the poster with some even scarier vectors.
That's all for today guys! Thank you for being a regular reader and fan of our blog & designs. We really hope that everything which we post here helps you in achieving your design and creative goals. If you have any suggestions and feedback, feel free to share them in the comments section down below. Oh, and do not forget to share our poster flyer template with your friends and colleagues!
– – – – – – – – – – – – – – – – – – – – – – – – – – – – – – – – – – – – – – – – –
Don't miss out these cool Halloween freebies:
– – – – – – – – – – – – – – – – – – – – – – – – – – – – – – – – – – – – – – – – –
Free Halloween Party Nightclub Poster / Flyer Design Template PSD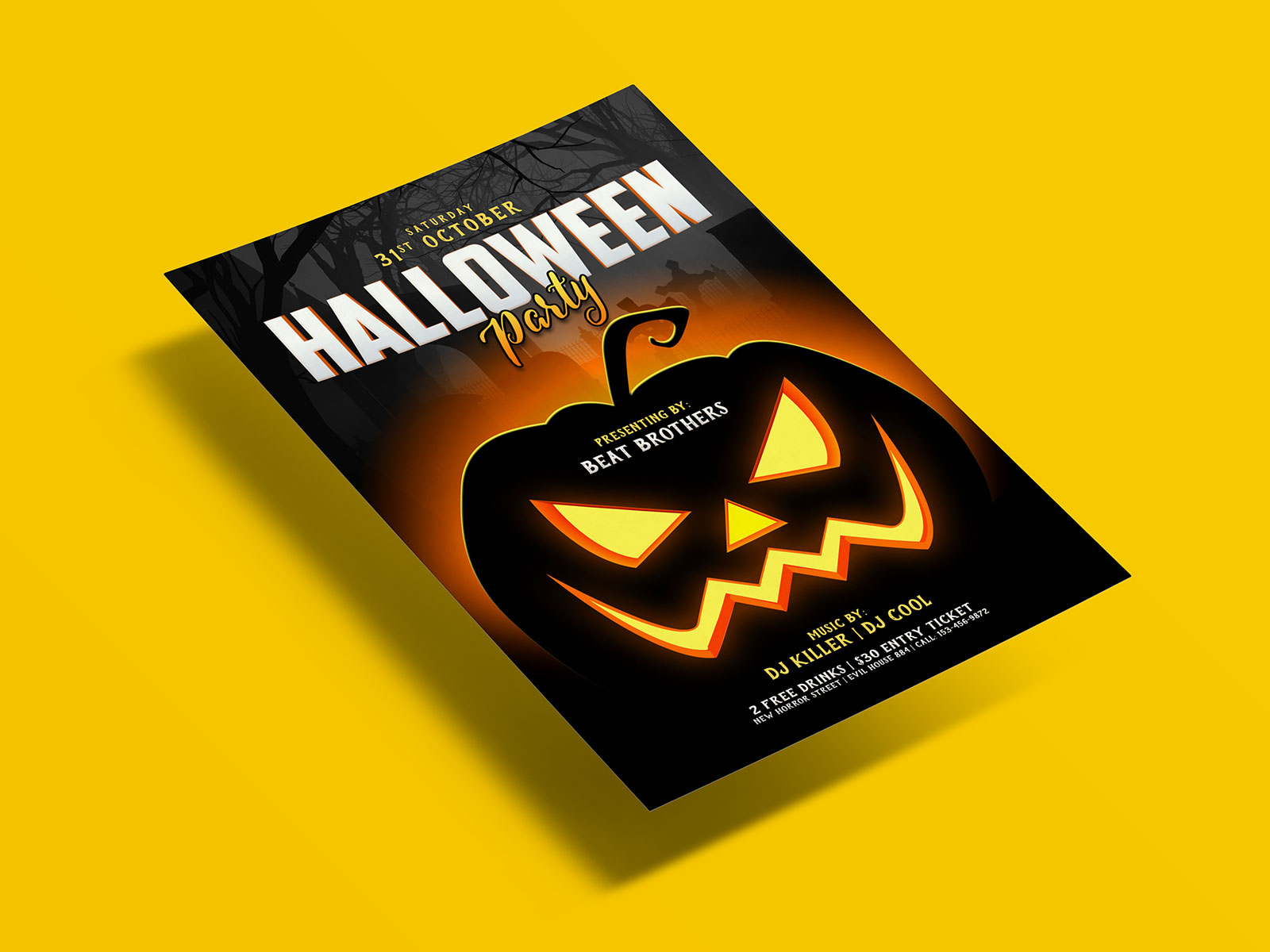 Available Format: Layered PSD with smart object insertion
License: Free for personal presentational use only
Zip File Includes:  Halloween Flyer PSD Template
Note:
1. PSD file is allowed for sharing online (A Must Linkback to this page)
2. Say thanks if you like or share/tweet with your friends.
Download Flyer Template
Recommended Halloween Articles: