Hi there guys! So, we will start our today's blog with a question. What comes to your mind when you see a logo nicely hung on a building's wall or outside a cute coffee place? If you want to know how we feel, then we would love to share that we absolutely love hanging logos. Those are not just different from the regular logos and signage that we happen to see on a daily basis, but we think that they can also grab one's attention instantly. And well, that is literally one of the first achievements of a marketer.
In our previous blogs, we have shared how you can work on your branding designs and come up with attractive brand architecture ideas that can take you and your business to places. For this blog however, we would like to share how important it is to updating a brand and the way it is branded so that it stays relevant to the times it is being branded and that the audience does not feel detached because of old practices.
As marketers and advertisers, we are sure that you would know almost all the marketing and advertising materials that are used to promote a business but in recent times, we have seen that most brands have started to experiment with the ways they used to talk to their audience. From traditional and huge billboards, marketers made a shift to digital screens that are placed on the pathways and you can reach your existing and potential audience effectively.
Digital and social media platforms also disrupted the way brand teams would plan to promote their businesses and that all happened for good. Now we have digital video commercials, carousel ads, polls, online shops, interactive ads and so much more that we can communicate with our audience and they can talk to us within seconds. Similarly, for TV commercials, marketers now come up with short videos or snippets that are not the usual 60 seconders but are relatively shorter and are on aired during dramas and talk shows for delivering a brief message.
Recommended: Fresh Logo Mockups 2020
Keeping in mind the developments and how trends come and change within hours and newer trends take place of the older ones, we can say that things will keep on evolving (for the good) and we will be witnessing even awesome trends and forms of communication in times to come.
Now, let's come to the actual topic – which is a hanging flag logo mockup. As you can see that we have designed our very own free hanging flag logo mock-up PSD file for you guys, we decided to keep it one solid color but with text on it to get you an idea that how logo design would look like. You can use it the way you would feel comfortable in but there are a few tips which must be shared with you before you start working on your own hanging logos.
First things first; you need to know how high your designed logo will be hung as this information will help you in choosing your colors as well as font families. Once you have gotten the information, create your logo(s) in such a way that they are not hard on the eyes and are also easy to recognize as well. You can do that by choosing colors that represent your brand and by also establishing your brand distinctively. Also, keep in mind that there are no rules of keeping just the logo on a hanging logo so, feel free to add in a design element or two along with your tag line to make it an even nicer promotional material.
Once you have created your design options, your next step should be to create a detailed mock-up presentation that can explain your ideas. We can bet that by presenting the ideas through mock-ups, you can not only save your money on having the logos printed and manufactured in actuality but you can also get direct approvals from the decision making bodies then and there too – as that is the main reason why we design mock-ups in the first place, you know!
That is a wrap! We hope that with our free hanging flag logo mock-up PSD file and design tips, you will be able to create stunning logo for yourself as well as for your clients so, what are you waiting for? Get your hands on our free mock-up PSD right now and start creating brilliant art works.
Also, feel free to share your feedback & suggestions with us in the comments section down below and if you have any design requests, then drop them down too so that we can have a look at them and also design them for your upcoming design tasks. Oh, and don't forget to share the blog with your friends and favorite colleagues too. Until next blog, keep creating magic through your creativity & imagination!
Free Vertical V-Shape Hanging Flag Banner Logo Mockup PSD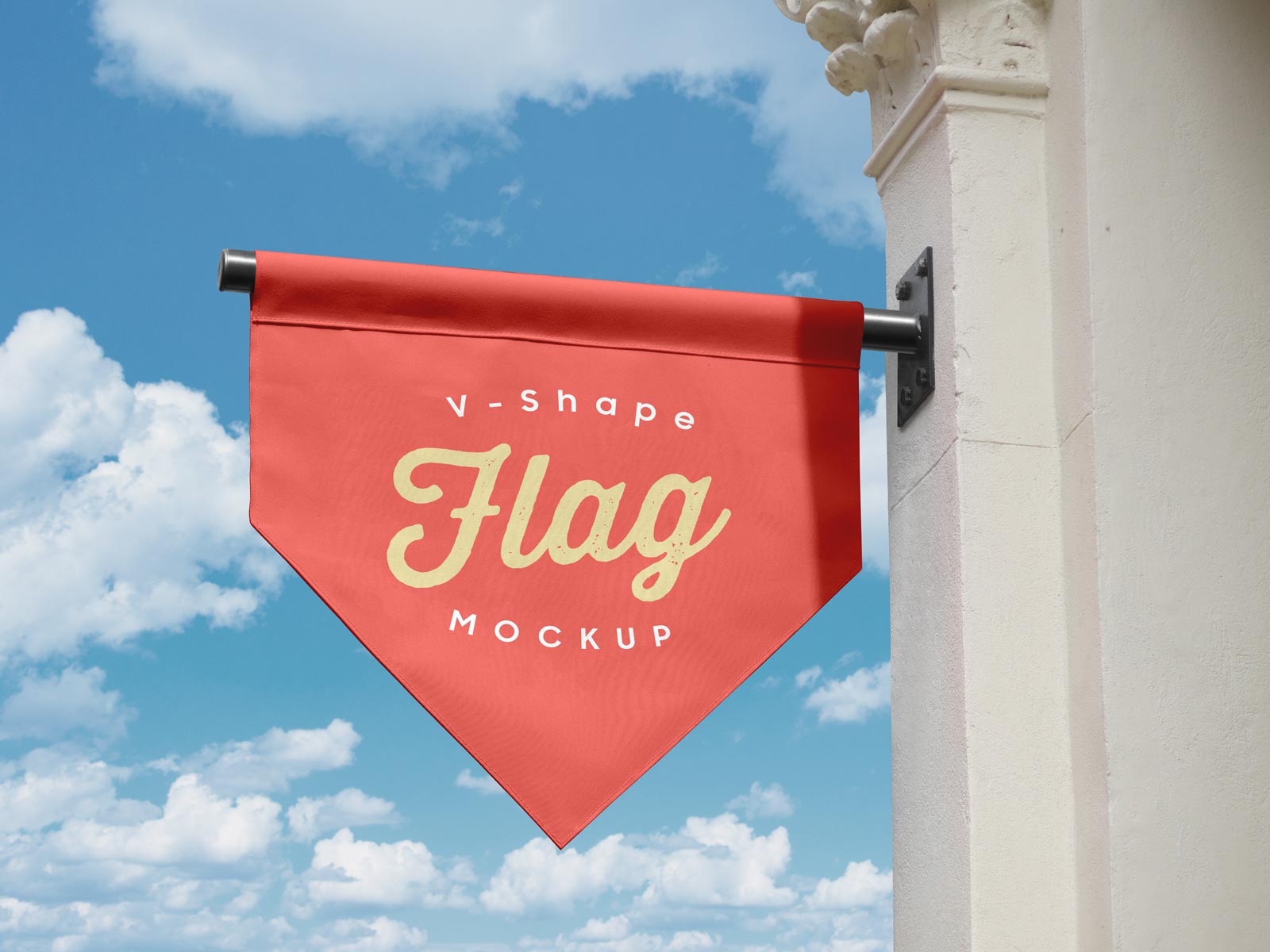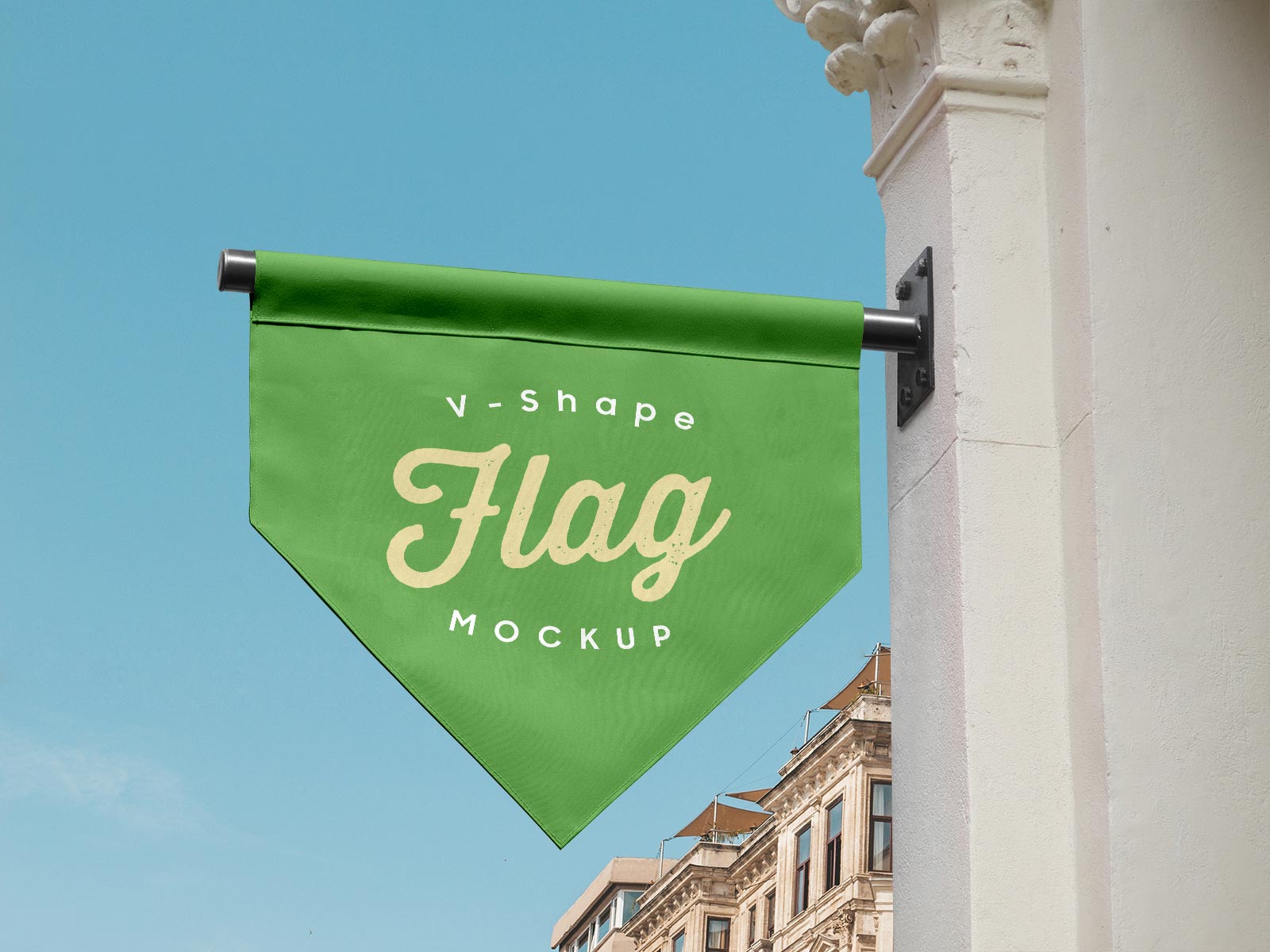 Available Format: Layered PSD with smart object insertion
License: Free for personal presentational use only
WinRAR File Includes: Mockup PSD
Resolution: 4000 x 3000 px
Note:
1. A4 Flyer Mockup is allowed for sharing online (A Must Linkback to this page)
2. Say thanks if you like or share/tweet with your friends.
Download Vertical Flag Mockup
More Mockups You Would Love To Download: