Hey there friends! How is everything going at your end? Are you all staying indoors and getting the work done efficiently? Or do you guys have to connect with your team members on alternate days to see if things can be realigned for a smooth workflow? We know that things are still not clear in the context of how long it will take for all of us to roam around our city fearlessly and when everything will be back to how it used to be.
But there is one thing that we know and we would love to share it with you all – make sure that you do not forget to be socially distant, keep washing your hands and follow the instructions that are being shared by the World Health Organization (WHO) as well as by your local health care departments.
As you all know that almost every country in the world is still under partial lockdowns, there are many organizations and sectors that are allowed to reopen their businesses like cab services have resumed their operations, restaurants and cafés have started to deliver their items upon receiving online orders etc. When it comes to cooking food and delivering it, we know that you have got to be more than just perfect so, that you can cater to the needs of your audience.
It must have been extremely difficult for all the people who own a restaurant or two as they were asked to close everything down in like a matter of days. And of course, those who love to eat outside or those who have to get something on the go (because they live in hostels and stuff) must have seen tough days as well and now that their favorite eateries are open again for delivery and take away, we thought to create something for the ones who were looking to tweak their menus a bit. Yes, guys we have worked on a free restaurant / hotel menu mock-up PSD that you can get right away, and it is super easy and fun to work on as we keep all the layers highly editable.
Recommended: Beautiful Food Menu Ideas
Since eateries cannot allow dine ins at the moment, you guys must consider bringing the online delivery and take away option into the menu and these changes can be made for both hard copies of the menu as well as for the online menu that you can share with your audience in private messages or on your website, Facebook Page and also on your business's Instagram account.
We think that stepping right back where you left from due to the unforeseen circumstances will be a great idea given that you know how to it in style and of course, our free restaurant / hotel menu mock-up PSD will help you in taking care of everything. Allow us to share a few design tips that you can follow to make your design an effective one!
First things first; adding a section for the orders that need to be delivered or taken away in person has to be created strategically. You would not want the new section to not have a prominent placement and we think that it will be perfectly fine if you create a brand new section with striking colors and design elements that it stands out for itself. Your next step should be to properly mention all the items that you will be delivering as there are chances that you have a few items on the list that cannot be delivered – especially the orders come in from far off areas.
Recommended: Restaurant Menu Design Ideas
Thirdly, you can also try and experiment with the cooking kits that have all the special ingredients, sauces and main items of the recipe along with the step by step guide so, that your customers can cook the food by themselves. And honestly, you can create a separate menu for the cooking kits as well using our free restaurant / menu mock-up PSD file.
Most of the things won't change for the menu for example; the theme that you have already be following for your restaurant / hotel but if you like, then you can change the menu and design a whole new thing to make it more attractive and we know that by putting something new on the table (not literally though!), you will entice your existing and potential customers in a better way.
And you guys would know how important it is to mention the prices and taxes being inclusive or exclusive along with proper descriptions of the ingredients for those people who might be allergic of a thing or two as well as for the ones who like to measure the quantity of food that they are having so, don't forget to double check all the pointers before you share the designs with a third party vendor for the printing & binding of your menu(s).
That is all for today! We hope that you will like this blog of ours and will also create amazing menu designs for your restaurant / hotel. And if you do, we would love to see the blog shared by you in your personal & professional circle.
Free Restaurant / Hotel Menu Mockup PSD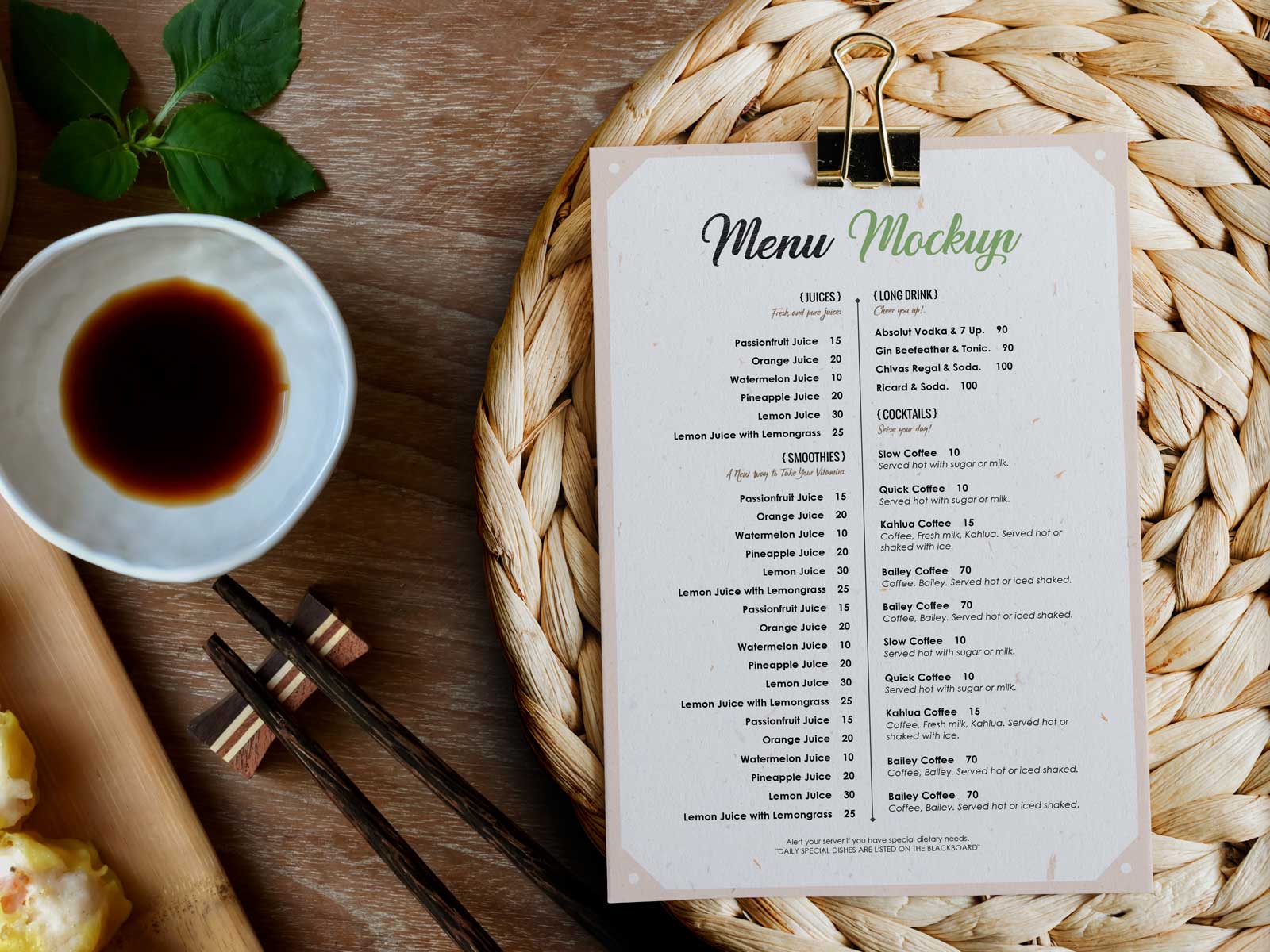 Available Format: Photoshop PSD
License: Free for personal and commercial usage
File Format: WinRAR
Mockup Resolution: 4000 x 3000 px
Note:
1. Free Restaurant Menu Mockup is allowed to share online (A Must Linkback to this page)
2. Say thanks if you like or share/tweet with your friends. That means a lot to me.
3. And don't forget to follow or subscribe to receive more high quality premium freebies & awesome articles only.
Download Menu Mockup PSD
More Free High Quality Menu Mockups: