Hey there friends! We hope that the new normal is treating you well and that our blogs & mock-up PSD files are helping you do great with your personal & commercial projects. For our today's blog, we wanted to do something different so, join us as we share our free plate mock-up PSD file with you guys along with interesting and easy to follow design tips.
We love how inspirations help a person create something literally out of nowhere – just like it happened with us this morning and we had to start thinking about all the possibilities. Here is what happened; we were browsing through the internet for a loved one's birthday present when we read something along the lines of there are many people who love receiving crockery as a gift.
So, if someone you know, would love to get a tea set or may be a dinner set on their wedding anniversary, imagine how much are they going to love a customized crockery set? Or a plate or two? Well, the reason why we are writing this blog is that we thought of creating a free plate mock-up PSD file for you guys so that you can create as many plate designs as you would want to create for yourself, for your friends or for your online businesses. Sounds like a great idea, right? Continue reading to know more!
Most of you would know customized items will never lose the hype that they already have, and we feel that as long as it is making your customers happy, you must continue adding more exciting pieces to the table. This business idea most probably started with mugs and t-shirts but then it was expanded and now we can have anything and everything customized, that too in prices that are reasonable and quality that is nothing but top notch.
Now who, do you think would say no to such an offer? No one, right? This exact same idea can be used by cafés, restaurants and anyone who deals in crockery items that you create personalized designs for them. It is simple, you already have our free plate mock-up PSD file with you guys and now all you have to do is to sit down and think of as many ideas as you can to initiate the design project. Oh, and did we tell you that you can literally use the mock-up PSD as is too? Because you can. Or may be you would want to change the color, add a pattern or a cool design element somewhere to make the design stand out.
Allow us to share a few ideas that you can incorporate and make pretty plate designs using our free plate mock-up PSD file!
Let's start from the plain ones first – solid colors, no branding or design elements present but the colors must be so unique & attractive that anyone who happens to look at the plate(s) would want to purchase it too. Interesting selection of colors will help you with achieving your business goals. Some of the tones that we can think of are:
Pastel tones (For example; mauve, baby blue and peach.)
Bright tones (For example; red, yellow and orange.)
Earthy tones (For example; brown, green and terracotta.)
You can also pick a contrasting color for the rims to make the plates etc. look even prettier.
Then comes the designs, patterns and design elements. We are also including branding here as it does come under the category of incorporating a design element like a logo. Dots, lines and circular patterns make the crockery stand out but if you want to create something different and attractive then we would suggest you find out the gap & demand first.
For example; we have seen enough florals on crockery sets and now it is high time, we focus on something else. Like have you thought about creating a story board that includes scenic designs. Houses, mountains or even pathways for that matter? We feel that this approach can help you in catching more eyeballs and generating sales.
As far as your branding is concerned, there are two ways of doing it: one is that you are going to serve food etc. on your branded plates to the customers and then there is another way of using the branded crockery – it's to put it there for your team members, clients and guests at your organization. In both ways, the company's logo, tagline etc. will be there for the recall. And in the end, your end goal will be achieved which is to stay in an individual's mind – for all the right reasons.
That is all for today, you guys! We hope that our blog and free plate mock-up PSD file will help you create stunning plate designs for your upcoming projects. If you liked reading all of this, do share the blog with your friends and favorite colleagues too.
Free Ceramic Plate Mockup PSD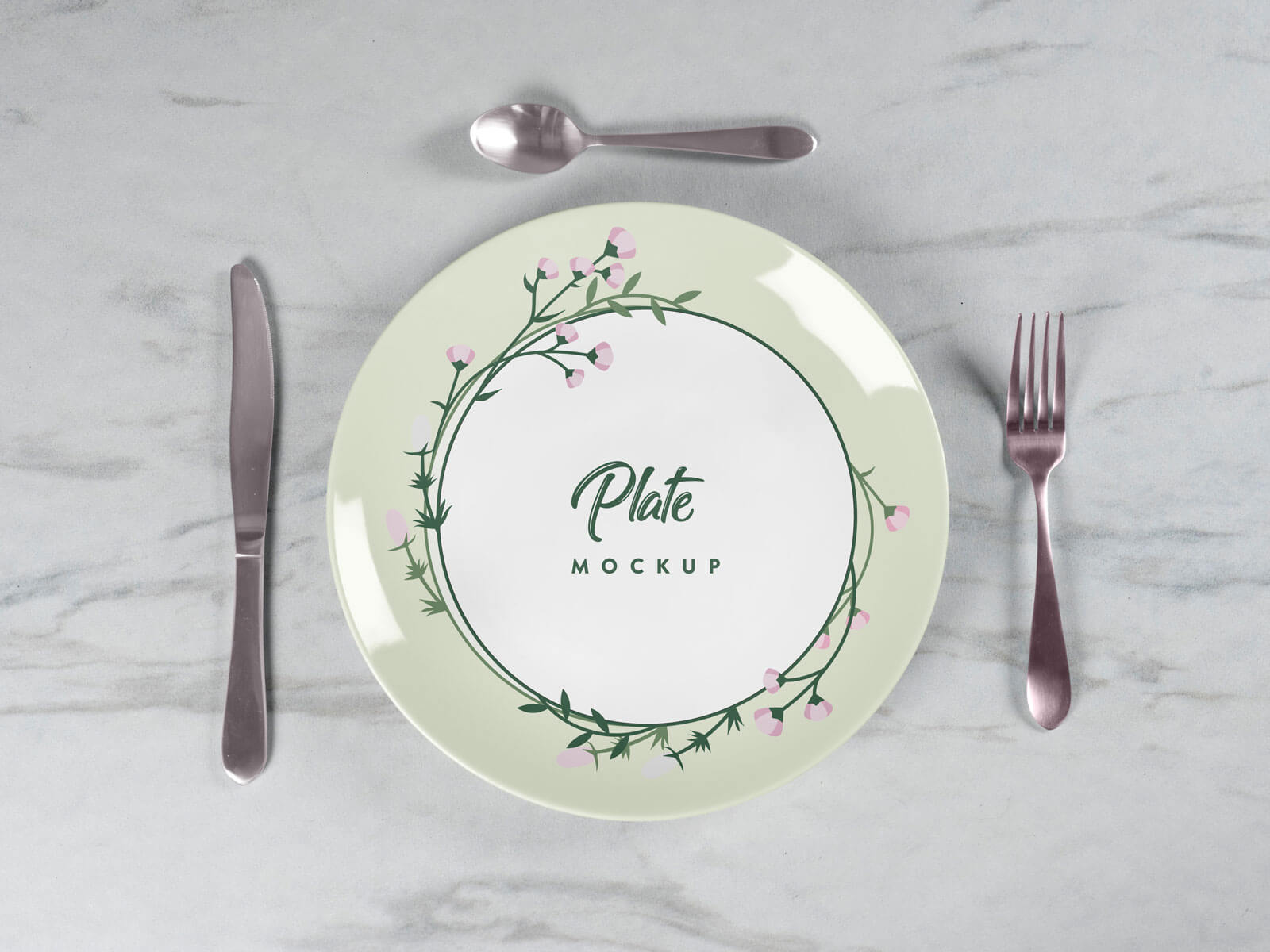 Available Format: Layered PSD with smart object insertion
License: Free for personal presentational use only
RAR File Includes: Ceramic Plate Mockup PSD
Note:
1. PSD Plate Mockup is allowed for sharing online (A Must Linkback to this page)
2. Layers are hidden to decrease the size of file kindly unhide and place your design on red colored layer.
3. Say thanks if you like or share/tweet with your friends.
Download Plate Mockup
More Unique Free Mockup PSD FIle: