Hi there everyone! Before we start talking about our today's mock-up PSD file, we would like to ask you guys a question first. It is an interesting one so here it goes: do you (still) prefer a business card or have you gone card-less and prefer sharing the contact information directly on your mobile devices?
If we were to answer our own question, then we would love to share that we absolutely love business cards. Not only do they look professional, but we think that keeping business cards of your colleagues and other professionals with you instantly create a personal connection and in times like these when we are too fast – fast enough to (unintentionally) forget the names, we think the idea of having and sharing business cards is great and effective too.
Besides, it is okay to be old school when it comes to certain things and we are glad to share a very neat and free front & back business card mock-up PSD with you guys. So, let us get started!
Creating a business card happens to be one of the most interesting tasks for us and we really like how unique ideas can present yourself so aesthetically but for this very blog of ours, we have decided to keep the front and the back blank so, that you guys can add whatever seems relevant to your business and what can speak best for you. The best thing about our free front & back business card mock-up PSD is that we have kept it in a standard size, and we know that you will be able to create stunning designs out of it.
We have a few effective and easy to follow design tips with you guys which will help you with everything that you would need from your business card. And if you are creating the design(s) for your clients and do get to know about themselves and their businesses first before you put a finger on a theme or design elements.
We are going to be starting from the beginning; as you can see that we have kept the cards with pointed corners, but it is totally up to you to pick a shape too for example; you can have rounded corners on the same size and those cards will also look great. So, with your card, you want to grab the attention of the person you are giving your card to, right? And although, there are many ways of doing so, we think that company's logo must be at a prominent place.
– – – – – – – – – – – – – – – – – – – – – – – – – – – – – –
– – – – – – – – – – – – – – – – – – – – – – – – – – – – – –
The next thing that must be mentioned on a business card properly is your name & designation – and in fonts that are not super fancy. You must keep your name etc. in easy to read fonts. It not only helps the person to get to say your name right away, but they will also keep the card close to them in case they need your services.
Your business card is not a billboard and by that we mean, that it should have all the necessary information, but it should not be too wordy or cluttered. Keep the design as simple as you can so, that you can actually interacting with other people instead of (sort of) scaring them away with strong graphics. And only necessary text must be there on the card for example; along with your name, your contact information: personal and official phone numbers, a fax number (if there is one), your email address and website of the organization where you work at. If you are a graphic designer, a copywriter or if you work independently, then you can also add your social media handles on the card as well.
Other things that you guys must consider are the color tones and the material of the card. Always pick a nice paper material for your business cards, you do not want it to look cheap at all. Then of course, if your budget allows, then you can also take lamination into consideration as well as it increases the lifetime of a business card.
There are multiple finishing options available for business cards like; foil blocking, die cut, fold emboss, fold deboss etc. and you can pick anyone of them depending on the budget. And once you are all set with the final designs and everything else that matters for a business card, we would also like to encourage you here to also create a nice & detailed mock-up presentation as well before you send the designs to a third party vendor.
That is all for today! We hope that you will be making some really awesome designs using our free front & back business card mock-up. Don't forget to share your feedback with us in the comments section down below and we'll see you all next time!
Free Pink Rose Petal Business Card Mockup PSD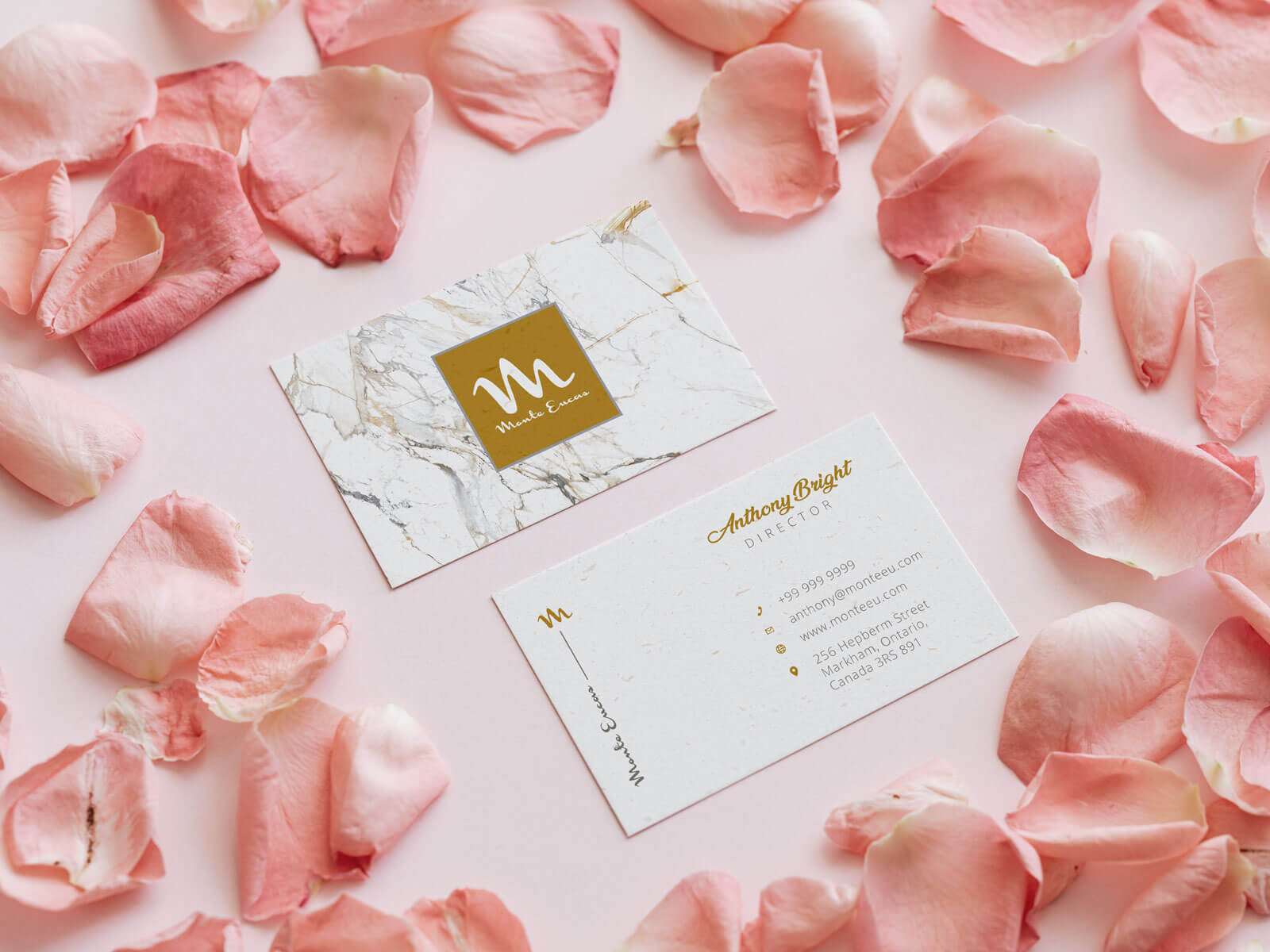 Available Format: Layered PSD with smart object insertion
License: Free for personal and commercial usage
Zip File Includes: Free Business Card Mockup PSD
Mock-up Resolution: 4000 x 3000 px

Note:
1. Free Mockup PSD is allowed to share online (A Must Linkback to designbolts.com)
2. Say thanks if you like or share/tweet with your friends. That means a lot to me.
3. And don't forget to follow or subscribe to receive for more high quality premium freebies & awesome articles only.
Download Business Card Mockup
Recommended: