Hi there, hello there! Wea re back with yet another amazing blog of ours and we can totally bet that you all are going to love it since you can create the designs for an eco-friendly cotton shopping bag like a boss. But first things first; we would like to take this moment to share it with you guys that your overwhelming response on our content warms our hearts and we are so thankful for that. Keep sharing positivity with us and we will keep creating super useful content for all of you!
Now, it is time for us to share how important it is to accept that we have wronged the planet for so long that the consequences might be dangerous for each one of us if we would not stop exploiting the natural resources. Cutting trees to make paper or to clean the area so that the land can be used to build factories, buildings etc. will turn out to be a problem for us because we are running out of shade, the planet is getting hotter day by day and we must play our part in making sure that we lessen our carbon prints however we can.
Any brand that happens to be a responsible one when it comes to making and producing things in this time and age not only gets recognized easily but that brand is also appreciated by the masses too – both local and international. Right now, we are not talking about going big but we definitely are talking about being a responsible business so that we can benefit the planet instead of harming it. You would already know that there are many ways of going about it; but what matters the most is that we bring in as many eco-friendly products to use as we can so that it becomes a necessity more than a fashion statement.
At the moment, there are multiple eco-friendly products that are available in the market. They are not only sustainable but the fact that during their making, not a thing from the nature was hurt makes you want to spend your money on them for example; recycled tissue papers and tooth brushes, compostable bin liners, recycled water bottles, reusable produce bags that also include bread bags, hand bags, wallets as well as shopping bags. Then there are eco-friendly phone cases, recycled (ocean) plastic eyewear, recycled plastic back packs, umbrellas, yoga mats.
Recommended: 50 High Quality Free Shopping Bag Mockups
In addition to that things that we have mentioned above; there are also reusable coffee cups and plates, reusable and eco-friendly lunch wraps, recycled and reusable cutlery items, compostable cutlery including plates, bowls etc. Then there are reusable toilet papers as well as eco-friendly touch screen laptops and computer accessories. Yes, you read that right! We are so glad to share it here that intelligent and creative individuals around the world are making sure that they start giving back to the planet before it takes too much from us, you know in the form of global warming and so much more.
Oh, and there are clothing items too that are made using recycled products and we think that is another way to go about it. So, for our today's blog, we thought to create something that can be used by anyone and everyone because firstly, it will be made using eco-friendly materials and secondly, if used properly; you can use these shopping bags for as long as you would want to, you know. We have kept the color plain white and it can be used as is – but if you are one of those people who feel that white colored shopping bag will not only get dirty quite easily, but not a lot of people would want to use it either so you must create something that more and more people would want to purchase, get and use too. Keeping in mind the dirt issue, we would suggest you go for dark colors like black, brown, bottle green, purple and royal blue so that eco-friendly cotton shopping bags can be used without having to worry about them getting dirty.
Let's talk about the design now! As you know that there are not a lot of people who like to use simple and plain things, so go for something exciting – perhaps with a message, a quote, a line from a song so that the designs can attract the masses. You can also mention the cause you are making the eco-friendly cotton shopping bags for and we can guarantee that you will be able to resonate with so many people that the world will become better and more responsible. If you want to brand these cotton bags, feel free to do that too while making sure that your logo is placed nicely somewhere prominent.
And that's all for today! Get your hands on our free eco-friendly cotton shopping bag mock-up PSD file today and start creating fun designs.
Free Eco-Friendly Cotton Shopping Bag Mockup PSD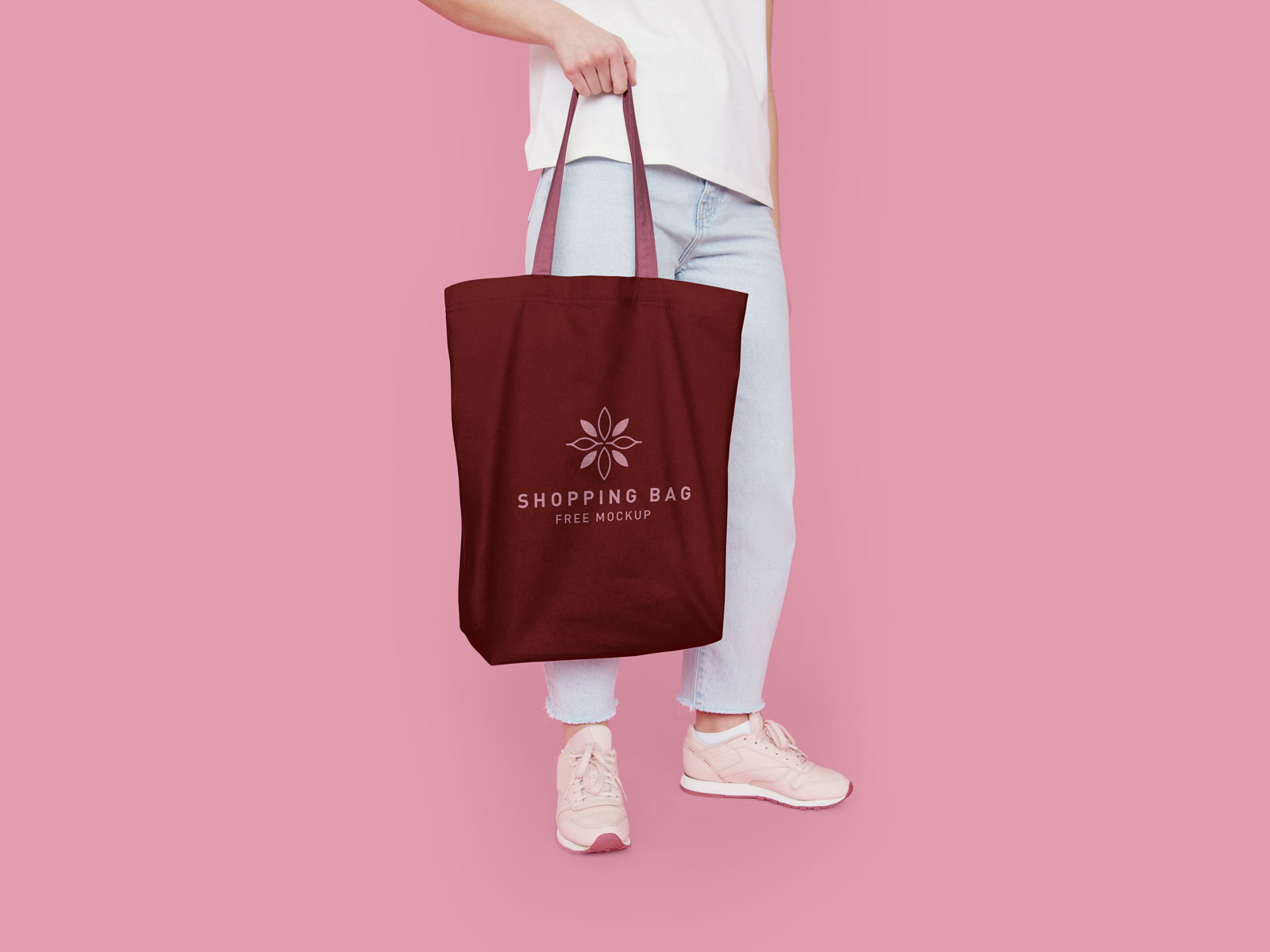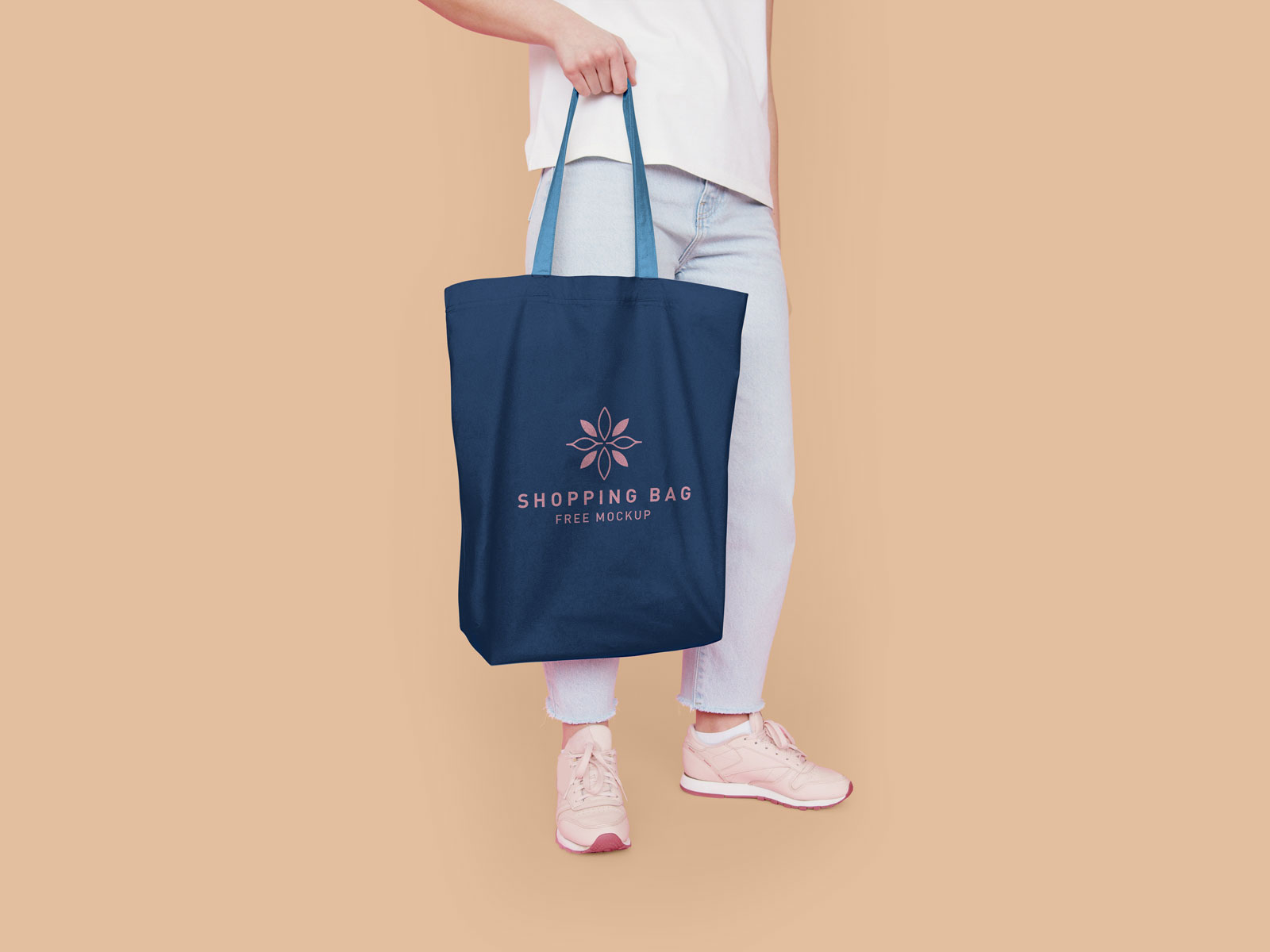 Available Format: Photoshop PSD
License: Free for personal and commercial usage
File Format: WinRAR
Mockup Resolution: 4000 x 3000 px
Note:
1. Free Shopping Bag Mockup is allowed to share online (A Must Linkback to this page)
2. Say thanks if you like or share/tweet with your friends. That means a lot to me.
3. And don't forget to follow or subscribe to receive more high quality premium freebies & awesome articles only.
Download Shopping Bag Mockup
More High-Quality Free Shopping Bag Mockup PSD Files