Hi there, hello there! We hope that you guys had a great time reading our previous blog and that you are very excited to read up on the 30 best USB 3.0 universal docking stations to buy from Amazon in 2022. We will share everything that you need to know in order to make an informed decision regarding your purchase but before we do that; we would like to thank you all for your overwhelming support and for also sharing our content and whatever we share here with your friends, family, and colleagues. All of that means a lot and we hope to deliver even more amazing stuff in the future as well.
Okay so, before we start sharing the extensive list of all the brilliant and literally the best USB 3.0 universal docking stations to buy from Amazon, we would like to ask you guys a question; feel free to share your thoughts and comments with us once you have done reading the entire blog. Here it goes: how many of you guys like to shop online? We are asking this question because we know how hard it can be for people to go to physical stores all the time to get their stuff and we won't lie, when we go to a physical store, we happen to purchase more stuff than we have already planned because You Only Live Once?!
Well, we also understand that there are people who do not like to shop online and there are many reasons behind that but mainly because they did not receive what they were expecting and now they have stopped shopping from online stores altogether. We felt that since we are almost always sharing a couple of best things to buy from Amazon on the blog, we must also share how you can get what you are expecting to get without having to face any troubles so, keep reading the blog to always get the best out of your online shopping spree.
Guys always remember that every good and authentic online shopping store would have a dedicated section of Reviews on their Facebook Pages and / or websites. Do you know how having a review section can allow the potential customers to build their trust instantly and can also make the purchase a certain thing or two right away? It is simple; when you get to read reviews from a website about a dress, a pair of shoes or an electronic, you know that they have purchased that item and took their time to use it before they could review it on the portal. And since that feels true to you, you have the choice to make your purchase too (or you can simply ignore it, that is up to you).
So, before you feel like ignoring an amazing deal or a list of best items that are there; visit the main website in detail, take out some time to read the reviews and once you have made sure that whatever the strangers are saying about a certain product, get it right away because 99% of the times, the reviews are legit and will help you spend your money on something that you won't regret purchasing. That being said, allow us to now share what these 30 best USB 3.0 universal docking stations have to offer so that you can buy yours before 2021 ends or in 2022 too.
Whenever you are getting a new thing, always spend time to understand why you need it. Do not get it because it is on sales or because your favorite social media influencer got it through a PR package. Once you will know the need to get something and in this case; a new USB 3.0 universal docking station, here are the things that you must be checking out before you make the final purchase:
You should get to know about the compatibility of the docking station across various devices first as well as the connectivity through cables etc. and the length of the cable too so that it is a complete package that you are getting otherwise, you will be getting more and more devices or connectors to make your devices work. Also check the number of ports the universal docking stations have to offer; this is important because there would be times when you will have to use multiple devices and that can only be possible if you have enough ports.
Then comes the transfer rate and that should be fast enough for your work to get transferred so compare the devices before you get yours. Looks and colors here are secondary but we would love to let you all know that Amazon has a couple of really cool USB 3.0 universal docking stations to offer so, what are you waiting for? Check out our list right away and get the one(s) that can help you get done with you work easily and efficiently.
30 Best USB 3.0 Universal Docking Stations 2022 to buy from Amazon
1. Dell USB 3.0 Ultra HD 4K Triple Display Docking Station (D3100)
Hardware Interface: 3 x super speed USB 3.0 – 9 pin USB type A, 1 x network – RJ-45, 2x USB 2.0 to 4 pin USB Type A, 1 x headphone input and output 3.5 millimeter, 2 x display/video: HDMI: 19 pin HDMI type A, 1x HDMI DVI for triple monitor setup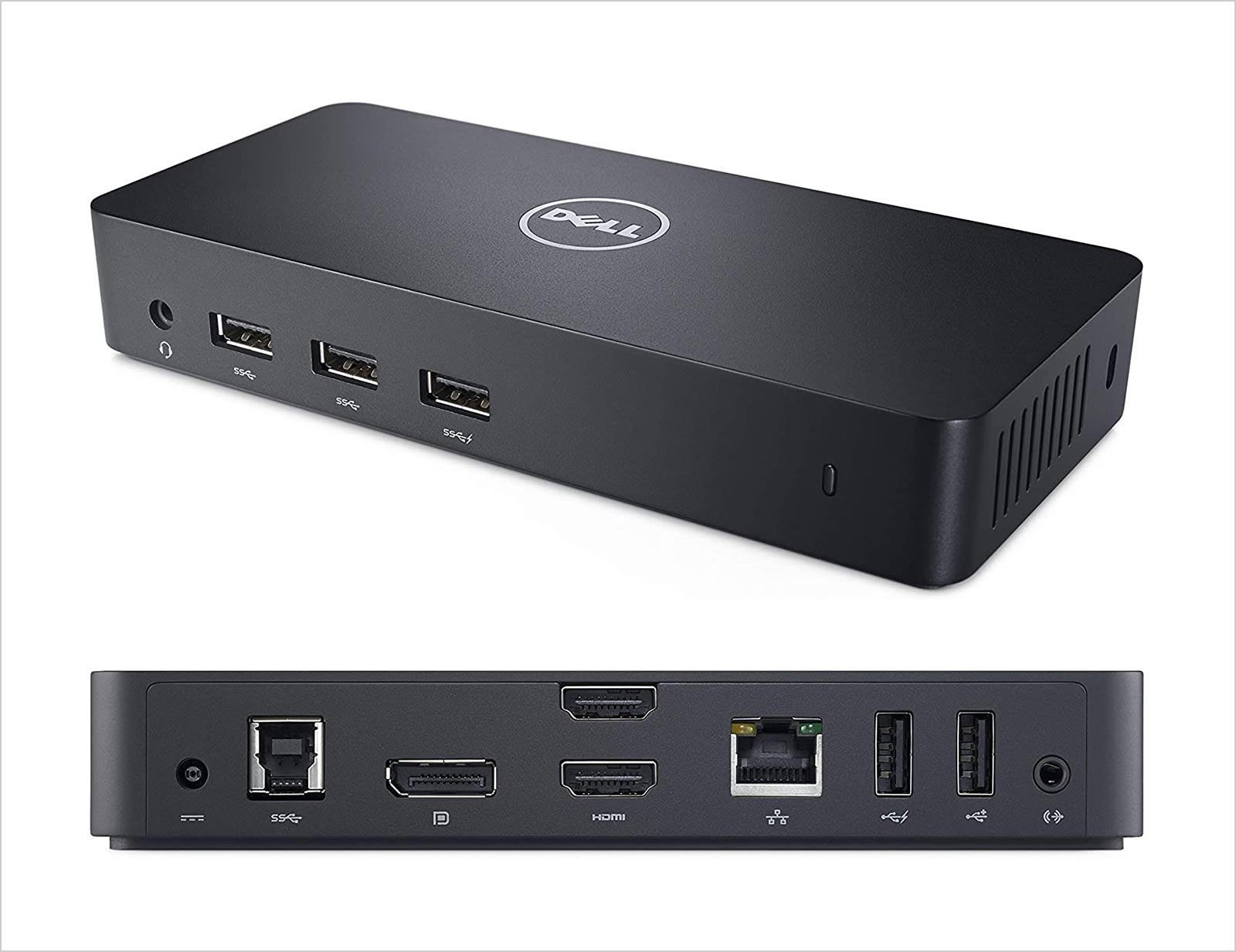 2. Wavlink USB 3.0 Universal Docking Station Dual Video Monitor Display
Hardware Interface: VGA, USB, Ethernet, HDMI, USB 3.0, USB 2.0, USB 1.1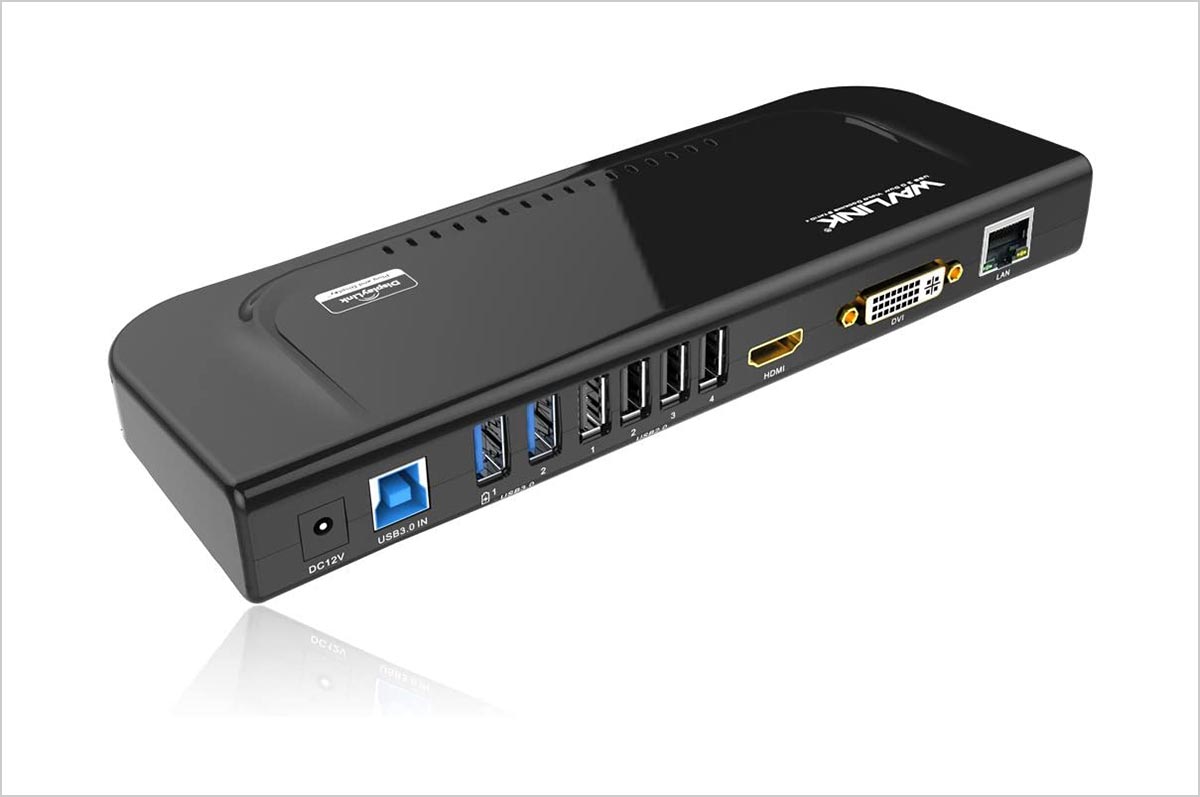 3. Plugable USB 3.0 Universal Laptop Docking Station
Hardware Interface: VGA, Ethernet, HDMI, USB 3.0, USB 2.0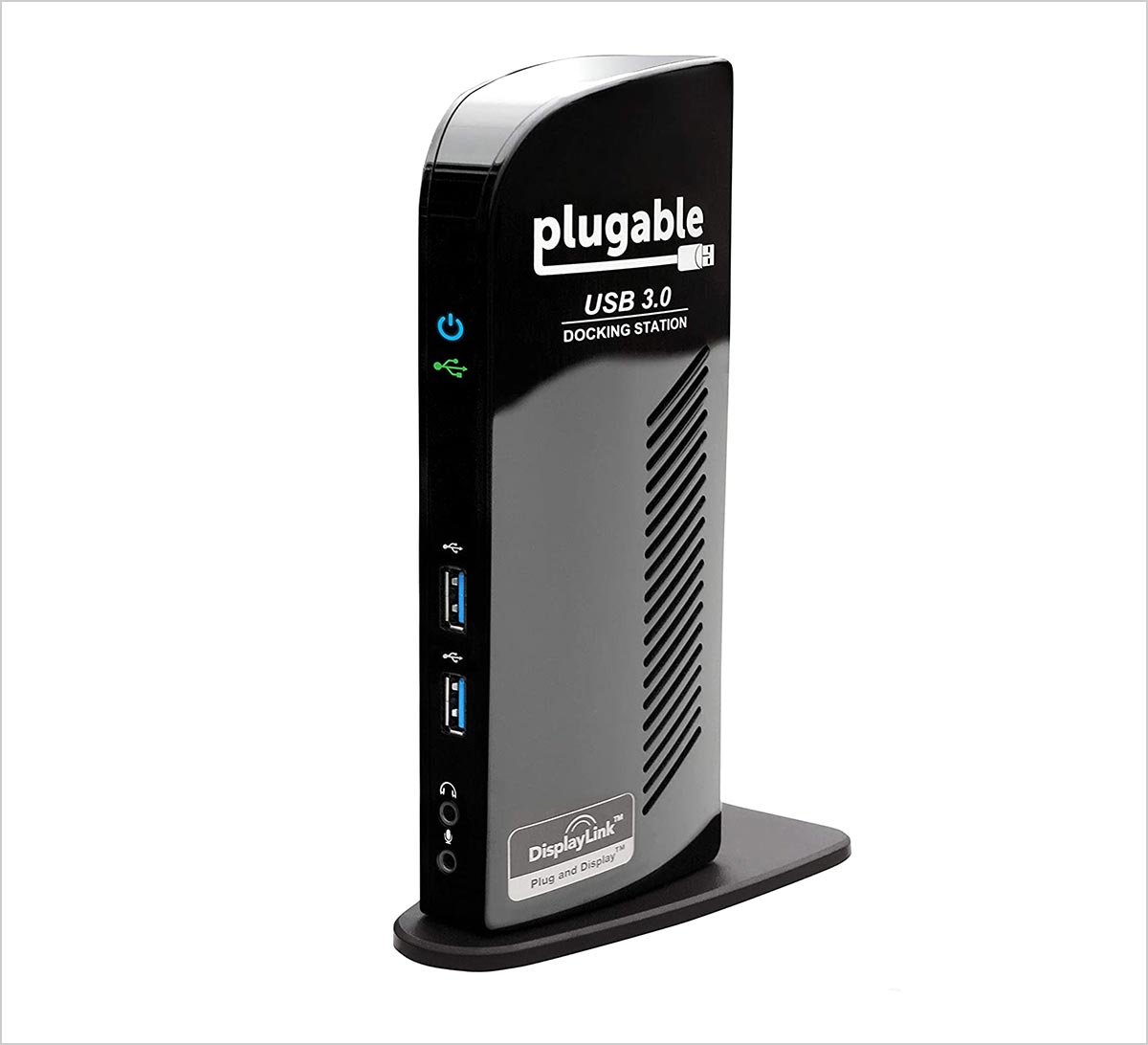 4. Acodot 13 in 1 USB C Docking Station
Hardware Interface: VGA, USB, Ethernet, HDMI, 3.5mm Audio, USB 3.0, USB 2.0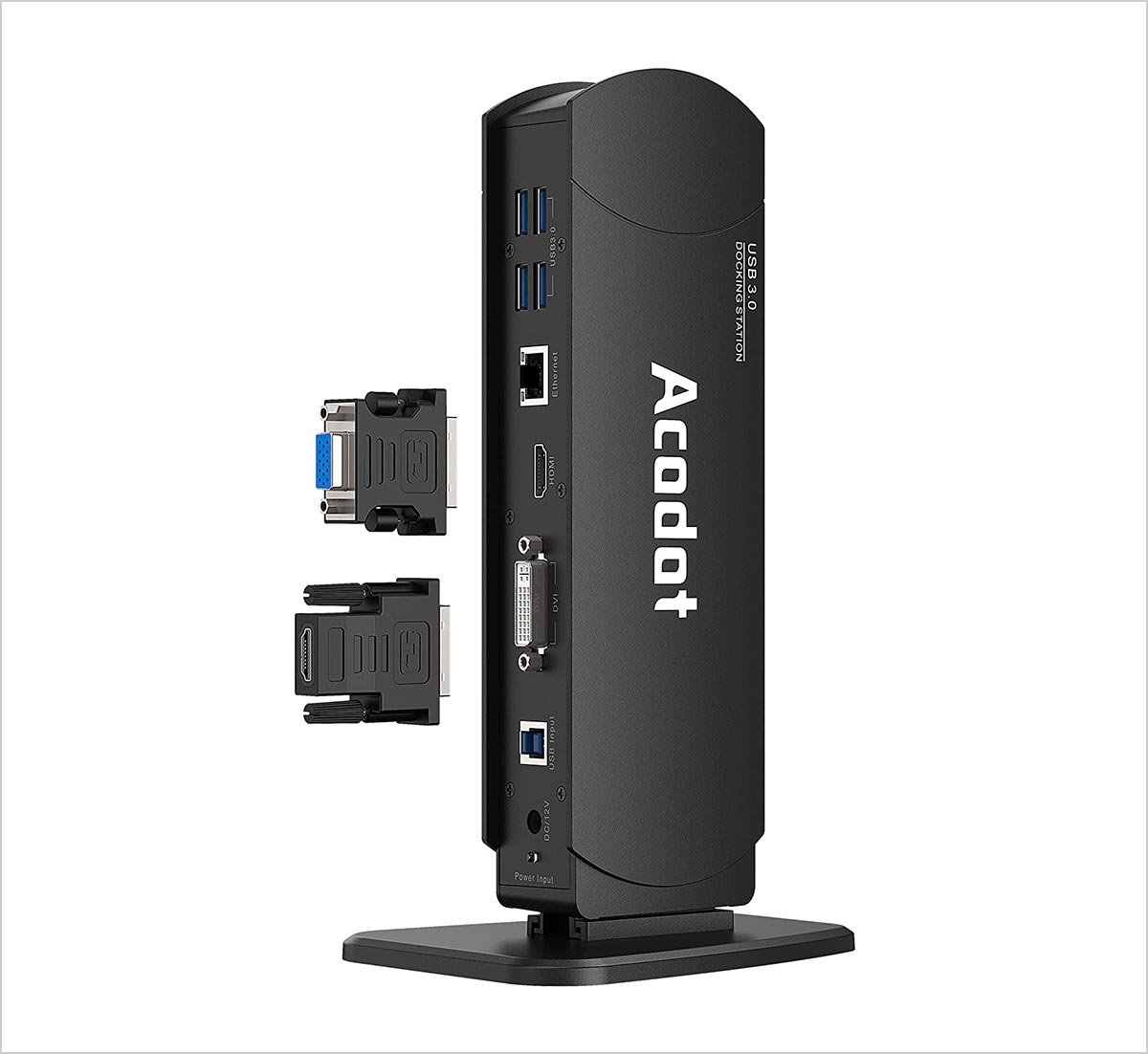 5 WAVLINK Dual 4K USB 3.0 Universal Laptop Docking Station
Hardware Interface: USB, Ethernet, HDMI, 3.5mm Audio, USB 3.0, USB 2.0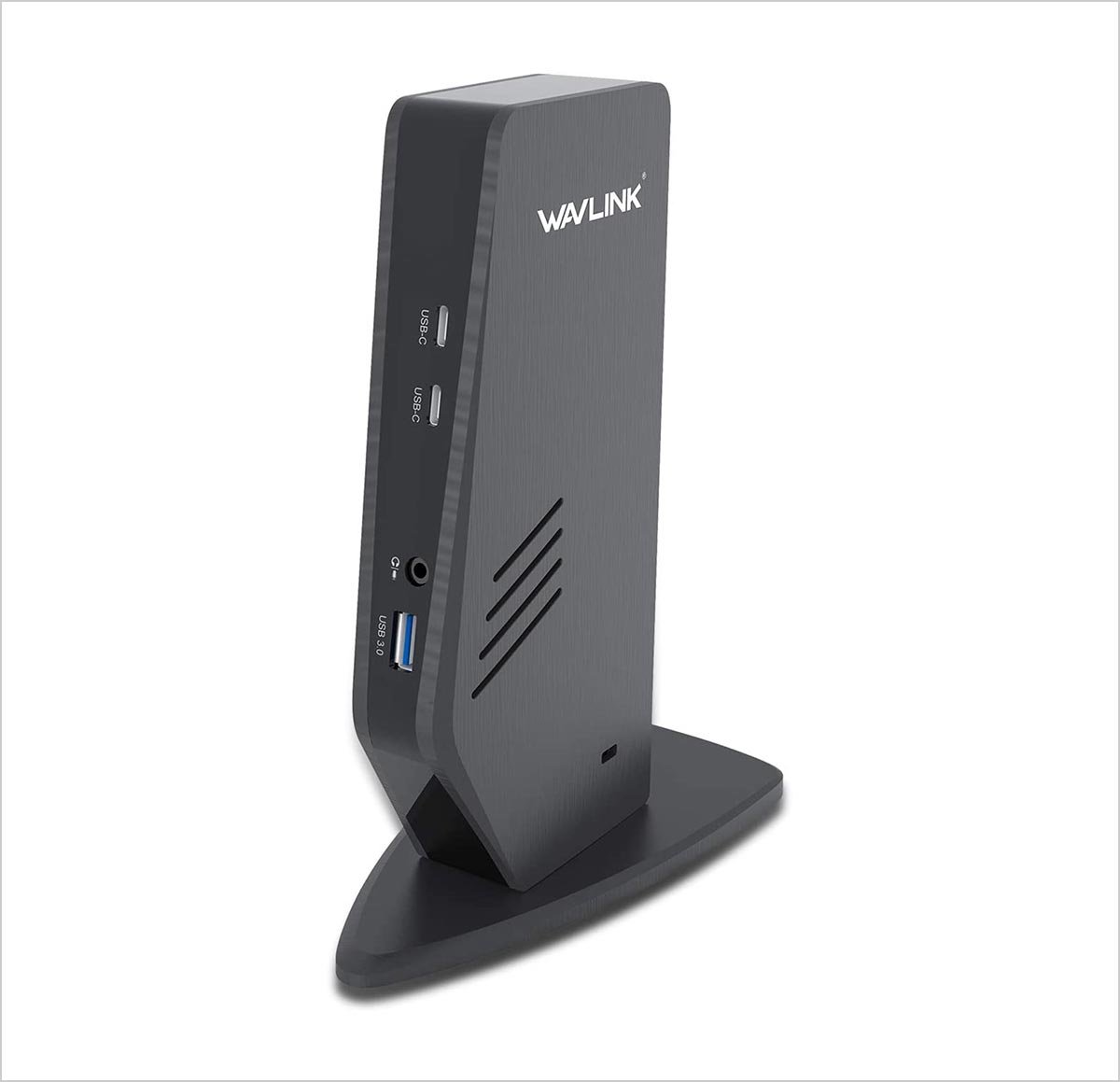 6. VisionTek VT4000 Universal Dual 4K Laptop Monitor Docking Station
Hardware Interface: USB, Ethernet, HDMI, USB 3.0, USB 2.0, USB 1.1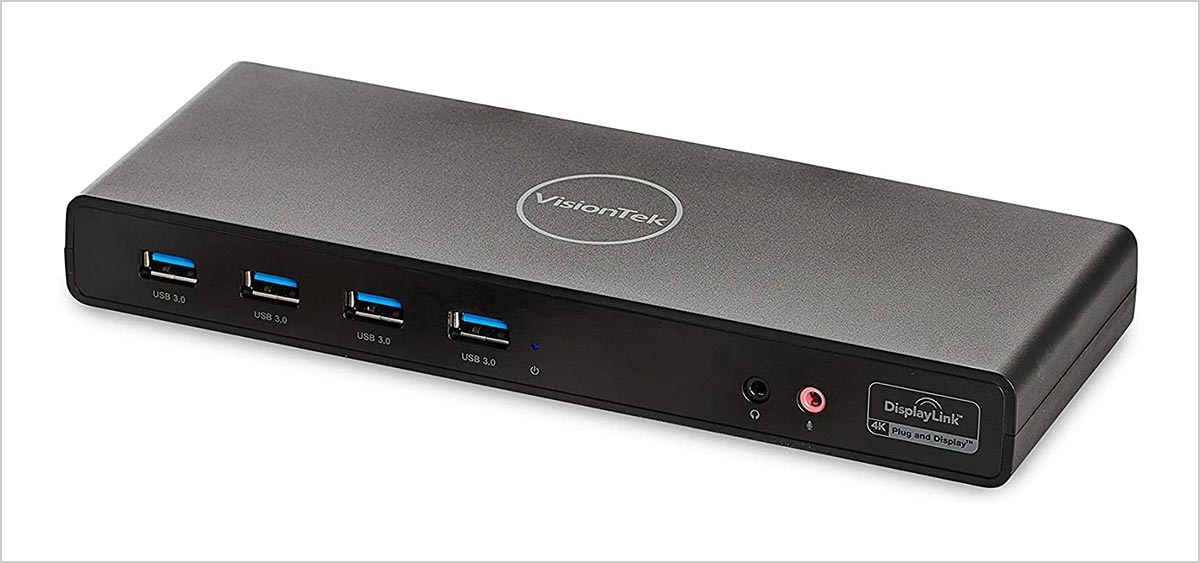 7. Dell Dock- WD19S 90w Power Delivery – 130w AC – 90 W
Hardware Interface: USB, Ethernet, HDMI, 3.5mm Audio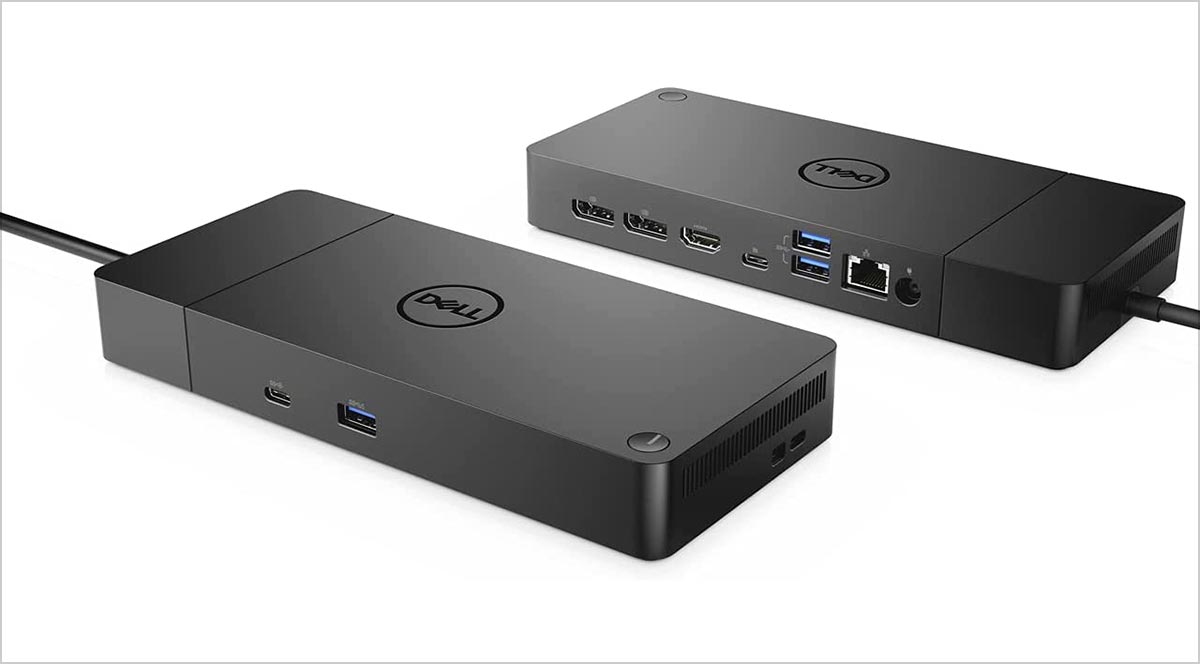 8. Acer U301 USB 3.0 Dock for Windows
Hardware Interface: USB, Ethernet, HDMI, 3.5mm Audio, USB 3.0, USB 2.0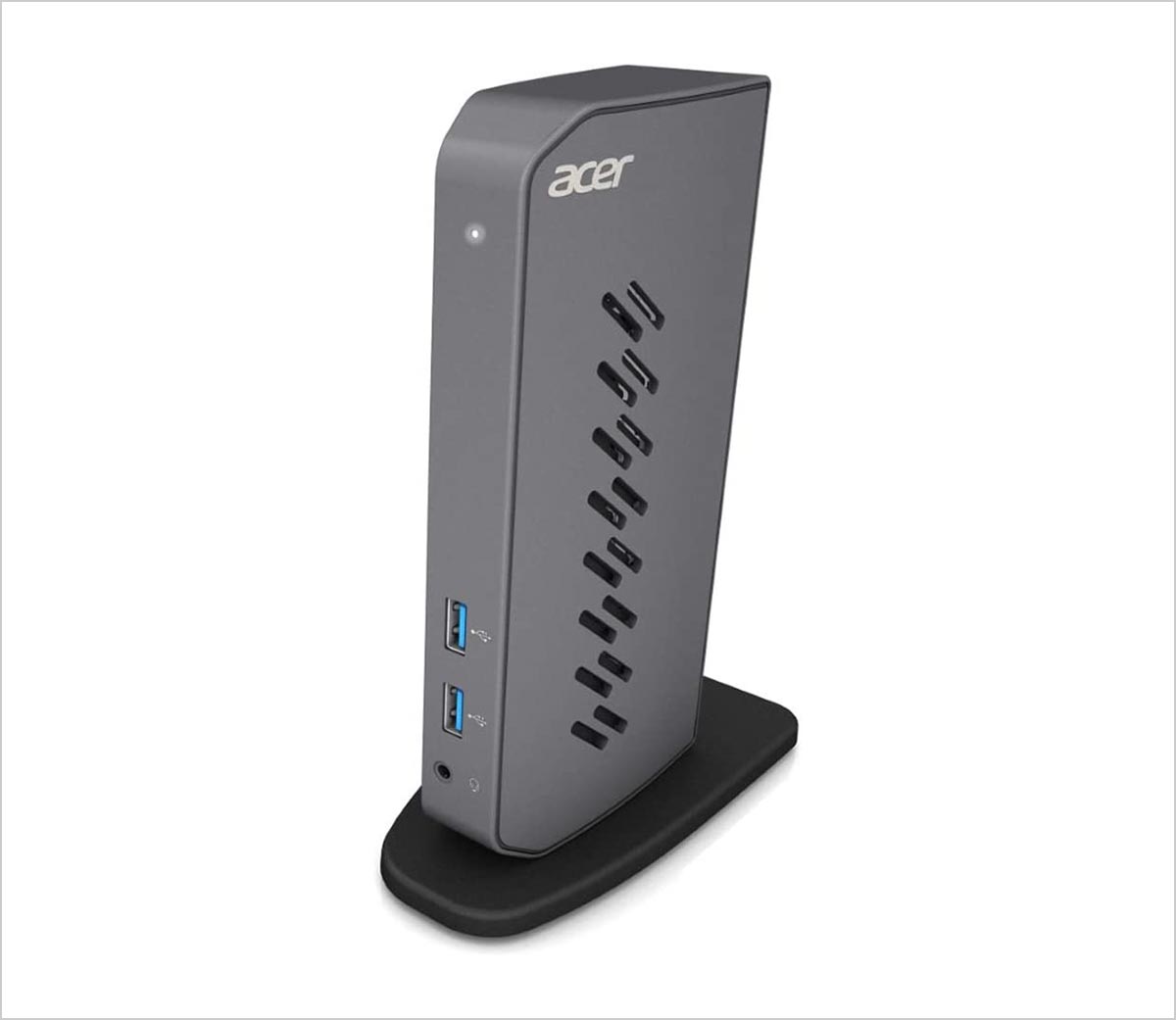 9. 13 in 1 Triple Display Laptop Docking Station
Hardware Interface: USB, USB Type C, Thunderbolt, USB 3.0, USB 2.0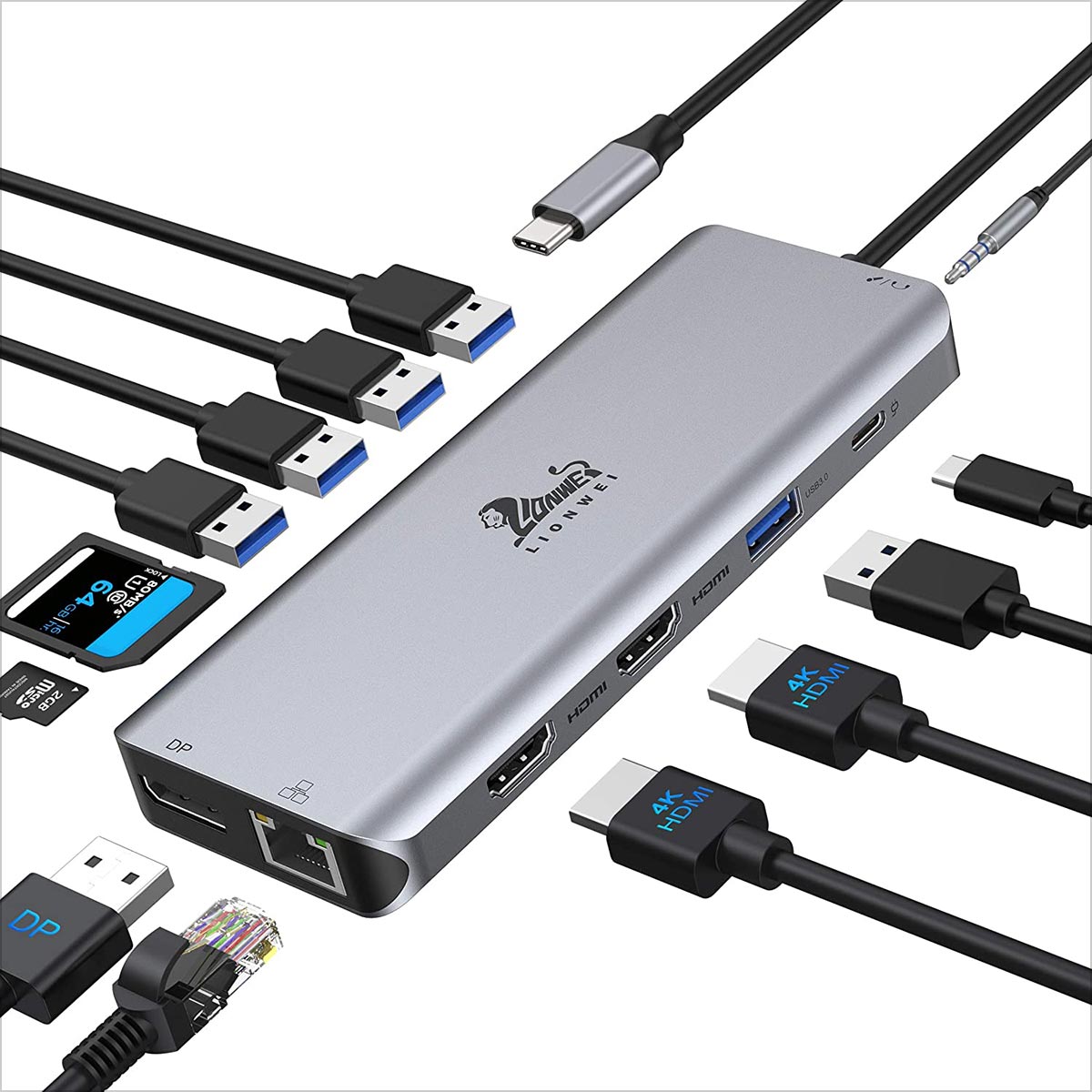 10. WAVLINK USB C Docking Station,USB 3 Universal Dock
Hardware Interface: USB, Ethernet, HDMI, USB 3.0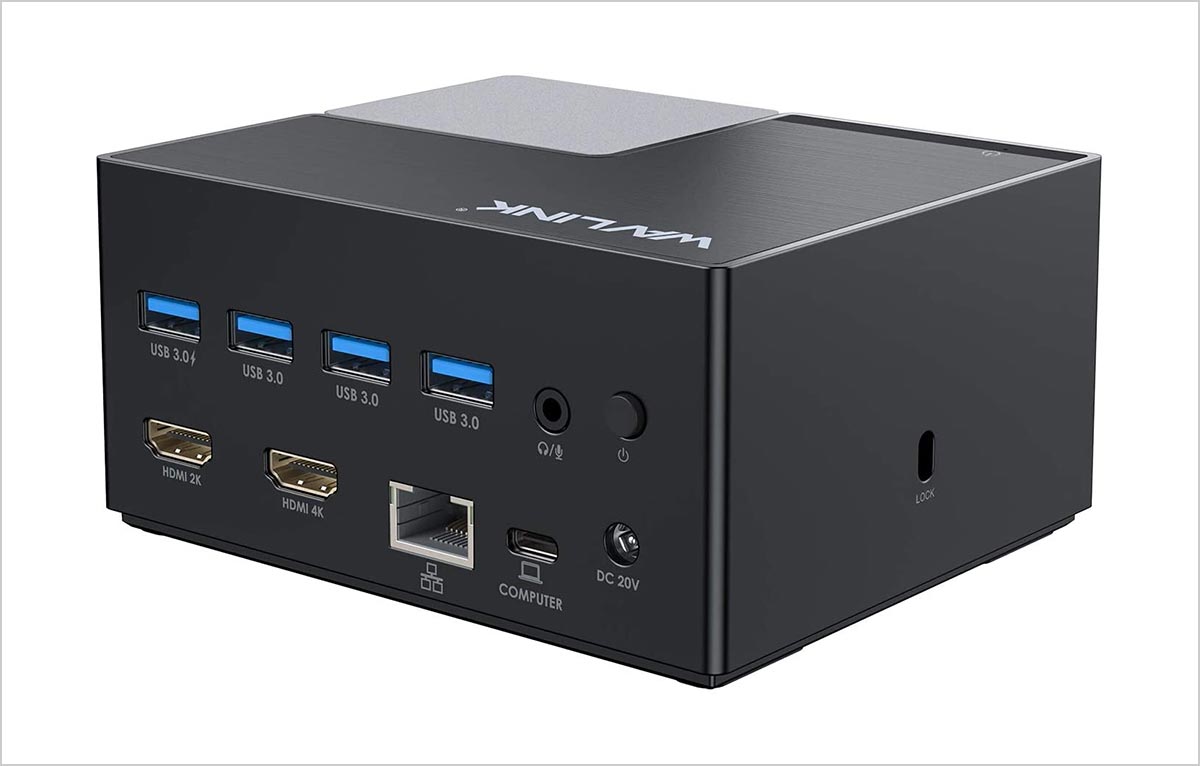 11. StarTech.com USB-C USB-A Dock – Hybrid Universal USB 3
Hardware Interface: DisplayPort, USB Docking Station, Ethernet, HDMI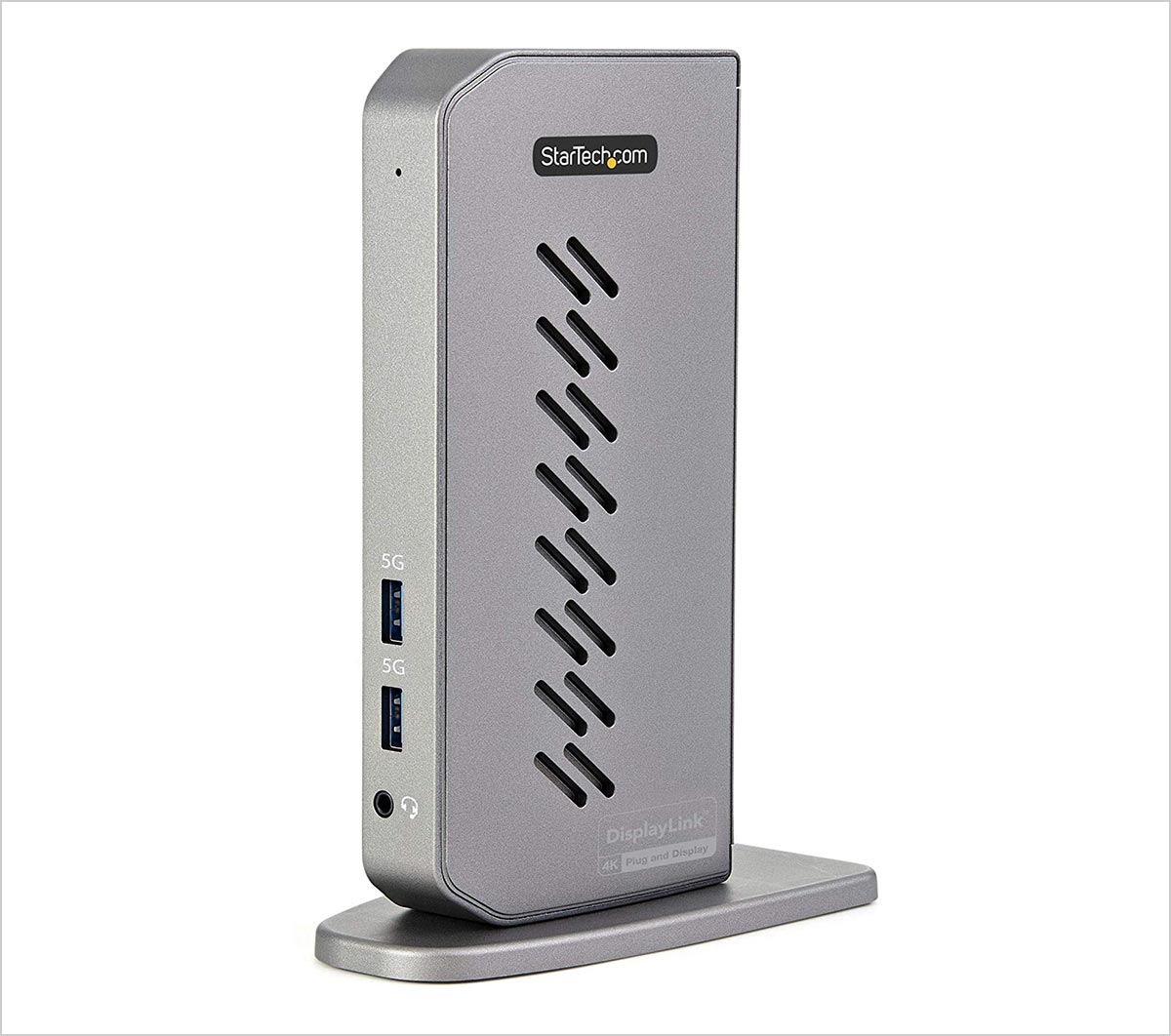 12. 16-in-1 Universal Laptop Dock Dual HDMI Hub Compatible for MacBook Pro
Hardware Interface: VGA, USB, Ethernet, HDMI, 3.5mm Audio, USB 3.0, Thunderbolt, USB 2.0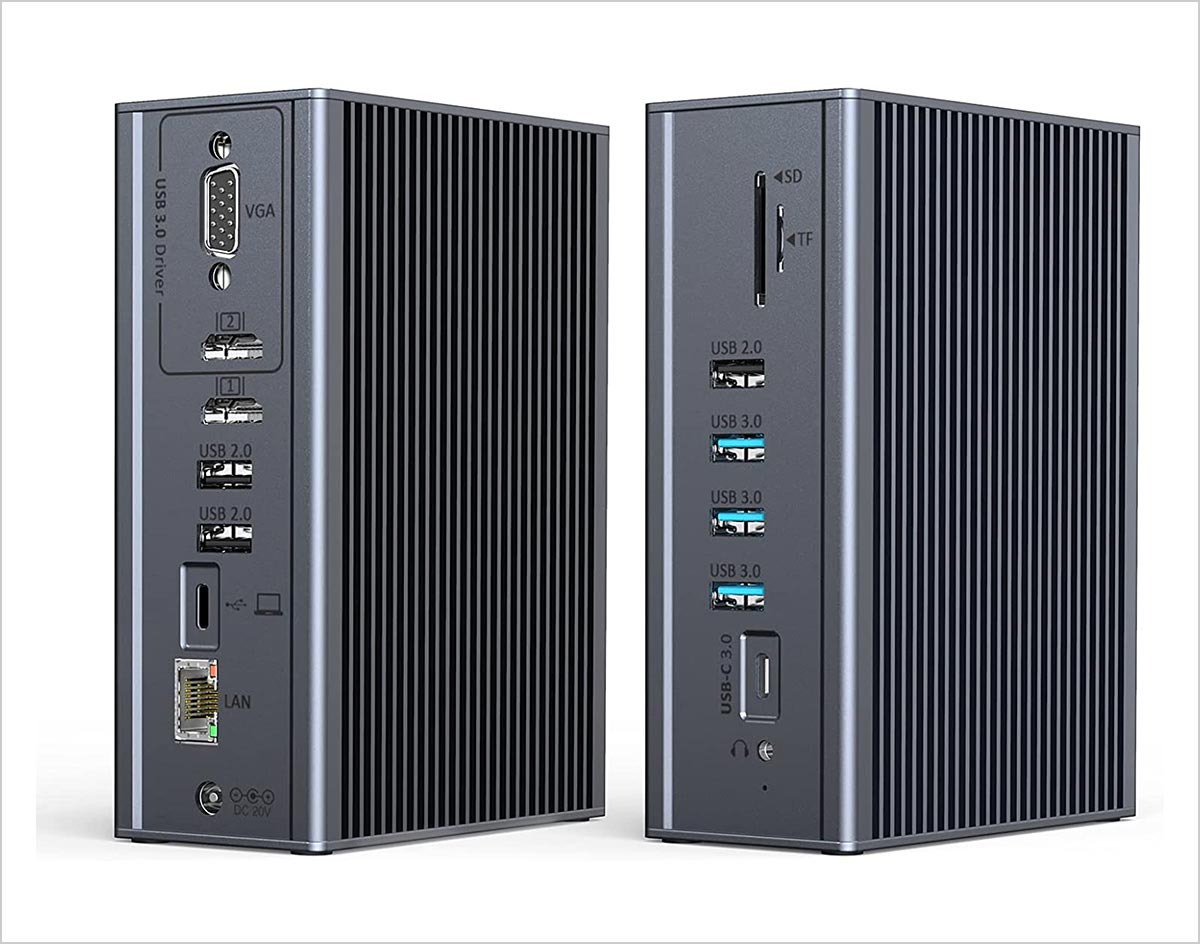 13. Plugable USB C Docking Station with Charging, Compatible with Thunderbolt 3 and USB-C
Hardware Interface: Thunderbolt 3 and USB-C MacBooks and Specific Windows, Chromebook, Linux Systems (HDMI Display, 60W Charging, Ethernet, 3x USB 3.0 Ports)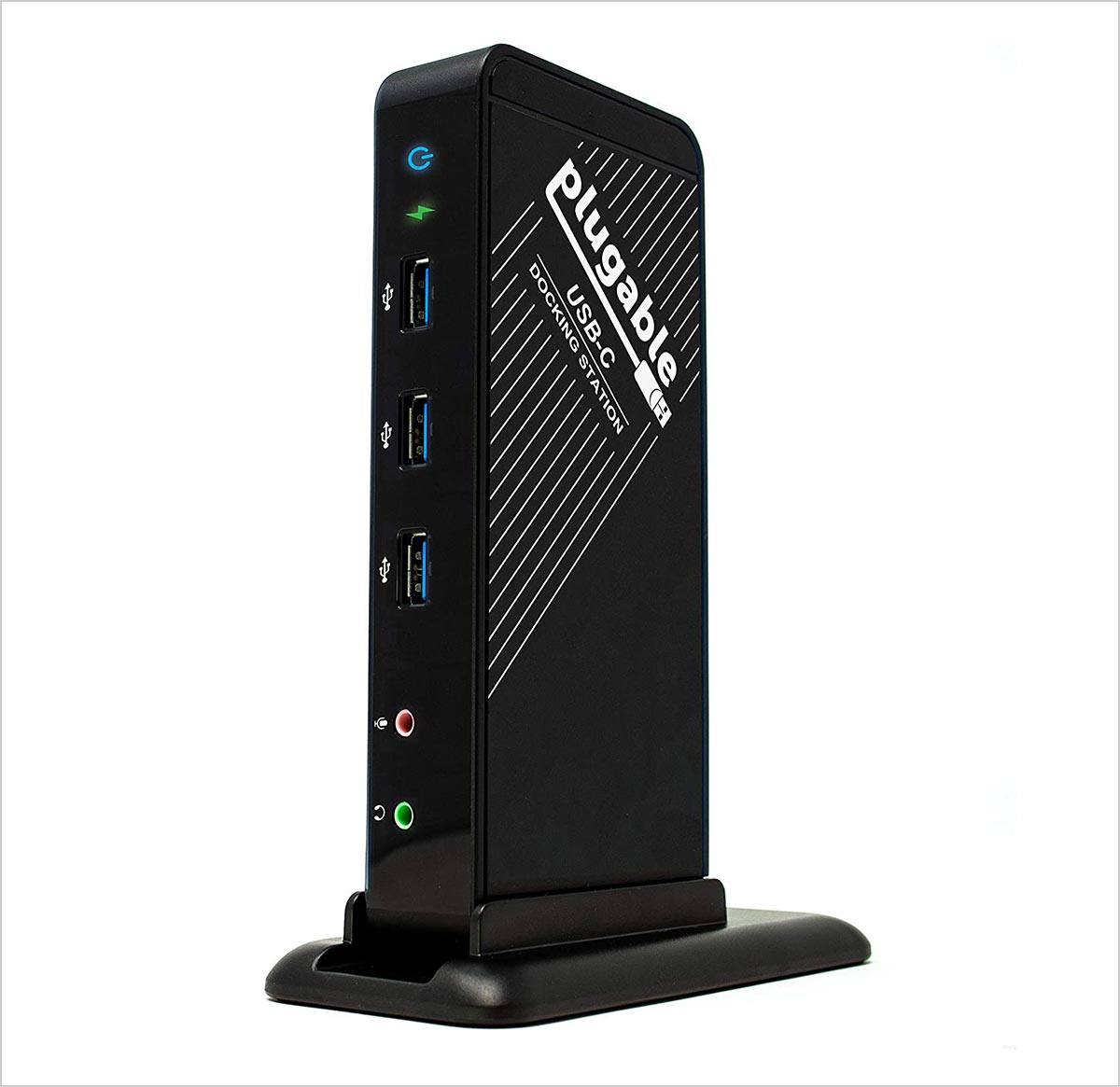 14. Mini Docking Station, Compatible with Thunderbolt 3 Ports and Specific USB-C Systems
Hardware Interface: Thunderbolt 3 Ports and Specific USB-C Systems (No Host Charging, Connect 1x HDMI up to 4K @30Hz Monitor, Ethernet, 3X USB Ports)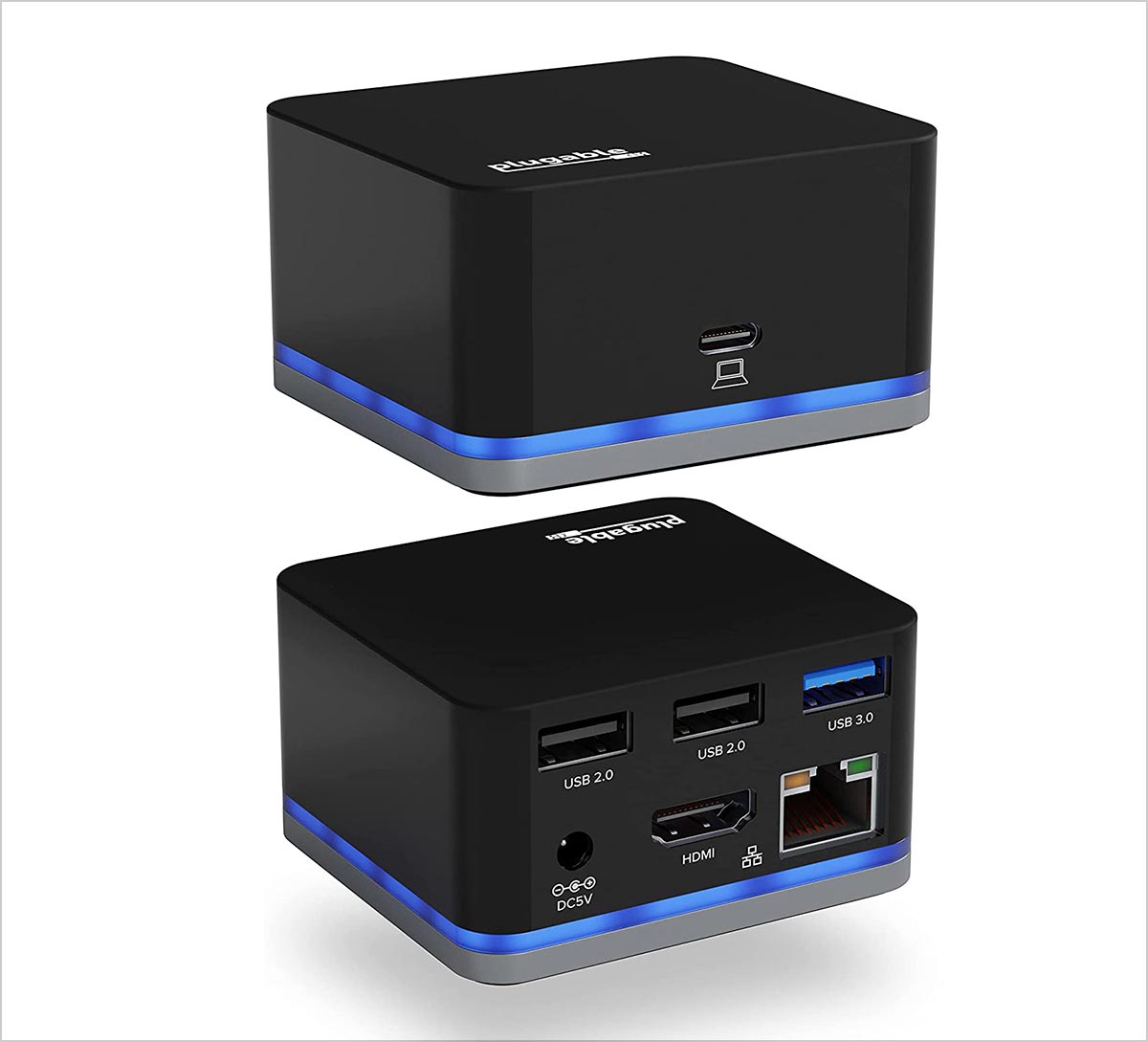 15. Dual HDMI Docking Station, WAVLINK USB 3.0 Universal Laptop Docking Station
Hardware Interface: 1X HDMI, 1x DV1/ VGA, Gigabit Ethernet, 6 USB 3.0 Ports, Audio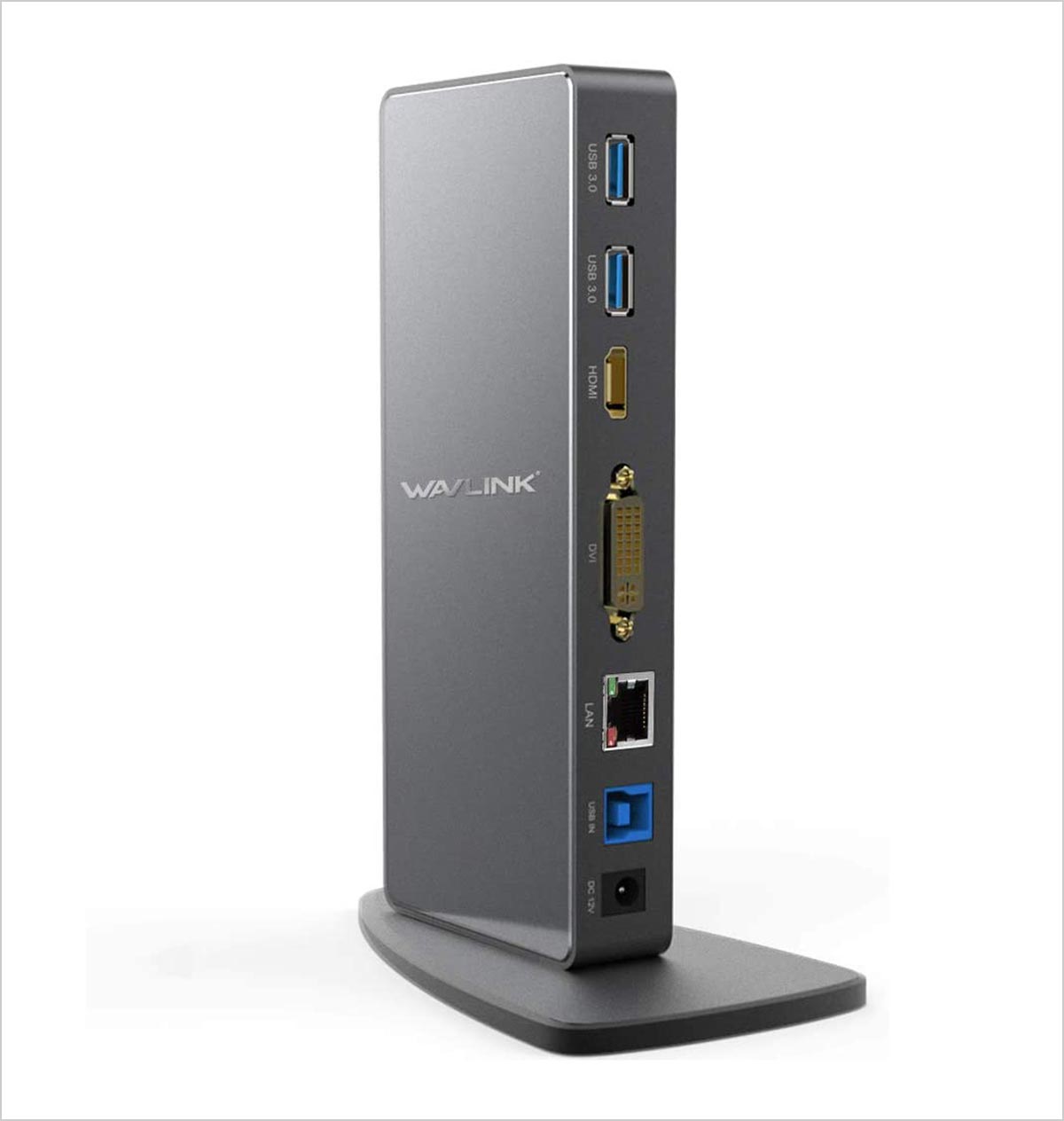 16. 15-in-1 USB C Dock with Dual HDMI
Hardware Interface: 15-in-1 USB C Dock with Dual HDMI, VGA, 6 USB, 60W USB C Charging, SD TF Slot, RJ45 and Audio/Mic, USB C Docking Station Dual Monitor for USB C Windows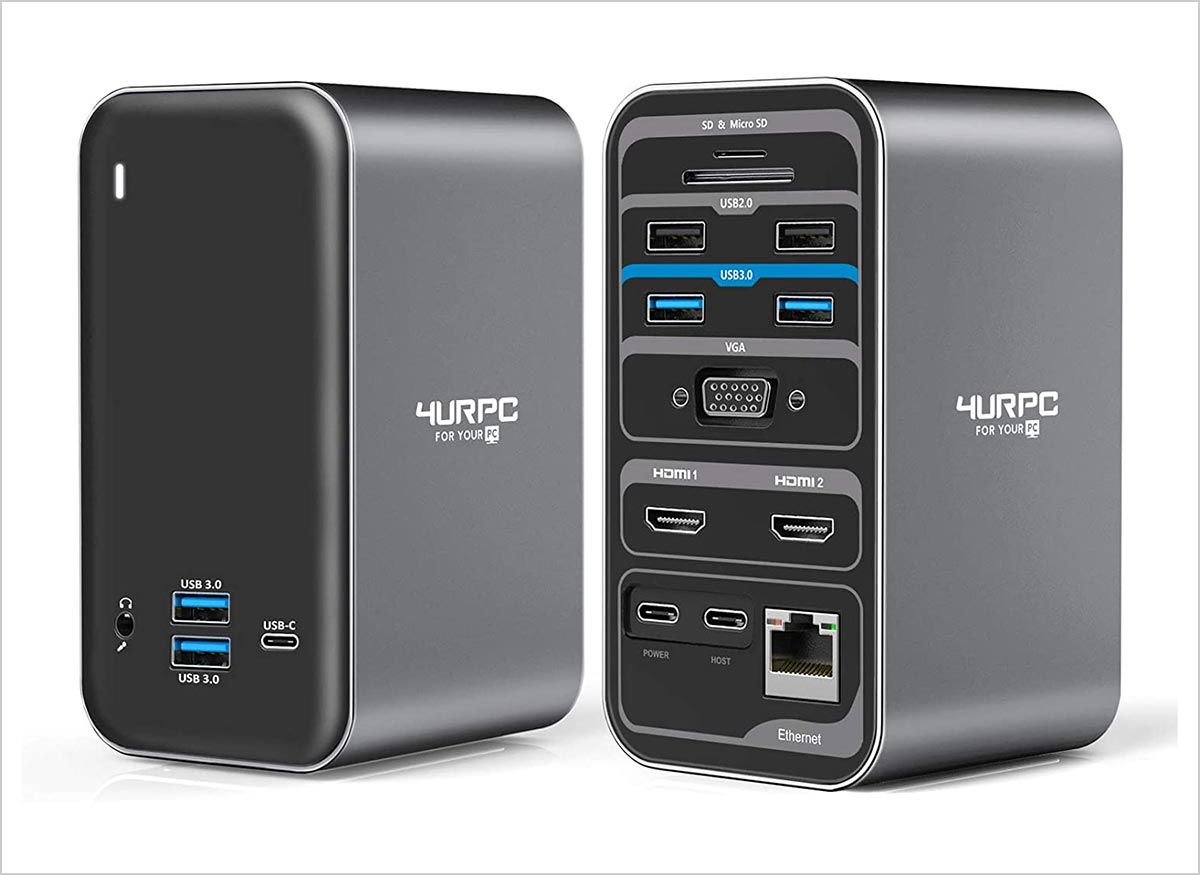 17. USB C Docking Station Dual Monitor for MacBook Pro Air(NON-M1)
Hardware Interface: VGA, USB, Ethernet, HDMI, 3.5mm Audio, USB 3.0, Thunderbolt, USB 2.0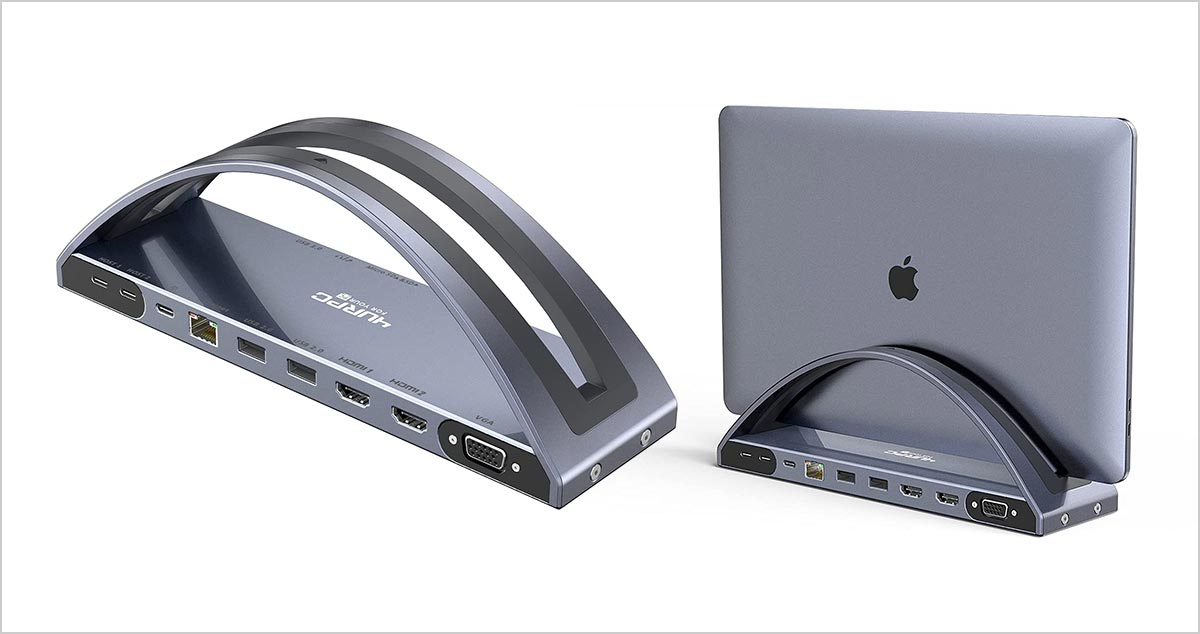 18. 16 in 1 Triple Display USB C Dock with Charging Support
Hardware Interface: 4K HDMI, DP, VGA, 7 USB Ports, Ethernet, SD/TF Card Reader for MacBook and Windows, MacOS only Support Mirror Mode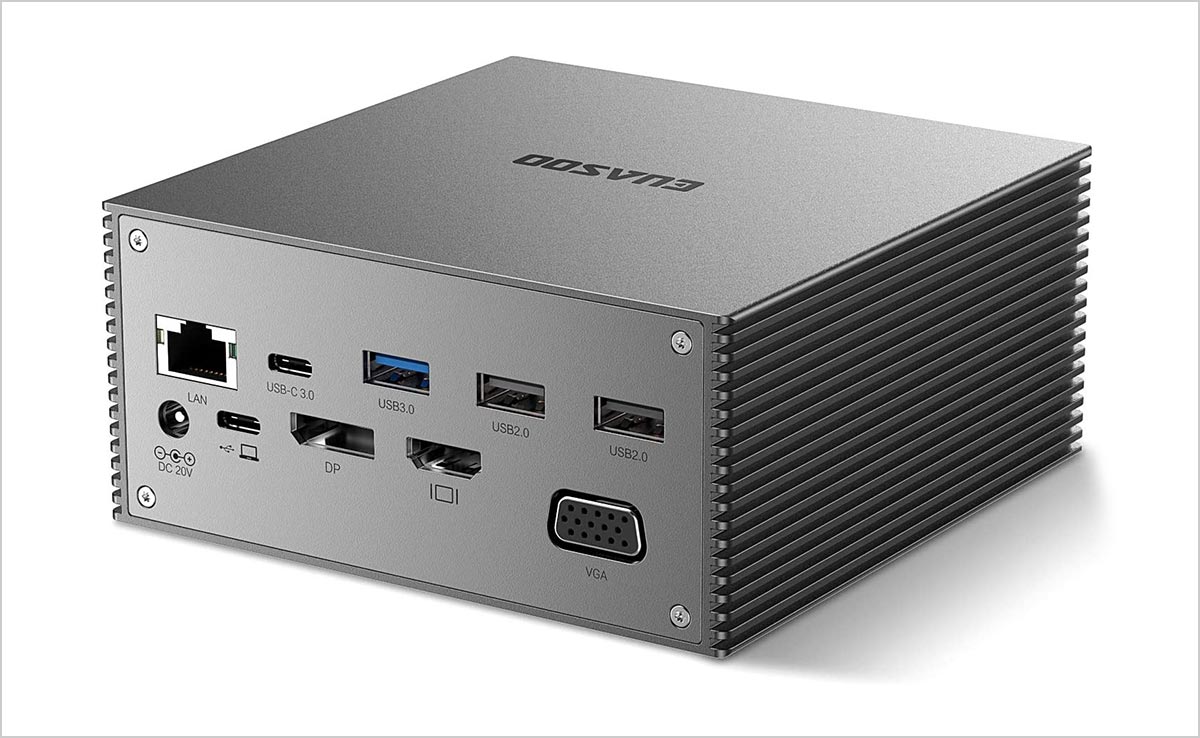 19. 13 in 1 Anker Docking Station, Anker 575 USB-C Docking Station
Hardware Interface: 85W Charging for Laptop, 18W Charging for Phone, Triple Display, 4K HDMI, 10 Gbps USB-C and 5 Gbps USB-A Data, Ethernet, Audio, SD 3.0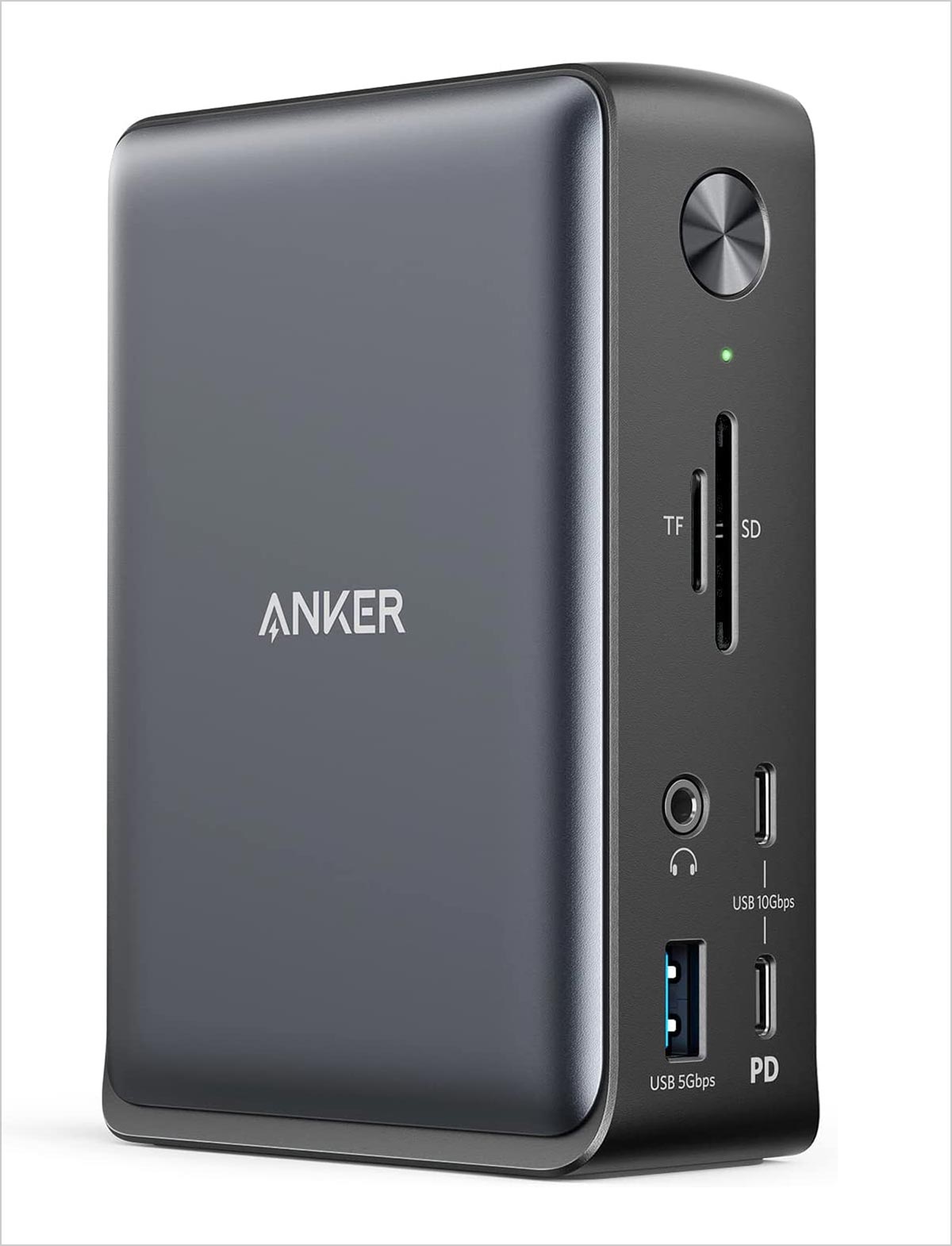 20. Kensington SD4900P Triple 4k Display Docking Station
Hardware Interface: DisplayPort, USB, USB Docking Station, Ethernet, HDMI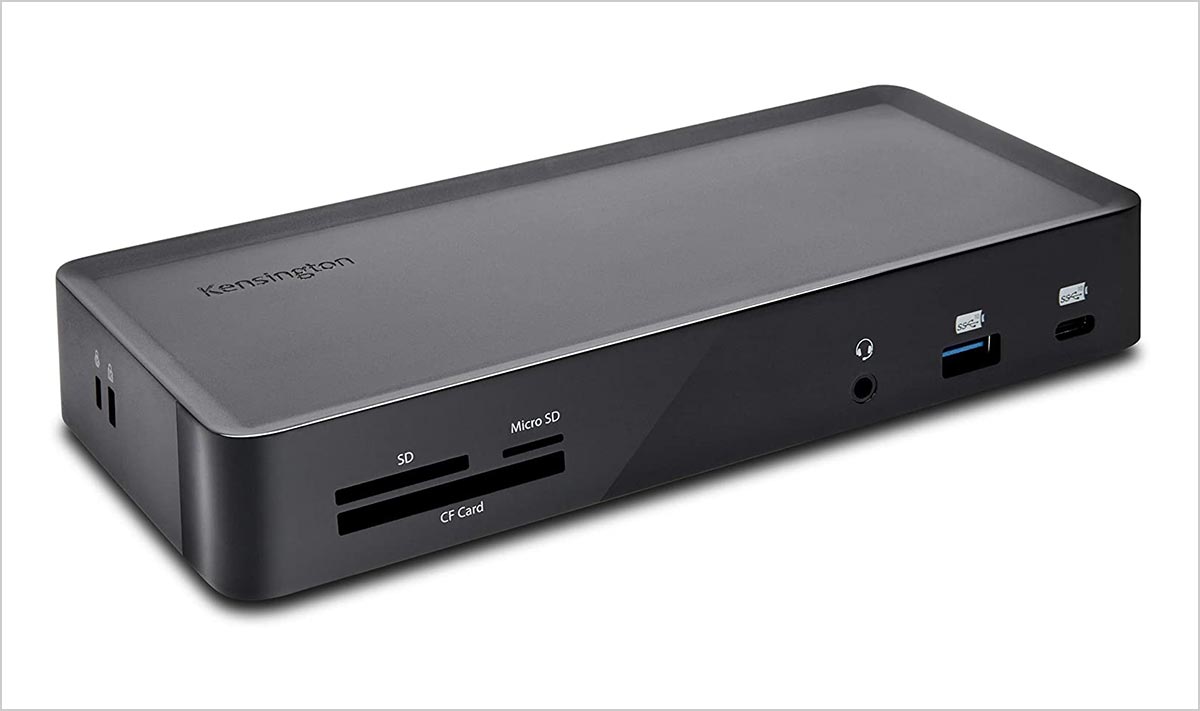 21. CalDigit TS3 Plus Thunderbolt 3 Dock
Hardware Interface: 7X USB 3.1 Ports, USB-C Gen 2, DisplayPort, UHS-II SD Card Slot, Gigabit Ethernet for Mac & PC, Thunderbolt 4 Compatible (0.7m/2.3ft Cable)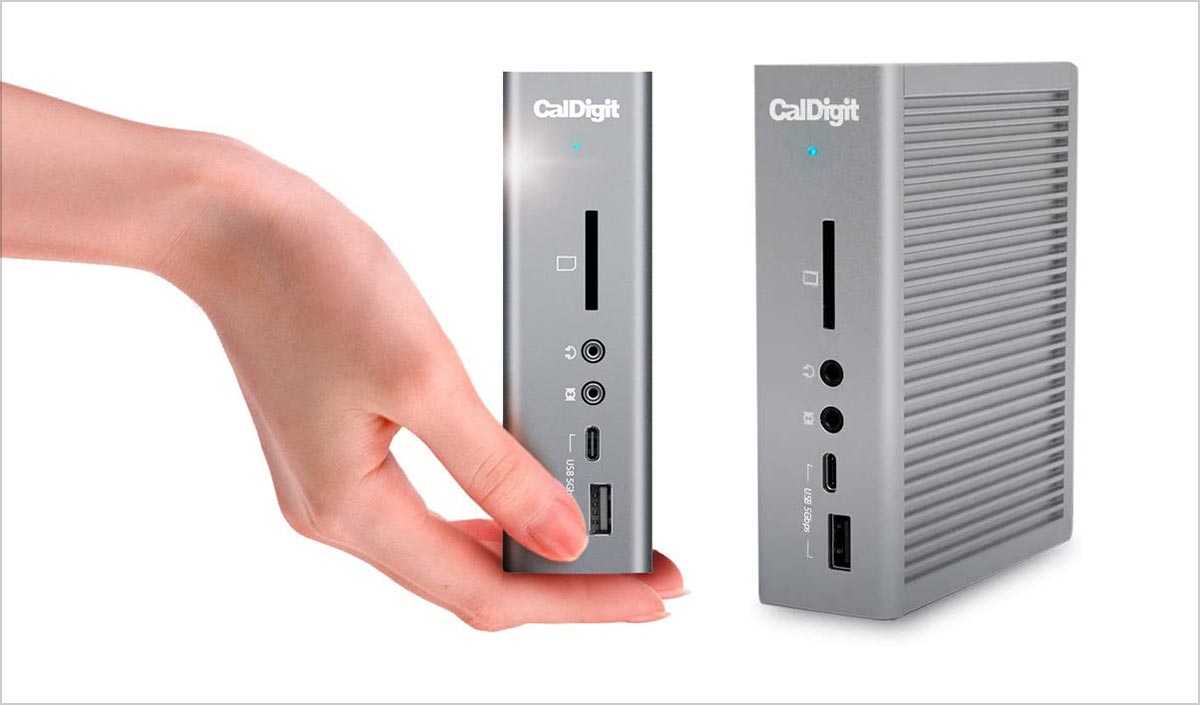 22. 4URPC Triple 4K Monitor Docking Station for USB-C
Hardware Interface: Dual 4K Video Outputs with Dual HDMI & DisplayPort, 5 x USB-A, 60W Power Delivery, Ethernet, Audio & Mic for macOS Black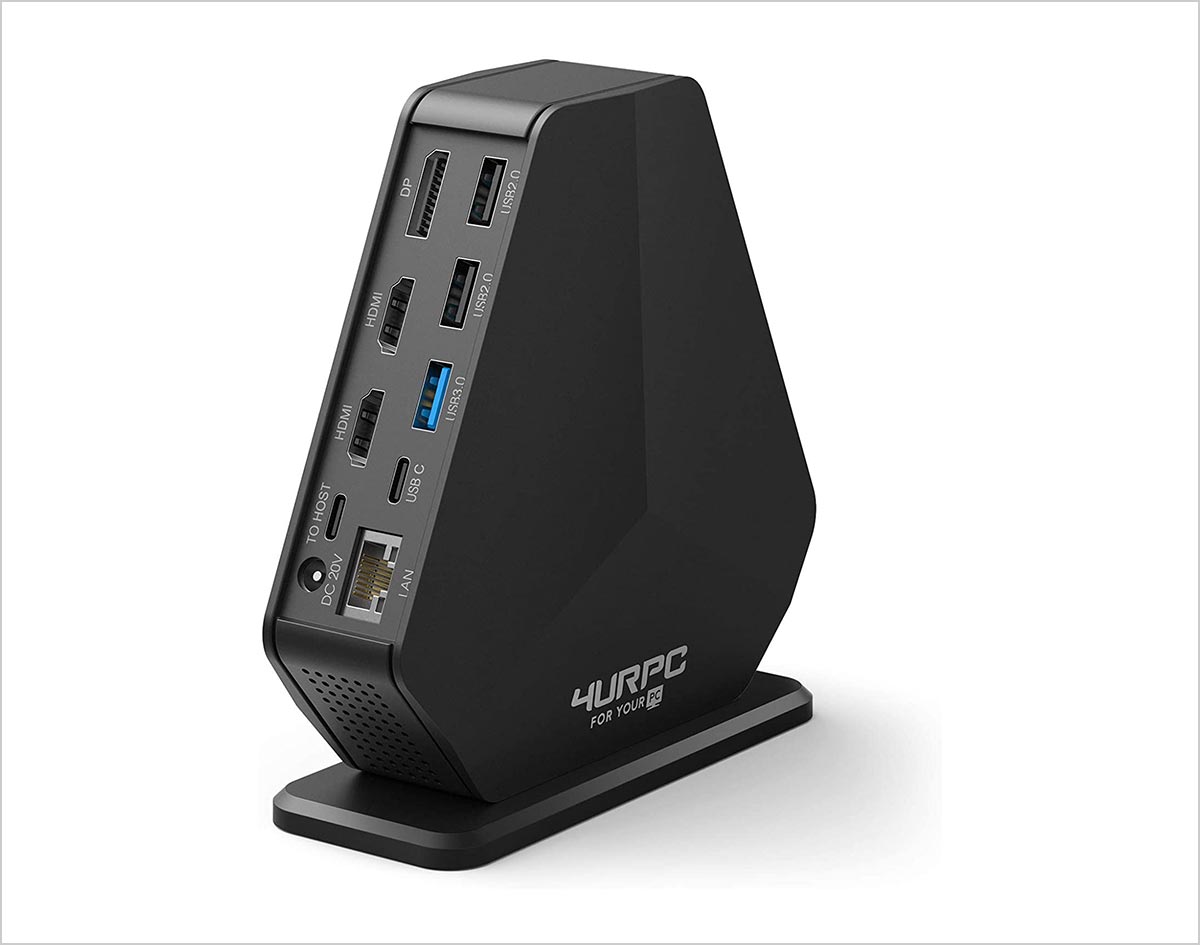 23. USB C Laptop Docking Station Dual Monitor
Hardware Interface: USB C Dock Stand with 2 HDMI, 3 USB, SD/TF, USB C 87W Charging, RJ45 Ethernet, 3.5mm Audio, USB C Docking Station for USB C Laptops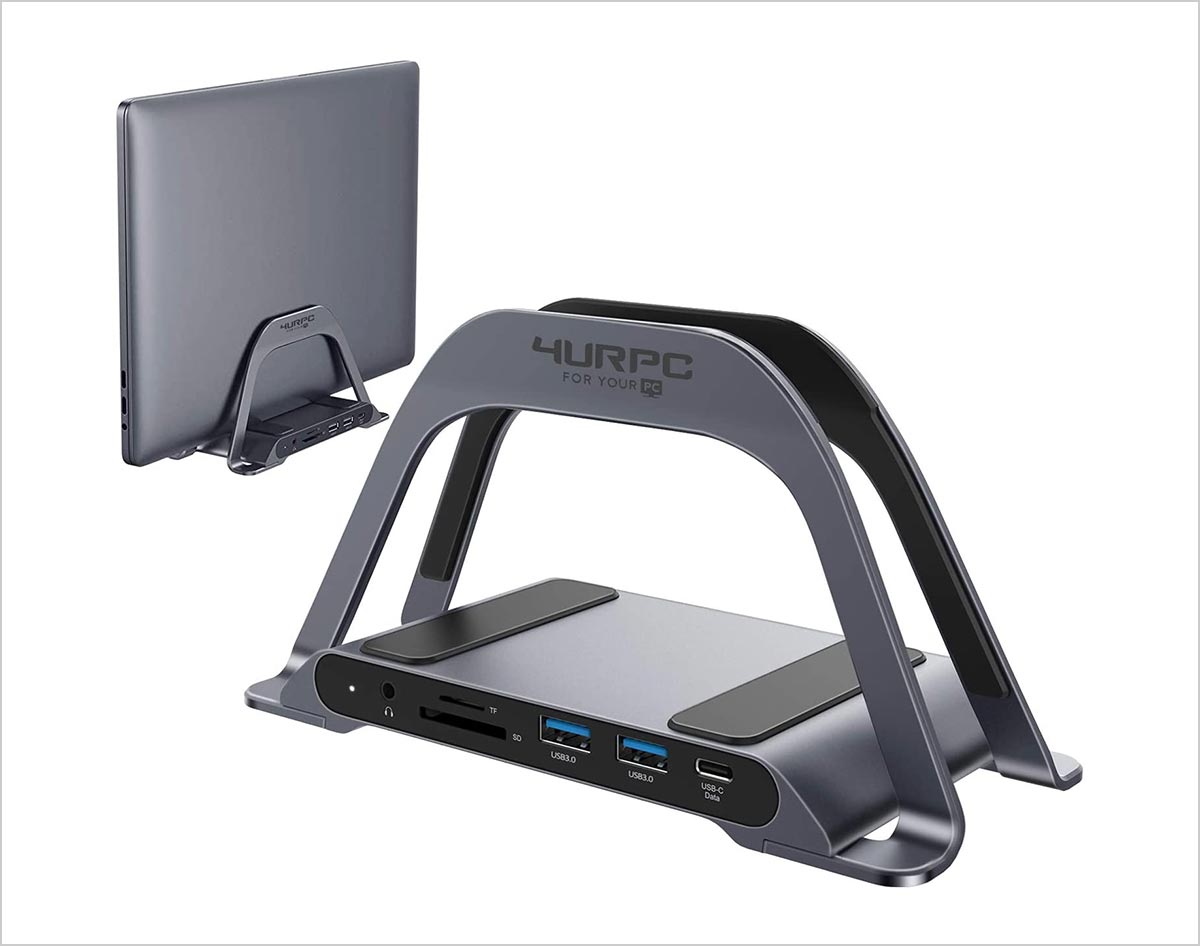 24. USB C Docking Station, QGeem 17-in-1 USB 3.0
Hardware Interface: USB, Ethernet, HDMI, 3.5mm Audio, USB 3.0, USB 2.0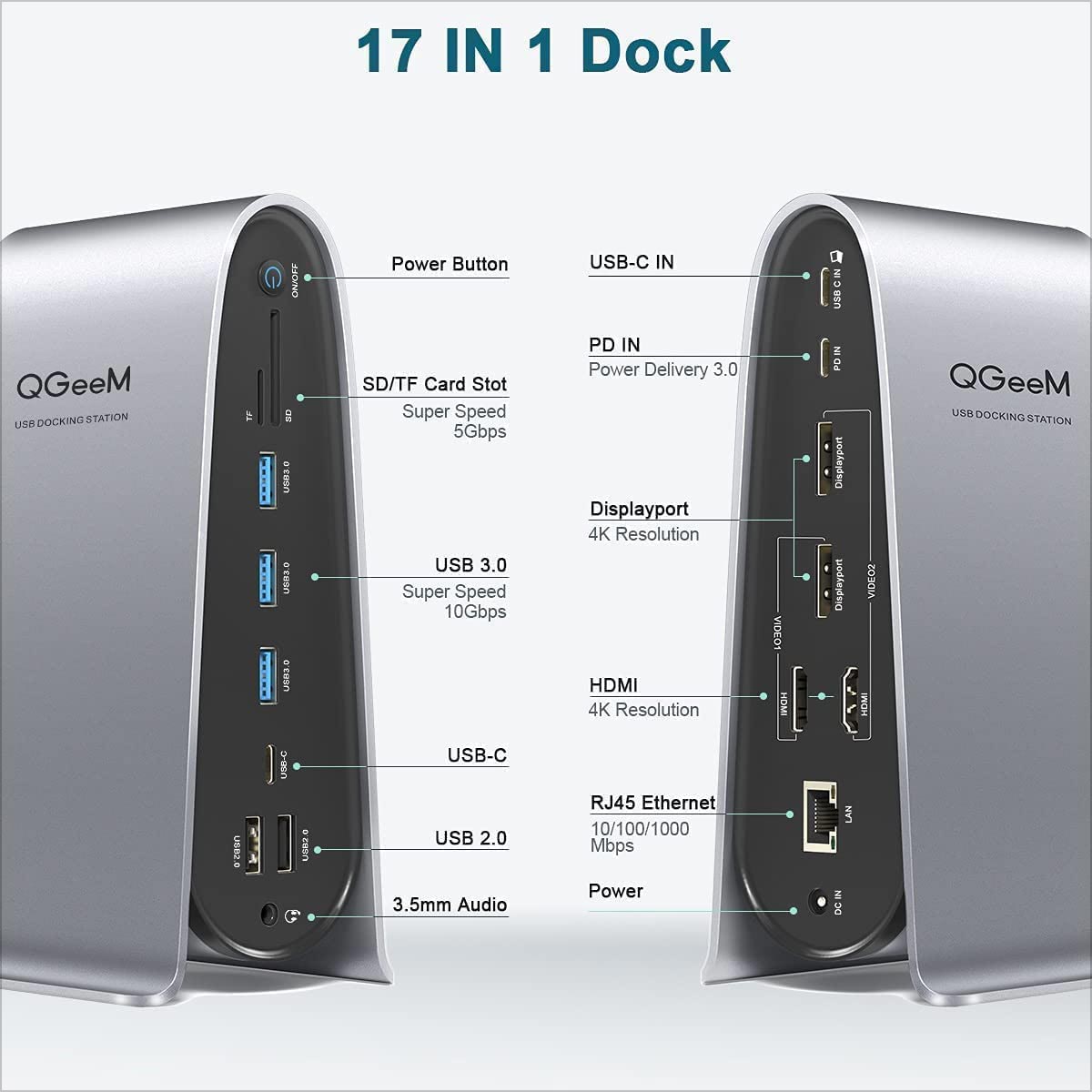 25. USB Docking Station Giq USB C hub USB 3.0
Hardware Interface: USB C hub USB 3.0 to Dual HDMI VGA Adapter Triple Display USB C Laptop Docking Station Dual Display Compatible with MacBook M1 USB Dock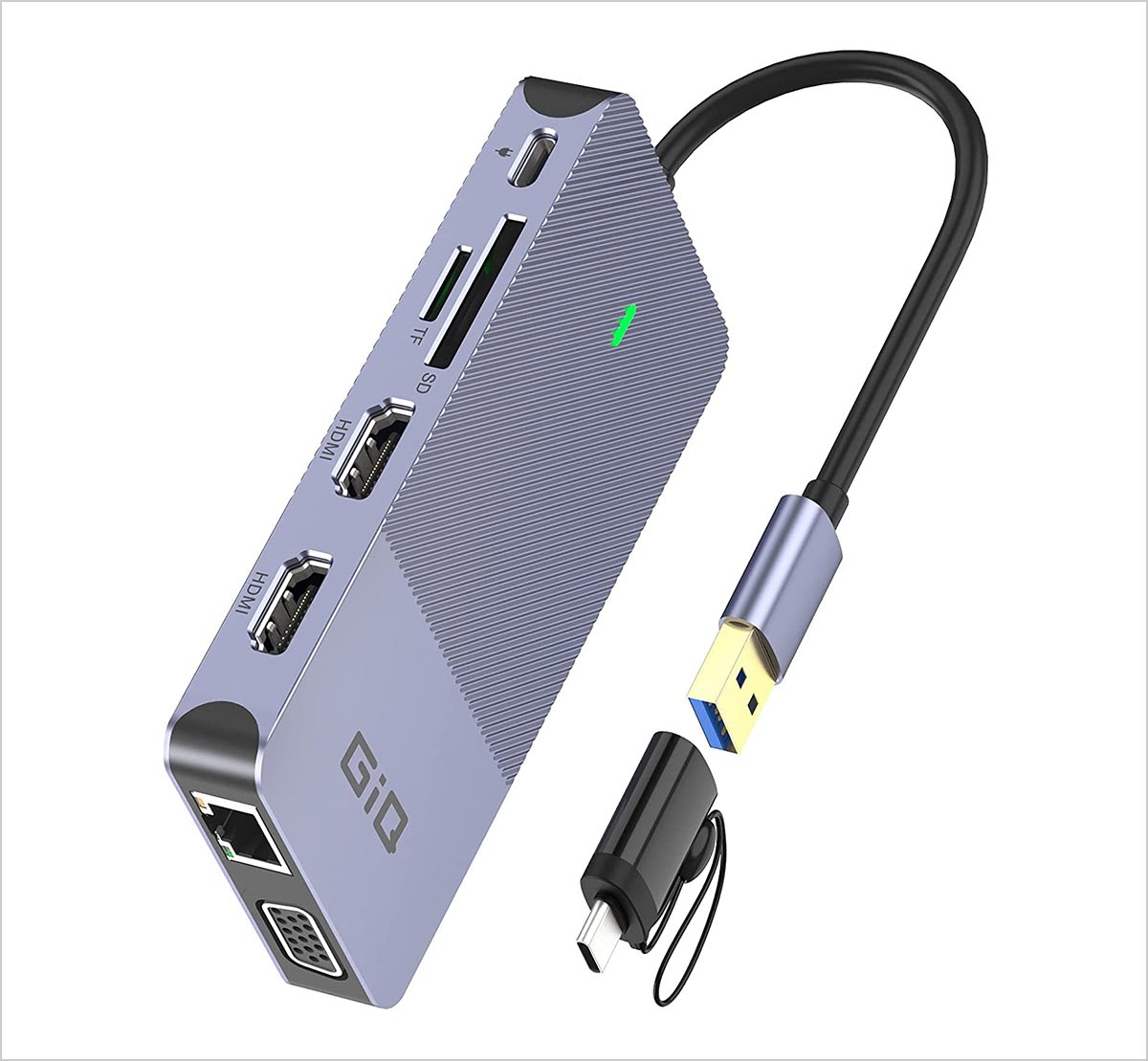 27. NOV8Tech USB C Laptop Docking Station
Hardware Interface: 14in1 Triple Display 2 HDMI & VGA for M1 MacBook Pro Air & Type C Laptops, 100W USB-C PD, Gigabit Ethernet, 2X USB 3, MS/CF/SD/Micro SD/TF Card, Audio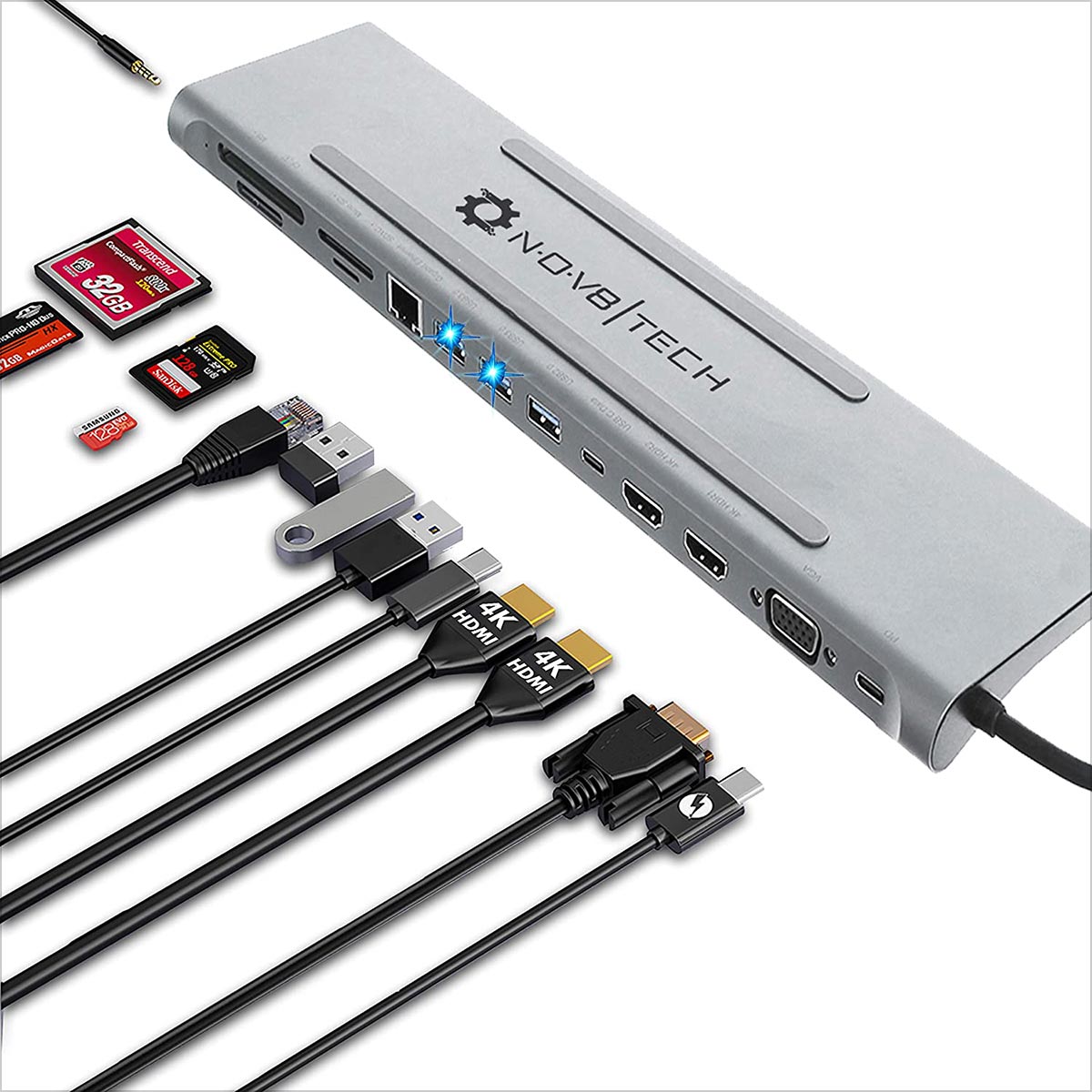 28. Diamond Multimedia Dual Display Docking Station
Hardware Interface: USB 3.0 Laptops/Desktops. Front Loading USB 3.0/USB-C Ports with Vertical Built in Stand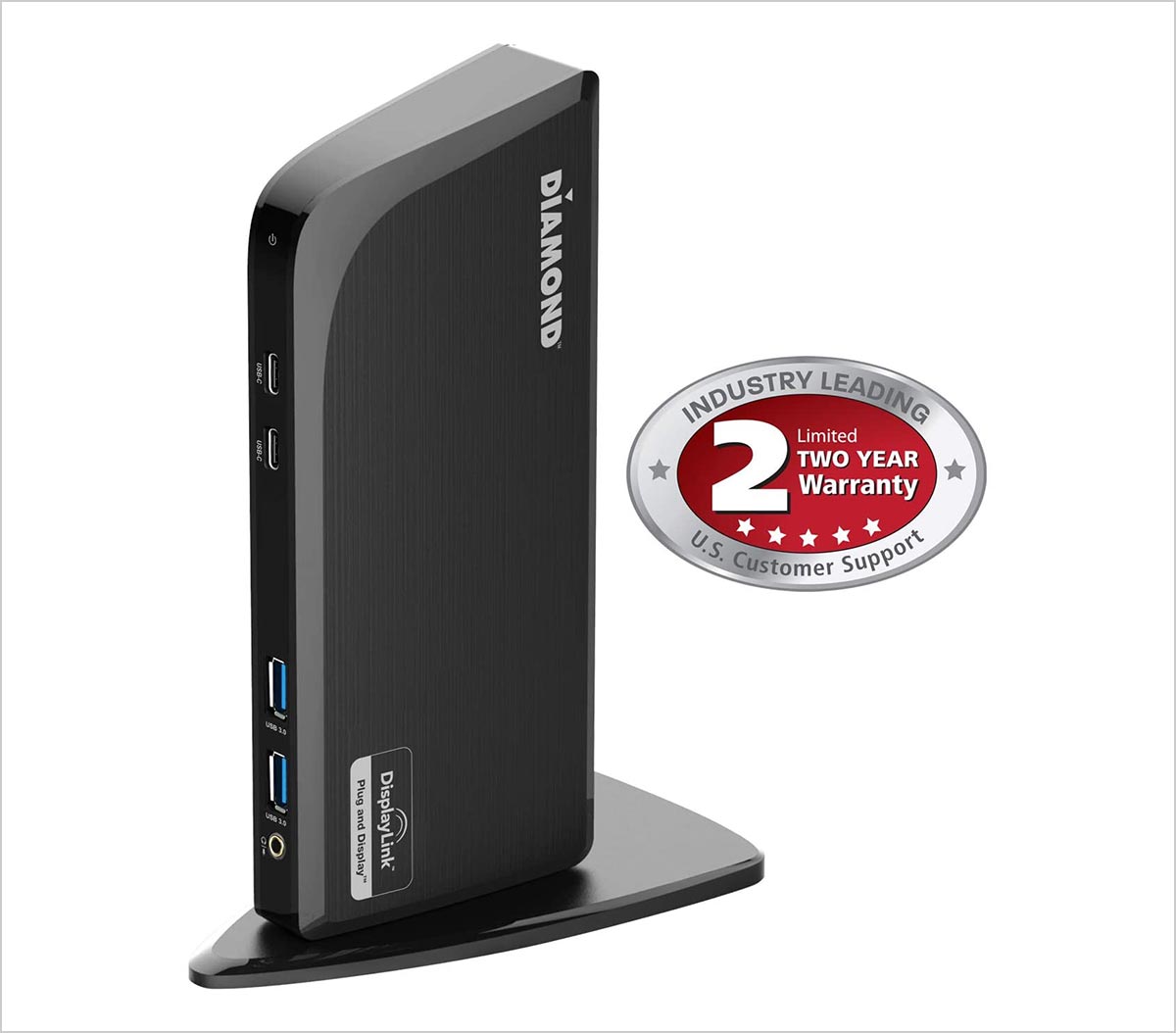 29. Docking Station, HYRTA USB C to USB 3.0
Hardware Interface: VGA, USB Type C, USB, Ethernet, HDMI, USB 3.0, USB 2.0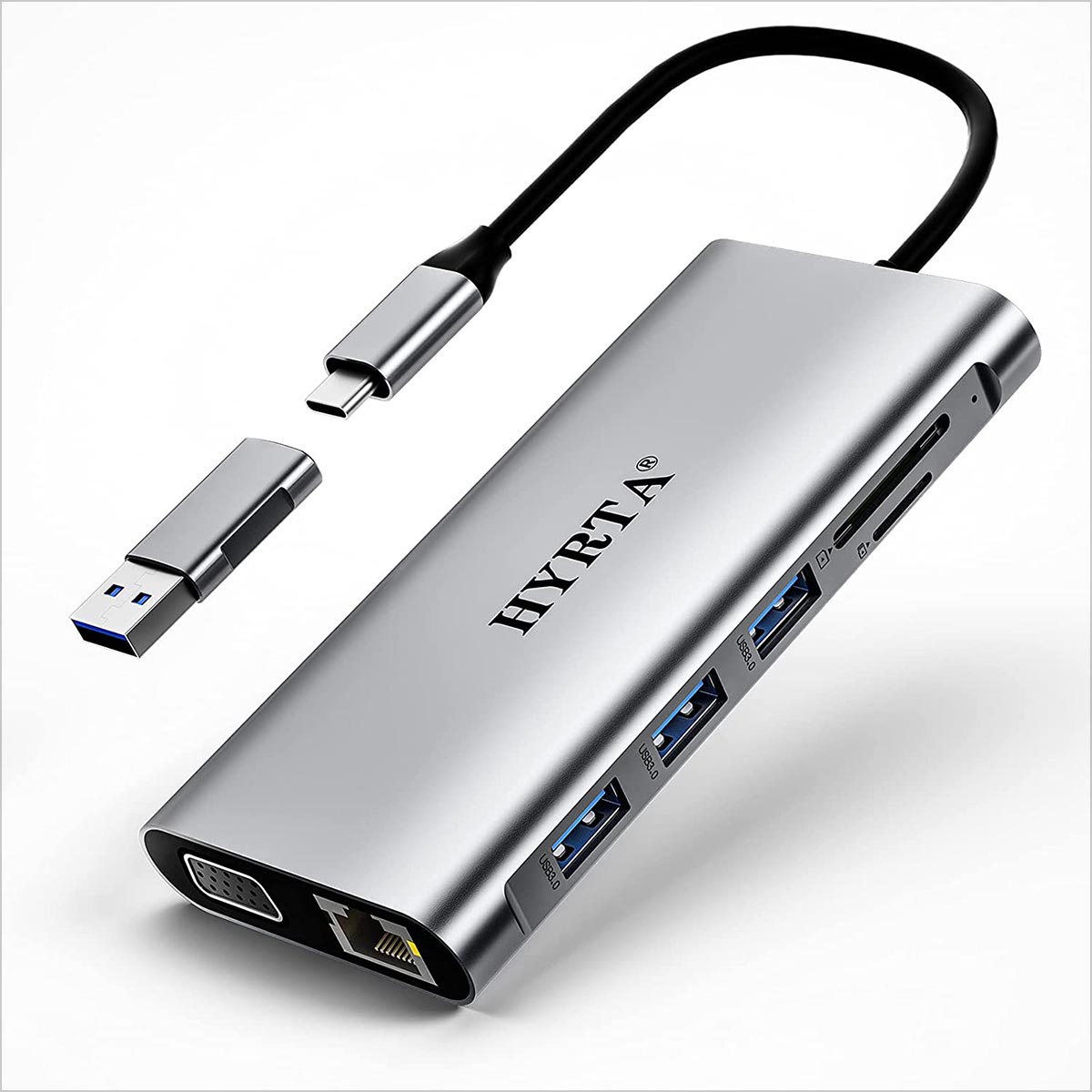 30. Dolovo USB C Docking Station, 9 in 1 USB C Hub
Hardware Interface: VGA, USB, HDMI, USB 3.0, USB 2.0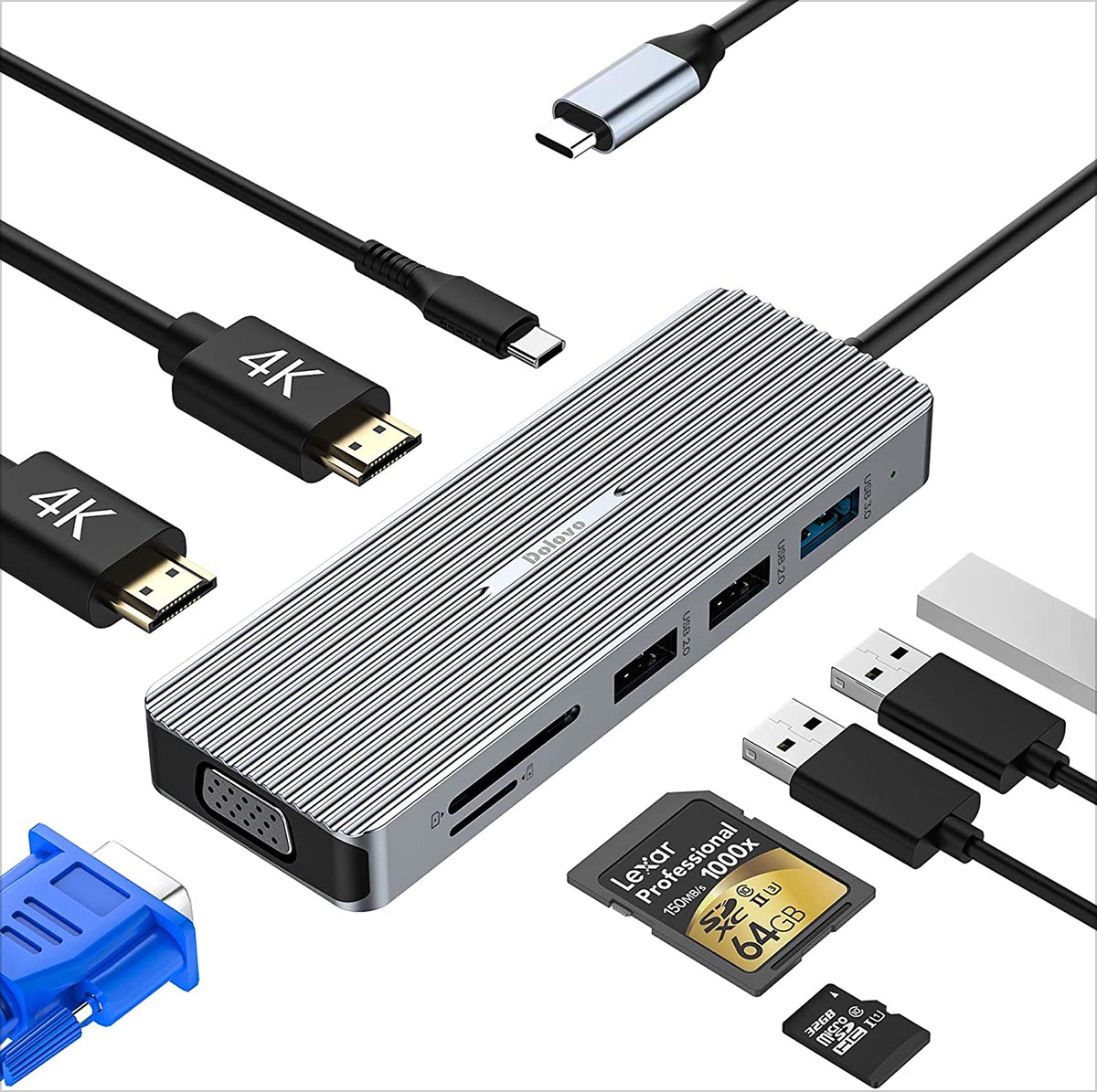 Recommended: