Hello there everyone! We are back with yet another amazing blog of ours with an absolutely free yet highly editable mock-up PSD file that you all are going to love but before we start talking about that, we would like to take this moment to thank you all for your support and for always making sure that the people you love and care for also get to read our blogs. And since you guys have already read the title of our today's blog, we are going to dive right into it to share how you can all utilize the free floating perfume bottle mock-up PSD file.
We think it is safe to say that the majority have done online shopping for themselves or for their favorite people and when you are browsing through the websites here and there, you usually feel more attracted towards those products that look aesthetically pleasing to you. Of course, you also check out other details like the prices, delivery charges as well to make that purchase but mostly, it is the looks that help you in making an informed decision. We would like to mention here that even if you do not go into the details and pick something for yourself based on how they look, that is fine too – as long as you are purchasing it from a business that is legit.
Okay so, coming back to the topic: website images or anything that you happen to see online on the platforms that offer to buy stuff to their customers; it is so very important for them to make sure that they are putting up a good show which means that they must have amazingly done photography of all the items that they are selling so that they can attract more and more people. But we are sure that you guys must have seen plain and very conventional photography on almost all the websites with good looking models at times, as well but we feel that, that is not always enough. There needs to be more than just that and we can bet that brands will notice a good change immediately right after they have worked on changing the communication even a little bit, you know.
In addition to that, fun imagery can and must also be used for all sorts of business communication because what is the point of selling something online and on-ground too if you cannot make it look worth buying?! We can totally understand that there are businesses that do not have a lot of money to spend on hiring top class photographers etc. and that is one of the reasons why we are here with our free floating perfume bottle mock-up PSD file that you guys can use to work on your personal and commercial design projects. Another reason is to inspire you all to work creatively even if you do not have a lot of resources, you can still do something by checking out the latest trends and making a way to go about them for yourself too.
Recommended: 60+ Most Interesting Creative Barcode Designs Ever for Inspiration
So, no matter what your purpose of using a free-floating perfume bottle mock-up PSD file is going to be from putting it up on your website or any online shopping platform for that matter to using it to designing content for social media or billboards, newspaper ads, etc., we can guarantee that you won't only enjoy working on our mock-up but you will also be able to create a better communication as well and honestly, that is what we all need, right? There are a couple of things that we would like to share with you so that you can create the best and most effective perfume bottle designs for example; always, always remember that your product needs to look different and attractive so that whoever sees it, wants to get it and you can only do that when you know how your competitors are doing things.
You also need to know your target audience well so that you can appeal to their 5 senses in order to convince them that no one does perfumes better than you and we know it will all work in your favor. Keep the copy and fonts fun but nice to communicate with your potential customers at a personal level. Also, experiment with your designs to see what's working for you and if something isn't, make wise changes to it and you will be good to go.
Recommended: 50+ Exquisite Packaging Design Concepts for Inspiration
And that is all for today, you guys! We hope that you not only enjoyed reading our blog but you will also share it with your favorite colleagues and graphic designer friends as well who might be looking for something new and unique to work on for their perfume brand / client. We will also encourage you to do share your feedback with us in the comments section as well and wile you are at it, don't forget to share if you want us to create something for you and we will make sure to get back with that and more super soon.
Free Floating Perfume Bottle Mockup PSD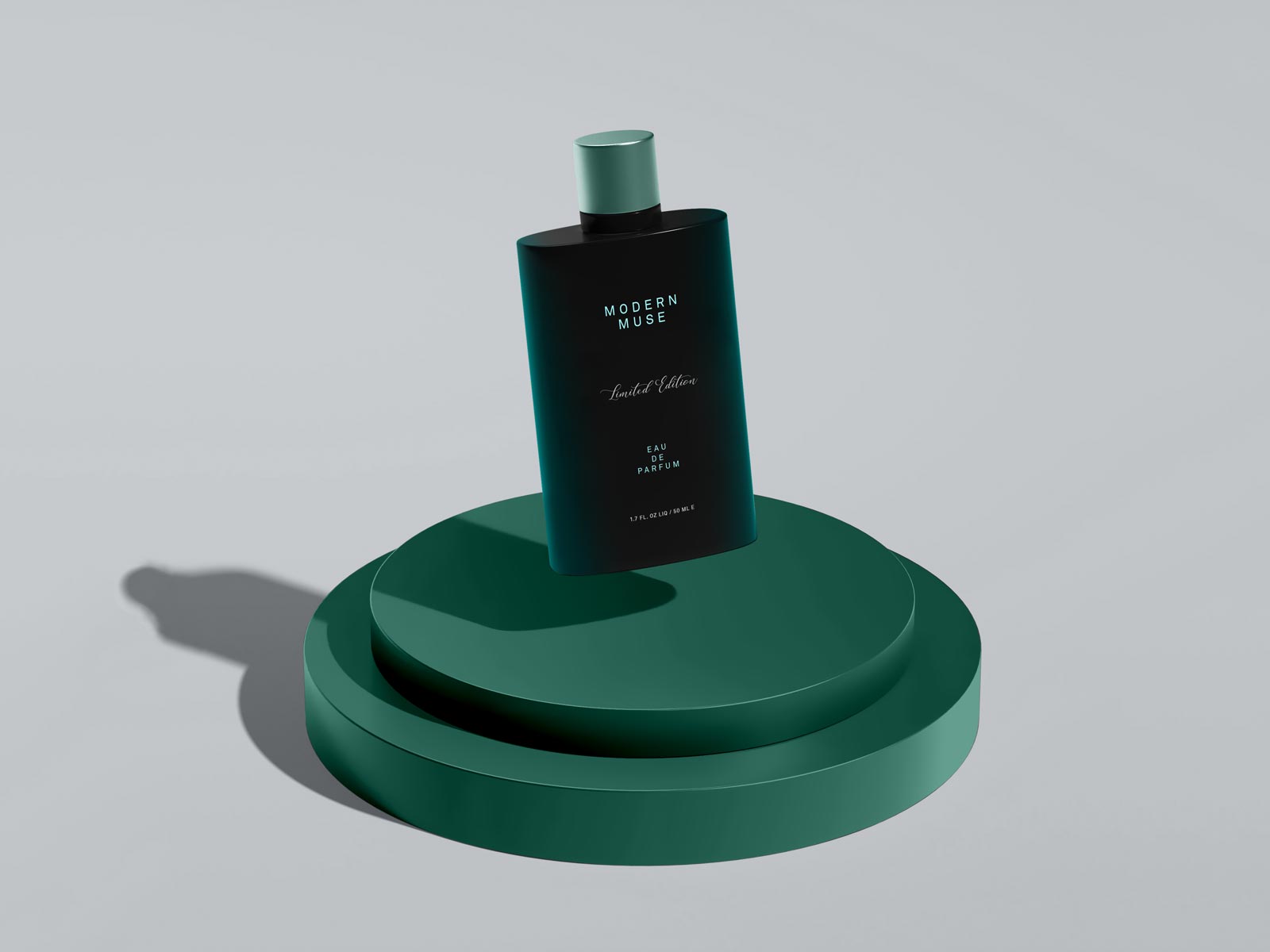 Available Format: Layered PSD with smart object insertion
License: Free for personal and commercial usage
Zip File Includes: Free Perfume Mockup PSD
Mock-up Resolution: 4000 x 3000 px

Note:
1. Free Perfume Mockup is allowed to share online (A Must Linkback to designbolts.com)
2. Say thanks if you like or share/tweet with your friends. That means a lot to me.
3. And don't forget to follow or subscribe to receive for more high quality premium freebies & awesome articles only.
Download Perfume Mockup
More Free Latest Bottle Mockup PSD Files: