Hi there, you guys! We hope that you are having a nice day today and that all our free yet highly editable mockup PSD files, creative design ideas, easy to follow tips & tricks are really helping you work on a couple of amazing projects of yours. And we would love to hear about everything that you guys have been working on lately so do feel free to share that in the comments section. As far as our today's blog is concerned, we are very excited to share this free vertical menu mock-up PSD file with you all so, let us get started right away!
Whenever you go to a fancy restaurant or a cool cafe, what is the one thing that makes you want to keep visiting that place over and over again? The interiors? The price factor? The variety of items that they offer? Or how cute / fantastic their menu is? For us, one of the things that make a difference for us is the menu itself – not the options and the prices, etc. but the menu design. Maybe it has a lot to do with the fact that we are always looking for anything that is remotely associated with designs and aesthetics but also because the menu design is one of those a few things that can impact your view regarding the place that you are eating at, you know.
We would suggest that once you are done reading this blog, don't initiate the design process just like that. Think of as many ways as you can to make your menu design an effective tool for promoting your food business, and also make it something more than just a list of items that you are selling – know that a menu design can also help you enhance a person's experience which will convince them that your eatery is worth their time and money as well. There are a couple of things that you can follow in order to make the most perfect menu designs for yourself or for the clients that you are working with. Allow us to share them with you!
Before anything that you are going to do to create a menu design, you first need to visit the place in person to know the vibes, feel and absorb them and then think of all the ways that will help you in picking out the theme for the menu design, what images to go for, etc. Then choose the colors that will complement the overall look and feel of the eatery and you will see how streamlined your thought process has become. One more thing that you must never ignore is to have a joint brainstorming session or two with all the concerned team members so that you guys can actually sit and bring excellent ideas and thoughts to the table. We can bet that this practice will be helpful enough to carry out foolproof design campaigns.
Recommended: Beautiful Food Menu Ideas
Okay now, let's get to the point technically! As you know that we have made a vertical menu mock-up PSD file allowing you to make the most of the space, we also wanted you to explore a new shape this time around especially if you are planning to revamp the whole thing. Whenever you design a menu, you should know about the eye scanning patterns. For example; there were menus that were solely designed keeping in mind that the customers are more interested in the dessert menu, but that's not always the case as it was found out that menus are read like books that are from top to bottom, at least for the first couple of times.
Make sections on your menu design, and make as many of them as you can so that anyone and everyone knows what you are offering without having to call the staff time and again to understand the menu. If the theme of the menu will look great with illustrations, go for them and you will receive a positive response from your customers and if not illustrations, then you must get a professional photo shoot done of the food items that you make and sell and utilize them for the menu design. And of course, your content must be proofread a couple of times before you send it out for printing otherwise, you will end up spending more money on redoing the whole thing all over again.
Recommended: Restaurant Menu Design Ideas
That is all for today and we are hoping that you liked reading the blog as much as we did while working on it. Don't forget to share the blog with your friends, family members, and colleagues as well so that they can create amazing menu designs for themselves too and while you are at it, feel free to share if you would want us to share something specifically for your upcoming tasks and projects, etc. and we will get back with that super soon.
Free Vertical Menu Mockup PSD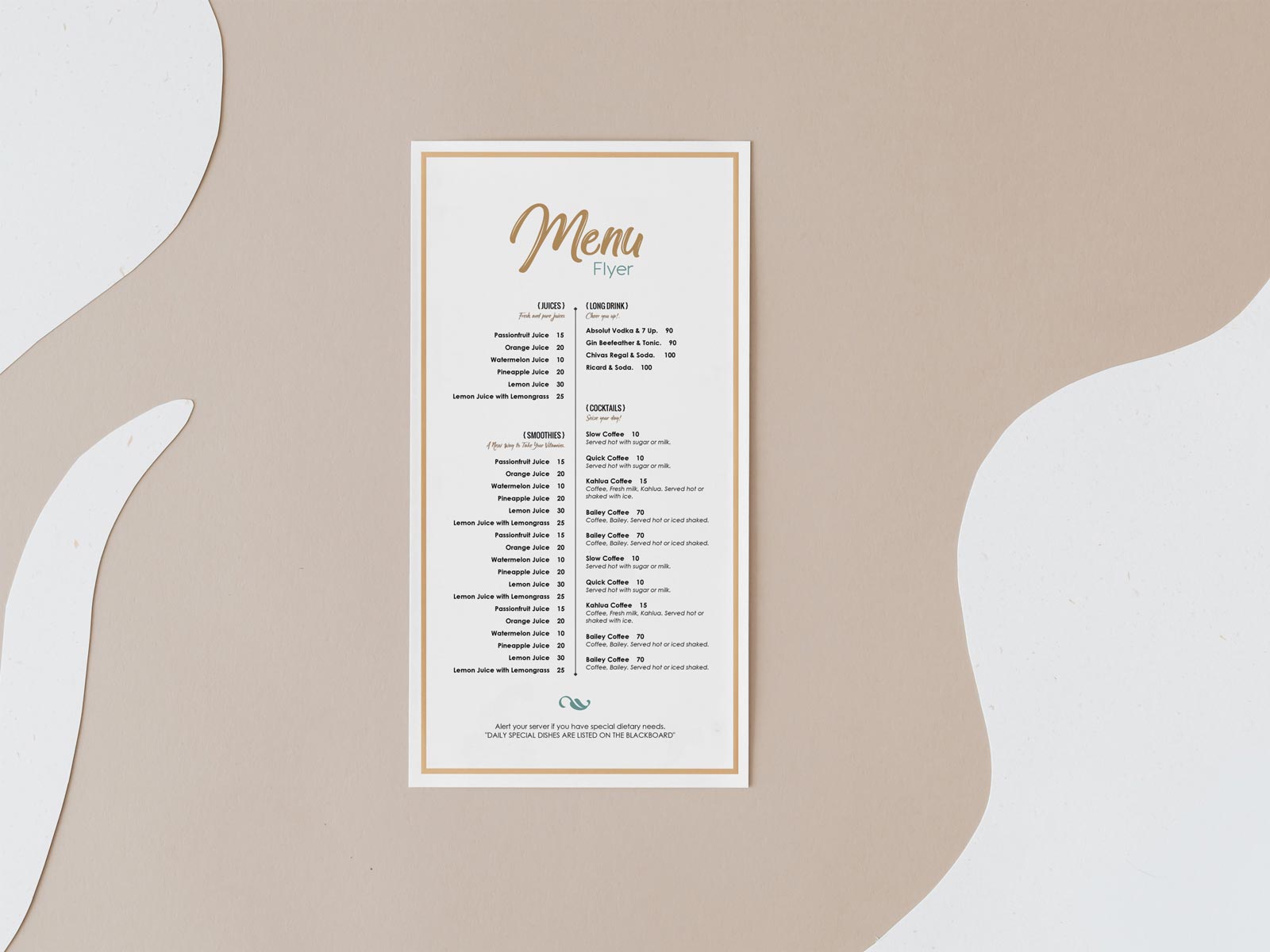 Available Format: Photoshop PSD with changeable background color
License: Free for personal and commercial usage
File Format: WinRAR
Mockup Resolution: 4000 x 3000 px
Note:
1. Free Restaurant Menu Mockup is allowed to share online (A Must Linkback to this page)
2. Say thanks if you like or share/tweet with your friends. That means a lot to me.
3. And don't forget to follow or subscribe to receive more high quality premium freebies & awesome articles only.
Download Menu Mockup PSD
More Free High Quality Menu Mockups: