Hi there everyone! We are back with another amazing blog of ours along with a free yet highly editable free water bottle mock-up PSD file that you all going to love. But before we start talking about that, we just wanted to thank you guys for the love and support that you are always ready to send our way and for also sharing our blogs, content ideas, tips & tricks, etc. with the people that you love and care for. We hope to see more of that happening in the future too.
Let's ask you a question first so that we can formally begin our today's blog! How many glasses of water do you have during the day? Because we know that we happen to be so busy with all the work that we are doing that we do not get to drink water. And do you guys know that being dehydrated can make you feel less energetic as well? Although, everyone must keep a check on what they are eating and drinking but consuming water is something that helps with many other things for example; you won't feel constipated, your mood will stay great too and of course, you will not feel dehydrated as well.
Everyone must drink 7 to 8 glasses of water during the day, but if you are someone who is working somewhere and you have to be attentive at all times; you must take this information very seriously as not (enough) drinking water results in dehydration which results in unclear thinking and brain fog in some cases as well. That being said; we also know that keeping a glass with you at all times is not super convenient, you know. And then having to refill it? Well, that sounds like a lot of work, right? So, what can be done in order to stay hydrated and not having to leave your work desk frequently? It is simple; you can just have a water bottle with you that you can easily fill at the start of the day and you will be good to go.
Water bottles come in many different sizes and shapes and of course, you have all the freedom in the world to design and decorate them in your own creative ways. We have also seen many people of all ages using sippy cups too but we also feel that water bottles are safer than sippy cups as with them the chances of water or any other liquid being spilt are very high. Keeping that in mind, we wanted to share our free bottle mock-up PSD file with you guys so that you can get your hands on it right away and start making your designs. However, here are a few things that you guys need to keep in mind before you dive into the creative and design processes:
You first need to evaluate the space that you are going to be using to make the designs; are you going to utilize the whole space of the bottle to make your designs or are you planning to design one side of it only? What are the color tones that you have in mind for the water bottle designs? Do you plan to make the cap of the water bottle look fancier than it already is or do you wish to keep it as generic as it can get? What are you thinking about the printing and finishing that you will finalize for the water bottle designs? In addition to that, you must also decide if the design will be dishwasher safe or not because that is a tricky one and you should be clear on that so that you do not break the hearts of your customers.
These are the questions that will help you guys make wiser decisions and put your efforts, time and money into things that matter, you know, that are durable and will bring you the results that you wish to have. Lastly, if you are a business, then you should create mock-ups to present to the clients, etc. before you get the manufacturing, production and printing done after making sure that everyone is on the same page.
That is all for today from our end, everybody! We hope that you guys had a nice time reading the blog and that you will also share it with your graphic designer friends, favorite colleagues and acquaintances, students, etc. as well so that they can make the most of our free water bottle mock-up PSD file. We would love to hear suggestions and requests from you guys so feel free to send them our way too and we will make sure to work on them and get back here with your requested content and more super soon.
Free Stainless Steel Water Bottle Mockup PSD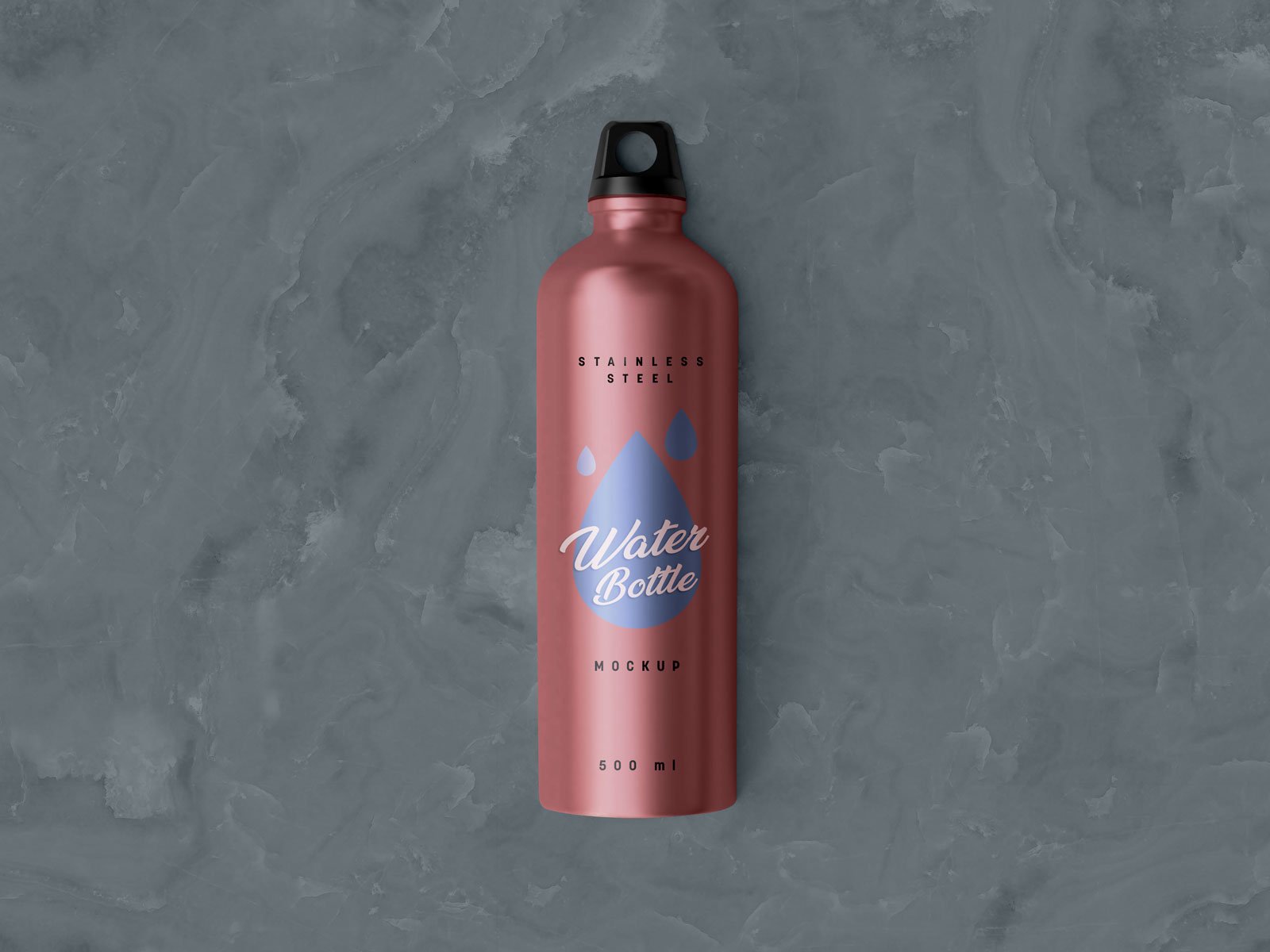 Available Format: Photoshop PSD
License: Free for personal and commercial usage
File Format: WinRAR
Mockup Resolution: 3000 x 2250 px
Note:
1. Free Water Bottle Mockup is allowed to share online (A Must Linkback to this page)
2. Say thanks if you like or share/tweet with your friends. That means a lot to me.
3. And don't forget to follow or subscribe to receive more high quality premium freebies & awesome articles only.
Download Water Bottle Mockup
Recommended: