Hi there everyone! We are back with yet another blog of ours and we know that you are going to love it as much as we did while working on it. But before we start sharing how you can make the most of our free hand holding water bottle label mock-up PSD file, we would love to take this moment to thank you all for your overwhelming response on our previous blogs and for also sharing them with the people that you love and care for. Your feedback and support mean a lot and we hope to receive that in the future as well.
If you are one of our regular readers, then you would know that we have done many different blogs and have also shared multiple highly editable mock-up PSD files on branding and how to ensure that you are making the right designs for yourself as well as for the people that you are working with. But there are chances that you might not be able to feel that you must feel even after you have done your best, that is to be happy and satisfied with the packaging, the branding, and all the communication that is being from the brand's end.
Now, there could be many reasons behind that but the ones that we will talk about are not something that is too hard to manage, you know. One of the reasons why you don't really like the idea of a packaging design but you still go live with it is that your team lead, your client, or the decision-makers are not ready to take any challenges. Then comes the fact that you might not have enough time to think things through and then work on a solid plan. Another thing that can affect the performance or the progress is that you don't have a lot of time to think through things so, you just go with whatever it is that you can work on and launch the designs, products, etc.
That being said, we also know that with the kinds of work routines we have, it can become a little too difficult to manage everything from being unique and different to being effective, and what happens is that we don't get to offer what had intended to offer. We are not here to demotivate you guys but what we are going to say next is something that will help you do your thing and be proud of it as well. Like every great thing that is there in the world, packaging and branding have to be created and designed by following a plan because without strategizing the process, you might not be able to get the results that you are expecting to get.
Recommended: Free 1 Liter Mineral / Drinking Water Bottle Mockup PSD
For example; in our free hand holding water bottle mock-up PSD file, you can see that we have allotted a nice space to the label so that you can utilize it as per your design brief or requirements. The entire design space is your area to experiment with colors, copy, and fonts, and other design elements to see what will work best for your brand. But it is very important for you guys to know that you must have insights into the consumers' behavior and psyche as well as to see what other businesses are doing so, that whatever you will create can be distinguished even from a distance.
There are a couple of things that you will have to keep in mind before you sit to create the water bottle label designs for example; finalize the most important information that you would like to mention on the label but also ensure that you are smartly going for fonts combinations as you would not want to overcrowd the label. Another thing that you should never forget is to leave enough white space in order to make the message / copy more readable. The imagery that you will go for has to be in high resolution and something that makes the consumers grab the bottle and drink from it too.
Recommended: Free Premium PET Water Bottle Mockup PSD
Lastly, don't forget to create mock-ups for all sorts of review design meetings in order to help the decision-makers visualize how the label and the water bottle will look like in real life and if you are ready to take an extra mile, don't forget to add a rationale to support your creative thought processes.
That is all for today, you guys! We hope that you had a great time reading this blog and that you will also share it with your friends and favorite colleagues as well. Also, feel free to share your feedback with us in the comments section and while you are at it, don't forget to share your requests and suggestions with us as well so that we can get back with your requested content and more.
Free Hand Holding Water Bottle Label Mockup PSD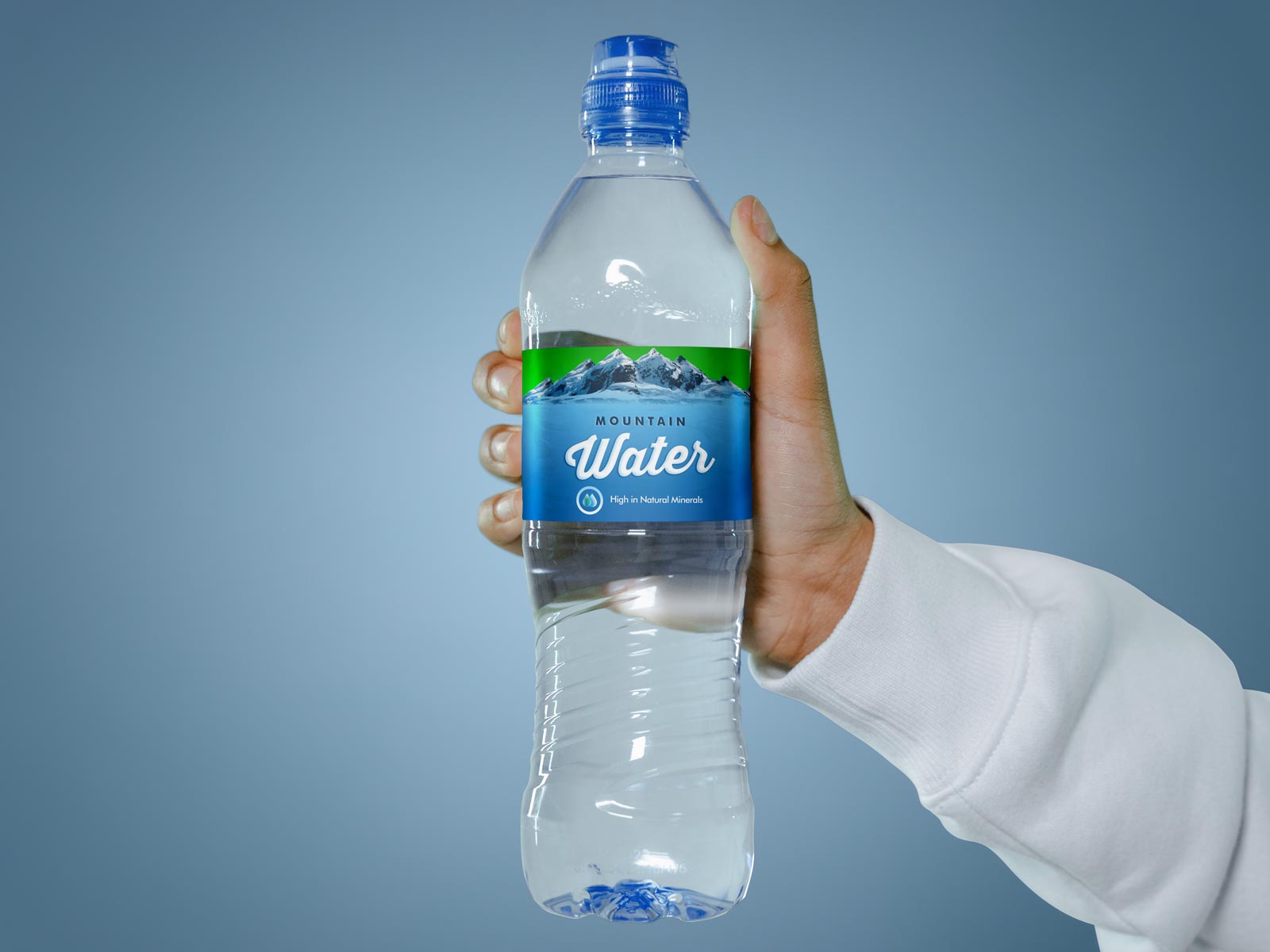 Available Format: Layered PSD with smart object insertion
License: Free for personal & commercial use
RAR File Includes: Free Water Bottle Mockup PSD
Mockup Resolution: 4000 x 3000 px
Note:
1. Free Water Bottle Mockup PSD set is allowed for sharing online (A Must Linkback to this page)
2. Designbolts signature is placed as first layer kindly hide and use the mockup
3. Say thanks if you like or share/tweet with your friends
Download Water Bottle Mockup
Recommended: