Hello there everybody! We are back with another super informative blog of ours and we know that you all are going to love it too as it talks about packaging (of candy chocolate bar – wink wink). We have obviously paired our blog with a free mock-up PSD as well that you can easily edit as per your creative and design brief. But before diving into it, we would like to thank you guys for your interesting suggestions and for also sharing the blogs with your loved ones as well. It means a lot to us so, keep supporting us through your words and shares.
As you all know that we love to design and talk about packaging and we know that you do too so we decided to create this free candy chocolate bar packaging mock-up PSD file for you guys that will help you create your very own designs in no time. With our free yet highly editable mock-up PSD, you can make whatever you want to make easily, and we can bet that you will be able to lock your business deals instantly as well.
Always remember that designing a packaging and its execution is no rocket science – you have to be super creative and you must have it in you to take the risks to try out something different and it will all lead you to work towards a better goal. Also, it is important for you that before you start working on your new design projects; you must try to understand the product as well as the business first. For example; today, we are talking about the packaging design of a candy chocolate bar. Now, it is your responsibility to work around the insights you have (and if you don't have any, there are chances that you won't be able to create what you want to create).
The usual insights for a candy chocolate bar can be something like this; kids and adults ranging from age 3 to 65 or 70, all genders, residing in the urban and rural areas of the city or country for that matter. Their shopping behavior might vary from buying the candies in bulk or just a handful depending on what variants you are offering in the market. You can also go and research about their socioeconomic classes as well to get a better understanding and you will see how all these things will fall into the right places for you so that you can decode your creative brief and create designs accordingly.
Okay so, for a candy chocolate bar packaging design; there are three approaches that you can follow to make things work for your business which are:
Funky & cool packaging style
Reserved & toned down packaging style
A mix & match of both that we have mentioned above
The first design approach will work perfectly great for younger audiences like kids that go to school, and they get the candies or chocolate bars as incentives and reinforcements for performing well in the class or at home. These goodies can also be present at birthday parties and school trips as well only to make kids have a good time where they can enjoy small sweet eatables while they play around with their peers and family members etc.
The next approach is clearly for the adults who love to have candies and chocolate bars because well, these sweet little things for anyone and everyone, right? But what we mean by saying 'reserved & toned down packaging style' is simply that in rare cases, an adult would feel attracted towards a super funky candy pack so, why not make something that is for them, you know?! Something that they can place at their work table(s), at the reception of the offices or in the dashboard of their car etc.
By making sure that you have created relevant packaging designs for relevant audiences; you will also ensure the success of your design project as well and that is the end goal, yeah? So, always create stuff by keeping in mind what your audience is like and half of your job will be done. For the third approach; you can experiment with the design elements, colors and fonts to see what is working for you and what isn't. A mix and match of both these approaches is the safest bet because it ensures that it will grab the attention of all age groups instantly and you will know that, that is the thing they engage with in one way or the other.
That's all from our side for today! We hope that our tips and free candy chocolate bar packaging mock-up PSD file will be helpful for you and that you will be able to execute some super fun and effective packaging designs. Don't forget to share this blog with your favorite colleagues and we'll see you guys next time!
Free Candy Chocolate Bar Packaging Mockup PSD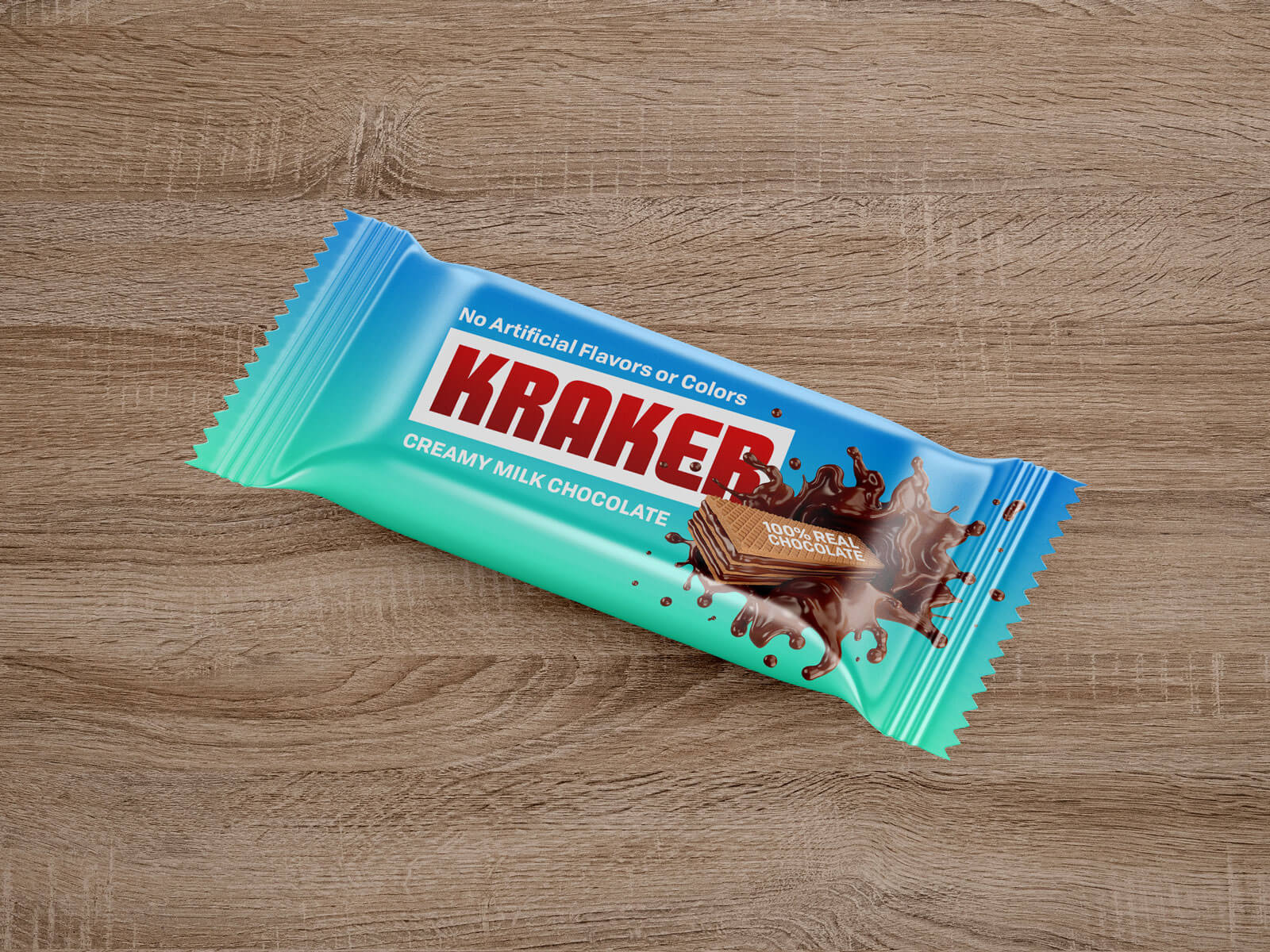 Available Format: Layered PSD with smart object insertion
License: Free for personal presentational use only
Zip File Includes: Candy Bar Chocolate Mockup PSD
Note:
1. PSD Mockup is allowed for sharing online (A Must Linkback to this page)
2. Say thanks if you like or share/tweet with your friends. That means a lot to me.
3. And don't forget to subscribe to receive for more high quality premium freebies & awesome articles only.
Download Candy Bar Mockup
More Free PSD Packaging Mockups you would love to download: