Hi there everyone! We hope that you guys are having a great time reading our blogs and that you are also making the most of our mock-up PSD files and everything else that we share here too. For our today's blog, we have created this amazing, free yet highly editable hanging poster mock-up PSD file which won't just let you make great designs for yourself and for the businesses that you are associated with but you will also be able to deliver impressive presentations as well. And we can't wait to share everything that you guys need to know in order to make the perfect poster designs but before doing that, we would like to take a moment to thank you all for your love and support and for always sharing our blogs with the people that you love and care for. We hope to see more of that happening in the future too.
Allow us to begin our today's blog by asking you guys this question: when you hear the word 'poster', what comes to your mind? Do you start thinking of a lot of colors, interesting typography and then some more along with some really nice visuals too? Well, that is literally what anyone would think when they hear this word and they are not wrong. But do you guys know that posters are more than just a burst of colors here and there with some popping typography? Let us explain!
First things first; there are chances that you are of the viewpoint that posters are comparatively newer than other means of communication when it comes to promoting a business message or two. But did you guys know that posters go back to the late 1800s? Uh, yeah! You read that right. Posters have been in the business since forever and for good. What we really like about the posters is that they can instantly grab a person's attention and then they make them take the actions that the business wants them to take. For example; attending a concert, signing up for a crochet class or visiting your newly launched show store.
But is that it, you ask? Of course not. There has to be more than your potential customer taking actions that can help you generate revenue. Now, what are those things? Whenever you launch a new product or offer a new service, you do not want the first few people to check your business out in detail and that would just be it. In fact, you want to turn them into your loyal advocates who, then will promote your business for you. The easiest way to do that is to provide your existing and potential customers with something that no one else is offering in ways that are totally unique, almost custom-made as per the needs and demands of your target audiences, and have a lasting impact as well and that too a positive one.
Recommended: 30 Best Free Poster Mockup PSD Files 2022
In order to make sure that you guys have got the poster design thing right, you first need to get to know and identify the main goal of making one. For example; a poster design that calls for donations will be totally different from a poster design that is being made to announce an upcoming theatre play. Similarly, you are going to be using colors that complement the message instead of picking a color palette that has striking colors only so that you can instantly grab a person's attention. In addition to that, you would want to go for typography that's not only classy to look at but is also appropriate as per the message. You can master knowing all these things when you know your target audience and how to satisfy their needs.
To make your poster campaign a successful one, you would also want to add a clear call to action (CTA) so that the audience knows what to do instead of getting confused and not wanting to know more about whatever you have to announce. Lastly, make sure that you have proofread the posters multiple times before you send them out for printing.
That is all for today! We hope that you not only had a nice time reading the blog but will also share your honest feedback with us in the comments section below. We would also like you all to share the blog with your graphic designer friends, favorite colleagues, and students, etc. as well so that they can work on a bunch of exciting poster designs for themselves. Also, feel free to share your requests with us so we can start working on them and get back here super soon with your requested content and more. Until then, keep making magical designs by utilizing our free mock-up PSD files!
Free Hanging Poster Mockup PSD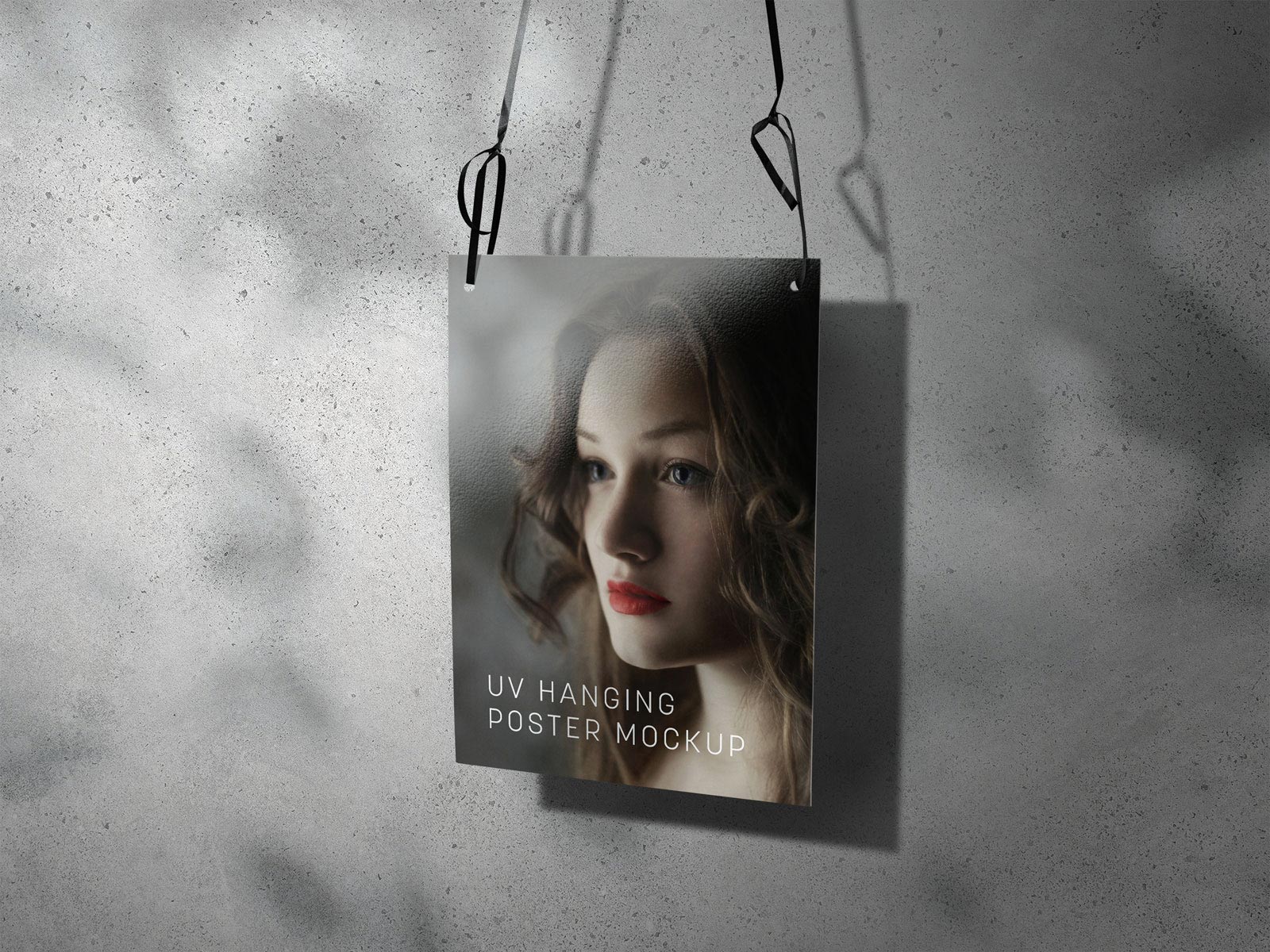 Available Format: Photoshop PSD
License: Free for personal and commercial usage
File Format: WinRAR
Mock-up Resolution: 4000 x 3000 px
Note:
1. Free Poster Mockup is allowed to share online (A Must Linkback to this page)
2. Say thanks if you like or share/tweet with your friends. That means a lot to me.
3. And don't forget to follow or subscribe to receive more high-quality premium freebies & awesome articles only.
Download Poster Mockup
Recommended: