Hi you guys! We know that you guys were waiting for us to share a brand new blog and we are indeed back with an interesting and super useful blog of ours. We can bet that you are going to have a very nice time reading the blog as well as checking out this extensive collection of modern vintage logos too. Before we start sharing everything that you guys need to know in order to make the most attractive modern vintage logo designs for yourselves or for the businesses that you are associated with, we would like to take a moment to thank you all for the love and support that you send our way and for always making sure that your friends, family members and favorite colleagues are also reading our blogs. We would also like to mention here that we make sure that the content that we happen to share here is beneficial for you and we hope to receive more support from you guys in the future as well.
If you guys are our regular readers then you must have read our previous blogs that not only feature free yet highly editable PSD files but also a number of easy to follow tips and tricks that can help you design just the perfect logos for your own businesses and for the ones that you are associated with. However, in this blog today, we are going to be sharing a couple of tips that can help you create attractive and effective vintage logo designs to stay ahead in the game. So, make sure that you guys read the blog till the very end to make informed decisions about your upcoming vintage logo design projects.
First things first; you all must know and make sure that you carry out thorough research on the eras that feature vintage designs as this will help you understand which era you want to draw inspiration from, in order to work on your next vintage logo design. You must also know that vintage designs were mostly created over a span of various decades and those eras are known as the Victorian era, the era of Art Deco and then came the time of 1950s well as 1980s. So, when you will be carrying out your research, you will be able to understand which era and its design elements resonate with your brand the most and then you can take the design elements and inspiration from that era to start working on your own logo design(s).
To make sure that you do not get overwhelmed during this process you will have to consider colors, typography and other visual elements that will help you stay associated with the era that you have selected to create your vintage logos. During this process, you will also have to work on a color palette and make sure that you pick just the right colours because the modern color palettes are not anywhere near to the vintage color palettes as the vintage logos were often created by utilizing earthy tones as well as for other designs etc. That means that you are going to go with pastel or faded colors as they will help you guys give a vintage look and feel to your designs, etc.
For typography, make sure that you guys pay a lot of attention to the fact that vintage logo designs often used classic fonts for the content so you can either go for vintage-inspired typefaces or you can even create custom lettering as well to create an even more unique feel to your brand's design elements.
For the vintage logo designs, we can understand that there might be an urge to create fancy stuff but we want you guys to know that when it comes to vintage, you have got to tone it down a little as compared to what we see when it comes to modern logo designs. Always keep in mind that for anything vintage, the keywords are nostalgia and simplicity.
That is all for today, you guys! We not only hope that you had an excellent time reading the blog but that you will also take some time and share your valuable feedback with us in the comments section. And while you are at it, don't forget to share this blog with the people you work with as well as with your students and acquaintances as well so that they can also make the most of this modern vintage logo designs. We would like to encourage you guys to also share your special requests with us so that we can work on them and be back here super soon with your requested content and more. Until then keep reading our blogs and creating magical designs!
Credit: be.net/vitorin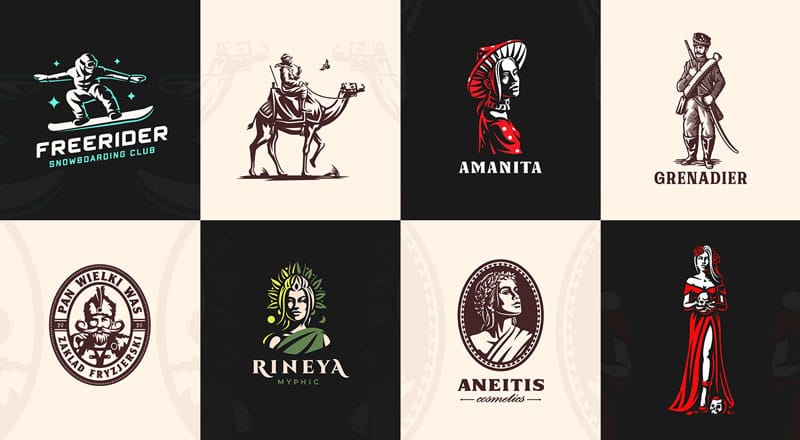 35+ Premium Vintage Logos For Inspiration
Recommended: