Hi everyone! We hope that you guys had a really nice time reading our previous blogs and that you are very excited to check out what we are about to share with you all. And we want you all to know that we can't wait to talk about our free yet highly editable soda can mock-up PSD file but before we do that, we would like to take a moment to thank you all for the love and support that you shower us with and for always making sure that your near & dear ones are also reading our blogs and making the most of them too. We would love to see more of that happening in the future as well.
If you guys are our regular readers, then we are sure that you must have read our previous blogs in the past which not only feature easy-to-follow tips and tricks to create soda cans and then some more but we can bet that you guys also benefited from those blogs for your personal and commercial projects as well. But if you are someone who has just started reading our blogs, we would like to first, welcome you here and secondly, know that you won't regret being here. So, without any further delays, let's get to the point, shall we?!
First things first; like every product that has to go out in the market, soda cans must be designed in such a way that they can get the attention of your existing and potential customers in like a second and we are not sure about you guys, but we really do, at times legit just stop in the aisles of the supermarkets that we happen to go to and check out the beautifully designed soda cans and if we like just that, we also buy them too in order to know what's inside, you know.
And know that, that is not something that we do out of fun, but that is literally what helps us make that decision – even if we don't know much about the brand, we would like to see what they are offering and if the product is good, like really, really good, we would not mind becoming their regular customers too. That is how you get things done! You offer something so aesthetically pleasing and attractive, that it insists your potential customers to check out more about you.
Recommended: 50 Best Free Tin Can Mockup PSD Files for Beverages & Food Preservatives
Also, there is more than one way to do that, right? For example; there is a high chance that people would not like to instantly buy your product(s), so what they will do is that, they will check out your digital and social media platforms to find out more about your business. Then they will follow your accounts to keep themselves updated and if you are doing all things as per a nice and effective strategy, then you will be able to convince them to place an order for the product online or get it physically from the very store where they came across your carefully designed items.
So, if you are planning to launch a business of drinks of any kind or if you are planning to rebrand your already existing product line, make sure that you read the blog till the end to know more and design better.
To make all things work in your favor, you need to ensure that your soda can designs reflect what your business is all about. You can do that by understanding and chalking out the brand's personality and how it wants to communicate with the target audiences. In the next step, you must work on defining a unique selling point (USP) which will be reflected through your design(s), such as a health benefit, a specific flavor or even a unique story too. Be experimental and see what works for you and what doesn't, in order to know fully well which designs will make it to the market and which can be shelved for the time being.
That is all for today, you guys! If you liked reading this blog, do share your feedback with us in the comments section down below. We would also like to encourage you guys to share the blog with your graphic designer friends, favorite colleagues, students, etc. as well so that they can also get their hands on our free soda can mock-up PSD file and make the most of it too. Lastly, don't forget to let us know about your special requests as well so that we can start working on them and be back here with your requested content and more super soon. Until then, continue reading our blogs and creating magical designs for yourselves and for the businesses that you are associated with.
Free Slanted Soda Can Mockup PSD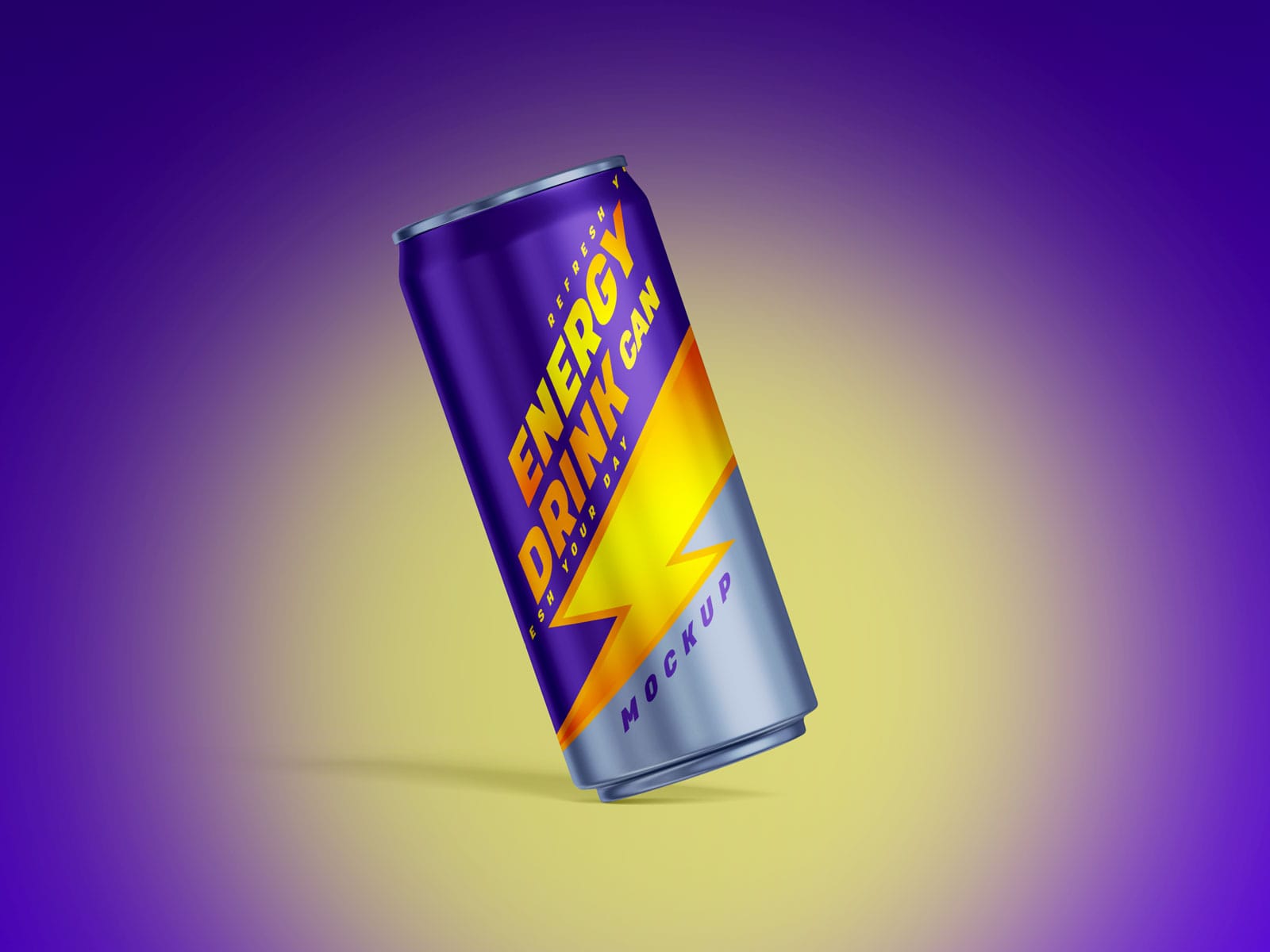 Available Format: Layered PSD with smart object insertion
License: Free for personal and commercial usage
Zip File Includes: Free Soda Can Mockup PSD
Mock-up Resolution: 3000 x 2250 px
Note:
1. Free Mockup PSD is allowed to share online (A Must Linkback to designbolts.com)
2. Say thanks if you like or share/tweet with your friends. That means a lot to me.
3. And don't forget to follow or subscribe to receive for more high quality premium freebies & awesome articles only.
Download Soda Can Mockup
Recommended: