1) Revitalized tools
Excitement has just begun. The tools we have been using are just taking a new shape; they are upgraded and rejuvenated certainly better than before. These fun elements are introduced in creative cloud, Adobe Photoshop, Illustrator and desktop applications.
Now we are set to get across millions of new features. The creative world is stepping towards new horizons. The applications are not hovering in the clouds, saved in the browsers but right at arm's length– on your very desktop.
2) A step up to the Creative world
With the use of Creative Cloud now the world of creativity is harmonized no matter how many devices it has to get across. Fonts can be well succeeded, latest updates are easily accessible, and comments can be located on the shared files & much more.
3) Made as a weighbridge
Work in partnership, production, creation and change has become easy with Creative Cloud. It's now a piece of cake using Creative Cloud for crews. Never hesitate or think twice for sharing seamlessly files from any device with 100GB of cloud storage.
4) A Leading medium
Creative Cloud is all about a new and innovative thing you ought to try out. Through creative cloud you can have an access to each and every Adobe creative tool along with video tutorials to guide and assist you reconnoiter new tools and accelerate. 
5) Build your setup, present your work
Now you can easily post work right from Photoshop and get passive feedback from other creative people around the globe. Creative Cloud is now incorporated with Behance that channelizes your work and your creative community together for the first time. It's easy to update your portfolio and to meet firsthand opportunities.
Free Retro 3D New Adobe CC Application Icons Set Includes:
Adobe After Effects CC Icon, Adobe Audition CC Icon, Adobe Bridge CC Icon, Adobe Dreamweaver CC Icon, Adobe Edge Animate CC Icon, Adobe Edge Code CC Icon, Adobe Edge Inspect CC Icon, Adobe Edge Reflow CC Icon, Adobe Edge Web Fonts CC Icon, Adobe Encore CC Icon, Adobe Fireworks CC Icon, Adobe Illustrator CC Icon, Adobe Indesign CC Icon, Adobe Muse CC Icon, Adobe Photoshop CC Icon, Adobe Prelude CC Icon, Adobe Premiere Pro CC Icon, Adobe Speedgrade CC Icon.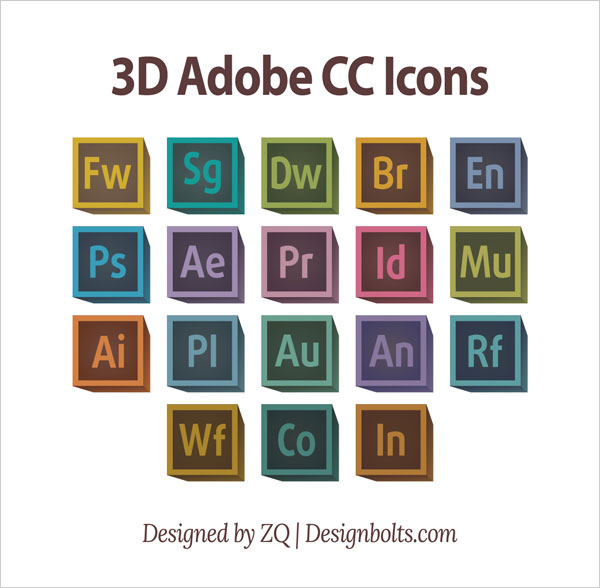 New Adobe CC Icons
Awesome Free Icons: