Apple iOS 7 Features:
Apple is reckoned to be world's most desirable and alluring brand whose name is enough to speak for its uniqueness and lush appearance. Let's don't beat about the bush and unleash some really fantastic features with crisp details about the latest Apple operating system—iOS 7.
1. User Interface Redesign – Smooth and Simplified
The operating system is now revitalized. The whole look as per app icons and colors are refined, simple and brittle to its maximum. The fun part is that gyroscope hardware is used in the home screen wallpaper to give a better effect when you trigger your device you can make easy distinction and dissimilarity between the homescreen layer from the app icon layers.
There is a lot more when we talk about notifications, missed notifications or all other notifications through the buttons at the top of the device.
2. One-Swipe Access Control 
Settings and options can be managed with control center. You need to swipe from the bottom screen to get an access to WiFi, Bluetooth, brightness and also control music in the backdrop. Through control center you can get quick access to few apps like calculator and camera. There is another cool thing here which is a torchbearer for you in the darkness of the tunnel. Flashlight is can be used even on the lockscreen so you don't have to turn on some other app for flashlight in the time of need. 
3. Smarter Multitasking
Multitasking lets you peep at the applications which are unfastened. You need to Glide through the entire app performances and then 'twice tap' to unveil the app. There's also an attractive thing that works with linkages where you will have updates for an app when you have a stout network connection that can make this wonder happen. 
4. Safari's New User Interface
Cruising the Web has never been this easy when we talk about Safari it solves the queries. Now it's cool and better than before with its instinctive full screen mode. When you scroll down through website content, the address bar that you customarily see will be reduced so that you can only see the website name. The buttons down below will also be concealed until you scroll up to reveal the controls.
It's way easier to open unlimited tabs on Safari. Scrolling through more than one tab looks like you're scrolling through a file box with its upper lid, where you can only see the top. You need to tap on the website to open it, or swipe it to the right to close it.
5.Fast Camera, Geo-Sorted Albums
The camera app now pops up with 4 features available by left or right swipes— Photos are available in a four-sided frame for instagram and Scenery pictures. New filters have also been introduced in the camera editing features that is already available.
6. Siri & iOS In The Car
Siri is now even shrewder with combined Wikipedia and Bing support built for your exploration requests. Siri now also has a male voice to help you which can speak to you in French or German (more languages are in the pipeline). Voice instructions are also available for actions like "play my last voicemail", "turn on Bluetooth" or "increase brightness".
7. iTunes Radio & Music Control
Apple has now come with its own Radio app which is similar to services like Pandora. It's the new Music app where you can look through stations or songs that are latest playing on twitter. While music is gushed to you, you can choose to "play more songs like this" or "don't play this song".
8. AirDrop Sharing Between iOS Devices
AirDrop is now obtainable for transmissions between iOS devices via peer-to-peer WiFI connection. Turning on the Share Sheet on an app, you can find users who are adjacent and tap on items to share with them. A notification will appear on their device and when they open it, it will open to the pertinent app and show the content that you have just shared with them.
9. More exciting Features
Here are stimulating things that you may know about iOS 7.
The App Store has a bit changed where you can look through different apps and view popular apps around you. Apps now also auto-update.
FaceTime comes up with the ability to block numbers so they can't reach you over the phone, FaceTime or messages.
Find My iPhone has come up with Activation Lock. Even if someone restricts 'Find My iPhone' or wash the entire device off, they won't be able to use it because your iCloud user ID is required to use your device.
I hope here you found the best and compact knowledge about advanced operating system—iOS 7. Accompanied with this info here I have shown free Apple iOS 7 style Social Media Icons Set. You can use them freely for your personal projects or buy the premium version for commercial usage.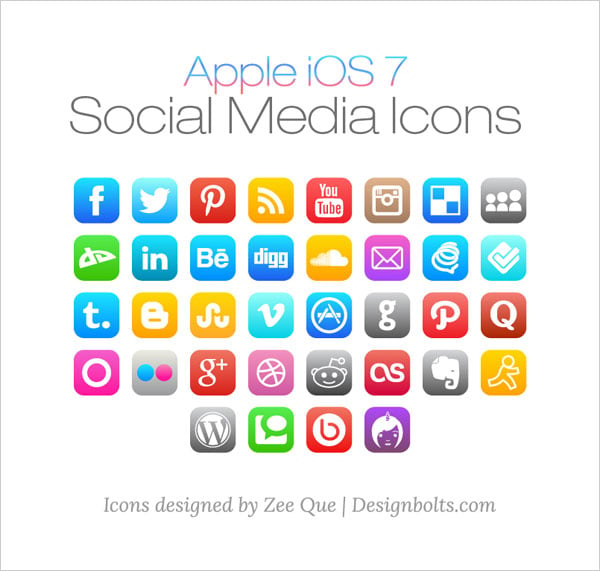 Free Version:
Available Size: 24, 32, 48, 72, 128, 256 px
License: CC Attribution-Noncommercial-No Derivate 3.0
iOS 7 Social Icons
—————————————————————————————————-
Premium Version for only $ 3.00
Available Format:  Vector (.ai) file
License: Creative Commons Attribution 3.0 Unported License
[paiddownloads id="47″ return_url="https://www.designbolts.com/thank-you/"]
—————————————————————————————————-
More Free Icons & Vectors: