Social media icons are the acing elements that stand a considerable importance in a blog. A blogger can have plethora of followers by having the attention grabbing icons. They not only give a straight boost to a blog's traffic but also a step up to enhance the outward appearance of a website.
It's always a great fun doing what I love to design falling in my niche. I always try my best to accommodate all the visitors who surf my blog to look for stuff they like to descend upon. Recently I designed baked social media icons that I am all up to share with you today.
These baked social media icons can be used in the sites having retro themes, blogs concerning baking stuff or any other website/ blog of this kind. They look popping, simple and meek that makes a perfect combo. I hope you are going to put them up on your respective blog/website. So take it away and keep coming back right here for more in future!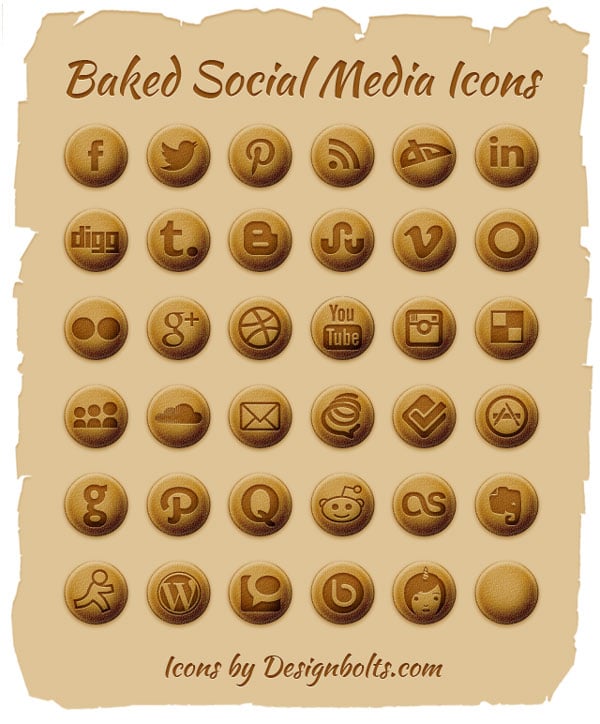 Free Version:
Available Size: 72 px only
License: CC Attribution-Noncommercial-No Derivate 3.0
Baked Social Icons
—————————————————————————————————-
Premium Version for only $ 3.00
Available Format:  Vector Based PSD (Very easy to edit) + Vector Smart Object Social Media Icons
Available Sizes: 48 px & 72 px
License: Creative Commons Attribution 3.0 Unported License
[paiddownloads id="45″ return_url="https://www.designbolts.com/thank-you/"]
—————————————————————————————————-
More Free Icons Download & Vectors: