After the ravishing celebration of the New Year, it's time to look out for the most inspiring and latest stuff available out there. Web presence is crucial for almost every business and WordPress is a powerful and versatile CMS that can efficiently cater to the diversified business needs.
With an ever evolving web design industry, it is a bit tough to stay updated with the ultimate design. For the folks who run a WordPress site and are looking for the latest WP theme that are in vogue, this article will reveal a few of the best themes for 2015. Ensure a remarkable appearance of your WordPress site by installing any of the following themes. You may also get a desired one customized to efficiently achieve your business goals.
Let's have a glimpse into the best free WordPress themes for January 2015.
1. Simply Read | Simple Free WordPress Theme
The astonishing visual appeal of this free theme is great for kind of blogging site. With minimalist visual appeal, it features a static page template and attractive layout to showcase latest posts. You can conveniently customize the theme as and when desired.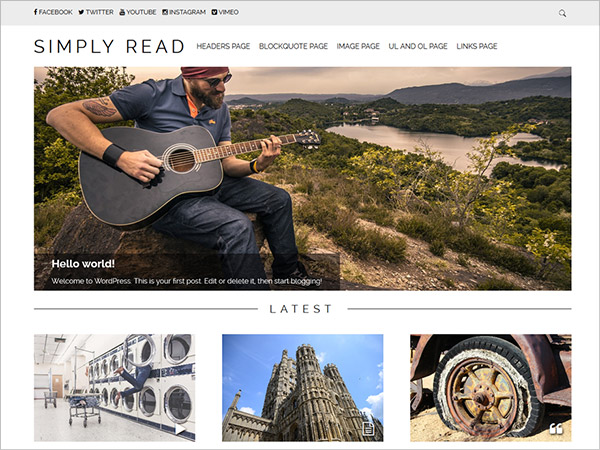 2. Wallstreet | Free WooCommerce Theme 2015
Perfectly complements the business or corporate WP sites, this theme supports WooCommerce. It comprises three awesome page templates, full width page, etc., to facilitate impressive and design.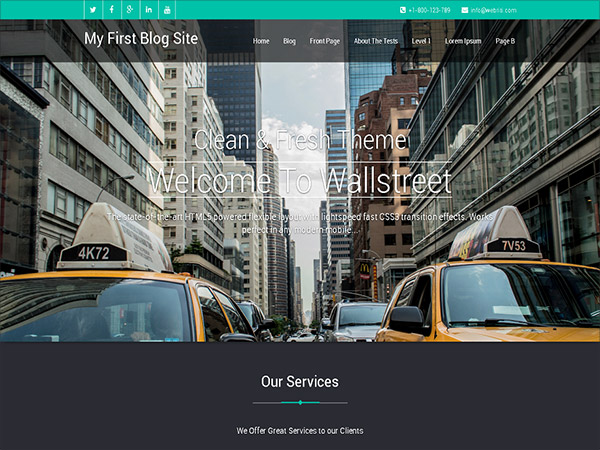 This WP theme is recently updated and a versatile theme that is designed to cater to the need of almost any kind of business. Whether it is blogging, corporate, non-profit or any other, you can install this theme, tailor it as per your needs and boost the visual appearance of your site.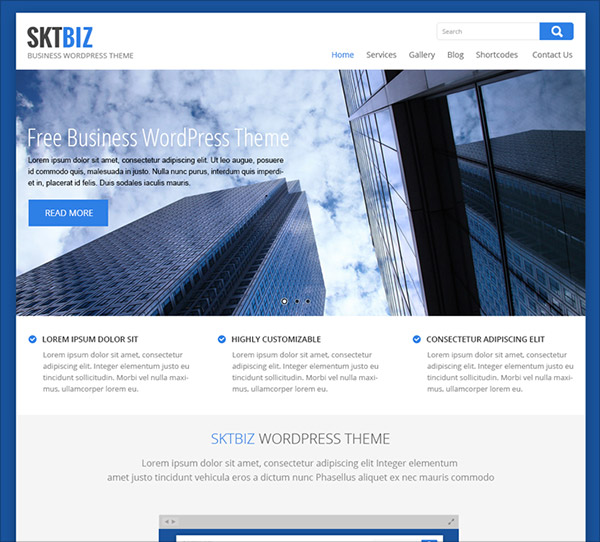 It is a versatile theme that can fit in almost every type of blog. The red logo beautifully embraces its flat design.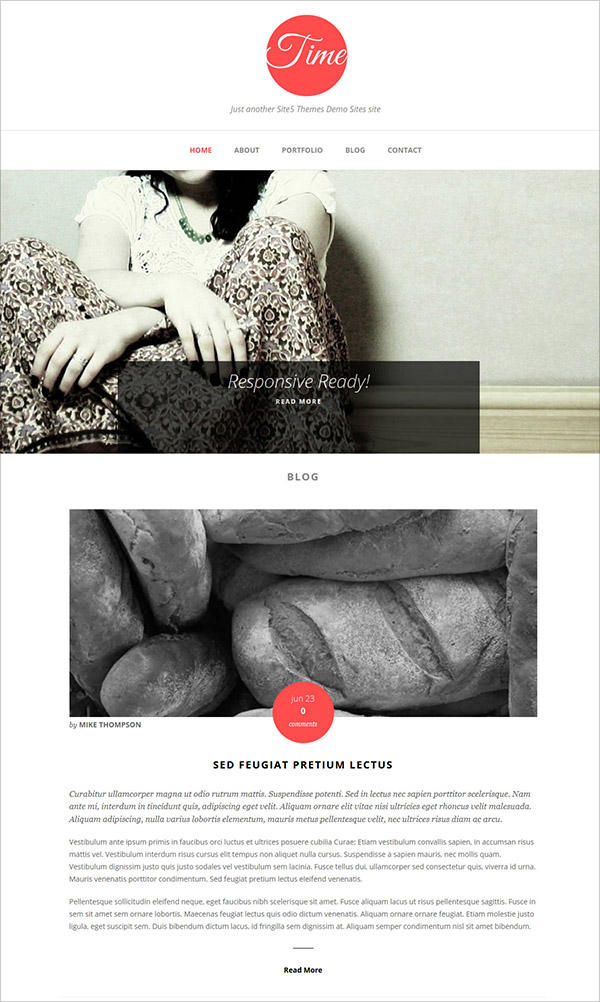 5. Adament | Free Photography Blog Theme 2015
You can beautify your photography blog with this astonishing WP theme. This full-screen theme supports premium photography and a list of amazing hues to customize the color scheme in a desired fashion.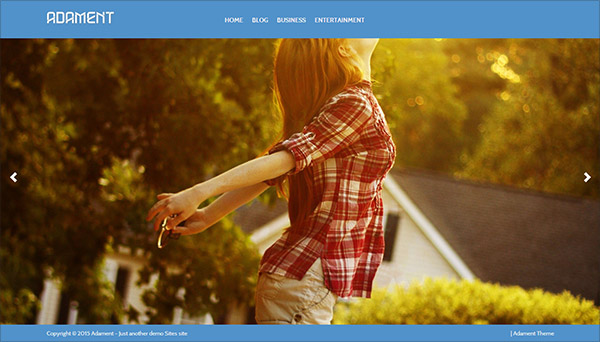 Adorn your wedding blog with this ultimate WordPress theme. It beautifully displays large images, so you can easily upload the desired images on the front page and conveniently customize the look and feel of your blog.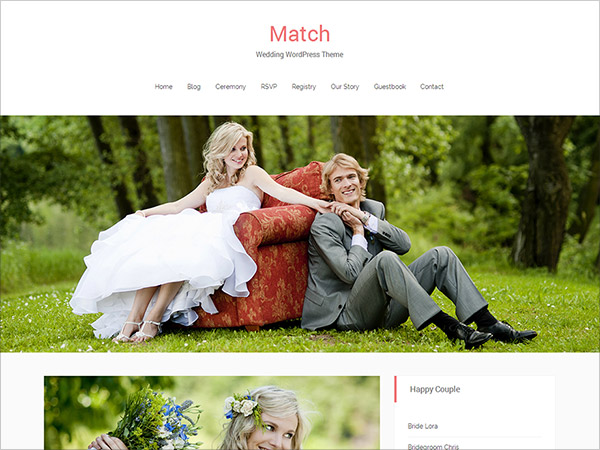 7. Apprise | Free News WordPress Theme 2015
Fully responsive theme with cross-browser compatibility, this WordPress theme is easily installable and customizable. Simply integrate it in your site and enhance the visual appearance of your site with Advanced Admin Panel and other user-friendly features.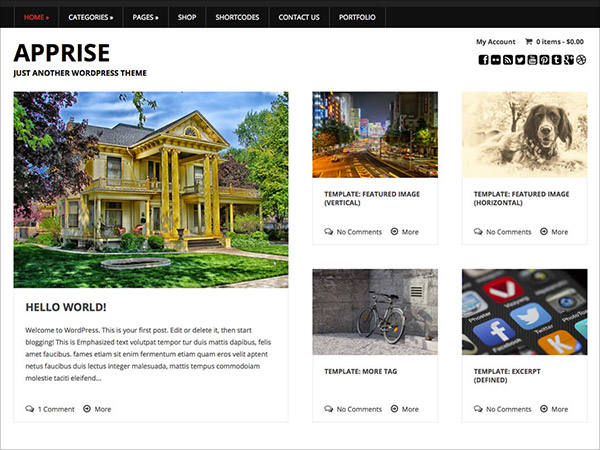 8. Post | Portfolio WP theme 2015
Tailor your blog with absolutely clean and captivating design by implementing this free theme. It offers a number of fabulous color styles, eight beautiful layouts and different sliders to choose from.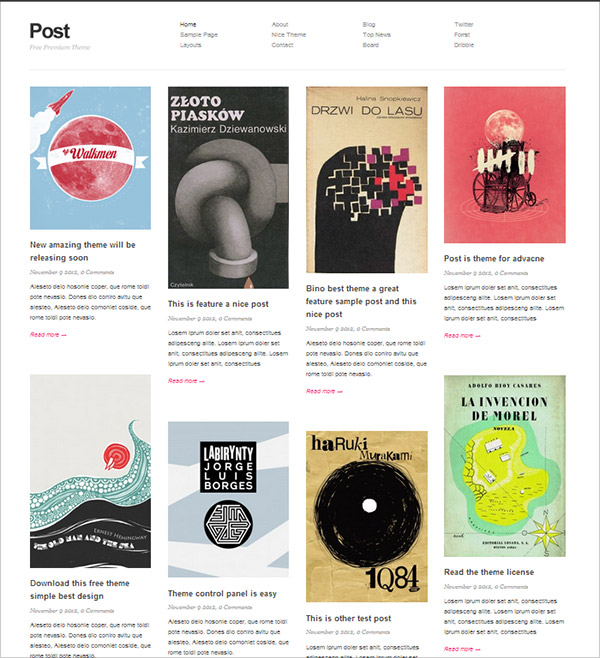 9. Spacious | Free Premium Business WordPress Theme 2015
Add a professional and intuitive visual appeal to your business site with this clean and responsive theme. It augments sliding through images via amazing sliders, and consists different templates, post layouts and so forth.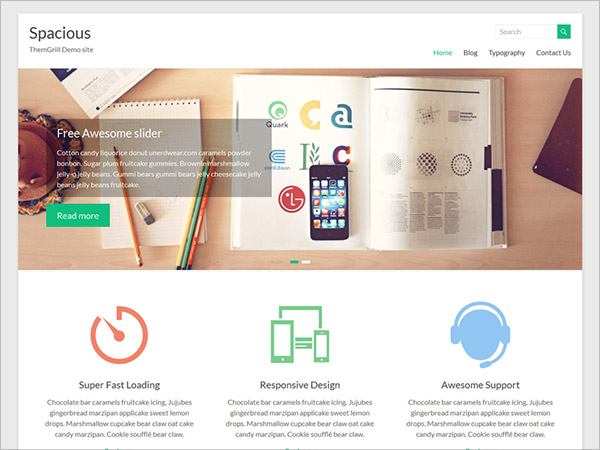 10. Bushwick | Free Personal Blog Theme 2015
This free WordPress theme allows one to personalize their blogs with captivating images. To support blazingly fast loading time, it is kept lightweight and features responsive design.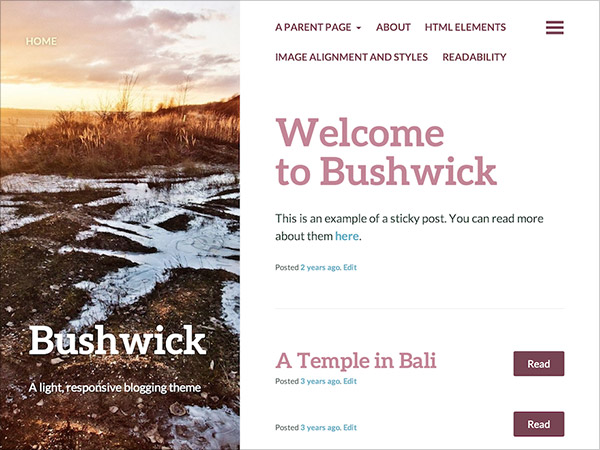 11. OneTone | Free Business WordPress Theme 2015
Just another awesome WordPress theme that features responsive and highly impressive design. It comes complete with a massive Admin Panel, cross-browser compatibility and a lot more.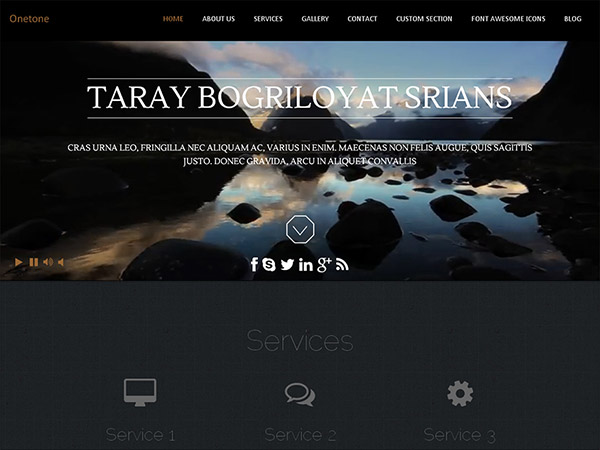 12. Tonal | Free Simple Blog Theme 2015
The minimalist design of this free WordPress theme is sure to captivate your viewers. You may personalize its color and other attributes to effectively meet your business objectives. It supports full-screen images on the front page, high end videos and different post types with compromising on their quality on any device.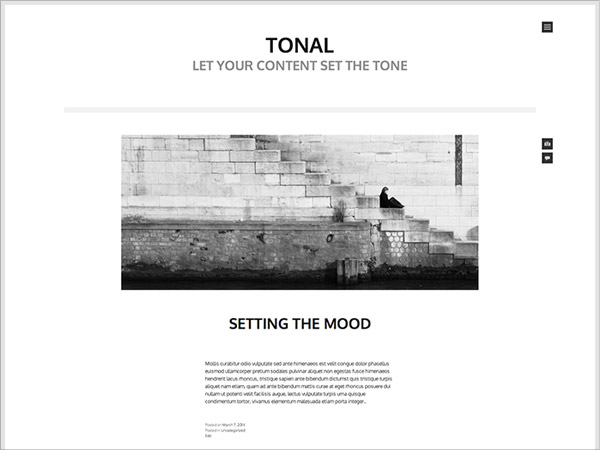 This theme is ideal for complimenting a personal blogging site. It is designed while keeping the current design trends in mind. It thus features a minimalist design with responsive approach, clean interface and amazing aesthetics including typography, vivid images and more.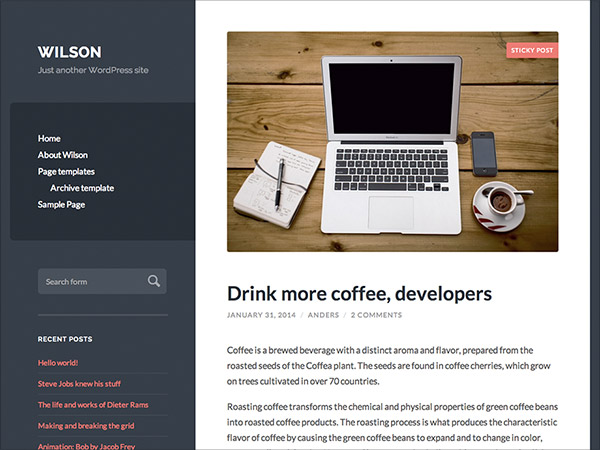 14. Accountancy | Free Magazine WordPress theme 2015
It is a professional theme that comes complete with myriads of amazing features. This incredible theme boasts responsive design and features custom widgets, clean code, SEO and a lot more.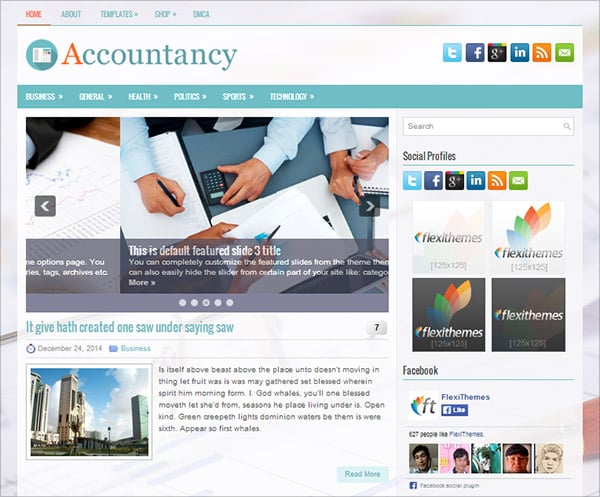 15. OneEngine | Business Free WordPress Theme 2015
You can efficiently create layouts for your WP in a desired fashion with this single page theme. This awesome theme has responsive design and features parallax background that is ready to captivate the viewers.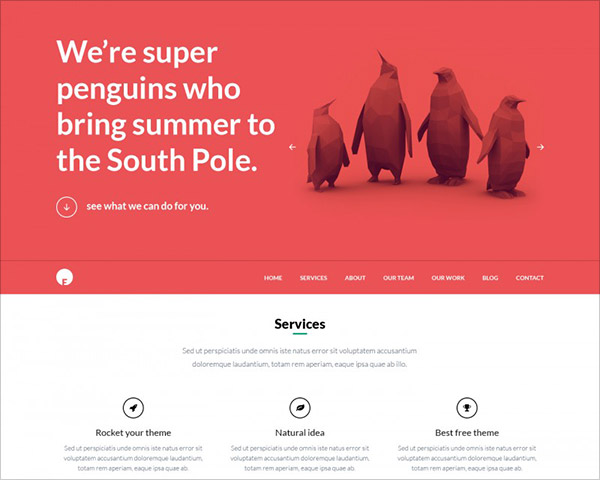 16. Zilch | Blogging Free WordPress theme 2015
This flat and trendy theme can be used in a blogging, new or magazine site. The search engine optimized layout and optimized code make it lightweight and highly resourceful. It drags a great focus over the web content and this is why, it represents web content in large font size. Moreover, to ensure utmost pleasure to the reader, the white spaces are properly justified.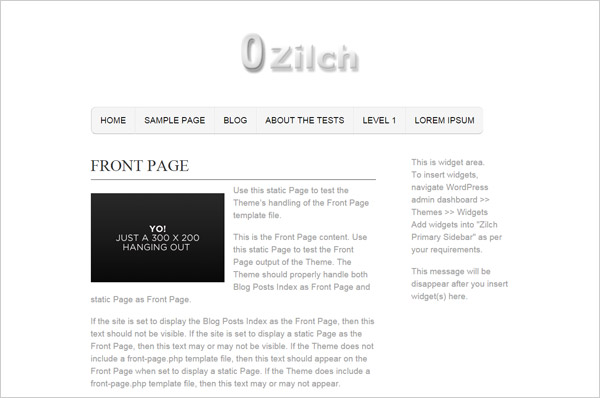 17. GK Portfolio | Free Portfolio WordPress Theme 2015
Embracing great focus over the visual content, it supports elegant and clutter-free design to support portfolio sites. This will theme will directly throw the lights on the creativity of your work. It beautifully epitomizes an alluring visual appeal that will entice the viewers.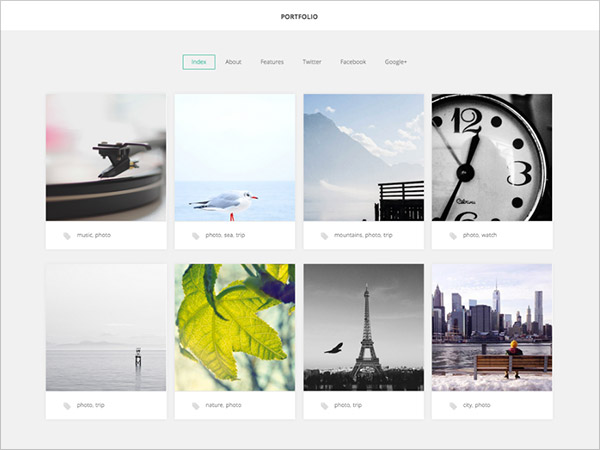 18. Profit Mag | Free news WordPress Theme 2015
This responsive magazine theme boasts the content in an uncluttered and easy to read fashion. You can customize it to support an amazing news website or blogging site. Furthermore, the integrated theme option panel facilitates one to efficiently handle this elegant theme.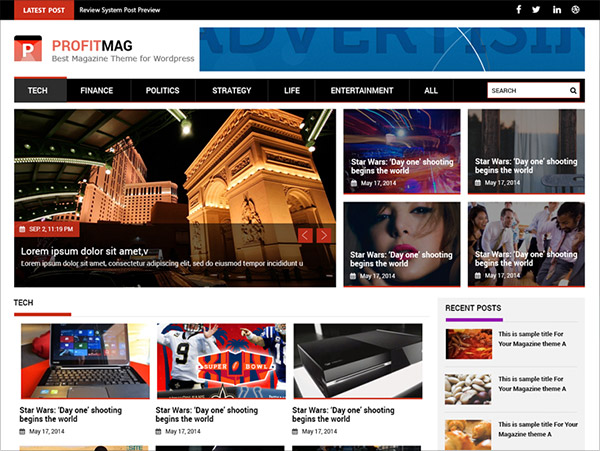 19. MH Elegance | Free Professional Blog Theme
Run your professional blog or corporate website proficiently with this exquisitely designed responsive WP theme. It features elegant visual appeal and easily personalize-able attributes. Thus, you can efficiently tailor it as and when desired.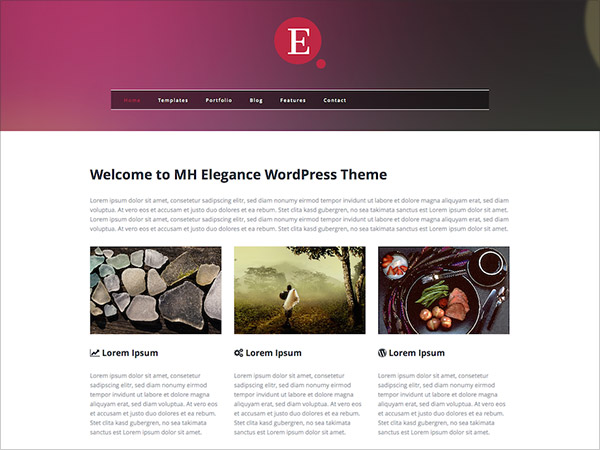 20. Geekery | 2015 Free Blogging Theme
This versatile theme is fully responsive and features a trendy flat design. The built-in color palette consists an overwhelming list of 10 colors. It possesses a robust admin support, custom fields, SEO, social link widgets and a lot more. The sophisticated look and feel of this theme is great to complement blogging site, magazine site, news site, and so forth.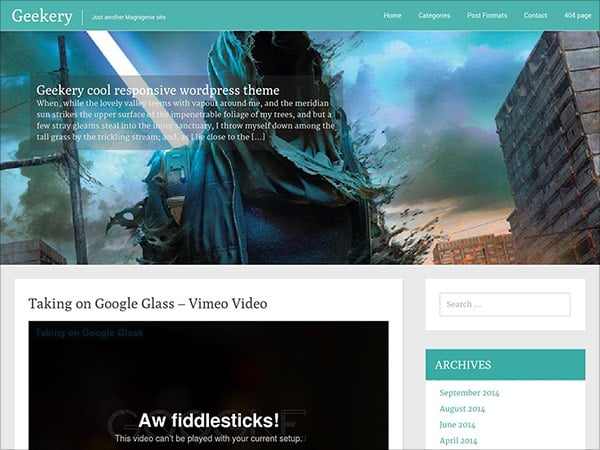 These are the recently updated free WordPress themes that incorporate latest web design trends. You may use any of the aforementioned themes that best suits your business needs.
—
Contributor: 
Amy Brown is a WordPress developer by profession. She works for WordPrax Ltd., a Custom WordPress Development Services provider company with a global reach. Amy loves innovative approach to web development and has a strong inclination for a suite of creative endeavors. Blogging meanwhile is a new found hobby for Amy.
—
More Best Free Wp Themes for 2015 Blogs
Tags: free wordpress theme 2015, top free wordpress theme, free wordpress themes, wp theme, free wp theme 2015, sp themes 2015, best wordpress themes, free wordpress themes 2015