This world is a mighty place where we cannot visit all of it in a day, month or even in a year. People plan world tour to the big and small countries just having the wanderlust hooked up, to seek adventures, to enjoy the beauty of nature and to capture themselves in the breath bouncing backdrop. But if you want a picture & cannot go by yourself to the place, you can download the image from the internet. Yeah, it is that simple and easier now.
The world is advancing, technology is mounting to some other level of highness, that's why artists, bloggers, photographers, graphic designers, agencies and business firms can make the direct access with the goodies available online whether it be about downloading or purchasing images from the websites, it is a child's play now. I am giving you the best possible option for the stock photos in all sizes that you ever wanted.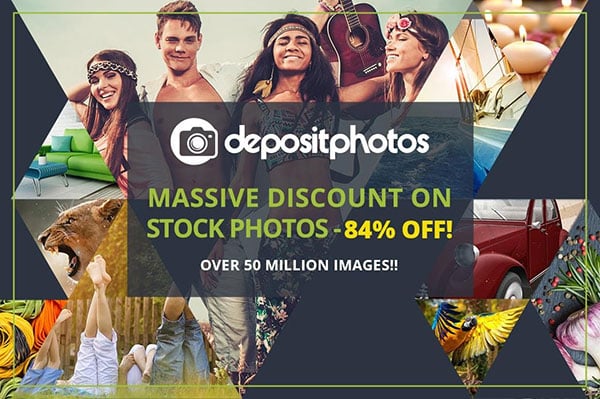 Depositphotos offers one of the largest stock photo libraries on the Web, and you can nab either 100 or 200 images of your choice for up to 87% off the regular price. What makes this deal so spectacular is that besides a ginormous library to browse, you can select ANY SIZE photo you want, including the much sought-after and generally pricey XXL and XXXL sizes.
Even if you've purchased this Mighty Deal when we ran it previously, you may wish to buy it again, to take further advantage of this deal by adding even more images to your collection.
Over 50 million high-quality stock images. Less than $1 each.
For a limited time only, you can get 100 images of any size for $99 (reg. $636) or 200 images for $160 (reg. $1,272).
Stick around for more art and design posts, we also give shout out to the artists and also the blogs that are doing good in the design world, our purpose is to familiarize people that what design trends are in fashion and in demand.
Subscribe us for more posts in future as well. Have look at it!
Buy the best: