This article is aimed at freelancers and web design studios at first turn. Let us ask you a question. Would you wish to increase your workflow and income for just a few clicks? If your answer is: "No, I'm absolutely happy", just don't bother to read this article. But if your answer is something like this: "I wish things to be better for me and I know that they could", read on very attentively. We are going to tell you about one working marketing trick that won't cost you a dime.
Actually, people who think that nothing can be improved in their workflow are either blind or lazy. They don't want to notice obvious things. Business that does not grow and develop is dead. Sorry, if we hurt somebody's feelings. We just wanted to wake you up.

All of us face the same problems every day. Most common ones are lack of customers, clients that do not know what they really want, difficulties with getting links from big blogs with good traffic density, the list goes on. Do you agree? How do you overcome these challenging situations? Put more money and efforts into your marketing campaigns? Redesign one and the same thing a hundred times because a picky client wants to make a "few tweaks"? That's right, why not, but you will never become well off this way. It's always worth to try all free methods before passing to the paid ones. This what we call a penny-pinching approach, but they say "penny and penny laid up will be many".
Ok, let's wind up the introduction and pass to the most sipid part of the article. We hope we have sparked your interest.
So, what is this secret weapon that will help you draw more customers and leads for free? We are talking about TemplateMonster's Web Studios Catalogue now.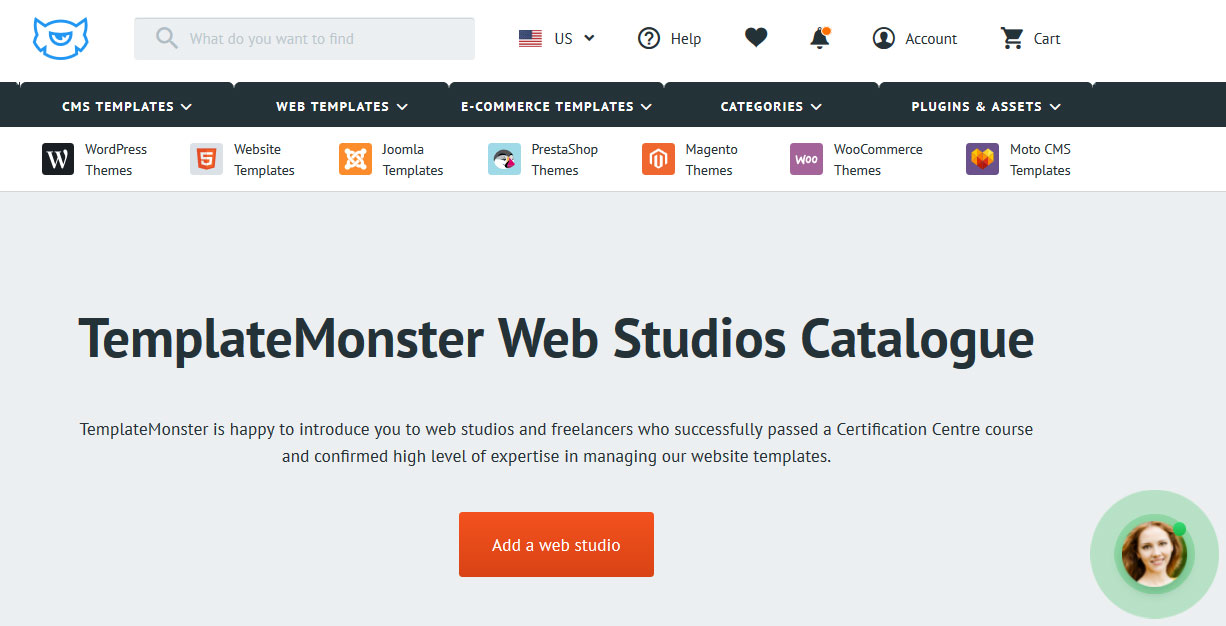 The coolest thing about this project is that it is beneficial both for customers and web design and development agencies. Any freelancer or web design studio can sign up for the service, create it's profile free of charge and start to receive customers from TemplateMonster.com. The advantages are not limited to these, of course. As to the customers, they will be able to find a reliable local web design agency easily with the help of the catalogue. Are there anybody reading this blog post who still doesn't know what TemplateMonster is? TemplateMonster is a famous marketplace producing the best templates and themes and running lots of other side projects. The company is the oldest and the most experienced in the field. They are selling templates for almost 15 years, they have been selling them to different countries when nobody knew about YouTube and Facebook.
Millions of websites on the current web have been built on the basis of TemplateMonster's templates. Millions of customers trust the guys nowadays and cooperate with them. Yes, TemplateMonster customer's list is vast and not all of their clients have enough technical skills to bring a ready-made design to life. It's quite natural that most of the customers require additional services like: template installation, customization, content support, SEO optimization, website promotion, and so on. They just can't cope with all these themselves. So, they start to search the Internet for some local expert who will do all the complex job instead of them. After long hours of surfing they understand that it was not such a good idea. They can't hire a stranger.
But why hiring them? All the customers need to do is just look through the Web Studios Catalogue.
First of all, only agencies that are recommended by TemplateMonster are included there, so the risk to stay unsatisfied is minimal. It's a well-known fact that customers prefer to deal with trustworthy resources and with the local web studios. The catalogue gives them these possibilities.
The list is provided with advanced search functionalities. The customers can search it by country and city.

This option enables the customers search for a web studio in their location or somewhere nearby.
Besides, different studios provide different kinds of services, so the option of filtering the catalogue by CMS is also added to the catalogue.
For instance, the owners of Magento themes from Rumford will be shown a list of companies working with Magento sites in that specified area.
In other words, the customers will see a list of all web design agencies that work with Magento platform on the Web Studios Catalogue. The feature is utterly user-friendly, especially when they buy several different templates and want to launch more than one project at a time.
The clients can select one of the two ways. They can either contact one web design studio that works with WordPress, Joomla and Magento (for example) or send a request to 3 different agencies.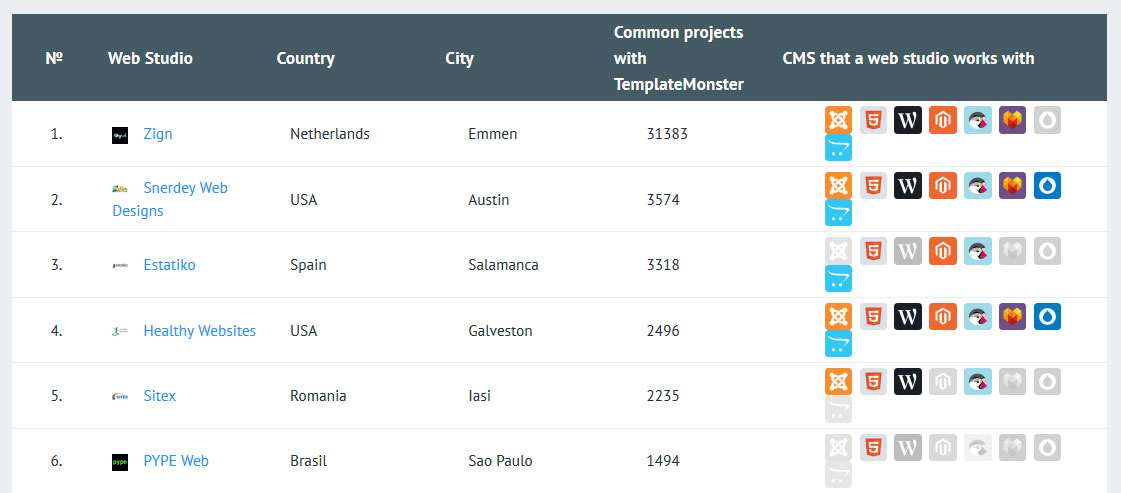 In addition to being highlighted on the chart, each partner gets a separate profile page. There they can post more specific/detailed information about their services, studio description, staff, contact details, a list of CMS they work with, pricing plans, feedbacks, and much more.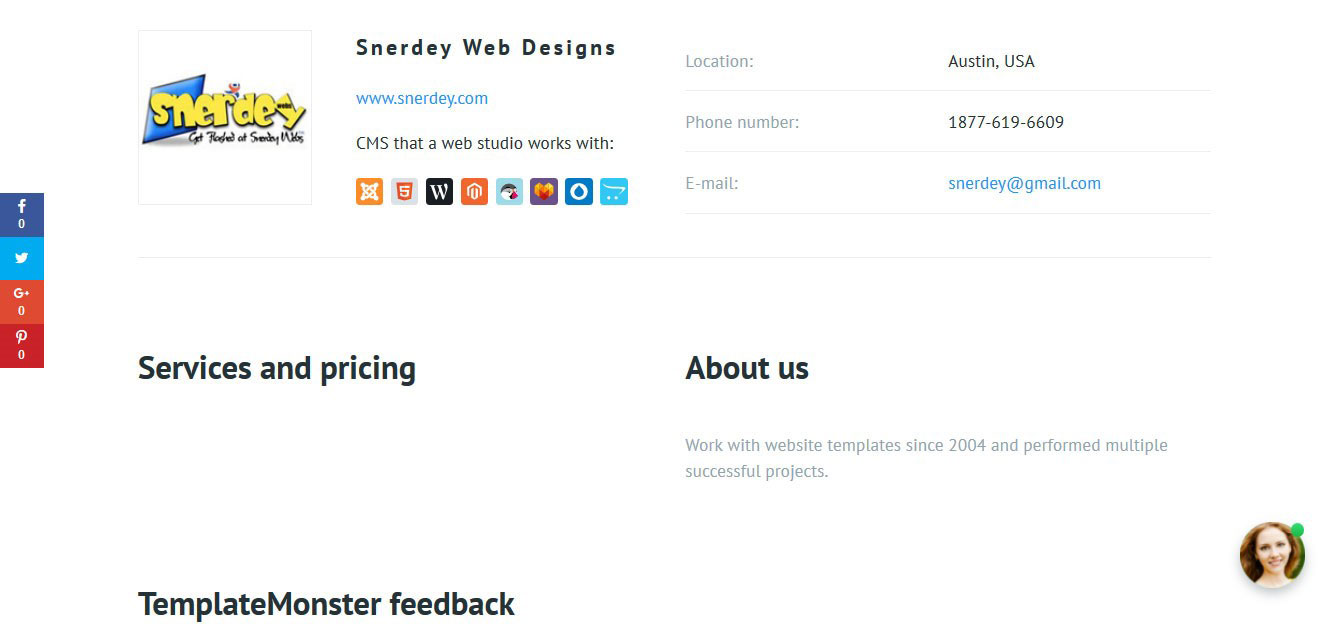 The profile page includes TemplateMonster's feedback about the design studio and its rating as well. The more projects with their templates web studio has completed and the more positive feedbacks customers leave, the higher ranking the profile gets.
This information helps the customers choose the best web design agency for their needs.
There is also a built-in request form for the clients who have already made the decision. Using this form, the customer can contact a web design agency, give them a brief review of the services they would like to order, project budget, etc.
View this short video about Web Studios Catalogue to fill in the gaps in the above review if any.

Wrapping up
Here are some more benefits a freelancer or a web design agency gets from partnering with TemplateMonster. Firstly, Web Studios Catalogue is an unfailing source of leads for your website. The number of people visiting TemplateMonster marketplace every day is huge. They purchase loads of templates. You can have your piece of this sweet pie and believe us, it will be rather big.
Thanks to this program freelancers have a rare opportunity to join the large community of progressive developers and designers. You can make friends with them and learn from them. Very soon you will become a web design guru able to cope even with the most complicated tasks. Friendly help and support are very important for everybody. They will make your way to success smooth, quick, and enjoyable. And one more thing, it's important to feel yourself a part of the community of the like-minded nerds. This gives comfort and confidence.
Web Studios Catalogue is a part of TemplateMonster's Partner Program that lets you considerably increase your income. You will finally get a steady workflow. Customers will contact you knowing that you are an expert developer able to set their resources up and running in the short run even before you will start to work.
TemplateMonster does not charge neither customer nor freelancer for this awesome service. It's free for now, so, no doubt, you should be on the list. Finding new customers without any investments into advertizing or other marketing efforts sounds like a win-win, but it is more likely a limited time proposition as the project is totally fresh. Be sure to jump on the train!
Want to be on the list? Press the button. Add your Web Studio to Catalog Now!
Recommended Posts: