If you want to promote your business, you must create an extensive plan regarding the marketing materials which will be used to serve the purpose. Promoting a business / services through billboards is an intelligent way of speaking to the existing and potential customers. And since modern techniques are being incorporated, marketers and advertisers are coming up with newer & refined ideas for conventional marketing.
There are different types of billboards like standard billboards, digital billboards, tri-boards and wall-scape, hoardings etc. However, in our today's blog we will be talking about the static / standard billboards with rounded corners. And we have created an easy to edit outdoor advertising rounded corners billboard mockup PSD for you guys. So, let's get started.
To design effective billboards we will share a set of easy to follow tips with you. Once you have designed everything taking help from our mockup PSD, share the versions with your clients to carry out a smooth process of advertising the businesses.
Keep your billboard simple – yes, you read it right. Your billboard doesn't have to look like a textbook with a lot of information which no one is going to read.
The copy on your billboard has to be crisp and short. Fancy, yes but not something difficult to read. The best copy is something for which the audience doesn't have to consult a dictionary to understand the message.
Read the copy keeping in mind that you are in a vehicle. Can you read it in 5 to 10 seconds? If yes, then you are good to go and if not, then have the copy revised until you are sure that it is going to work.
Colors play an important role in every advertisement – be it static or moving like a TVC or streamers. To make your billboards readable enough, go for high color contrasts.
The fonts on your billboards have to be viewable from a distance, ensure that you are giving that a consideration.
Always use one large image for a billboard. In this way you will grabbing the attention of your audience easily.
Free 2:1 Outdoor Advertising Rounded Corners Billboard Mockup PSD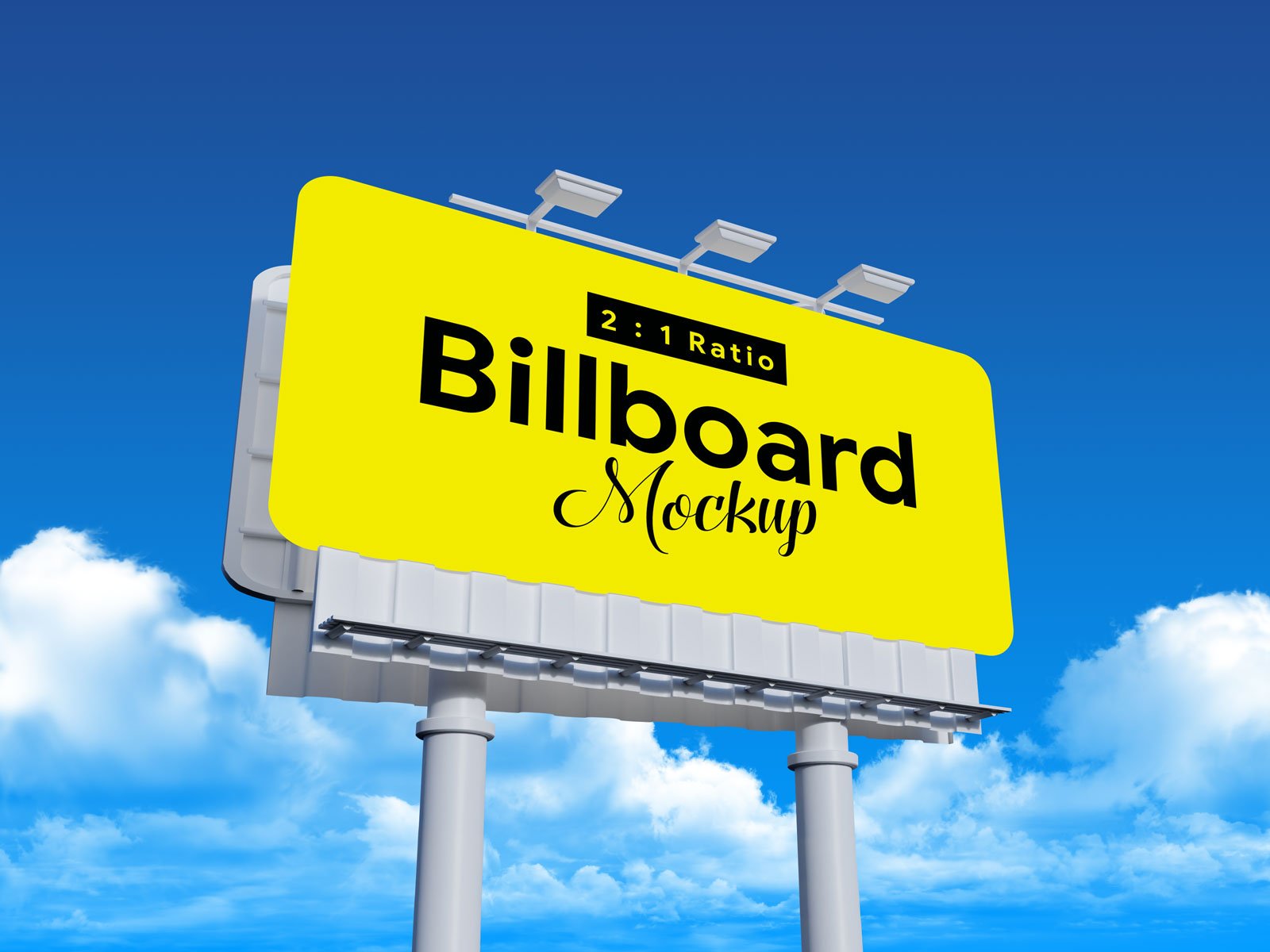 Available Format: Layered PSD with smart object insertion
License: Free for personal presentational use only
Zip File Includes: Outdoor Hoarding Mockup PSD
Note:
1. PSD Outdoor Billboard Mockup is allowed for sharing online (A Must Linkback to this page)
2. Layers are hidden to decrease the size of file kindly unhide and place your design on red colored layer.
3. Say thanks if you like or share/tweet with your friends.
Download Hoarding Mockup
More Free PSD Hoarding Mockups you would love to download: