Hey there guys! We would like to thank you all for sharing your positive feedback with us on our recent blogs and letting us know that our blogs and everything else that we share here are helping you achieve your design and creativity goals. We honestly feel so great that we could be the source of inspiration and ideas for each one of you. It is your love and support that keeps us moving and that's why we are here with yet another amazing blog of ours and some fun items for the Black Friday sale.
Since Black Friday is around the corner, every shopkeeper, retailer, store owner and even online businessmen and businesswomen must have planned to announce their Black Friday sales and deals shortly. And we know that you guys are super excited to avail the offers, so are we but we figured out that most of the shopkeepers do not have the necessary material which is required to announce the deals.
You would definitely want to place a banner on your shop, website or on your Facebook Page but you are afraid that you don't have that perfect an image to upload? Don't worry because we have created some really cool and attractive Black Friday deal banners to be used in 2019. All the banners are absolutely free to download and they are in the Ai format which will let you make changes to the files and even tweak them as per your requirements.
But before we move to the actual topic and reveal the Black Friday deal banners, we would like to share some easy to follow design tips with you so that you can attract as many visitors and customers as you want to. So, let's get started!
We have kept the banner sizes generic but you can make changes to the dimensions if need be to set them according to your requirements but make sure that all the banners are big enough to be seen even from a distance. For digital platforms, you will have to ensure that the banners are of high quality and don't get pixelated.
Keep the text minimal but effective enough to be read in 5 seconds max. and is attention grabbing as well so that anyone who looks at it wants to check out the deals that are being offered.
Statements like "Hurry up!", "Limited Time Offer", "Buy One, Get One Free!", "Up to … percent OFF" create an urgency in the potential customers and make them spend some of their money on the deals that they think are perfect for them. So, make sure that your copy writer pays attention to the details.
It is also important to not overcommit anything, only write what you are actually offering when it comes to the discounts. Also, do not forget to mention if there are any terms & conditions that apply upon any purchase.
It is totally up to you to choose a color palette which you think will work great for your brand but if you want to change the communication colors for the sale, you can do that too. Add in 2 to 3 different colors that are trending and are also eye friendly – because you wouldn't want to scare your customers.
Sale and deal messages look really good when they are complemented with appropriate design elements as the design looks too interesting to ignore. An average person would love to look at your ad / banner and see what's written which will convince them to visit the shop or check out the items online.
To add some more creativity to the banners that you would use for your websites, you can also have them animated with light bulbs subtly blinking or you can have the text animated too.
There are many ways to use our banners in Ai format and make them work as per the directions of your design brief so, don't hesitate to try something new and different this year. Trust us when we say this that every effort of yours will be liked and appreciated by your customers / clients.
We believe that this is all for today as we know you will create awesome Black Friday deal banners in 2019 for your own shops and online stores as well as for your clients etc. Don't forget to follow the tips that we have mentioned above because these tips are going to help you for a very long period of time.
We would love to see you all sharing our blog and free Black Friday deal banners with your friends and colleagues as well – and we will see you next time with some more useful and full of insights stuff!
Black Friday Deals 2019 Free Banners in Ai Format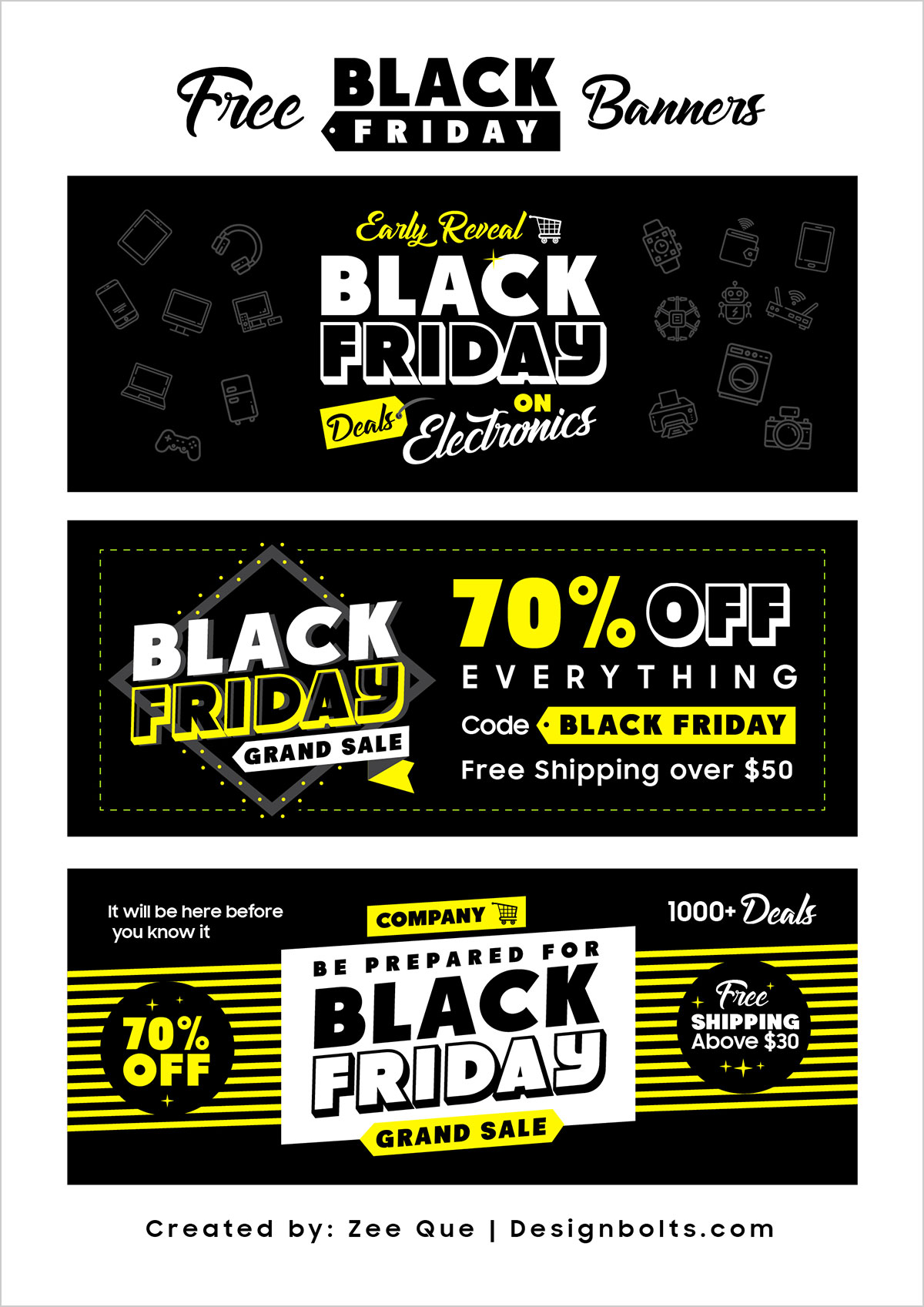 Available Format: Vector Ai
License: Free for personal and commercial usage
File Format: Zip
Mockup Resolution: 10 x 4 inches
Note:
1. Free Black Friday 2019 Deals Banners is allowed to share online (A Must Linkback to this page)
2. Say thanks if you like or share/tweet with your friends. That means a lot to me.
3. And don't forget to follow or subscribe to receive more high quality premium freebies & awesome articles only.
Download Black Friday Banners
More Black Friday Printables: