Hi there lovely readers & design magicians! We hope that you are finding our blogs and design ideas extremely useful for your personal and professional projects and that you also share them with your friends and colleagues so that they can create stunning designs too. Our today's blog is going to be yet another interesting and insightful piece of information. And as far as the design element for this blog is concerned, we have created some extraordinary labels, badges and stickers to be used in and for countries like Germany,France, China and USA.
This can be taken in the good as well as in the bad sense that normally, if your product has a label that says it was made in another country, it doubles the chances of it getting sold instantly. It mainly depends on the fact that local products lack that originality (in terms of flavor and quantity) or it could also be because there are people who prefer international products over local products more.
All the labels, badges and stickers that we have created can be put on various goods and products like handmade items, factory products as well as for branding and packaging of multiple articles like clothes and apparel (jackets, coats, t-shirts etc.), shoes and shoe boxes, eatables (biscuits, jams & spreads, sauces, chips and snacks, dairy products etc.) and cosmetics for example; body lotions and creams, gels, shampoos & conditioners, oils and make-up items as well) and so much more.
We can tell that most of you must be wondering that we should we even label a piece of clothing or food item which is made or manufactured in our country, right? Well, all the brands around the globe must label their products and articles in order to make sure that their potential customers can know about the origin of the product they are about to consume or use / wear. Labels are important as your country and products get recognized easily and it can also be verified that it is not a fake or local product as well.
Labels are also important when multinational brands are operating in multiple countries so to differentiate between a local product and an internationally manufactured product, it is important to have labels on. Same goes for clothes and every other article that is being sold. And we have often noticed that most graphic designers are struggling to find high res. labels, badges and stickers over the internet.
Country labels & stickers are used on a daily basis because well, almost every advertising and marketing agency in the world is working with local and international brands and to make sure that the customers get the origins right, branding and packaging has to include a label that tells the country name clearly.
Although, there are multiple ways to design all the 'made in' labels, badges and stickers and while they are created, there are chances that you will have to purchase them so that you can get your hands on the high resolution files. We understand that it is important to earn something from your designs but not every graphic designer is working for a 'rich' organization that can afford to buy images and then there are freelance designers as well who don't have a lot of resources to purchase expensive files, Ai files and vectors etc.
So, to cater to the needs of every creative person out there, we make sure that we create and share stuff that is not only free to download but it is also of high quality as well. We aim to be there for everyone who works for digital and conventional marketing agencies as well as for individuals who are working as freelancers or as part time graphic designers.
As we have mentioned earlier as well that we have created labels, badges and stickers for Germany, China, France and USA, we would love it if you could have a look at all the designs that we have included in this amazing blog of ours. Once you have downloaded all of them, we are sure that you will be able to incorporate these labels etc. in your designs and artworks.
Make sure that you also share our blog with your friends and colleagues as well so that they can take a break from search engines for images and can focus on their design tasks. We are sure that you and your graphic designer friends will create stunning packaging designs by using our free made in Germany, China, France, USA labels, badges and stickers.
That being said, do not forget to share your feedback with us in the comments section down below and we will see you all next time with some more interesting designs and blogs!
Free Made in USA, Germany, China & France Labels, Badges & Stickers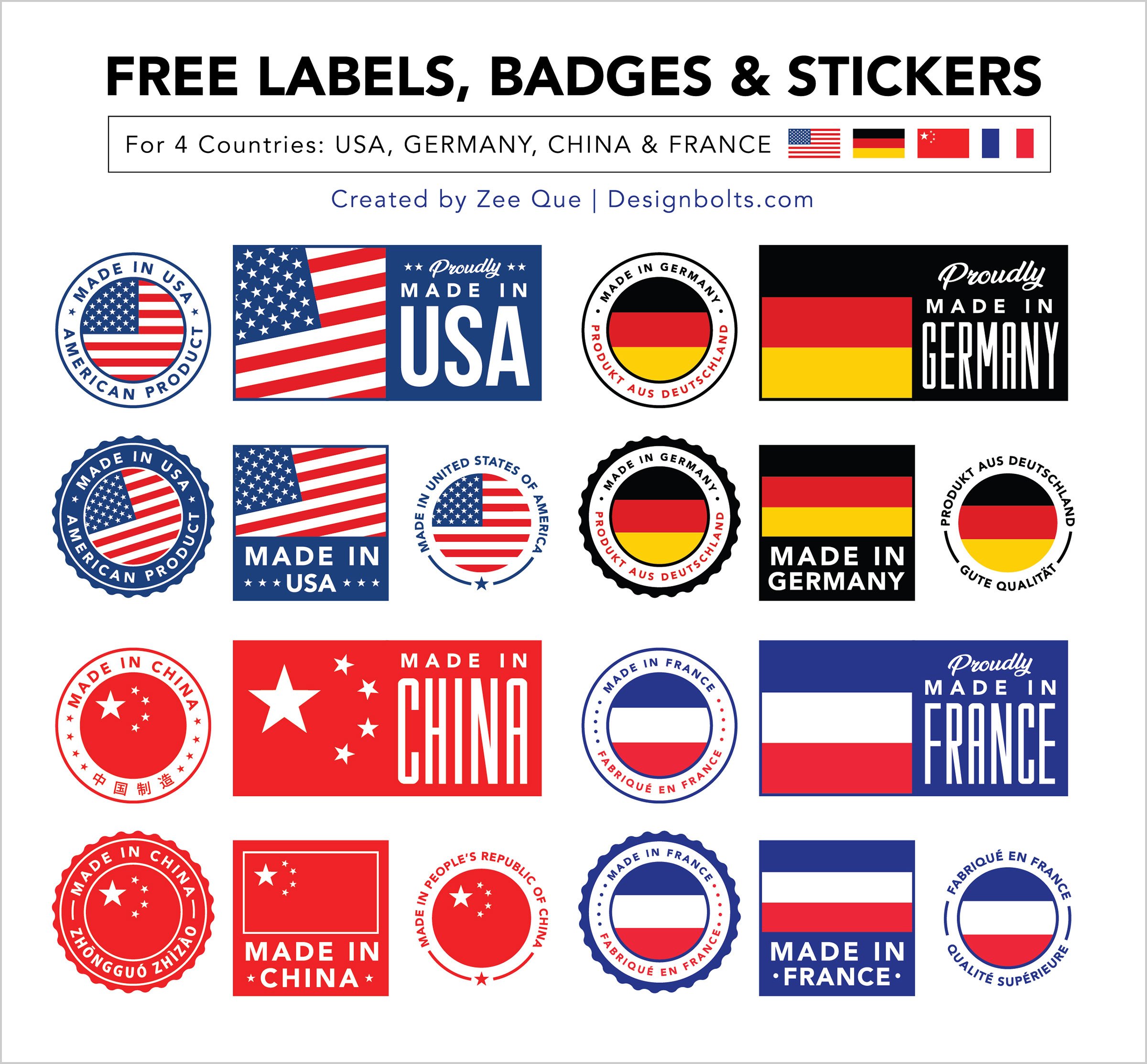 Available Format: Vector Ai
License: Free for personal and commercial usage
File Format: Zip
Note:
1. Free Made in Vectors are allowed to share online (A Must Linkback to this page)
2. Say thanks if you like or share/tweet with your friends. That means a lot to me.
3. And don't forget to follow or subscribe to receive more high quality premium freebies & awesome articles only.
Download Ai File
More Design Templates & Free Vectors You Would Love to Download: