Hey there guys! So, we all know that we will be all over the place working on our New Year's resolutions soon and will also promise ourselves that we won't forget any of the commitments that we are making. We are sure that any New Year would be a little overwhelming for all of you as much as it is for us for example; we have to plan a lot and there are times when we think that we cannot manage this all by ourselves like our personal life (Self-improvement, health care, vacations, life changing plans like getting married or planning a kid maybe) and professional life as well
(Switching the job or giving a try to a new skill or field, moving to another city for work).
Although, most of the times we don't really get to work on all the resolutions that we make but well making them helps us in staying on the track – even if that is for a short period of time. There could be various reasons behind not getting to check the resolution boxes for example; your finances could be an issue or maybe you are not feeling that confident to make a decision or may be you want to give your plans a little more time.
We think that everything must be planned out in a way that even if there are any hiccups, we are still strong enough to get through. For starters, it is important to set and maintain a certain budget so that you know it can be spent on something that just popped up if you are planning to switch to a new (and a better) workplace then you must be prepared for a deal that your current employer might crack so that you don't leave – and things like that.
Also, honestly we do know how difficult can it be at times to stick to our decisions that we have made after spending a good time in weighing everything in that context and we are sure that you also get in touch with your parents, friends, may be colleagues or your confidantes for suggestions so, it is like a team effort and everyone wants the best for you – including you of course.
In order to make sure that you do what you have decided to do or if you are working on your New Year's resolutions, you don't want to hear your own second thoughts then you need something that is a solid and which is not boring either. Are we right? Oh yes, we are! And knowing that almost each one of us struggles with plans and resolutions, we decided to create something for you guys – it's a New Year resolution printable list template that you can get for free and start jotting down your resolutions for 2020. Interesting, yeah?
So, to make your resolution list fun and to make sure that you literally enjoy writing down all your plans, we have divided the template into multiple slots and as you can notice it will let you write your daily, weekly, monthly and yearly plans or things that you want to do or stuff that you are sure you will work on in the coming year. We would absolutely love that you guys will almost directly make us a part of your New Year's plans through our carefully designed resolution list template.
Oh, and if we were to give you a gift idea on how to surprise your loved ones and favorite colleagues then continue reading this blog because we are about to share something super fun with you guys in like 3,2,1. New Year is not only about resolutions but it is also a time to celebrate the relationships we happen to have with people around us and what could be a better thing to do then to share a token of love with them?
So, if you were thinking of getting your loved ones some presents but couldn't think of anything then you have come to the right place. Want to know why? Well, it is simple because all you have to do is to get our 2020 New Year resolution list template printed on a paper of your choice, pack it with a cute little present for a family member, friend, co-worker or boss and bring them on the track of planning the next year as well. How is that for an idea now!?
And on that brilliant note, we would like to wrap our today's blog and we hope that all of you would get your hands on our 2020 New Year resolution printable list template and that you will also achieve what you are aiming to achieve in the year to come. Don't forget to share the blog and list template with your loved ones too and we will see you guys next time with another great blog of ours – until then, bye-bye!
2020 New Year Resolutions Printable List Free Ai Template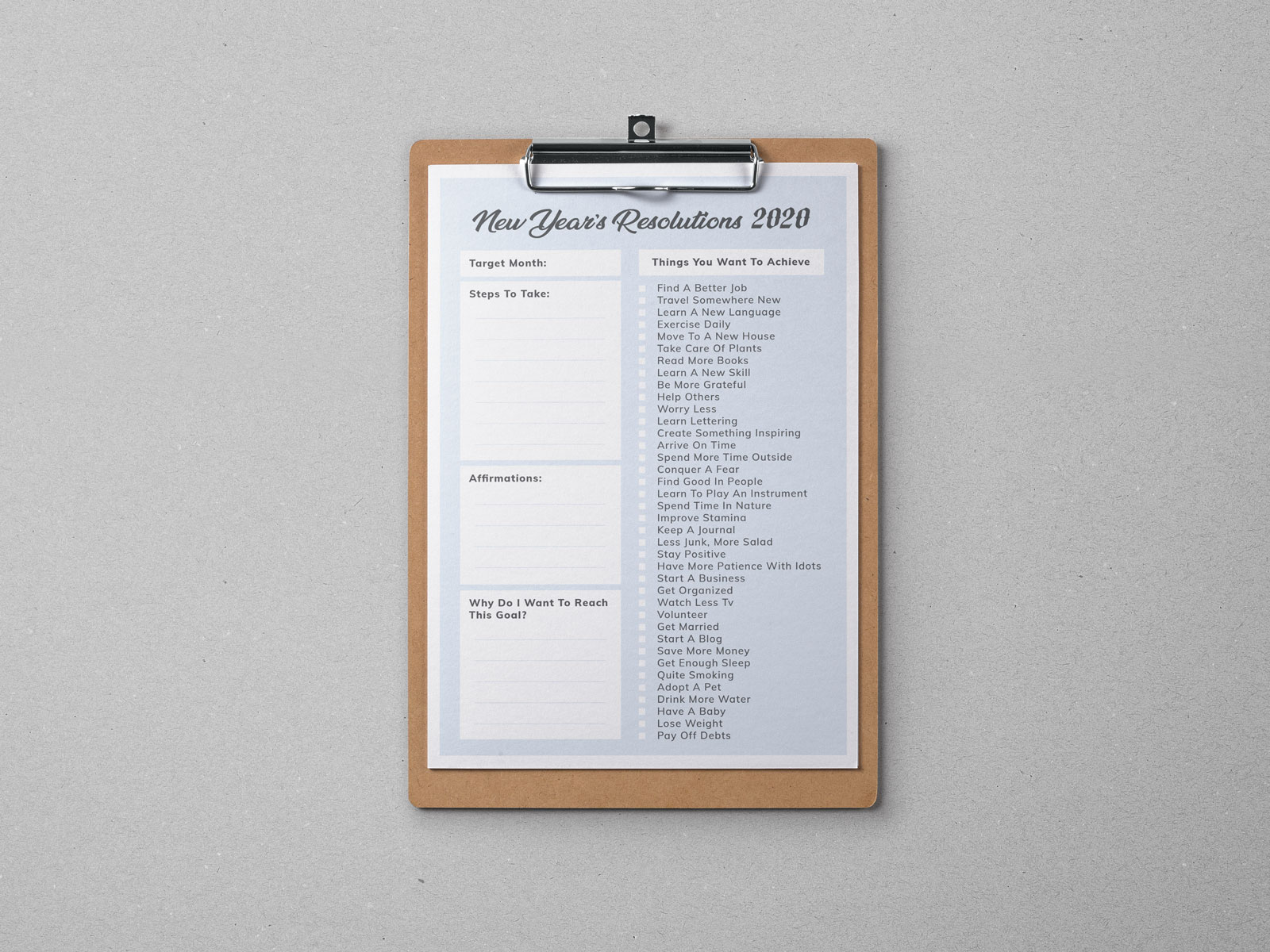 Available Format: Ai
License: Free for personal usage
Zip File Includes: Free New Year's Resolutions 2020 List Template Printable
Design Template Resolution: A4
Font Used: Muli
Note:
1. Free New Year's Resolution 2020 Template is allowed to share online (A Must Linkback to this post)
2. Say thanks if you like or share/tweet with your friends. That means a lot to us.
3. And don't forget to subscribe to receive for more high quality premium freebies & awesome articles only.
Download Resolutions Template
More Awesome Free Design Templates: