Hey there guys! We hope that our blogs and mockup PSD files have been super helpful for your personal and professional design projects and that you are creating great stuff by following the design tips & tricks that we share here with you. Today, however we would like to have a little chit chat with you before we start talking about the actual topic because well, let's just take a break from the work and indulge in a one to one conversation with your favorite people.
So, we have been in the field for a long time now but we want to know how it is like at your creative or advertising agency!? As in how do you guys get to know that there is a campaign that has to roll out in say a month or so and how and when you guys actually start working on it. Does it become overwhelming for you or are you one of those super humans who can work under pressures and don't get a panic attack? Ah well, we want to be like that too and most of the times, the situation is under control but there are times when you feel like taking a step backward so that you can process the entire situation.
We know that sometimes, you cannot even pause for a second because of the work load and the pressure from your clients or client servicing personnel but you know what?! – you gotta take a break because only then you will be able to perform well. Otherwise it will be you having a fight with your tired brain and exhausted body which will stop being creative and supportive after some time.
Oh, and also when we say take a break, we mean that you need to take a break from both your personal and professional duties; be it doing the dishes, cleaning your apartment, making sure all your laundry is washed, folded and is placed where is supposed to be as well as from taking stress for the on going jobs for a little while, maybe.
Recommended: Free A4 & Letter mockup PSD files
Honestly, we know how hectic it can be when you are working and then you have to come back home and manage your food, cleaning and other small tasks too. Because there are days when you would wish to be just work and stress free, when you don't have to cook a meal after a tiring day at work or make sure that your kitchen sink is working just fine. Since, that sounds like too much, there are people and organizations that can take care of all the cleaning related work at your house, workplace etc.
Multiple cleaning service providers are in business these days and for good for example; from keeping your ceiling fans dusted to removing cobwebs to sweeping and mopping the floors to emptying trash bins to almost everything – you would wish for it to be done and your service providers will make sure that it is done in cheapest rates.
Now, you must be thinking that we are going to share a list of leading cleaning service providers in your area with whom you can get in touch and get your cleaning tasks done but honestly that is not the case because it is you who is going to market either your own business or one of your client's. Still cannot figure out what we are talking about? It is simple, mates! We have designed something really interesting for you guys that is a cleaning service flyer template. It is free and it is highly editable too and it will also let you incorporate as many design elements as you would want to see how things can work for your company.
Here are some of the design tips that you must follow in order to create amazing cleaning service flyer templates for you:
Keep the design simple yet attractive, that can be done by making sure that it is not overcrowded and that it spreads the message in a glance.
Make sure that you use nothing but high quality imagery and design elements to support the content and keep it that way!
As far as the copy of your flyer is concerned, you need to say maximum by using minimum number of words. You must use easy to read and understand vocabulary as not everyone carries a dictionary with them.
That's all for today! We know that you are going to create amazing flyer designs using our free cleaning service flyer template and when you do, don't forget to share your thoughts and feedback with us. We know that you know that you gotta share this blog with your friends and colleagues as well but we thought to remind you while we are at it.
Free Professional Cleaning Service Flyer Design Template Vector Ai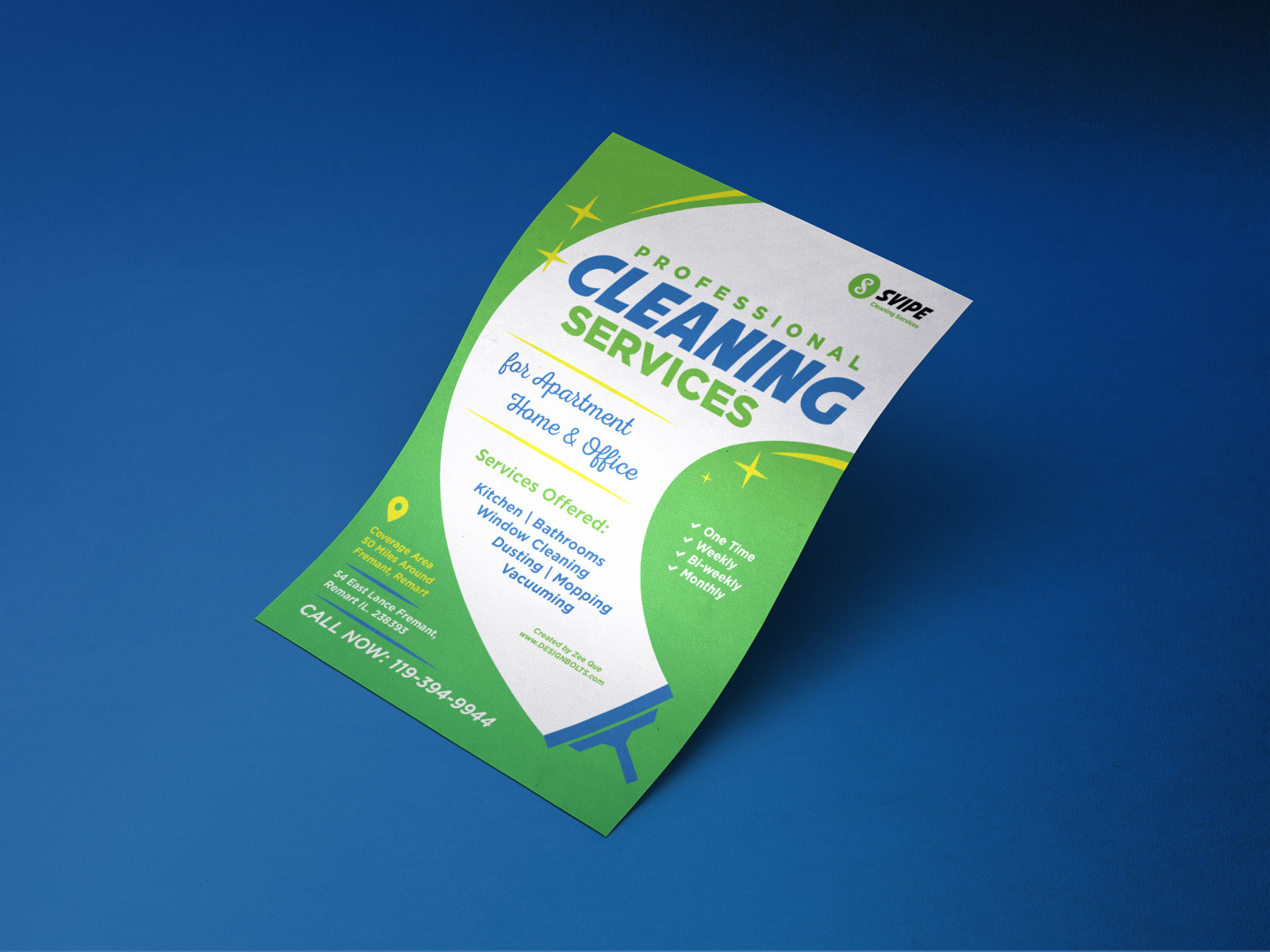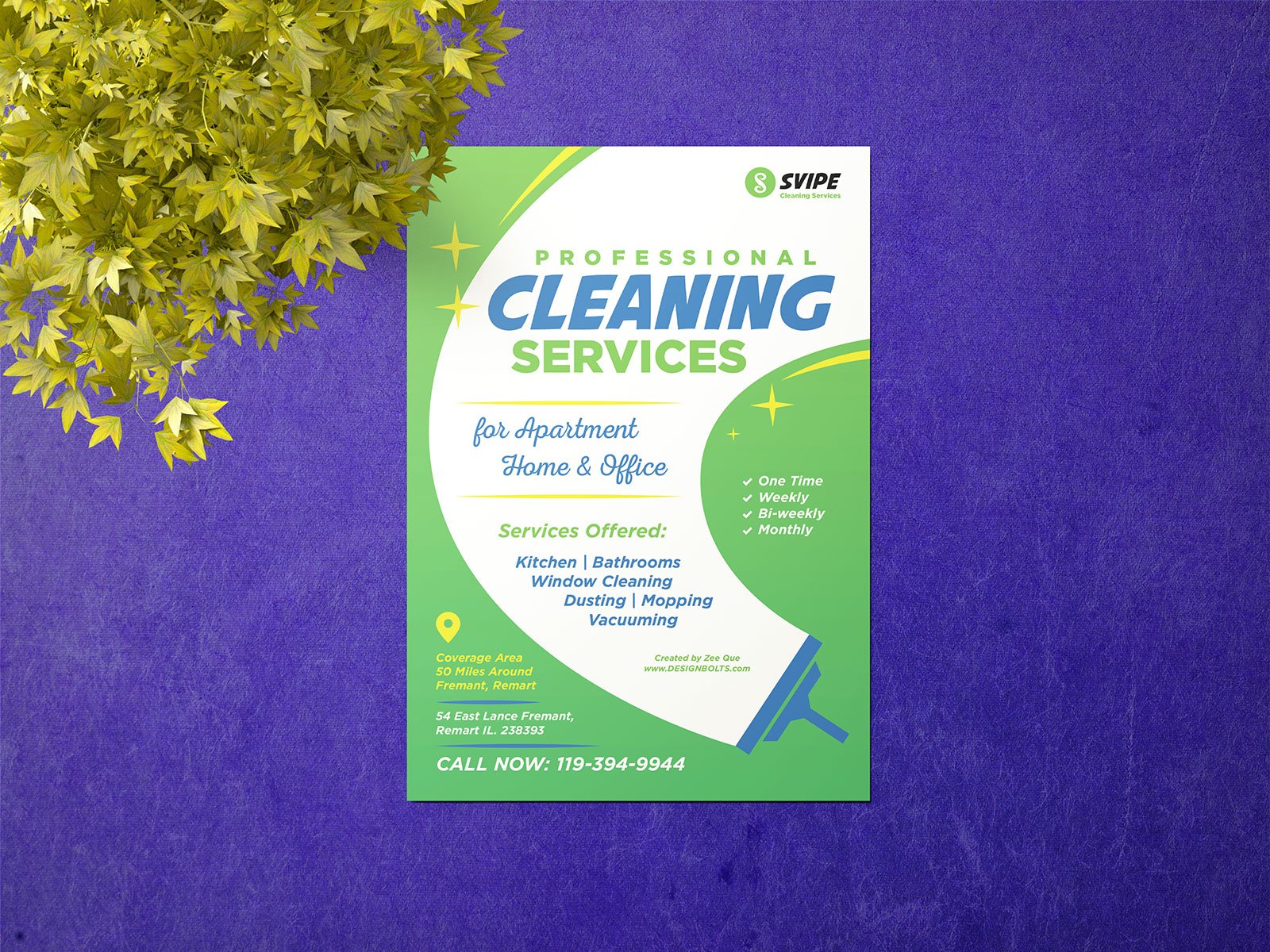 Available Format: Illustrator Ai File
License: Free for personal and commercial usage
RAR File Includes: Free Cleaning Services Flyer Design Template
Design Template Resolution: A4  (300dpi)
Fonts Used: Nexa Rust Script L 0 | Gotham | Avengeance Mightiest Avenger
Note:
1. Free Flyer Design Ai are allowed to share online (A Must Linkback to this post)
2. Say thanks if you like or share/tweet with your friends. That means a lot to us.
3. And don't forget to subscribe to receive for more high quality premium freebies & awesome articles only.
Download Flyer Ai
More Awesome Free Design Templates & Flyer Mockups: