Hi there friends! We hope that you all are doing great and that your work life is treating you well and we are so thankful to each one of you for sharing your suggestions and feedback with us every time we share a blog post.
Okay so, before we start our today's blog, we would like to have a little chit-chat with you guys. How important do you feel your car is – in every context? From you owning it to using it for going to work or to get groceries maybe, how liberating is the feeling? Do you feel proud of the fact that you have a car of your own and that you are not dependent on anyone whosoever for literally moving from one place to another? We feel that if you can afford a car or any vehicle of your own then you must because it is comforting, it saves you time and you can move without requesting someone to drop you at a location etc.
Keeping the having you own car conversation in mind, we are about to share a free Volkswagen caddy van mock-up PSD with you guys. With our free PSD file, you will be able to create many things for your personal and professional design projects for example; if you happen to work on branding of the products and businesses, then you can create mock-ups of the caddy car showing how a certain campaign idea is going to be like once it is approved and is ready to go live.
If you happen to work for a marketing & advertising agency, then you can also create different mock-ups to share with your team lead or higher management to brand the vehicles that are used to provide a pick and drop service to the employees. We have also seen higher peaks in the trend of online shopping and how super markets and even home based bakers and chefs are using cars to have items delivered to their customers at the doorstep.
And you know what the best part is about a bunch of branded vehicles roaming around in the city? More promotions – that too on wheels and who does not like their brand being talked about (in a good way that is)? Everyone, right? We are speaking from experience that you must try out and experiment with newer techniques and cooler marketing materials to stand apart from the crowd. It is easier, it does require some extra bucks but tell you what? It will be all worth it.
You must be wondering about branding your existing caddy car or even if you are planning to suggest it to your brand team too, know that in this part of the blog we will be sharing a few easy to follow design tips and tricks to help you guys create the best Volkswagen caddy car mock-ups for your own business or for your client's.
Branding a caddy car is fun when it is done right – for example by taking advantage of the doors, you can play along with the message that you want to spread like you can choose to give out one message loud and clear with the doors closed but even when they are open, you can send out another witty message. It will all depend on the imagination and copywriting and we know that you will be able to come up with some super clever branding messages.
We always get questions where our readers and acquaintances ask us if it is okay to design something that is a little different from the design brief and we make sure to answer with this simple response: that's what mock-ups are for. So, even if you have received a design brief directly from the client or your account management team, you can always create something different from it.
And we find it rather interesting to mention it here that clients don't say it out loud but they do want to go through ideas and designs that were not mentioned in the design brief and that's the reason why we always create free and highly editable mock-up PSD files for you guys so that you can make whatever feels unique as you know that it is going to work perfectly fine for you and for your business.
For the copy, we would like to encourage you guys to keep it simple and to the point because your caddy car is going to be moving most of the time and you would not want your potential customers to miss out on the promotional message. And once you are done, don't forget to create at least three to four ideas to present a variety of thought processes to put on the table.
That's all for today! We hope that with our blog and free Volkswagen caddy car mock-up PSD file, you will be able to work on brilliant designs and when you do, feel free to share them with us in the comments section too.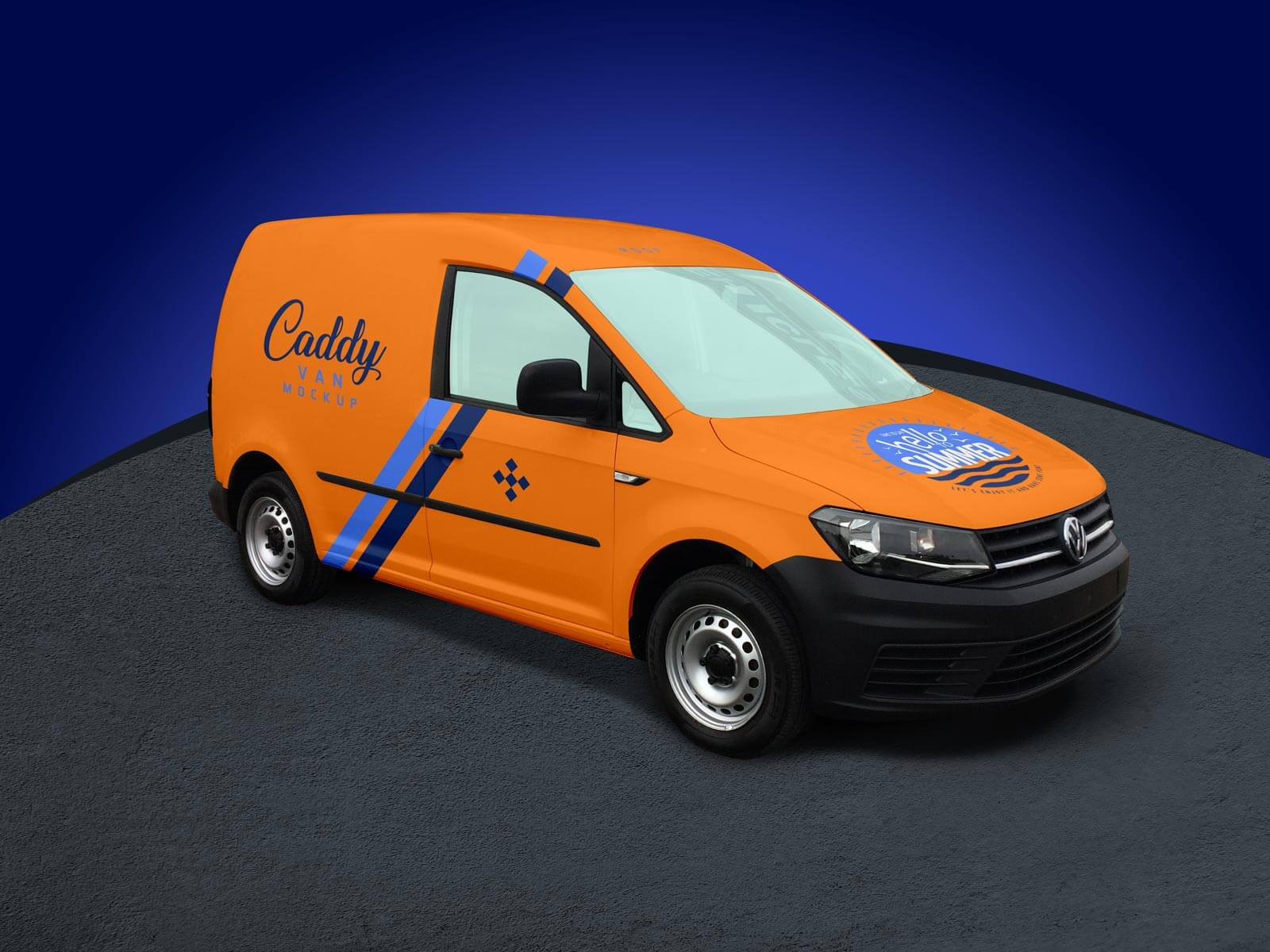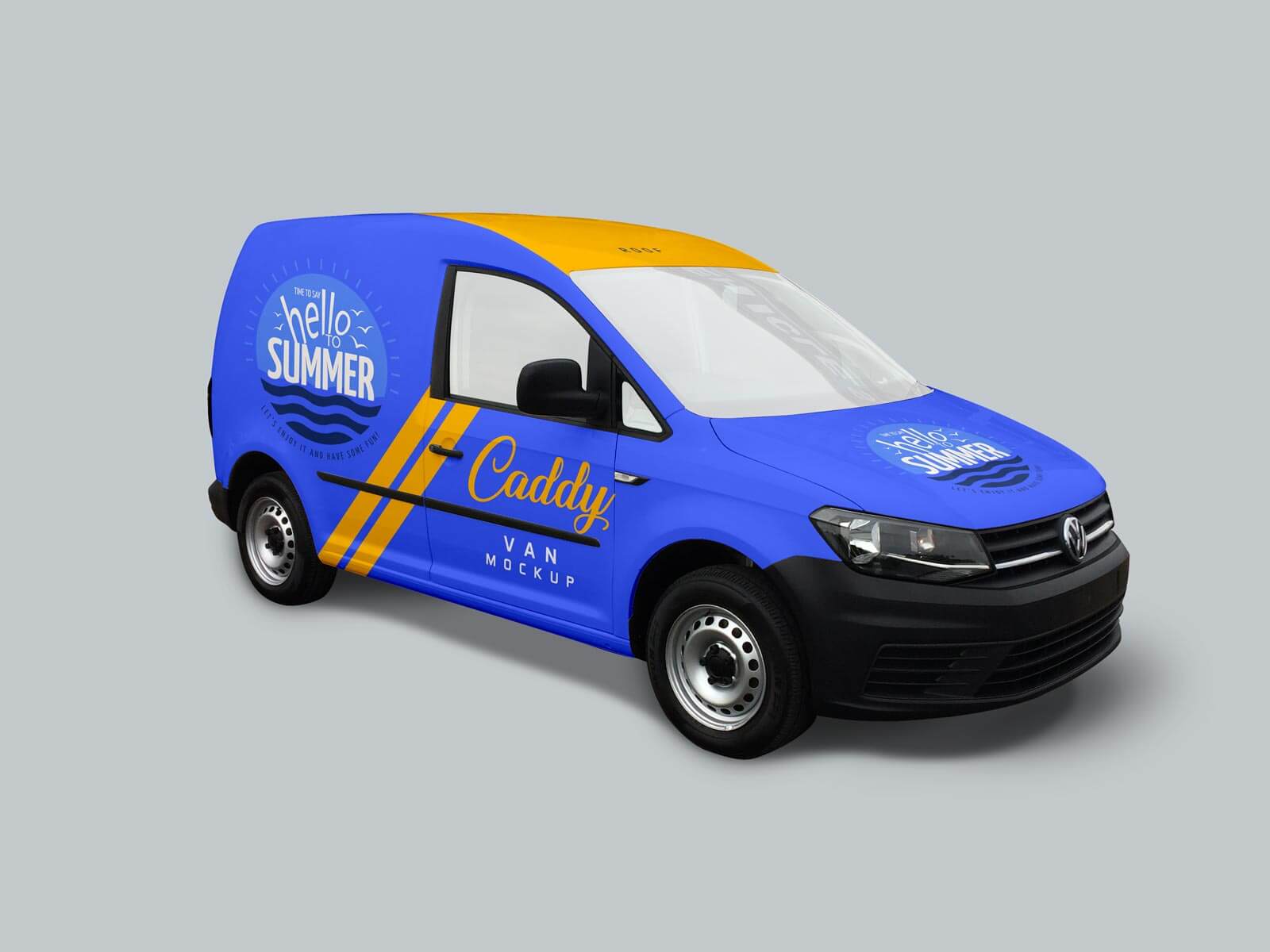 Available Format: Layered PSD with smart object insertion
License: Free for personal and commercial usage
RAR File Includes: Free Van Mockup PSD
Note:
1. Free Caddy Van Mockup is allowed to share online (A Must Linkback to this post)
2. Say thanks if you like or share/tweet with your friends. That means a lot to us.
3. And don't forget to subscribe to receive for more high quality premium freebies & awesome articles only.
Download Van Mockup
More Awesome PSD Mockups: