Hi there friends! We are back with yet another interesting and informative blog of ours and of course a free mock-up PSD file too but before we start talking about what we have created today, we would like to ask you all a question and that is: when was the last time did you guys decorate or renovate your room / house? If it has been more than three months, then know that you better sit down and think of ways to change a few things here and there not for anyone else but for your own self. Want to know why? Continue reading to know more!
We can bet that you must have heard and read things like change is good and that you must change your surroundings to feel good, but you know what? It is more than that. When someone brings a change in their room, it starts reflecting on their personality too. And it is literally like you will be a happier version of yourself. So, if you are happy and are ready to do stuff because of that, then imagine the outcome – it will be great, and it will work like the domino effect too. You will be spreading the happy vibes all around you.
Now, there are many ways to start decorating or renovating your room and house etc. and it is also super important to know that you do not have to be all over the place to get things done. If you feel that you are being overwhelmed, pause the process then and there and resume after some time or even days – if that works for you. A room looks really nice with a few decoration items too and if done nicely & with planning, at times even overcrowded rooms can look good.
To start the process of doing something new to change the vibe of your personal spaces, we suggest you make a list of corners or spots that you would want to decorate and then a list of items that are required. You do not have to spend thousands on this activity to make the space look beautiful or changed for that matter. Dedicate a budget to yourself and work around it, we are sure that you will be able to get interesting stuff online or you can also make things by yourself as well – and what's better than that, right?
Like the good & creative people that we are, we decided to create this very new and different wooden sticks creative poster mock-up PSD file for you guys and we just love it. As you know that all our mock-up files are free to use and highly editable too, we would like to jump to the part where we share our effective design tips with you to help you design nothing but the best posters. Let us have a look at the tips now
This free wooden sticks creative poster mock-up PSD is for anyone who has an online or a physical gift store, a business that has shops / outlets worldwide and take orders for customized home décor stuff and for individuals who know their ways on Photoshop and want to create something for their room or house etc. Regular posters look stunning too, but our wooden sticks poster is one of a kind – mainly because it is legit a new design. The inner part (actual poster) could be anything & everything depending on the needs & demands of your customers.
Since this wooden sticks posters can be hung indoors as well as in the porch or the on the walls too, you are free to pick a theme or two to make the posters irresistible. We can help you with the ideation too. Okay so, since you know that there is always something (good) happening in the world when it comes to movies, TV shows, anime, etc. and then there are singers who come up with their entire albums and their fans get hooked to the songs – what you can do from the latest happenings in the entertainment world is to pick the dialogues, characters, lyrics that are trending and use that content to create the designs for your wooden sticks creative posters.
Or you can be open to orders for customized messages and quotes like birthday wishes, good luck quotes and so much more that is not just relatable but you can also keep the mock-ups on display to see what the market demand is like. Another thing that we like about the posters is that there is no limit to the designs and stuff. From flowers to houses to faces – there is like a huge pool of ideas that can be shortlisted and then designed as the posters.
We know that you guys have your own ideas too and we would love to leave you with them and with our free wooden sticks creative poster mock-up PSD file. Oh, and feel free to share what you will make by using our mock-up PSD in the comments section down below!
Free Wooden Sticks Frame Poster Mockup PSD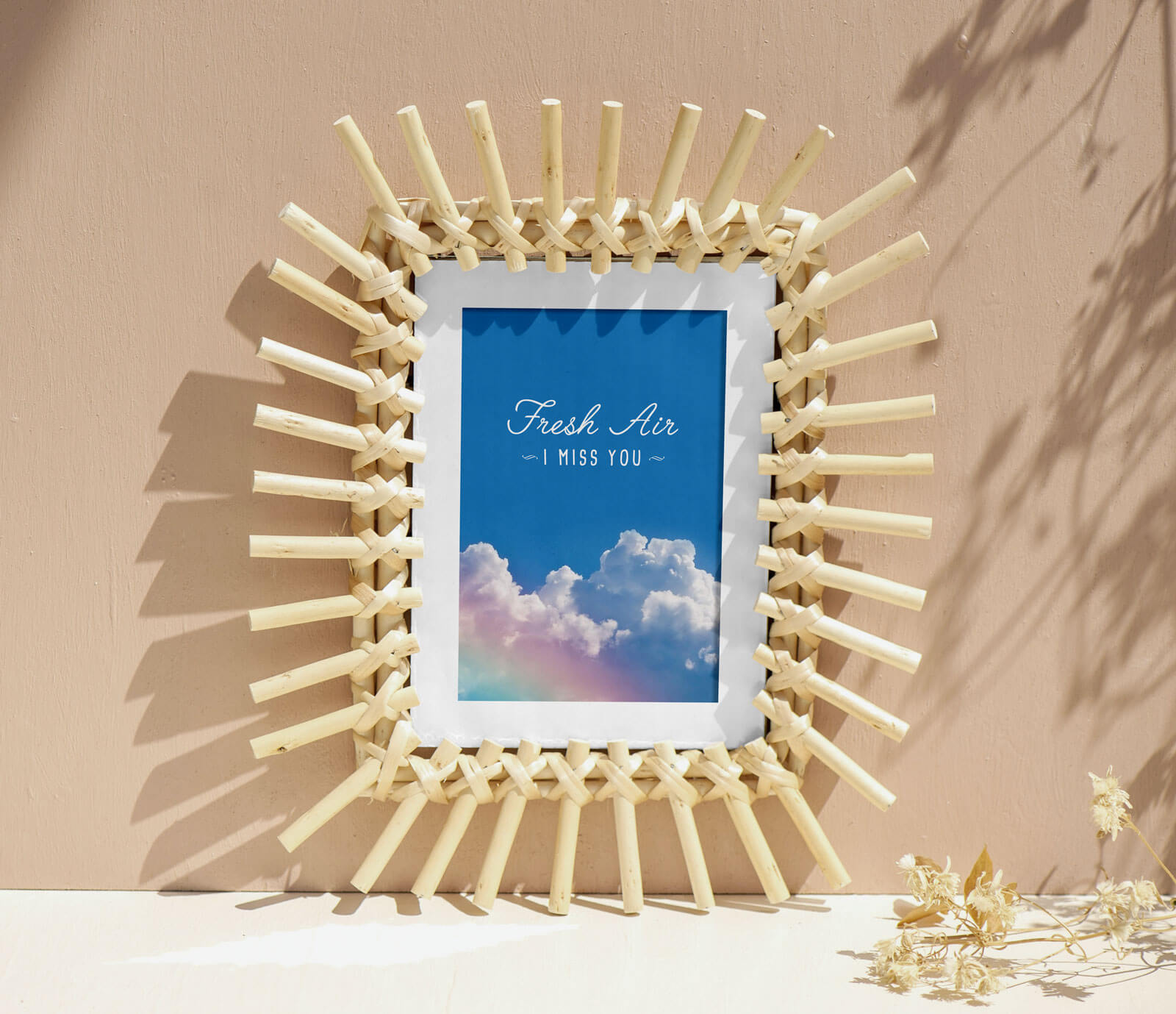 Available Format: Layered PSD with smart object insertion
License: Free for personal and commercial usage
RAR File Includes: Free Poster Mockup PSD
Mock-up Resolution: 3500 x 3000 px

Note:
1. Free Poster Mockup PSD is allowed to share online (A Must Linkback to this post)
2. Say thanks if you like or share/tweet with your friends. That means a lot to us.
3. And don't forget to subscribe to receive for more high quality premium freebies & awesome articles only.
Download Poster Mockup
More Free Poster Mockups: