Hi there friends! We hope that your work life is treating you well and that you all are having a great time generally too. It is such a relief to know that the world collectively is on its way to heal and get better as we fight the Coronavirus through medications and by following the SOPs. Do you know what that means? Well, that could mean so much for so many people but one of the best things about not being in the lockdowns is that everyone will be able to dine in at their favorite restaurants and cafés.
Oh, how much we miss hanging out with our friends and family members – enjoying our favorite steaks and quenching our thirst with a super fancy drink here and there. We're sure that you do too so, we decided to create something that you can use for your own café or restaurant that you own or work with and without any further delays, let's dive right into that!
Since organizations and eateries etc. have started to open their offices and places (finally), we are sure that you would want to bring something new to the table for your customers as well and that is why you will soon be getting your hands on our free yet highly editable A4 menu mockup PSD file and we are very excited to share everything that you can do to make your menu super presentable – so presentable that your customers would want to order all the stuff that you cook and serve.
If you are going to open a new eatery soon or if you are planning to revamp your menus this year, then there is one thing that we would love to share with you guys and that is to always make sure that your menu is presentable. Sure, having a number of items or different types of foods matter a lot and your taste, services and quantity could be the things that your customers love about you but your menu has to be pretty enough to convince someone to open it, go through it in detail and then also take an action too – like ordering a couple of items etc.
Recommended: Beautiful Food Menu Ideas
Another thing that matters when it comes to food menus is that they have to be of really good quality too and must also complement the theme of the café / restaurant as well. Never settle for less especially if you are in the food business and always go for quality because that is literally what will encourage your customers to visit you again and keep doing that in the future too.
There are many good printers that are providing their services everywhere you go and they can also suggest you what paper or material you should get your menu printed on, what must be the finishing like and things like that. And you know what? It always a great idea to explore your opportunities first and then decide what things you should go with and how. So, we have talked about a menu being presentable and attractive and the next thing we are going to talk about is the content of your menu. Like everything else, the content is a deciding factor for a menu.
From the design elements to the imagery that you will use to give an idea to your customers about what they can expect from you in the form of food, to your copywriting as well – each and everything matters and must be given proper attention to. Always proofread your menu over and over again, maybe get some help from a professional proofreader to avoid any kind of mistake – because we are not sure about you but we have seen people making fun of wrong copy and typos so, you have to make sure that it does not happen when you hand out your menu to your customers.
Recommended: Restaurant Menu Design Ideas
Food imagery is also crucial and we will suggest you to do go for it as it makes the people drool and when they can see how their food will look like (when they haven't even tried it), they become more interested and the curiosity makes them place an order. Also, normally food menus are used for at least two years straight which means getting the items photographed by a professional is like a one time thing and you must never let go of an amazing opportunity that can also bring more and more people to sit at your tables and enjoy the food that you make.
In addition to all things necessary, we would like to encourage you guys to also mention allergens against the dishes that you offer – by doing so, you will become a business that cares for its customers and that is the first step to make way to their hearts.
Alright guys, that's all for today! We hope that you will find our blog and free A4 menu mockup PSD useful and that you will also create some intriguing designs too. Oh, and don't forget to share your feedback with us in the comments section down below.
Free Textured A4 Menu Mockup PSD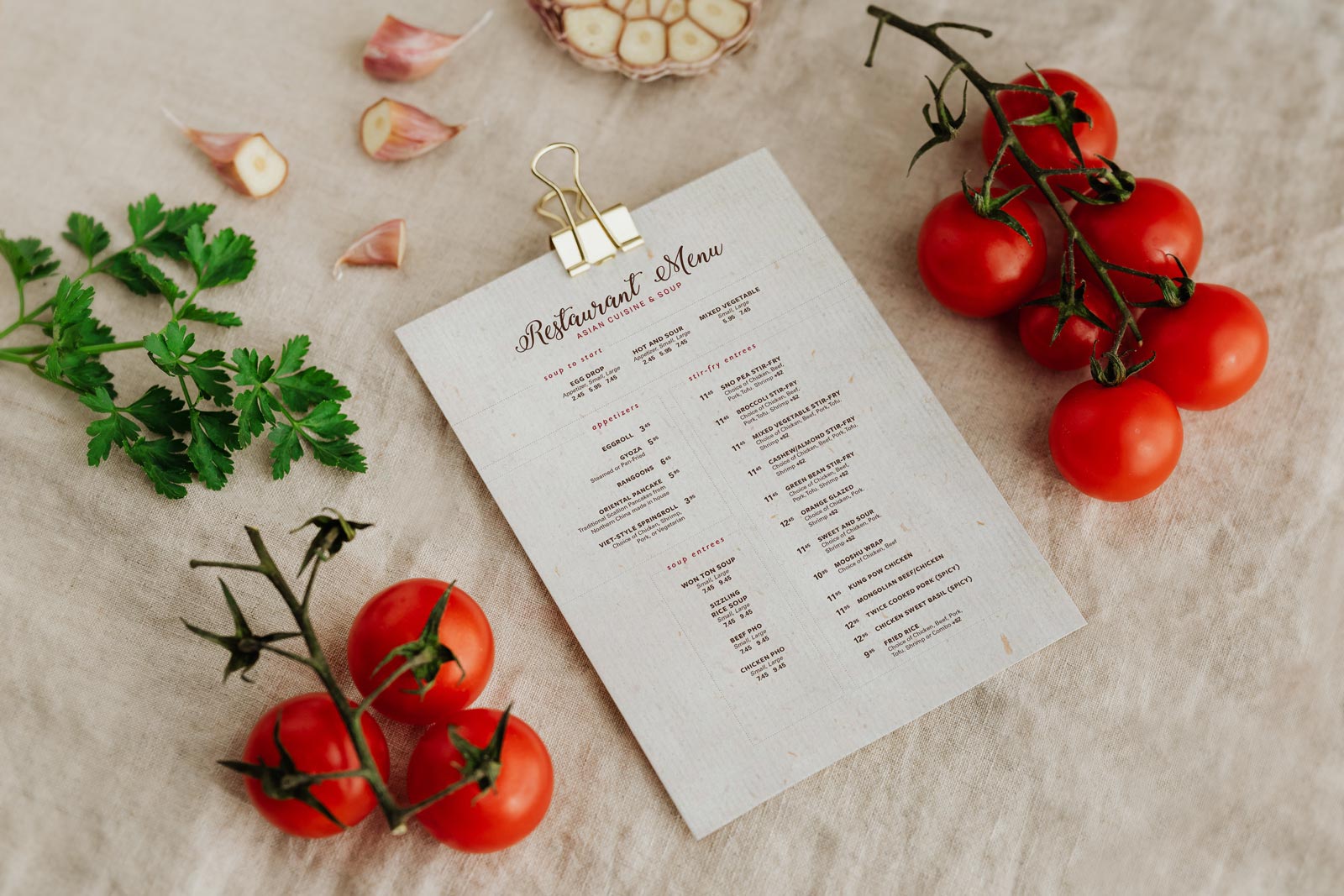 Available Format: Photoshop PSD
License: Free for personal and commercial usage
File Format: WinRAR
Mockup Resolution: 3300 x 2200 px
Note:
1. Free Restaurant Menu Mockup is allowed to share online (A Must Linkback to this page)
2. Say thanks if you like or share/tweet with your friends. That means a lot to me.
3. And don't forget to follow or subscribe to receive more high quality premium freebies & awesome articles only.
Download Menu Mockup PSD
More Free High Quality Menu Mockups: