Hello there everybody! We hope that you guys are doing great and that our blogs and mock-up PSD files have been helpful for you with all your personal and professional design projects. In our today's blog, we will talk about our new, free and highly editable mock-up PSD file and we will also share a bunch of design tips and tricks with you that will help you create your very own designs as well. But first things first; we just want to thank you guys for your positive feedback and for your constant support.
Okay so, we know that we have shared awesome coffee cup designs in the past as well as the techniques that can help you get your designs and ideas approved but the mock-up PSD that we are about to share today is basically a Kraft paper coffee cup and we know that you will have a great time working on this one too. Now, if you are wondering why Kraft paper, then allow us to share a few things about this paper so that you can make informed decisions regarding your product packaging in the future.
Kraft paper happens to be a naturally biodegradable paper that is being preferred over the usual one and the light cardboard one. Secondly, Kraft paper is stronger than other paper types that are available in the market and that is because it has reduced amounts of lignin content. Another important factor that makes Kraft paper a preferred choice these days is that it does not involve tough and extensive bleaching processes as well – and that also helps in keeping the costs bearable too.
Now, we know that Kraft paper is better than the regular paper that is available in the market to store a product, then there are hundreds of businesses around that globe that are trying their best in reducing the use of plastic packaging as well and we are sure that in a few years, we will be able to prove it to ourselves that we made better choices for our next generations by disowning the harmful substances, chemicals and everything else that were a threat to our planet.
We have mentioned this above that the Kraft paper is stronger when it comes to the durability and it also does not allow elements from the outside to reach the content of the packaging. But we think it is also important for us to mention that the Kraft paper packaging does not add more weight to the weight of the product(s) making the shipping process easier, you will be able to keep all things light and in addition to that, you will also be able to protect the contents of your packaging as well so it is like a win win situation for the manufacturers, for the store keepers as well as for the end consumers.
Using the Kraft paper for your packaging and even for storing drinks etc. for a short while will also help you appear as a responsible business – it will help you appear as a business that is environmentally conscious and is aware that we need to minimize our usage of substances, materials and processes that re harmful for the planet and for everyone who happens to live here including animals, birds, plants etc.
Another great thing about using the Kraft paper for packaging and daily life usage is that they are universally appealing and look incredibly nice even if you do not brand the paper which means that if you want to keep it simple; you can and your customers will still love you. And of course; you will also be saving a lot of money that you might have to spend on the printing costs, you know.
Let's now talk about how you can utilize our free Kraft paper coffee cup mock-up PSD file to make your very own designs in no time! As you guys know that all our mock-up PSD files are free yet highly editable that makes the work easy and fun, this file too will allow you to add your design elements (colors, logo, copy etc.) in a matter of minutes and you will end up with stunning design mock-ups.
For the lid of the coffee cup, you can choose a color that complements the branding of your business while keeping the coffee cup either simple or branded in a way that it is attractive. For example; add interesting design elements but keep the overall look fun too – play with themes that you think your audiences will be interested in like work related funny quotes, puns about life in general or incorporate the characters from an anime, Netflix season or a movie that is trending these days to make the design more interactive.
That's all for today! We are hoping that our blog and free Kraft paper coffee cup mock-up PSD will help you create cool designs for your upcoming projects and if you do create stuff, don't forget to share how it went as we'll look forward to hearing from you guys.
Free Kraft Paper Coffee Cup Mockup PSD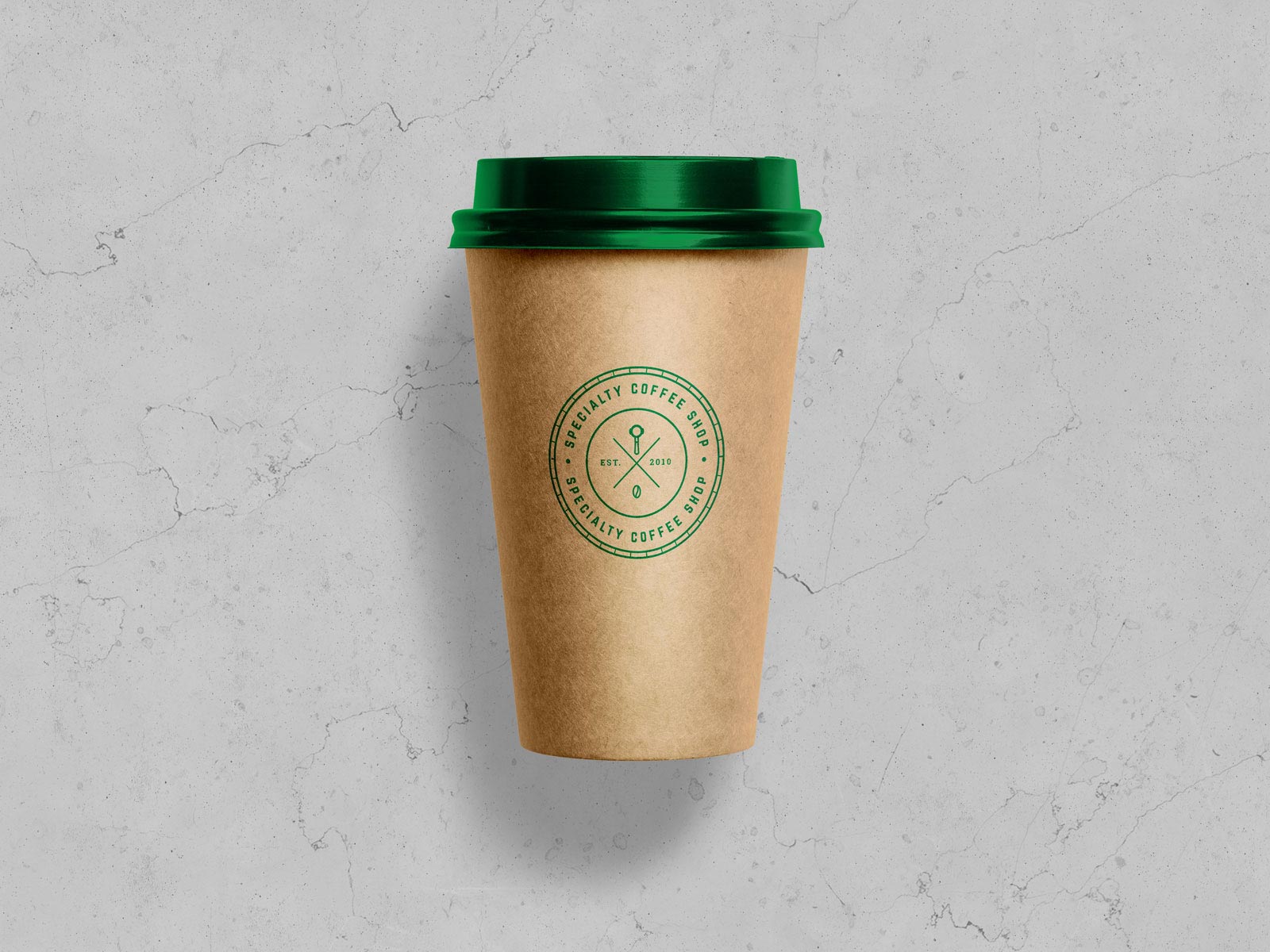 Available Format: Layered PSD with smart object insertion
License: Free for personal and commercial usage
Zip File Includes: Free Coffee Cup Mockup PSD
Mock-up Resolution: 4000 x 3000 px

Note:
1. Free Mockup PSD is allowed to share online (A Must Linkback to designbolts.com)
2. Say thanks if you like or share/tweet with your friends. That means a lot to me.
3. And don't forget to follow or subscribe to receive for more high quality premium freebies & awesome articles only.
Download Coffee Cup Mockup
Recommended: