Hello there friends! We hope that you had a great time reading our previous blogs and that you are also making the most of our free yet highly editable mock-up PSD files and creative ideas as well. With our today's blog, you will get a free business card mock-up PSD file and along with that, a bunch of effective and easy-to-follow tips that can help you create your own designs in no time so, let us get started!
Let's be honest, there exists a (big) group of people around the globe that feel that business cards are outdated and they obviously do not use them too. But you know what? That is not the case. Business cards are still super relevant for various reasons and we are going to mention them down below:
A business card has always been the most convenient and effective way to market yourself or the company/organization that you work with. Another reason why business cards are still in business is that they feel much more personal than email marketing or even online marketing for that matter. You actually get to interact with a prospective business partner, an employer, a colleague or just a business acquaintance that can help you do things in the future. And yes, we know that we like to do things at a fast pace but that is literally what you can do through a business card when connecting with someone new during a conference, meeting, etc.
Business cards always come in handy for the information that is there to be used other than phone numbers for example; someone would love to get in touch with you online so they have the option to go to your website, like your Facebook Page, or follow you on your Twitter or Instagram account. Also, always remember that not a lot of people have separate phone numbers when it comes to personal and professional lives so when you will share your business card(s) with them, they can stay in contact without having to connect over SMS or WhatsApp for that matter.
Recommended: 5 Types of Business Card Printing
The effectiveness of a business card does is not limited to it being handy and all but the design of it matters too – in fact, it matters a lot. If your card is beautifully designed and has the ability to grab a person's attention, it is going straight to their wallet and then to their work table but if it is not a pretty one, then know that it will get dumped in minutes. You have got to make that first impression great so that they would want to keep your business card with them.
There are many different ways to create and designs powerful and effective business cards. Google them and it will take you hours to go through the stunning designs that these super creative people around the world make. If you are wondering what the key points would be to make a business card work; allow us to share them with you guys here:
An effective business card is a card that is designed keeping in mind the industry as well as the target audience. If you are thinking about making a versatile card that can be used anywhere and everywhere, you will still need to see that you are not making something that won't be understood within the industry and even outside of it. We know that creativity does not have limits because you let your imagination and skills work in the best ways possible to create something no one could think of before you but what you all need to know is that an effective business card is easy to read – whatever is written on it; from the name and the designation to the tag line of the individual, brand, etc.
And then comes the design elements, always remember that a good design becomes so much better when it is accessorized with necessary and relevant design elements. You can see what complements your style, the organization that you are working with and you will see that everything will fall into its place. As far as the copy of the business cards is concerned, we often forget that it needs to be to the point and in order to communicate effectively, we must never ignore the fact that using minimum words can deliver the maximum if we know how to use them.
Lastly, the quality of the business card is something you must never compromise on. It is that crucial factor of the business cards that can make or break them in seconds. Make sure to go through a variety of finishes that are available in the market to see what will look great for your business card.
And that is all for today! We hope that our informative blog and free business card mock-up PSD file will help you create your own stunningly attractive and effective decks of business cards in no time so, get back to work right away, you guys!
Free Front & Back Business Card Mockup PSD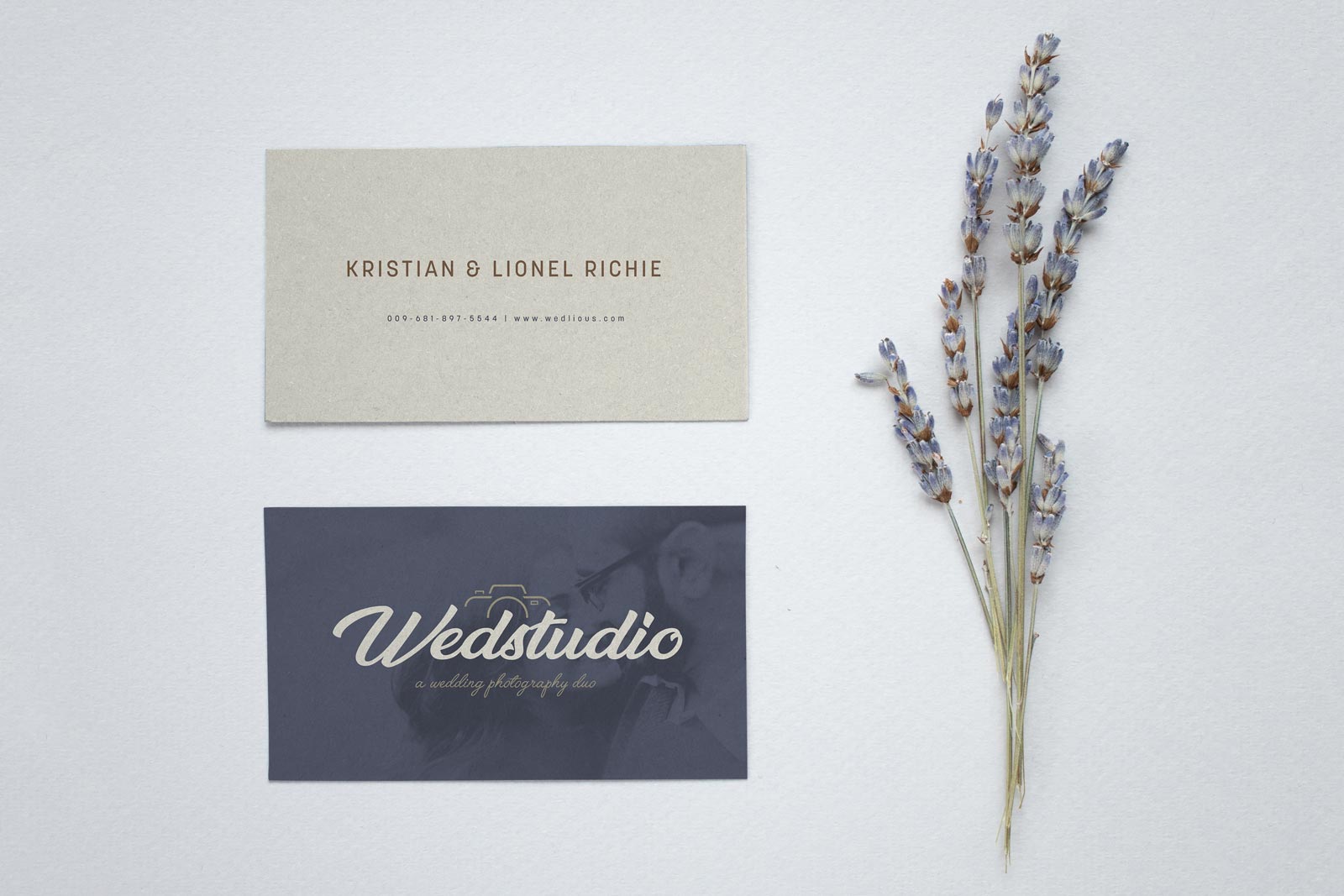 Available Format: Layered PSD with smart object insertion
License: Free for personal and commercial usage
WinRAR File Includes: Free Business Card Mockup PSD
Mock-up Resolution: 3600 x 2400 px 

Note:
1. Free Business Card Mockup PSD is allowed to share online (A Must Linkback to designbolts.com)
2. Say thanks if you like or share/tweet with your friends. That means a lot to me.
3. And don't forget to subscribe to receive for more high quality premium freebies & awesome articles only.
Download Business Card Mockup
More Awesome Free Business Card Mockups: