Hi there, hello there! We hope that you all are doing great and that our free mock-up PSD files, design templates, and creative ideas are helping you create amazing designs for your personal and commercial projects. If you are also working on campaigns that you think will change a thing or two in society, and our mock-ups are being used for marketing and advertising purposes, then let us know too about how it is going in the comments section down below.
Now, let's come to the main topic! We have designed this free yet highly editable mock-up PSD file of a summer P-cap that you can use not only to create stuff for yourself and for your loved ones, but you can also make stunning designs for your small / big business as well. So, what we are going to do today is that we will share as many ideas as we can to inspire you for creating cool summer P-cap designs along with a couple of tips and tricks that can help you stay on the right track while also making sure that you create nothing but successful designs. Let's dive right into it then.
A summer P-cap comes in handy when you want shade to cover your face before stepping outside your house, office etc. but it is also a fashion statement and at times, a necessity too because sun rays can be dangerous for a lot of people who have sensitive skin and instead of getting sunburns and rashes, it is advised to be safe by wearing a cap, using a sunblock etc. In addition to that, summer P-caps make a beautiful corporate giveaway as well and we think that is like the best part about it, you know. Imagine one of your friends of someone from your professional circle sending you a super cool corporate giveaway and while it has other branded stuff, it also has a nicely designed summer P-cap too. We think that you all are going to love it because well, it is not just a gift, but a protector and we live for such giveaways.
Then comes sportspeople, engineers etc. who have to wear the caps while practicing in the ground or when they are in the field because of the sun, the dust and everything else that can damage the skin and hair and although it is not that sort of a solution that can fully protect you, but we believe that one must do whatever little they can in order to be safe, you know so, that's like one of the reasons why we needed to work on a free summer P-cap mock-up PSD file.
Recommended: Free Men's P-Cap/ Hat Mockup PSD with Woven Text Logo
Okay so, we are going to be starting from the personal level designs and ideas first and then we will share how you can use the same mock-up PSD file to create designs for your commercial purposes. Keep reading the blog, you guys!
Many times, people cannot really decide what to give someone as a present and we think that gifts that can make the other person feel loved and cared are the ones that are the best. So, if you are stuck in a situation where you do not what to present to your best friend this year on their birthday, you can create a collection for them covering their favorite music artists, songs, anime and more of P-caps. Oh, and just by the way, if you are feeling more creative and want to gift yourself something too, feel free to use this summer P-cap mock-up PSD file to design your personal favorite characters and other things as well.
Recommended: Free Construction Safety Helmet / Cap Mockup PSD
For branded and commercial designs, you can suggest your team members and lead(s) to introduce a new element to the regular clothing that you guys wear to work, etc. by designing complementing summer P-caps and use them however you would like to use them. Also, you can use the same strategy to create designs for sending out branded giveaways along with branded wristwatches, mugs, notebooks, etc. to complete a really cool and useful package.
And of course, if you have a business through which you sell customized stuff then this is your chance to add a new item to your collection by using our free summer P-cap mock-up PSD file. Edit it however you think will work for you, create mock-ups and then share them with your online audiences. Once you get an idea of what they liked and what they did not, you can get the actual product manufactured and we can bet that you will have a great time working on this interesting project of yours.
That is all for today from our end! We would like to encourage you all to get your hands on our free mock-up PSD file today and start making attractive summer P-cap designs right away.
Free Summer Trucker P-Cap Mockup PSD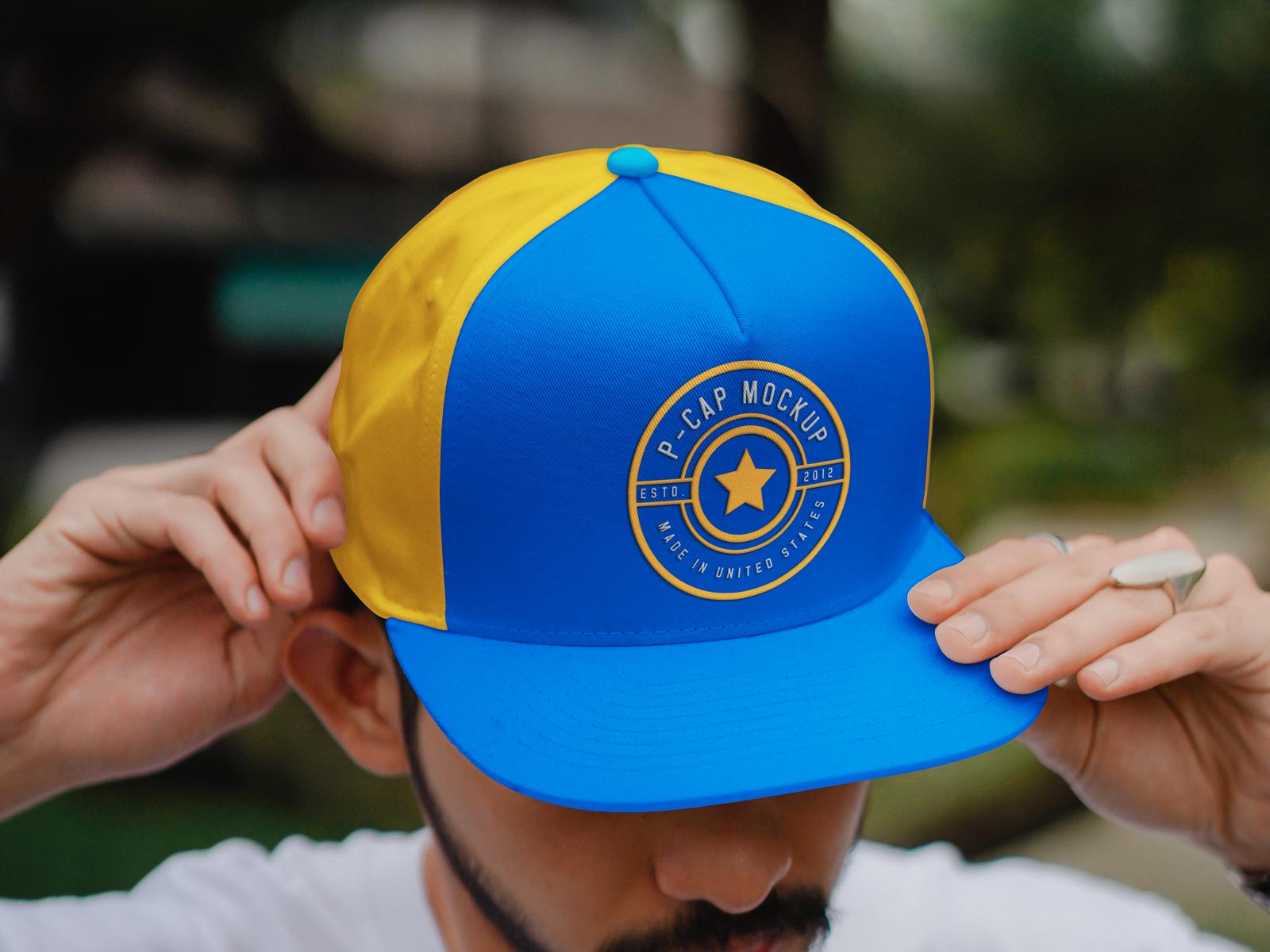 Available Format: Layered PSD with smart object insertion
License: Free for personal and commercial usage
RAR File Includes: Free P-Cap Mockup PSD
Resolution: 4000 x 3000 px
Note:
1. Free Summer Trucker Cap Mockup is allowed to share online (A Must Linkback to this post)
2. Say thanks if you like or share/tweet with your friends. That means a lot to us.
3. And don't forget to subscribe to receive for more high quality premium freebies & awesome articles only.
Download Trucker Cap Mockup
More High Quality Mockups For Free: