Hi there, hello there! We hope that you guys are keeping safe and that our content ideas and free mock-up PSD files are helping you make awesome designs and more. Earlier this week when we were going through our comments section, we came across a few suggestions in which you have asked us to share a mock-up of a portrait ID card and here we are with our free yet highly editable mock-up PSD file that will help you design whatever you wish to design in minutes so, let's dive right into it.
At some workplaces and organizations, it is mandatory to wear ID cards so that communication is easy within the workplace, but it also helps the wearer of the cards in getting recognized during official meetings and conferences. All types of ID cards are designed to facilitate the process especially when there are a lot of people working and at times, it can become hard to remember people's names, their designations or departments for that matter. Another thing wearing an official ID card brings with itself is that a person's confidence is uplifted, they feel great to represent their organization or even educational institution for that matter and we are cheering for confident employees and students, to be honest.
If wearing an ID card is a part of your dress code for both workplaces and educational institutions and you do abide by that rules, then it shows that is a professional and you respect the rules and the authorities as well and we would love to share it here that there are many places in the world that appreciate their team members and students, etc. on such basic things too through incentives, certificates, and written appreciation letters/emails to encourage them to come in like a pro and exhibit high standards of professionalism.
ID cards also help in doing the branding in the best ways possible. You wear your ID card and roam around in the city; subtly representing your organization and it looks awesome. Although yes, we know that going to random places with your ID card on can be a little too risky as well because your information can become public so, what you can do is that you can place it in your bag, pocket etc. and once you are back to your workplace or to your university, you can wear your ID card again.
We must also mention it here that any and every organization that wants their employees etc. to wear ID cards need to ensure that their cards cannot be copied and are only provided by the respective places. Wondering why we would say that? Well, the ID cards are also used to ensure a person's accountability as well and can confirm that only your employees and only your students etc. are being able to visit the workplace, educational institutions, laboratories, libraries, kitchens and other spots.
You must have seen many different shapes and sizes of ID cards but the one shape that we absolutely love is the portrait ID cards; they look professional, give you a lot of space to add your information on it while also displaying one of your favorite head shots on it and this design is also compact as well and can fit right into your wallets, pockets etc. quite easily.
Okay so, let's come to the actual point; the design of the portrait ID cards: since it is a professional document sort of a thing, you need to create a space for photos of the respective people who will wear their cards. You can be as creative as you would want to be with this very space on the card so, don't stick to the old traditional ways where you put up a photo in a box and that would be it. Play with colors from your branding designs and do not forget to add in interesting design elements too to complement the overall ID card.
Dedicate a prominent spot for the name, designation, department as well as a few information pointers of the office, university etc. like email addresses; website address, main contact number, fax numbers. Oh, and don't forget to proofread whatever you put up in the design to be on the safe side.
That is all for today from our end, you guys! We hope that you had a great time reading this blog and that our free portrait ID card mock-up PSD file will help you design interesting cards for yourself and for the people that you are working with. If you liked reading the blog, do share your feedback with us in the comments section down below and while you are at it, feel free to share the blog with your friends and favorite colleagues too. We will see you guys next time with something more fun and exciting to work on; until then happy creating!
Free Vertical ID / Member Card Mockup PSD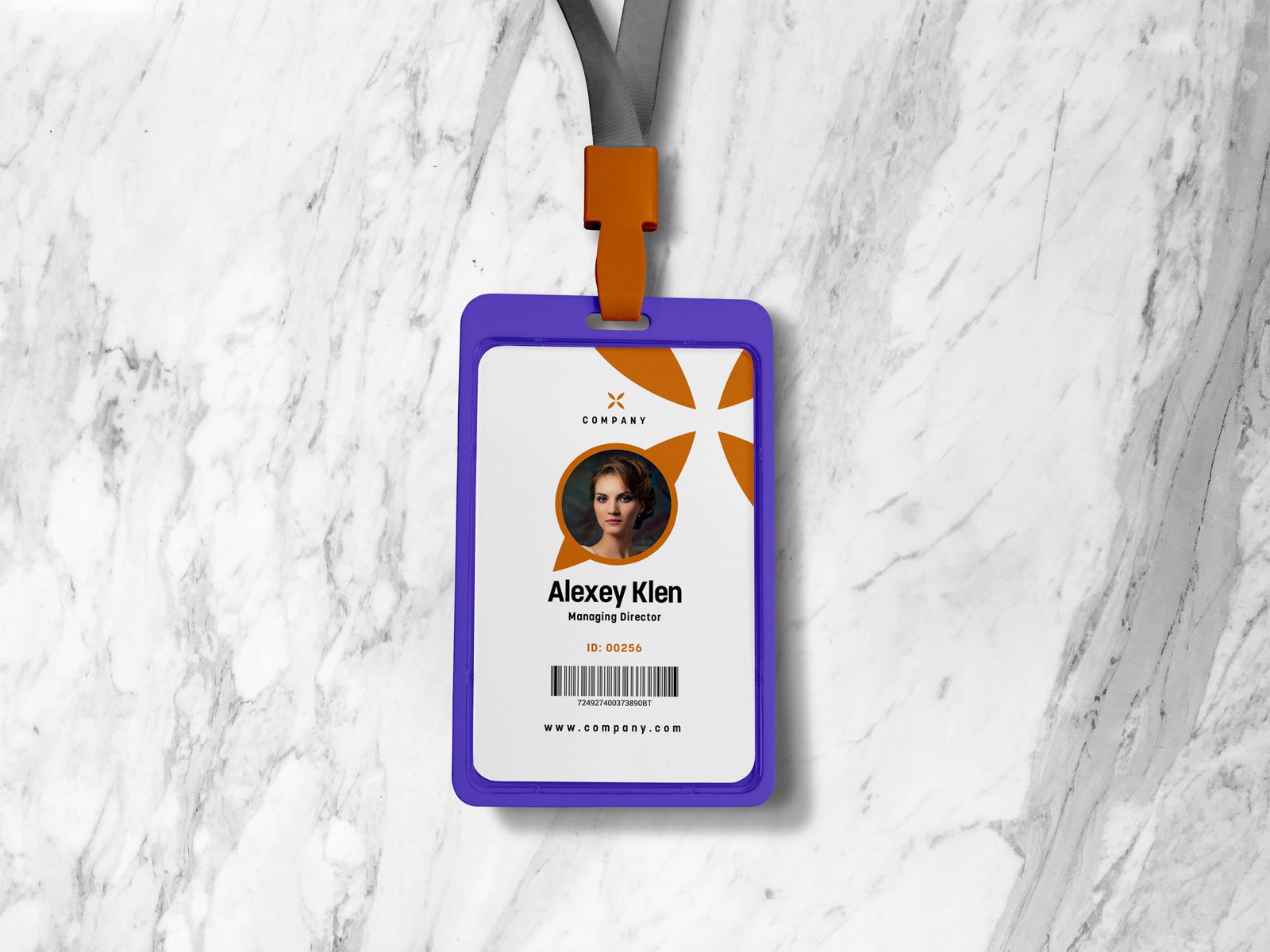 Available Format: Layered PSD with smart object insertion
License: Free for personal and commercial usage
WinRAR File Includes: Free ID Card Mockup PSD
Mock-up Resolution: 3600 x 2400 px 

Note:
1. Free ID Card Mockup PSD is allowed to share online (A Must Linkback to designbolts.com)
2. Say thanks if you like or share/tweet with your friends. That means a lot to me.
3. And don't forget to subscribe to receive for more high quality premium freebies & awesome articles only.
Download ID Card Mockup
More Awesome Free Business Card Mockups: