Hello there, you guys! We hope that you all are well and creating fantastic stuff for yourself, for your businesses as well as for the people that you are working with. In our today's blog, we will be sharing a free personal notebook mock-up PSD file with you guys that you are going to love very much because it won't just let you create magical designs for your loved ones, friends, etc. but you will also be up your corporate stationery game too. Let us dive right into a pool of creativity and easy-to-follow tips and tricks to create beautiful personal notebook designs.
We will start sharing everything you need to know to design pretty notebook designs with a question; do you hoard notebooks and journals? We can bet that we are not the only ones here and we feel that it is totally okay to get more and more notebooks whenever you get a chance to do so while there are a couple of notebooks lying in your drawers too, you know. So, what we mean to say is that if you are one of those people who love to get notebooks frequently, you must create designs that no one can resist, and here is why: notebooks/journals are one of those writing materials that will never go out of fashion. They are going to stay forever and since the demand will be there, you must create them in the most beautiful designs too.
In every house, office, etc., notebooks are used for many different purposes and keeping in mind the need of the sector or the audiences, you can work on the themes for your designs. The best way to figure out how to do it is to use your social media platforms and even digital ones as well if need be to ask what your audiences would like to purchase, you know. And now, there are so many options to do that too for example you have Instagram polls (or if you are feeling a little too fancy then you can go for a live Q and A session too). The same goes for Facebook and Twitter as well because when the sky is the limit, you must always cater to anyone and everyone who can share their feedback with you.
Another thing that will help you with finalizing the designs is creating mock-ups. And we do know that during our busy schedules, we do not get the time to go the extra mile and spend time creating mock-ups but we would love to share it with you guys that mock-ups can help you in so many ways that you can imagine. For example; you can put up the mock-ups on your website(s) or social media and when the order starts coming in, you can have the printing done keeping in mind the number of the most liked or wanted designs. By doing so, you won't have to spend money on anything that might never get sold or will be sold in a smaller number. And it is always a good idea to make informed decisions when it comes to money or even putting in your efforts to make something.
Recommended: 30+ Free Stationery Mockups For 2022 Projects
Now, let's talk about the designs or themes that you can go for making the personal notebooks using our free mock-up PSD file. If you have a business of your own or if you are creating designs for one of your clients, you must have insights into the likings and dislikings of their customers. As with that information, you will have more ground to play on with just the perfect design strategies and ideas to execute. Sounds great, right? For instance, if you know that the customers belong to Gen Z, then you can entice them with puns and witty quotes because most of them are either working 9-5 jobs or are getting done with their studies.
Similarly, if you are making designs for the Millennials, then you would want to create something that complements the music and TV shows of their time and when it comes to creating designs for corporate stationery projects, then you would want to keep the businesses in mind so that you can incorporate their branding into your designs when you create the personal notebooks for them.
And that is all for today from our end everybody! Here is hoping that you guys not only had a great time reading the blog but have already started recording all your creative thoughts for the personal notebook designs as well. Do let us know how you liked reading the blog and while you are at it, feel free to share the blog with your graphic designer friends, and favorite colleagues as well and we will see you guys next time with something more fun and exciting to read and work on.
Free Personal Paper Notebook Mockup PSD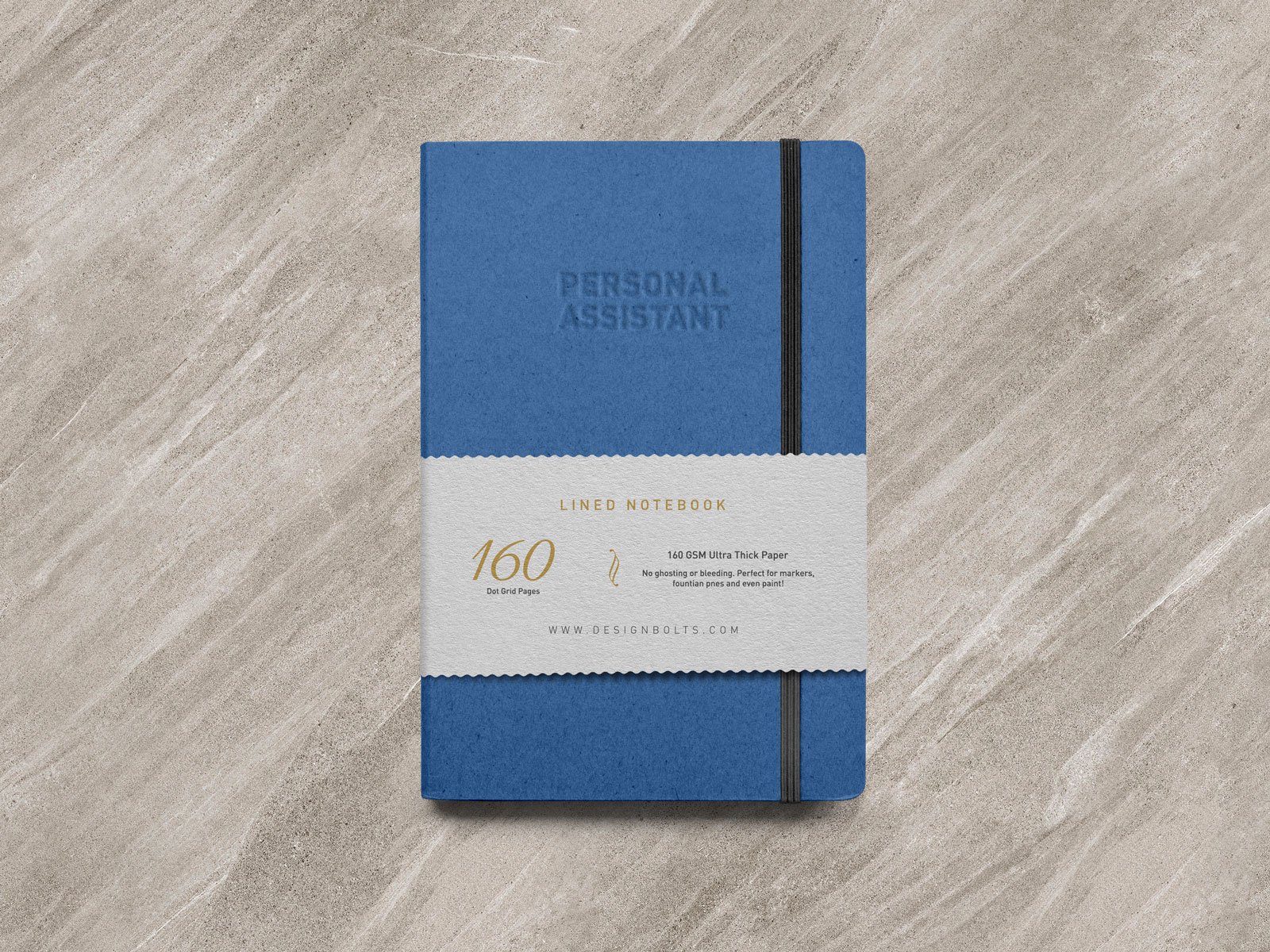 Available Format: Layered PSD with smart object insertion
License: Free for personal and commercial usage
WinRAR File Includes: Free PersonalNotebook Mockup PSD
Mock-up Resolution: 4000 x 3000 px
Note:
1. Free Notebook Mockup PSD is allowed to share online (A Must Linkback to designbolts.com)
2. Say thanks if you like or share/tweet with your friends. That means a lot to me.
3. And don't forget to subscribe to receive for more high quality premium freebies & awesome articles only.
Download Notebook Mockup
Recommended: