Hi there everyone! We hope that you guys are having a great time reading our blogs and that you are very excited to check out what we are about to share with you all today. But before doing that, we would like to take a moment to thank you guys for the love and constant support that you send our way and for always making sure that your near and dear ones are also reading our blogs and making the most of them too. And we hope to see more of that happening in the future too.
As you all know that whenever someone falls sick and can't seem to cure what they are going through, they have to consult a doctor or two who can help them get better with the passage of time. In that process, the doctors use documents and papers that are considered formal and official communication between a physician and their patient and which allows them to get medicines from pharmacies, etc. However, there are multiple countries in the world where you do not have to have a prescription to get a medicine or two and while that is something that must never be practiced nor encouraged, we want you guys to make sure that you do not get involved in any such activity that can result in serious damage to a person's health.
That being said; we would like to share a couple of tips and tricks that will help you guys design the most impressive doctor's prescriptions in no time using our free yet highly editable mock-up PSD file. Make sure that you guys have read the blog till the end in order to make informed decisions!
Know that for any and every licensed doctor, it is extremely important that they use their official prescription pads which are provided to them by the facility, hospital, clinic, etc. so that they can guide their patients and their families well without creating any confusion regarding the usage of medicines or treatment as well. But there is no one set template to design a doctor's prescription, you can design the document however you feel will make the document credible and can also be used to get medicine from local pharmacies.
Recommended: Free Medical Prescription A4 Paper Mockup PSD
To initiate the design process, the first thing that you need to keep in mind is the margins and while you are at it, divide the prescription document into multiple sections. For example; for the top part of it, you need to use the space to do the branding – it can be branded keeping in mind the medical facility's already existing branding guidelines or you can create a customized one for the physician themself. Know that there are no limitations as to what colors need to be used to design the prescriptions, but you can keep in mind the patients' age brackets to create the designs. For kids, make the prescriptions look playful and full of colors and you can maybe pick fun fonts too and for young adults and adults as well, you can pick colors that match their age groups and fonts that won't look too childish for them. Also, make sure that your branding part of the prescription papers clearly mentions the name and work number of the doctor, the landline or any number which is reachable and must be active 24/7. Many hospitals encourage using their own numbers as well which are linked with extensions so that the patients can get in touch with their physicians, etc.
In addition to that, you also need to ensure that you suggest or get the best quality paper that is available in the market to get the prescription printing done as that piece of paper is also a branding piece of the doctor and must look like something which is a well-thought document and leaves a nice, friendly and professional impression on anyone and everyone.
That is all for today, everyone! We hope that you guys not only had a nice time reading this blog of ours but that you will also share it with your graphic designer friends, favorite colleagues and students, etc. as well so that they can also make the most of our free doctor's prescription mock-up PSD file and design the document as per their creative briefs. We also hope that you guys will take out some time to share your feedback with us in the comments section and while you are at it, we would also like you all to share your special requests with us so that we can start working on them and be back here super soon with your requested content and more. Until then, keep creating magical designs for yourself and for the businesses that you are associated with.
Free Doctor's Prescription Mockup PSD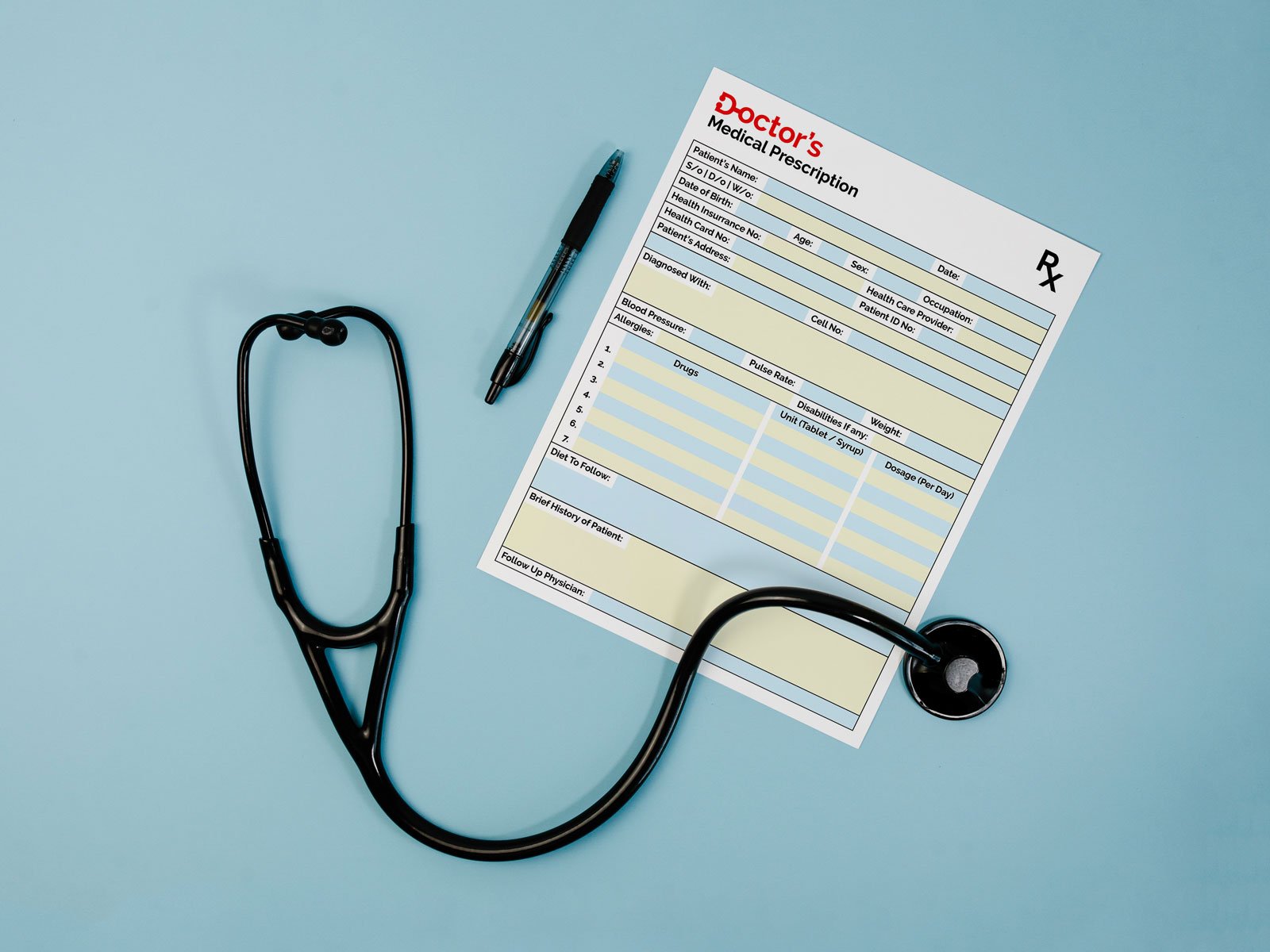 Available Format: PSD, Ai & PDF
License: Free for personal usage
RAR File Includes: Free Doctor's Medical Prescription Mockup & Design Template
Design Template Resolution: A4 Template and Letter size mockup
Font Used: Raleway
Note:
1. Free Prescription Template and mockup are allowed to share online (A Must Linkback to this post)
2. Say thanks if you like or share/tweet with your friends. That means a lot to us.
3. And don't forget to subscribe to receive for more high quality premium freebies & awesome articles only.
Download Editable Ai
Download PDF
Download Mockup
Recommended: