Hi there, you guys! We hope that you had a nice time reading our previous blog and that you are very excited to check out our free medical prescription mock-up PSD file and make your own designs too. But before we share what you need to know about creating medical prescriptions, we would like to take this moment to thank you all for your overwhelming responses and for also sharing our blogs with your graphic designer friends and favorite colleagues as well. We hope to receive more support and love from you guys in the future too.
When it comes to medical prescriptions, it is not only important for the physician but also for the patient to know what is going to be consumed in order to treat an illness, etc. and without the prescription, you must never consume any medicine on your own because it cannot only be dangerous to your health but it might worsen your conditions too and we are sure that no one wants that to happen to themselves or to their loved ones.
Medical prescriptions are also important to guide you regarding the dosage of the medicines as well so, it is always a great idea to make the most of this document both if you are a physician or a patient for that matter because everyone can then save the document in their medical records for future references as well. Now, like every organization, hospitals, also have branding guidelines that they follow which means that every doctor will get their own medical prescriptions to write on.
So, where do you come as a designer and make unique designs for your clients or even for yourself, for that matter? Keep reading the blog till the end so that we can share the tips & tricks to make impressive designs of medical prescriptions.
– – – – – – – – – – – – – – – – – – – – – – – – – – – –
More Awesome Free Mockups:
– – – – – – – – – – – – – – – – – – – – – – – – – – – –
A good design of a medical prescription means that it has a nice logo at a prominent position, and that it has the name of the doctor mentioned at the top of the document too. In addition to that, there has to be space for the name of the patient and their age, sex, etc. as well. Then you can go for sections and headers to write the names of the medicines, and their usage / dosage while also clearly stating the issues someone is facing – that way if they have to consult someone for a second opinion, the other doctor knows how to deal with their illness and prescribe them accordingly.
There are many countries in the world where you don't have to have a medical prescription to get medicines from pharmacies and while it is a bad thing that people have even messed that up so bad, we are glad that there are countries where you just cannot get a pain killer if you do not have the prescription with you. And the best part is that in this process, many authorities are involved as well. For example; the doctor themself, the hospital's regulatory body, and then medicine associations that either have stamps or contact information present right there on the prescriptions so that in case of any difficulties, you can get in touch with the concerned departments as well. So, you can leave some space for their credentials on the prescription document which can be signed or attested by the respective departments.
Recommended: 60+ Free A4 Flyer Mockup PSD Files
In this part of our blog, we are going to be sharing a couple of benefits of creating mock-ups before you guys finalize your designs. We do know that due to busy schedules and so many tasks, a lot of people do not get the time to create mock-ups and what they do is they end up making changes in their main files or they have to rework everything so that they can share the ideas, etc. with their bosses, clients and vendors.
The problem here is that you not only waste your time and efforts like that but you will also exhaust yourself while doing the real work. And the only thing that can save you from the hassle is creating mock-up designs, maybe a couple of them for each idea, sharing them with the decision makers and then going ahead with the ones that will get approved. And you will see that you have made your work life way easier than you could have thought.
That is all for today, everyone! We hope that you guys had a great time reading the blog and that you will also share it with your friends and colleagues who might need it to design medical prescriptions for their upcoming projects. Feel free to share your feedback with us in the comments section and while you are at it, we would love to encourage you guys to also share your special requests too so that we can work on them and get back with your requested content and more next time.
Free Medical Prescription Mockup PSD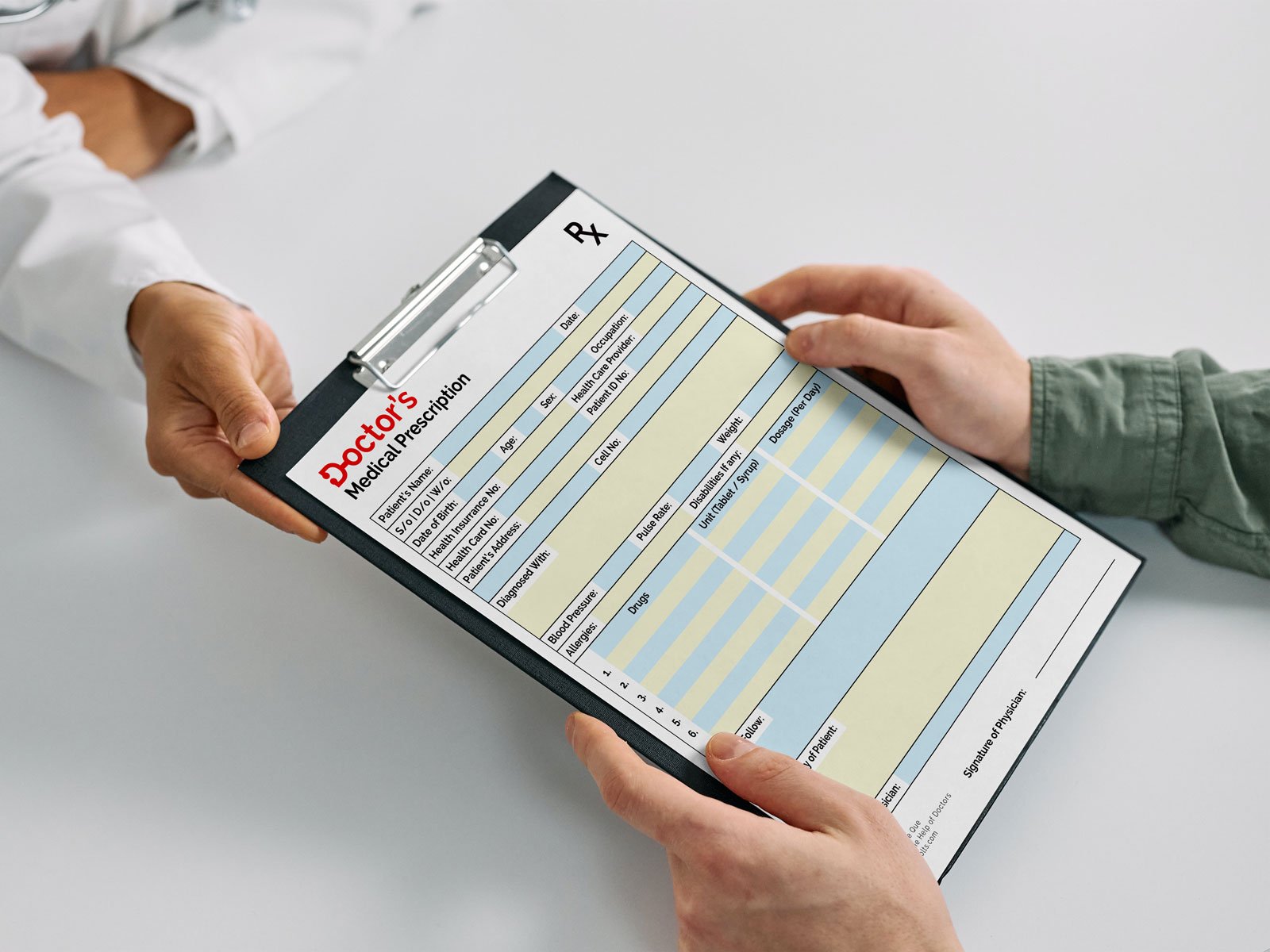 Available Format: Layered PSD with smart object insertion
License: Free for personal and commercial usage
RAR File Includes: Free A4 Paper Mockup PSD
Design Template Resolution: A4 (300dpi)
Note:
1. Free PSD Mockup is allowed to share online (A Must Linkback to this post)
2. Say thanks if you like or share/tweet with your friends. That means a lot to us.
3. And don't forget to subscribe to receive for more high quality premium freebies & awesome articles only.
Download Prescription Ai & PDF
Download Prescription Mockup
More A4 Size Free Mockups: