Hello everyone! We are back with yet another super useful and interesting blog of ours and we can bet that you are going to love reading it as it features a free yet highly editable bus stop advertisement mock-up PSD file along with some easy-to-follow tips and tricks that you can follow to make the most of everything that we are about to share. But before we do that, we would like to take a moment to thank you guys for the love and support that you shower us with and for also making sure that you, your colleagues, friends and family members, etc. are utilizing our blogs for your personal and commercial projects and then some more. And we hope to see more of that happening in the future too.
Recommended: 135+ Free Outdoor Advertisment Branding Mockup PSD Files
To make the perfect designs for your bus stop advertisements, you first need to know and understand the importance of out-of-home (OOH) advertising as well because in most cases, people think that digital and social media are the only platforms that can get the word out but that's not the case. If you wish to create broad brand awareness and reach out to larger audiences in specific locations, then OOH advertising is something that you must include in your plans for both internal and external communication.
In addition, there are several other factors that have a direct impact on the campaigns depending on the type of platform(s) that you happen to choose. For example; if we talk about a certain campaign that is being run on social media platforms such as Instagram, you need to know that through the Stories, the content will stay up for 24 hours only and the posts that you will put up are going to get noticed too but there is already so much happening on the internet all the time that your content, no matter how engaging it is, gets overshadowed – which, just by the way, is not the case when it comes to OOH advertising.
Keeping in mind that OOH advertising has always been super successful for the brands who know how to incorporate that leg into their campaigns, in this part of our blog, we are going to be sharing the tips that you guys have been waiting for as they will help you make the most of our free bus stop advertisement mock-up PSD file.
– – – – – – – – – – – – – – – – – – – – – – – – – – – – – – – – –
Recommended:
– – – – – – – – – – – – – – – – – – – – – – – – – – – – – – – – –
You need to connect with your creative team closely in order to work on the communication guidelines so that there is nothing but harmony in the overall campaign and anything and everything that you will roll out such as your billboards, bus stop ads, social and digital media posts, electronic media engagements such as TV commercials or even radio spots, etc. as well. In order to get insights to start working on all sorts of plans, you also need to carry out extensive research to see what is happening in the market – this not only includes your local competitors but you can also check out the international players as well to work on a more effective strategy.
Once you have gathered all the related information; you need to:
DEFINE YOUR GOAL
To make your OOH advertising work in your favor, you need to define its goal. For example; if you are planning to promote a product, then your communication needs to be worked on in such a way that it effectively and efficiently promotes your products. If you wish to promote a service, an event or a cause, then design your communication in such a way that talks about the said goal.
KNOW YOUR AUDIENCE
Knowing your audience will help you work on a more targeted communication for your bus stop ads so get to know them before you work on your creative ideas.
KEEP YOUR COMMUNICATION SIMPLE
In order to reach the masses, keep your communication simple to understand and also pass on to others.
USE HIGH RES. & EYE-CATCHING VISUALS
Use high res. visuals to grab maximum attention city and country-wide in order for your message to be promoted in nicer ways.
ADD A CTA
Never forget to add a proper call to action (CTA) in your ads as they will direct your audiences to make decisions that you want them to make which can vary from visiting your stores or subscribing to your YouTube channel.
That's all for today! We hope that you not only had a really nice time reading the blog today but that you will also take some time to share your feedback with us in the comments section as well. We would also like you all to share our blog and free bus stop advertisement mock-up PSD file with your graphic designer friends, favorite colleagues and students, etc.
Free Bus Stop Advertisement Mockup PSD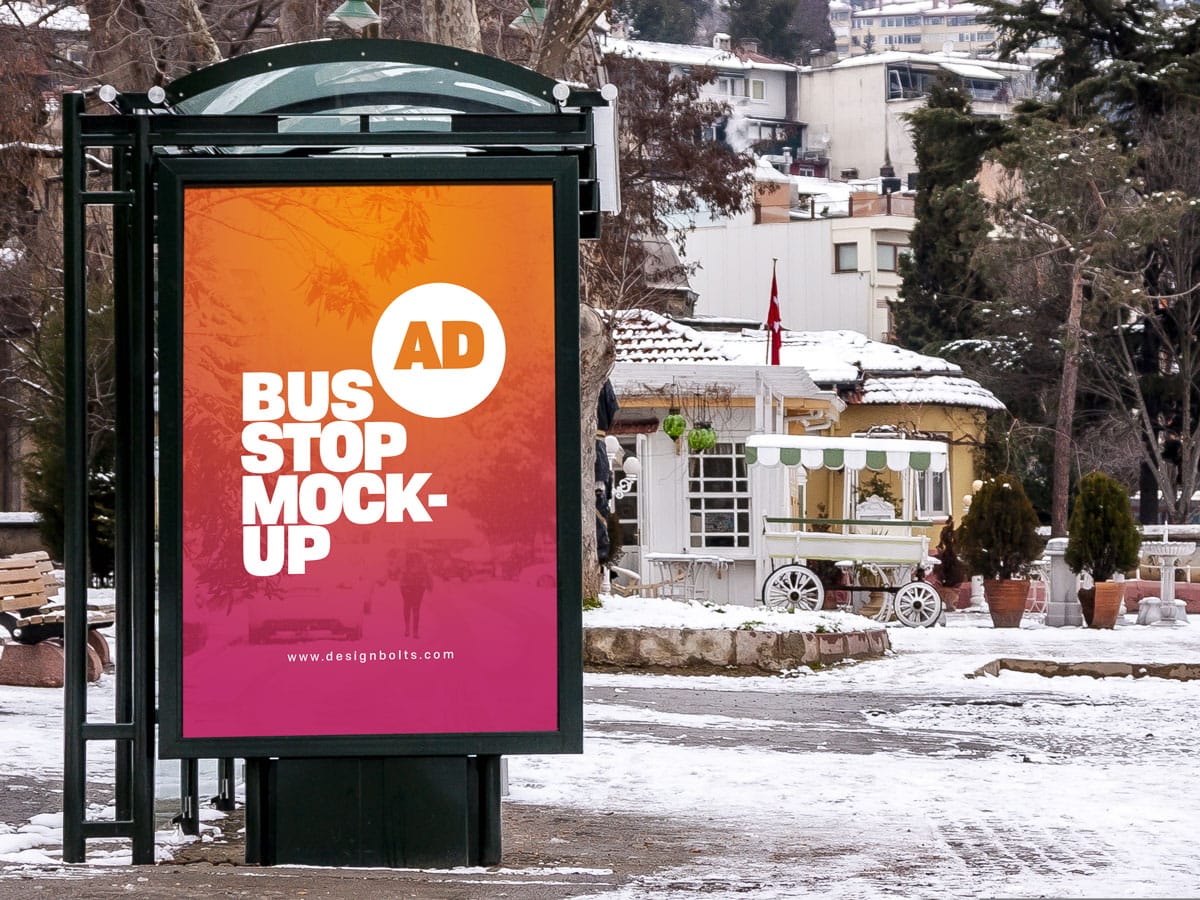 Available Format: Photoshop PSD
License: Free for personal and commercial usage
File Format: WinRAR
Mockup Resolution: 4000 x 3000 px
Note:
1. Free Bus Stop Advertising Mockup is allowed to share online (A Must Linkback to this page)
2. Say thanks if you like or share/tweet with your friends. That means a lot to me.
3. And don't forget to follow or subscribe to receive more high-quality premium freebies & awesome articles only.
Download Bus Stop Mockup
More free mockups PSD files: