Hi there, hello there! We are back with yet another amazing and super interesting blog of ours and we can bet that you all are going to love reading it as much as we did when we were working on it. We cannot wait to share everything that you guys would like to know about our free yet highly editable large subway poster mock-up PSD file but we must first thank you guys for the love and support that you send our way and for always making sure that your friends, favorite colleagues and acquaintances are also making the most of our blogs for their personal and commercial projects. And we really hope to see more of that happening in the future too.
Recommended: 135+ Free Outdoor Advertisment Branding Mockup PSD Files
If you guys are our regular readers, then you must have read plenty of our blogs that feature our brilliantly designed poster mock-up PSD files along with the tips & tricks that we have shared with you guys so that you can up your poster game quite easily. But if you are someone who has just started reading our blog, we would love to welcome you all here as you are in for a fun ride because here, you won't just be able to get your hands on our free mock-up PSD files but you will also get to learn so many things from the basics to advanced levels as well.
In this part of our blog, we are going to be sharing with you guys how you must consider advertising your products, services, events, etc. and then some more through posters as they are not only effective when it comes to reaching a wider audience but you can also convey all your key information in a way that will stick with anyone and everyone who will happen to look at your poster design(s). Make sure you guys read the blog until the end to know more and design better!
First things first; posters are considered to be a cost-effective way of promoting or advertising a product, service, event, etc. so, if you are a small business and have just started talking about what you sell or offer then posters are something that will get you more and better results that you must have imagined. In addition to that; note that posters are highly targeted; meaning that they can be installed in specific locations such as subways, shopping malls and even on public transport where they will be viewed by an audience which is relevant to your business. But that's not all when it comes to poster advertising so, continue reading the blog as we are about to share more pros of poster advertising down below!
– – – – – – – – – – – – – – – – – – – – – – – – – – – – – – – – –
Recommended:
– – – – – – – – – – – – – – – – – – – – – – – – – – – – – – – – –
In addition to affordability and visibility, poster advertising is more reliable when it comes to promoting branded messages and more. Another benefit that you can get from posters is that they will help you make a long-lasting impression in the minds of your targeted audiences which means that the recall rate is higher as well when it comes to how aware your potential customers and clients are. We would also like to mention here that poster advertising is not just effective money-wise but it is also versatile and you can utilize posters by making the most of your imagination, creativity and skills so all in all when it comes to poster advertising, you must (always) include it in your out of home (OOH) advertising campaigns as we can bet that you will be able to achieve your business goals quite efficiently. In this part of our blog, we will share the basic tips and tricks to help you get started with your poster designs right away.
First and foremost, identify what you want your posters to achieve for you and set clear goals for the campaign. The next thing that you would want to do is to incorporate the design elements keeping in mind your target audiences. Lastly, include a clear call to action (CTA) in the design to get things done.  That is all for today, everybody! We not only hope that you had a really nice time reading the blog but that you will also share it with your graphic designer friends, colleagues and everyone else who could benefit from the tips and tricks that we have shared with you all today along with the free large subway poster mock-up PSD file. Feel free to share your feedback with us in the comments section.
And in addition to that, do not forget to send in your special requests so that we can start working on them and be back here soon with your requested content and more. Until then, keep creating magical designs for yourself and for the businesses you are associated with.
Free Large Subway Poster Mockup PSD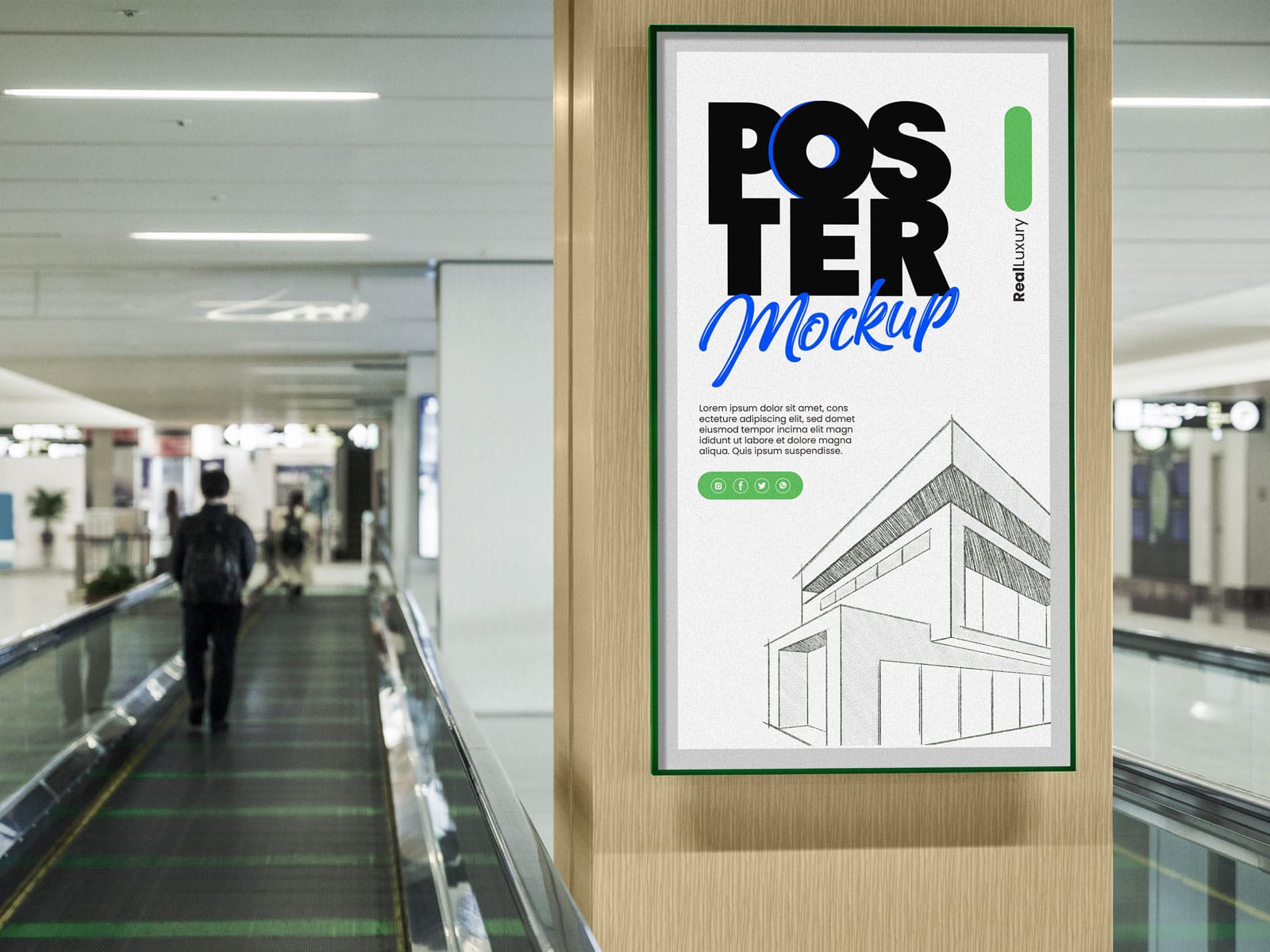 Available Format: Photoshop PSD
License: Free for personal and commercial usage
File Format: WinRAR
Mockup Resolution: 3667 x 2750 px
Note:
1. Free Poster Mockup is allowed to share online (A Must Linkback to this page)
2. Say thanks if you like or share/tweet with your friends. That means a lot to me.
3. And don't forget to follow or subscribe to receive more high-quality premium freebies & awesome articles only.
Download Poster Mockup
More free mockups PSD files: